2023 Season
2023 College Football Head Coach Hot Seat Tiers
Things are already toasty for a few coaches around the country.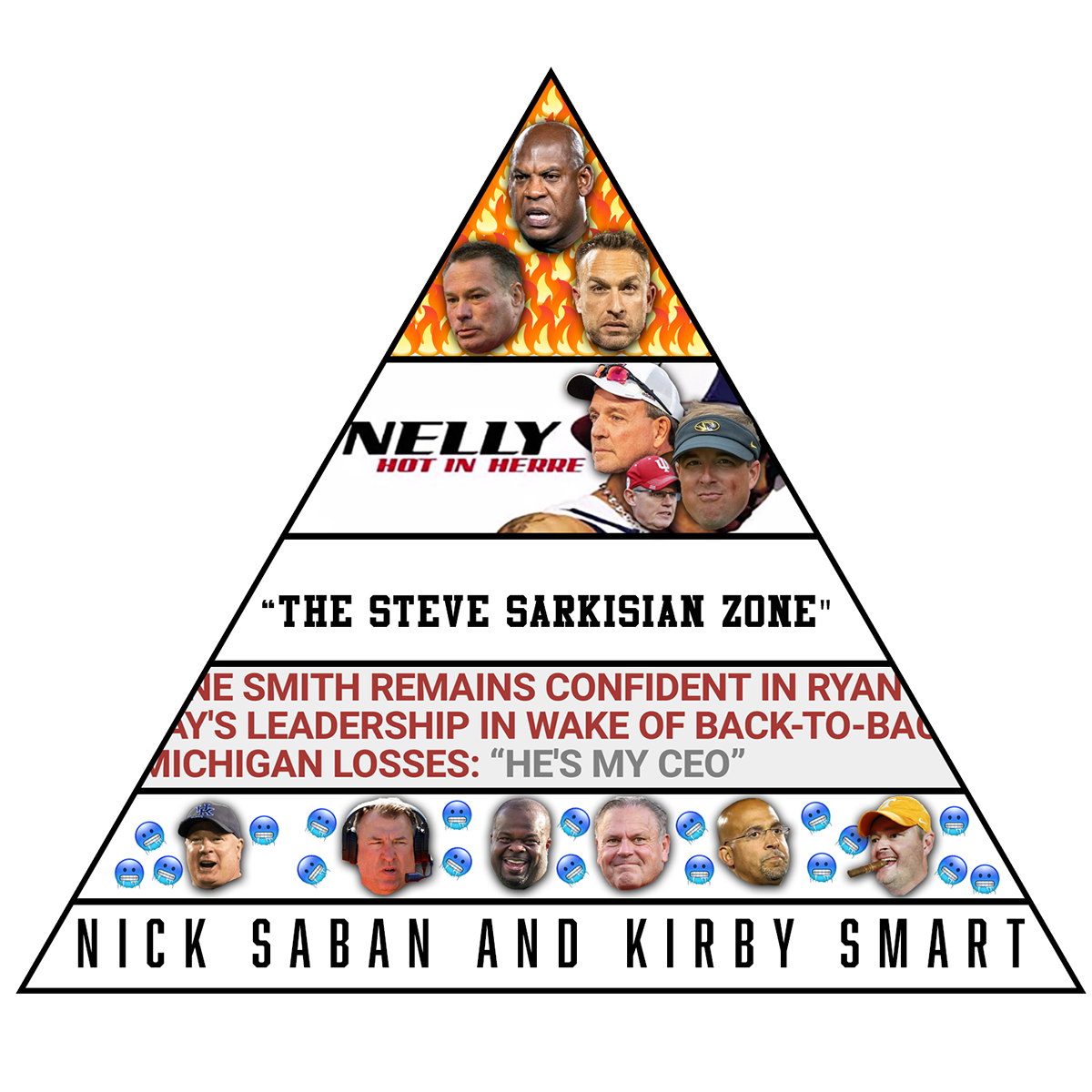 (For the best reading experience, you should click "view online" if you're reading this on email.)
---
Welcome to the first ever 2StripesCPD College Football Head Coach Hot Seat Tier Rankings. Is this the year your favorite team's head coach gets fired? Find out below:
Tier 1: Nick Saban already has a job offer for them as an Alabama analyst and is just waiting to send it
Mel Tucker - Michigan State
I like Tucker –despite how dirty he did Colorado– but how does he makes it past this season? MSU's got a brutal schedule and I just don't see a path to more than four wins. I know he's got a massive buyout, but I'm not putting it past them to lose their home opener to Central Michigan, and it's all downhill from there.
Neal Brown - West Virginia
Brown was already on the chopping block after last season. Much like Tucker, I think the schedule does him in. Early games against blood rivals Penn State and Pitt give him the chance to win back the favor of WVU fans, but are also the two worst possible games a WVU Head Coach on the hot seat can lose. Brown is a guy who I think will thrive back at the G5 level, but it just hasn't worked out in Morgantown.
Jeff Hafley - Boston College
I won't claim to know everything about every team, but I watch enough to have the opinion that BC was the most lifeless program I saw last season. Maybe it was just because they were so injured, but this was a team whose two power five wins came by a combined two points, and the other was against Maine. The schedule actually sets up for a nice rebound, but Zay Flowers isn't walking through that door, and it's hard to picture them improving enough for Hafley to return in 2024.
Butch Jones - Arkansas State
I hope he didn't throw out any of his Alabama Nike Dri-FIT, because he'll be wearing it again in five months.
Danny Gonzales - New Mexico
This is one of the toughest jobs in the country, but Gonzales is 7-24 through three seasons –including 3-20 in conference play– and the Lobos have only scored more than 25 points against an FBS team twice in the last two seasons.
Tier 1.5: Jimbo Fisher
It's extremely funny that this man 1) didn't learn to shut up after last offseason 2) Lost to an Appalachian State team that finished 6-6:
I'm actually bullish on A&M if they improve offensively, because their defense is legit. They *should* be 4-1 heading into the Alabama game, but if they somehow lose to Miami and then drop one to Arkansas/Auburn? All bets are off the table.
Tier 2: Bad year and it's over
Indiana starts the season with Ohio State in prime time, and has road games at Penn State, Michigan, Illinois and Maryland. That likely spells disaster for a coach with a 2-16 record in Big Ten play the last two seasons. Allen's done some good things at IU, but his tenure has probably run its course.
Mike Neu - Ball State
Dino Babers - Syracuse
Babers has been at the top of these lists for what feels like five years now. He saved himself last year with last miraculous 6-0 start and a Pinstripe Bowl appearance, and he'll probably have to do something similar this season to keep his job. One of my favorite moves of the offseason was him bringing in legendary defensive coordinator Rocky Long to continue running the 3-3-5, and I can't wait to see ACC Offensive Coordinators in hell each week. Syracuse is going to be must-watch for me.
Mike Bloomgren - Rice
Eliah Drinkwitz - Missouri
Maybe he finds a way to eek out another six wins and a bowl game, but the last two months of this schedule are cruel: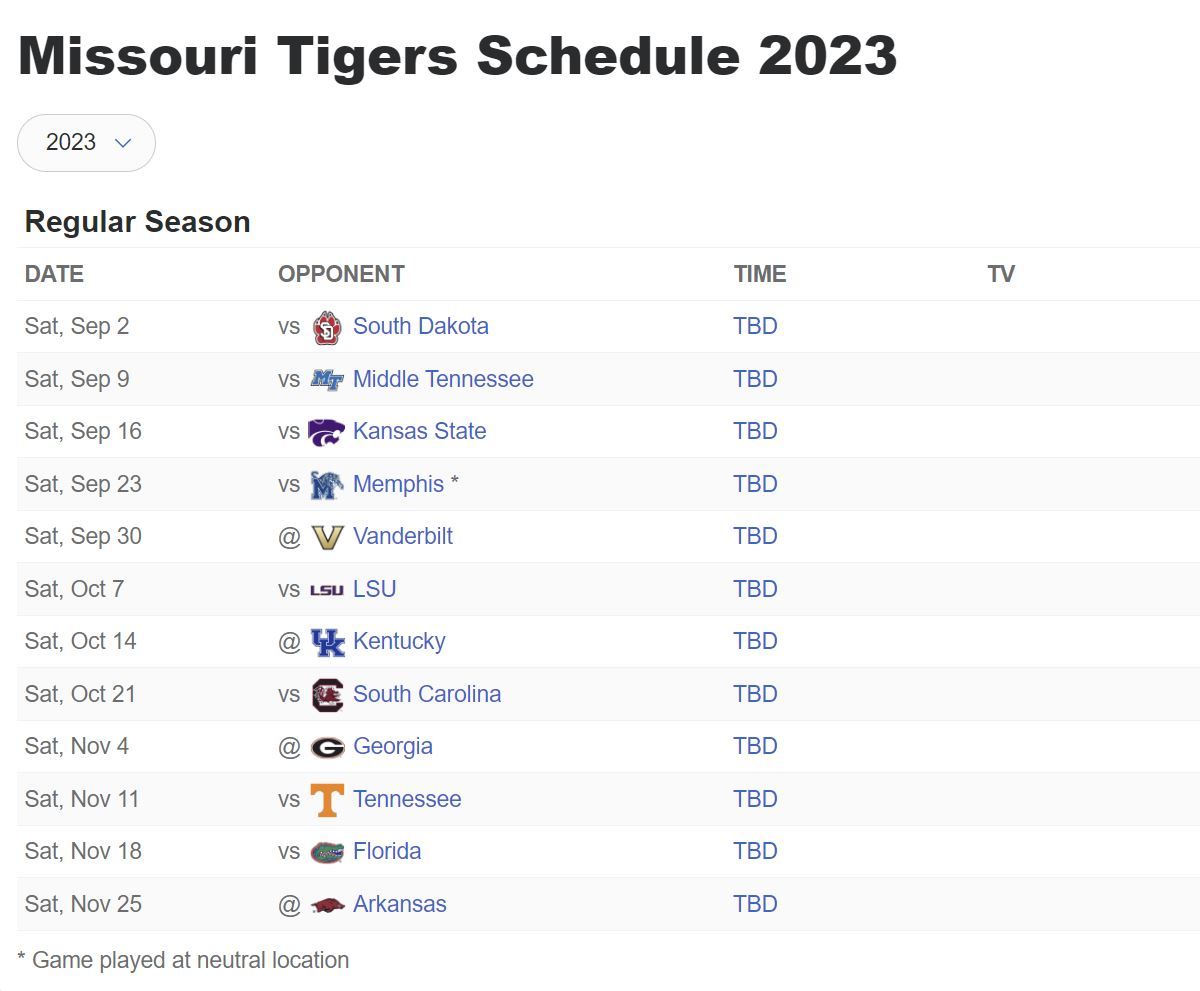 Thomas Hammock - Northern Illinois
Nine of Hammock's 17 wins came in 2021, and going 3-9 last year made him responsible for arguably NIU's two worst seasons since 2000. The MAC is always a crapshoot, but Hammock needs a strong bounceback to make it to year five.
Ryan Silverfield - Memphis
Dana Holgorsen - Houston
I'm sorry, but I need to see it.
Tier 3: Coaches who need to show some proof of concept
By far the most fascinating tier. The majority of these guys are in their second year and probably won't get fired no matter what, but they all need to at least give their fanbases a reason to believe in them long-term.
Going 6-7 in your first year at Florida and then having to replace your QB who just went top-5 in the NFL Draft is about as tough as it gets. Florida's recruiting is picking up, but they desperately need to find playmakers on offense and show enough this season to build momentum towards 2024. I'm not saying Napier needs to win 10 games, but making a bowl and stealing one of Tennessee/Georgia/LSU/Florida State would go a long way in keeping the heat off.
As someone who strives to earn a large paycheck while doing nothing of significance, I appreciate Steve Sarkisian's career and I applaud him for fooling every Athletic Director he's worked for. But let's be real: Can people stop pretending this guy is anything more than a slightly above average coach if Texas can't win 10 games and play for the Big 12 Championship this season?
Mario Cristobal - Miami (FL)
There's no bigger indictment on where Miami is as a program right now than them playing on ESPN3 like four times last season. That isn't Cristobal's fault, but their lack of heart last season was. They got smacked in almost every loss and didn't look impressive in any game, outside of maybe Georgia Tech. They might be 5-1 by the Clemson game, but I'm not buying what Cristobal's doing there and think every good team they play will run them over again. His teams are soft, and this one will be, too.
Sonny Cumbie - Louisiana Tech
Brent Venables - Oklahoma
This is going to sound stupid, but I thought OU finished the season strong, despite losing four of their last five. I can't imagine the defense not playing better in Venables' second year, and they have a cake start to the season that should leave them undefeated when they play Texas.
Terry Bowden - Louisiana Monroe
Justin Wilcox - Cal
I can't believe this is already Wilcox's seventh season in Berkeley. The story of Cal's 2023 season will be the same as it always is: Good defense, but can the offense do anything?
Ken Wilson - Nevada
Don Brown - UMass
Jay Norvell - Colorado State
One of my worst misses last year was thinking CSU would make some noise in the Mountain West with all the talent Norvell brought over from Nevada. They were 0-4 by the end of September, and their eventual 3-9 season was encapsulated by this single play from their 41-10 loss to Sacramento State. I still believe Norvell can turn the Rams into a perennial bowl team, but they've got a long way to go.
Michael Desormeaux - Louisiana
Ricky Rahne - Old Dominion
Brent Pry - Virginia Tech
It hurts my heart seeing how down bad VT's been lately. That means I'm going to put most of the blame for their 1-6 ACC record on Justin Fuente for the mess he left Pry to clean up. The four-game non-conference slate is going to be a great litmus test on where they're at in year two. They can't lose to Old Dominion again, while Purdue, Rutgers and Marshall are all toss up games. (And if we're being honest, that's a likely loss to Marshall.) This is a hefty rebuild, but Pry still needs to show some progress.
Tier 4- Coaches who are safe, but a step back starts the noise
Mike Norvell - Florida State
I was a believer last year and I'm a believer again. Anything less than competing with Clemson for the ACC Atlantic crown will make FSU fans angry, and rightfully so.
Andy Avalos - Boise State
I made the mistake of dumping dirt on Avalos and Boise after their ugly loss to UTEP, and then they won seven of their next eight, making it to the Mountain West Championship. Washington and UCF are tough non-con draws, but they have enough talent returning for expectations to still be a conference title.
I've outed myself as a Schiano Man™ on this website multiple times, but last year was ugly enough to give me second thoughts. They got worked in Big Ten play, and the offense was one of the worst in the country. I don't see any scenario where he gets fired, but all the energy they had going into 2022 is going to be difficult to recapture.
I'll admit: I've always been a Chip hater, but even I can acknowledge that they've turned a corner. I still don't think they're Pac 12 contenders, but the pieces are there for another strong season.
Clark Lea - Vanderbilt
Blake Anderson - Utah State
Mike Locksley - Maryland
The schedule sets up for 5-0 when they visit Ohio State, and regardless of what happens there, eight –or nine, if things really break their way– regular season wins are on the table. Locksley has Maryland in a good place, and now it's about taking the next step. That means beating one of Ohio State, Penn State or Michigan, who he's a combined 1-9 against.
Shawn Clark - Applachian State
Tier 5- Wildcards
I don't think any of these guys get fired, but they're all grouped here because I want to add some intrigue to this.
Another loss to Michigan probably isn't to fire him on its own, –at least in Gene Smith's opinion– but even the staunchest Day supporters have to acknowlege that they've thrown away great championship opportunities the past two seasons. This is a make or break year. Ohio State gets a three-game runway to figure out the QB situation, the offensive line, and the defense before playing Notre Dame. The Wisconsin and Michigan games are also both on the road, making this a much tougher schedule than the past two years. That being said, three straight seasons without a Big Ten Title appearance –let alone not winning one– simply isn't good enough for the amount of talent the Day's had.
Pat Fitzgerald - Northwestern (UPDATE: HE GONE)
I can't bring myself to believe Northwestern will ever actually fire Fitzgerald, or that he'll leave on his own accord. He's still only 48 years old, so it's not like they can push the FSU/Bobby Bowden forced retirement button, either. On the flipside, they haven't been good enough for him to even be linked to other jobs. So where does that leave him?
Northwestern hasn't missed a bowl in three straight seasons during Fitzgerald's 17-year run, but there seems like no way that doesn't end this year. I'm sure the defense will be as stingy as it usually is, but is there any reason to think the offense won't be helpless for the fourth time in the last five seasons?
I don't really have a point I want to make here, other than this is one of the weirder coaching situations in the country right now. Fitzgerald's done a great job at Northwestern, but it might be a while before they're even back in bowl contention.
Mike Gundy - Oklahoma State
I don't think Oklahoma State will ever fire Gundy, and there's no reason for them to even consider it right now. You just can't convince me that he doesn't have his eyes on how conference re-alignment is shaking out, and that he won't jump to a more stable situation if the chance comes.
Mack Brown - North Carolina
Only here because it's just a matter of when he's decides to hang it up at this point.
Bonus tier: You're Auburn and you exist in your own universe so anything is liable to happen
Tier 6: Coaches who will more than likely be right where they are now, next year
This whole tier is almost exclusively tough jobs/situations, but it wouldn't be completely shocking to see a few get the axe.
Chuck Martin - Miami (OH)
Scot Loeffler - Bowling Green
I had Loeffler in tier two before I double-checked that BG didn't give him a stupid contract extension for making a bowl last year off the back of five wins by less than seven points. Sure enough, BG gave him a contract extension two months ago. He bought himself at least two more seasons, but woof.
Jake Dickert - Washington State
Rick Stockstill - Middle Tennessee
Tony Elliott - Virginia
Brent Brennan - San Jose State
Brennan's done a tremendous job at SJSU, and they have the vibes of a Mountain West sleeper.
Rhett Lashlee - SMU
Mike MacIntyre - FIU
Will Hall - Southern Miss
Clay Helton - Georgia Southern
Jim McElwain - Central Michigan
Jerry Kill - New Mexico State
I thought they were one of the worst teams I had ever seen four games into last season, and they ended up winning a bowl!
Shawn Elliott - Georgia State
Stan Drayton - Temple
Tier 7: The first-year coaches
Not all first-year coach situations are the same, so I've put them into four different groups.
Group 1: First-year coaches who are only this far down because they're first-year coaches and they'll be at the top of this list next season
Barry Odom - UNLV
Kevin Wilson - Tulsa
For my own selfish reasons: I just want to say, 'Thank you' to the Tulsa administration for making this hire.
I'm convinced the Bryant family was behind this, and they're trying to kill UAB Football again.
Group 2: First-year coaches who have some pressure to win right away
Regardless of what I or anyone else thinks about how Liberty operates, it's probably not gonna take Chadwell long to turn this into a high-powered offense.
Tim Beck - Coastal Carolina
Chadwell is a tough act to follow, but showed that winning big at a place like Coastal is possible. My Tim Beck thoughts are well documented, but I'm glad his time at NC State rehabbed the stink from his stops at Texas, Ohio State and Nebraska and got him his first head coaching job.
Herman's in this group less because I think there's pressure on him, and more because he can win big right away. The clown show at Texas got people twisted into believing he's not a good coach, and it's not going to take him long to prove how wrong that was.
Scott Satterfield- Cincinnati
Satterfield's probably got some room to work with given UC's transition to the Big 12, but his last couple years at Louisville were awkward. It makes me wonder if that was just a one-time thing, or if we'll see something similar at Cincinnati.
Group 3: First-year coaches who have plenty of time
There's nothing to add individually here, other than most of these are rebuilds.
Biff Poggi Charlotte
Matt Rhule - Nebraska
Zach Arnett - Mississippi State
Brent Key - Georgia Tech
Kenny Dillingham - Arizona State
Troy Taylor - Stanford
Brian Newberry - Navy
Alex Golesh - South Florida
Lance Taylor - Western Michigan
Ryan Walters - Purdue
Eric Morris - North Texas
Mike Houston - ECU
Kenni Burns - Kent State
GJ Kinne - Texas State
Group 4: Deion Sanders
I've said my piece on Coach Prime and don't feel like doing it again. It's really this simple: It might work! It might not! People outside of Colorado who don't understand how shitty CU's been for the last 20 years are going to spend all season getting their takes off because they don't like Deion, which is fine - but let's just acknowledge that for what it is. I understand that he invites the noise, but CU has a tremendous amount of work to do to become relevant again, and it's going to take more than one season for him to do it.
Tier 8: Coaches who don't have to worry about their children changing schools unless it's their call
Can't believe a bottom-tier power 5 program won't just bite the bullet, hire this guy and run the triple option to 7-9 wins every season.
Marcus Freeman - Notre Dame
Sam Pittman - Arkansas
Dave Aranda - Baylor
Brady Hoke - San Diego State
Craig Bohl - Wyoming
Jim Mora - UConn
Timmy Chang - Hawai'i
Maurice Linguist - Buffalo
Linguist's done some incredible stuff in only two years, and should be a name for bigger jobs if Buffalo goes bowling again.
Jedd Fisch - Arizona
Lincoln Riley - USC
Joe Moorhead - Akron
Jeff Monken - Army
Jeff Tedford - Fresno State
Luke Fickell - Wisconsin
Tyson Helton - Western Kentucky
Gus Malzahn - UCF
Tim Albin - Ohio
Jeff Brohm - Louisville
Trading Scott Satterfield for Jeff Brohm is one of the biggest home runs of the offseason.
Jason Candle - Toledo
KC Keeler - Sam Houston State
Dan Lanning - Oregon
Chris Klieman - Kansas State
Pat Narduzzi - Pitt
Chris Creighton - Eastern Michigan
Kane Wommack - South Alabama
Jon Sumrall - Troy
Brian Kelly - LSU
Charles Huff - Marshall
Kalani Sitake - BYU
Mark Stoops - Kentucky
Bret Bielema - Illinois
Kalen DeBoer - Washington
Matt Campbell - Iowa State
Shane Beamer - South Carolina
Curt Cignetti - James Madison
Rich Rodriguez - Jacksonville State
PJ Fleck - Minnesota
Josh Heupel - Tennessee
Lane Kiffin - Ole Miss
James Franklin - Penn State
Mike Elko - Duke
Dave Doeren - NC State
Joey McGuire - Texas Tech
Tier 9: Coaches whose university presidents are going full Gordon Gee, "I just hope he doesn't fire me!" Mode
Nick Saban - Alabama
Kirby Smart - Georgia
Jim Harbaugh - Michigan
He's leaving for the NFL at some point, it's just a matter of finding an NFL GM who doesn't want to kill him by the end of his interview.
Kyle Whittingham - Utah
Dabo Swinny - Clemson
Willie Fritz - Tulane
Jonathan Smith - Oregon State
Kirk Ferentz - Iowa
I've officially given up on being aghast that the Iowa administration doesn't force Ferentz to fire his large adult son, and I'm simply just going to sit back and enjoy the show that is Iowa's offense.
It might be in his contract that he becomes University President if he wins double-digit games for the third straight season
Lance Leipold - Kansas
Dave Clawson - Wake Forest
Sonny Dykes - TCU