2023 Season
The top 25 games I'm excited for this season
Get ready to watch a whole lot of Coach Prime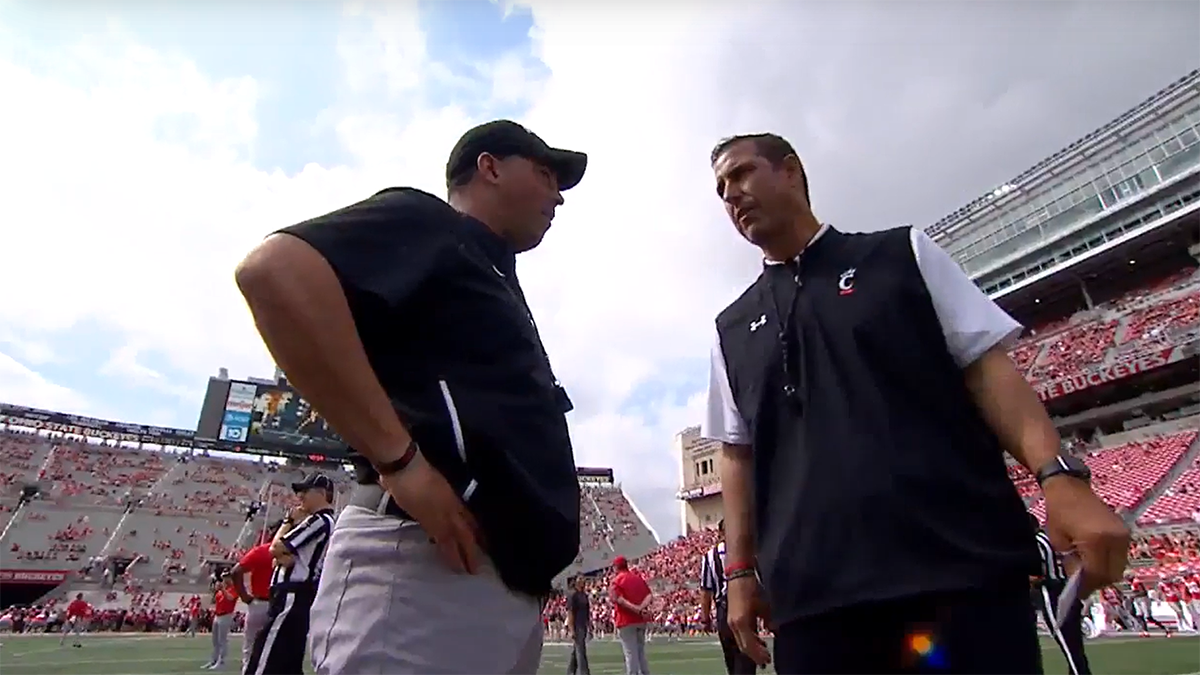 ---
25. Oregon at Texas Tech (September 9)
I did some digging, and this is probably Texas Tech's biggest non-conference home game since either NC State in 2002 or Nebraska in 1994 (when they were still in the Southwest Conference). Tech was quietly a blast to watch last season, and they're a team I think could make some noise in 2023. I don't know if it'll be enough to take down the Ducks, but it should be exciting.
24. Texas A&M at Miami (September 9)
Good luck to the head coach who loses this game. Mario Cristobal, YOU are a Offensive Analyst at the University of Alabama.
23. Oklahoma at Cincinnati (September 23)
Since OU and Texas are officially leaving for the SEC in 2024, take a second to think about how this is will be the first and only Oklahoma-Cincinnati Big 12 game in history.
22. Auburn at Cal (September 9)
It should be mandatory that we get at least two on-campus Pac 12/SEC games every season. I'm picturing a bunch of drunk Auburn fans stumbling into a Berkeley dispensary on Friday night and ending up at a Lake Merritt picnic in Oakland before shutting down the bars on Telegraph. If that all sounds too specific for you it's because I'm throwing it out there for Auburn fans interested in doing this with me.
21. Troy at Kansas State (September 9)
I originally had the TCU-Kansas State Big 12 title rematch here, but I couldn't leave off what should be one of the hardest hitting games of the season. Troy had an awesome defense last year, and I'm excited to see how they match up with K-State's physical offense. There's a lot of big games on September 9, but leave a second (or third) screen open for this one.
20. Colorado State at Colorado (September 16)
CU starts their 100th year at Folsom Field with Deion Sanders' first home game coming against the in-state rival they haven't played in Boulder since 2009. This is their first meeting since 2019, and I'm not sure I can do justice to the nastiness between the two fanbases if you've never seen it for yourself. I'm intrigued by how Jay Norvell's Rams will look in year two after an ugly 2022, but I'm mostly just out for blood on this one: I need the Buffs to run up the score and Deion to be in his bag postgame.
19. LSU at Alabama (November 4)
I know they're not each other's biggest rival, but there's just something special about LSU-Alabama. The Tigers' win in OT last year was an instant classic, and they're going for back-to-back regular season wins in this series for the first time since 2010-2011. ('regular season,' is key there, because, well, you know.) Without Bryce Young and some other major pieces from the last few seasons, it'll be fascinating to see what Bama looks like by November.
18. Oregon at Washington (October 14)
A rivalry that deserves more attention. I love the online sniping I see between these two fanbases, and UW's last-minute comeback win in Eugene last year stoked the flames even further. Both are legitimate Pac 12 contenders and this is a game that I hope finds its way into a primetime slot for maximum intensity.
17. LSU vs Florida State (Orlando, September 2)
Last year's game was my favorite of 2022, and I don't see any reason that it'll be any less exciting this season. Mike Norvell finally has FSU ready to take the next step (seemingly) while Brian Kelly looks like he's a better fit in Baton Rouge than most of us initially thought. I don't think either team is playoff-caliber, but this is still a playoff-elimination game in my mind. Much like last year, the hype machine for whoever wins will be off the charts.
16. Ole Miss at Tulane (September 9)
Tulane is fresh off a Cotton Bowl win over USC, and the atmosphere in Yulman Stadium will be electric when Lane Kiffin and Ole Miss roll through. Tulane lost some important players, but I love where Willie Fritz has their program at, and their defense is always one of the hardest hitting groups in the country. You never really know what you're getting from Ole Miss, so this should be fun as hell. Also, college football needs more of these games:
15. Air Force vs Army (Denver, November 4)
Army and Air Force running the rock a combined 80+ times at a neutral-site NFL stadium in winter. Count me in.
14. Florida State at Clemson (September 23)
Remember the glory days of 2010-2016 when this was the ACC's premier game? This might not be on the same level as those matchups, but whoever wins here more than likely wins the ACC. Florida State hasn't beaten Clemson since 2014, and the "FSU is back™" hypetrain will be at full speed if they pull it off.
13. Georgia at Tennessee (November 18)
Georgia isn't losing to anyone else on this schedule, so if it's happening, it has to be here. Tennessee was a couple of missed deep balls away from making this a much tighter game last season, and with Joe Milton at QB it's a safe bet they'll air it out again. I'm putting my faith in the Vols for the second straight season, and I think they get it done here.
12. Ohio State at Notre Dame (September 23)
The last time Ohio State played a marquee non-conference game this late in a season was the last time they played at Notre Dame Stadium: September 28, 1996. Outside of NC State on Notre Dame's schedule, each team has ample time to figure out some of their biggest questions. (QB/defense for Ohio State, how the offense will run for Notre Dame.)
11. Ole Miss at Auburn (October 21)
I can't stand either of these guys, but you just know the whole weeklong buildup to this game will be a complete mess. I'm picturing a 63-60 circus that ends on some kind of personal foul penalty. This is also the early candidate for the 2023 Aggressive Head Coach Postgame Handshake Heavyweight Championship. Everything about this game screams stupidity, and I hate it already. I can't wait to watch every second of it.
10. Oregon at Utah (October 28)
I don't know if either fanbase thinks this is a rivalry, but it's quickly becoming one of my favorites. Oregon leads the series 6-4 since Utah joined the Pac 12, but the Utes have won three of the last five. Oregon will have all the hype, but Utah is the one gunning for the first Pac 12 title three-peat since the dominant USC teams of the 2000s. There always seems to be an extra edginess between these two, and I think that'll be ramped up by the time October 28 hits.
9. Ohio State at Wisconsin (October 28)
Everyone's rightfully focused on how important the Michigan game is, but Wisconsin hiring Luke Fickell took this matchup to a level of similar significance for Ryan Day. Ohio State hasn't played in Madison since 2016, but any Buckeyes fan will tell you they already know this one will be a grind. A win in Camp Randall against a strong Wisconsin team is the kind of bullet point Day desperately needs on his resume right now. On the flipside: Day losing to Fickell is where the more positive sector of the OSU fanbase finally turns on him for good.
8. Florida at Utah (September 2/August 31)
Just like Auburn traveling to Cal, this is the kind of game we need to see more often. How great will this uniform matchup look? They still haven't decided whether they're playing on August 31 (Thursday) or September 2 (Saturday), but my vote goes to the 31st, because this slate is brutal: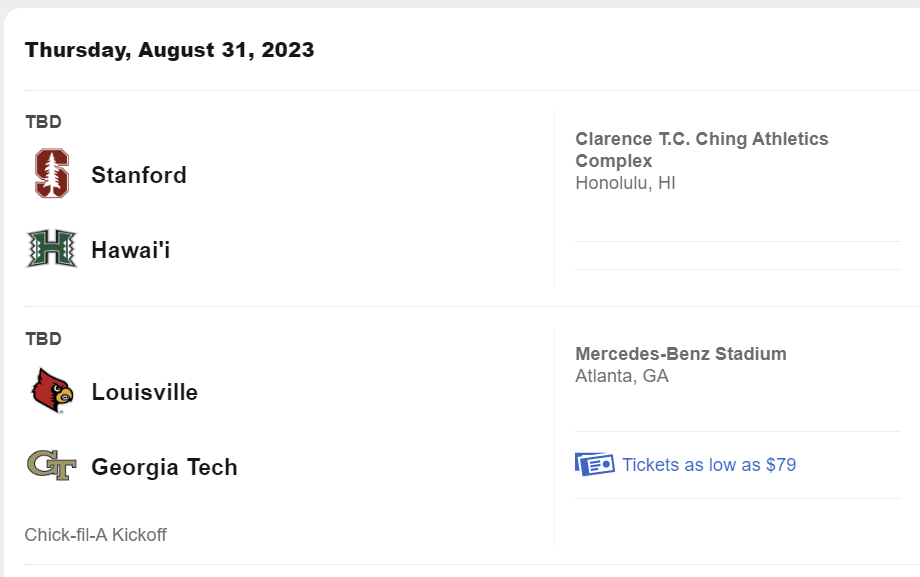 7. Colorado at TCU (September 2)
The most unlikely hyped season opener......ever? TCU's coming off a playoff appearance, and Colorado was arguably the most talked about program in the country this offseason. Weird times, but stuff like this is great for the sport. Deion Sanders has much more work to do to get the Buffs back on track than people outside the CU fanbase realize, but this will be a special debut.
6. James Madison at Troy (September 16)
One of the best under-the-radar stories from last season was James Madison jumping up to FBS and immediately being a bully on the G5 block. The Dukes finished 8-3 and at the top of the Sun Belt East, but weren't eligible to play for the Sun Belt title or a bowl game due to FBS transition rules. A showdown with a similarly badass Troy squad –who won the SBC crown– would've been on deck, and that's what we're getting in week three. This is quietly a preseason Game of the Year candidate.
5. Iowa vs Northwestern (Wrigley Field, November 4)
A preseason Worst Game of the Year candidate. Can't wait.
4. USC at Colorado (September 30)
All the SoCal kids who attend CU just to smoke weed and ski in the winter have a decision to make: Will they sit on the west side of the stadium with their parents in the USC section, or will they be in the student section wearing black and gold, rooting for the Buffs?
Complaints about Los Angeles trust fund babies who've been ruining Boulder for at least two decades aside, this game could be history for CU. They haven't beaten USC since joining the Pac 12 (0-11) and they're winless (0-16) all-time in this series. They've come close a few times, but this is their best chance to finally slay the beast. I'll be in the crowd doing my best to avoid a public intoxication charge.
3. Tennessee at Alabama (October 21)
In Nick Saban's 16 seasons, only LSU (2010-2011) and Ole Miss (2014-2015) have beaten Alabama in back-to-back years. Tennessee can join that exclusive club, but they'll have to win in Tuscaloosa for the first time since 2003. Last year's game was arguably the best of the regular season, and I hope the Vols are strong enough again to at least give us another classic in this great rivalry.
2. Ohio State at Michigan (November 25)
I don't need to explain what's on the line in this one.
1. Nebraska at Colorado (September 9)
A nasty rivalry that conference re-alignment has robbed us of is back. Who would've ever guessed that the coaches in this game would be Deion Sanders and Matt Rhule? Both programs have a long way to go, but this will be a significant building block for the winner. Their last meeting in 2019 was one of the craziest games of the last decade, and I don't expect this one to be any different. September 9 is a loaded slate, but this is the main TV game in the morning for me.