Throwback
I found the best three-game stretch for a receiver in college football history
758 yards and eight TDs in three games!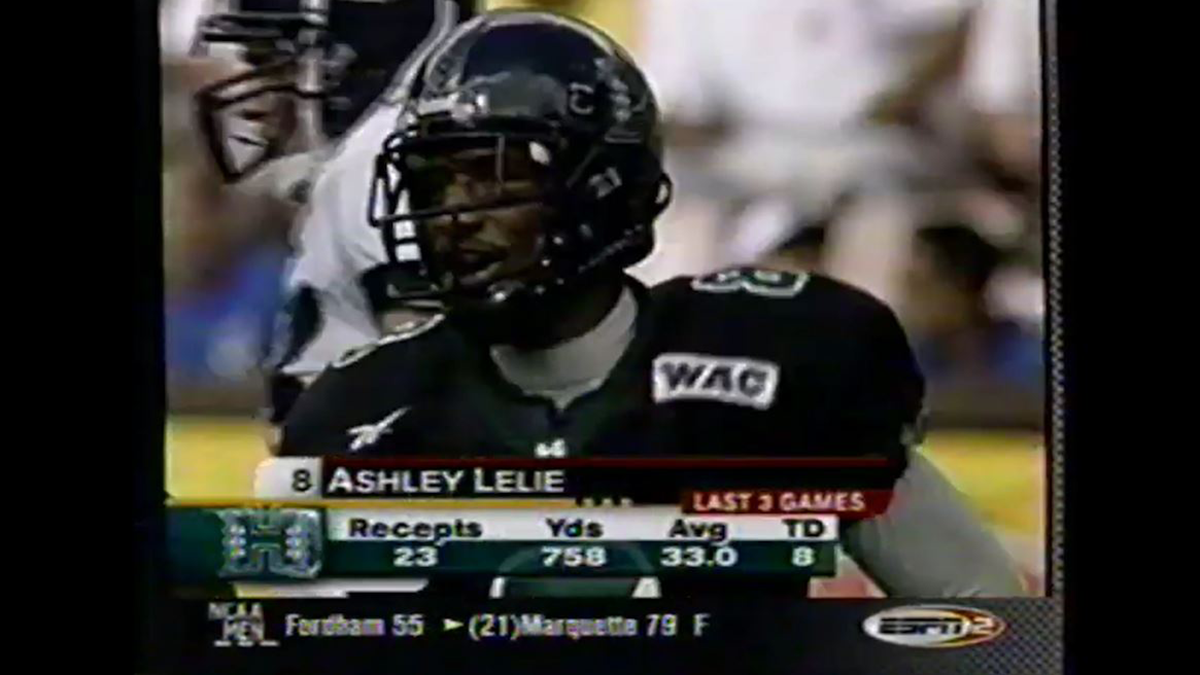 For those reading on e-mail: click 'view in browser' to see the full contents of today's post
---
Unless you root for Hawaii or the Denver Broncos, you might not remember Ashley Lelie.
Lelie was a receiver at Hawaii from 1998-2001, and put up huge numbers for the Rainbow Warriors. He had 194 catches for 3,341 yards, and 32 touchdowns in his three seasons, and was a bad enough dude that the Broncos took him 19th overall in the 2002 NFL Draft. In his seven NFL seasons, Lelie had 217 catches for 3,749 yards and 15 touchdowns, highlighted by a 54-catch, 1,084-yard, seven-TD 2004 campaign.
Lelie's defining trait was blazing speed, and he used it to routinely toast defensive backs. His game-breaking ability was never more on display than the end of his college career, when he put up arguably the best three-game stretch for a wide receiver in college football history. Against Miami (Ohio) he went for six catches, 211 yards and three touchdowns. He followed that up with nine catches, 285 yards, and three more touchdowns vs Air Force. Finally, he had 8 catches, 262 yards, and two touchdowns against BYU, as Hawaii handed the 11-0 Cougars their first loss of the season. In total, Lelie caught 23 passes for 758 yards and 8 touchdowns over the three games. He averaged 33 yards per catch, and it's one of the damndest things I've ever seen on a football field:
[If you're reading on E-Mail, click here to watch the video]
For context on how wild those numbers are, here they are averaged out over a full 12-game season:
92 catches, 3,032 yards, 32 touchdowns
Yes - there's no way he could've kept up that pace, but it's still fun to imagine. And before anyone yells at me for saying it's the best three-game stretch for a receiver ever, here's a few other guys in the conversation:
Devonta Smith (2020)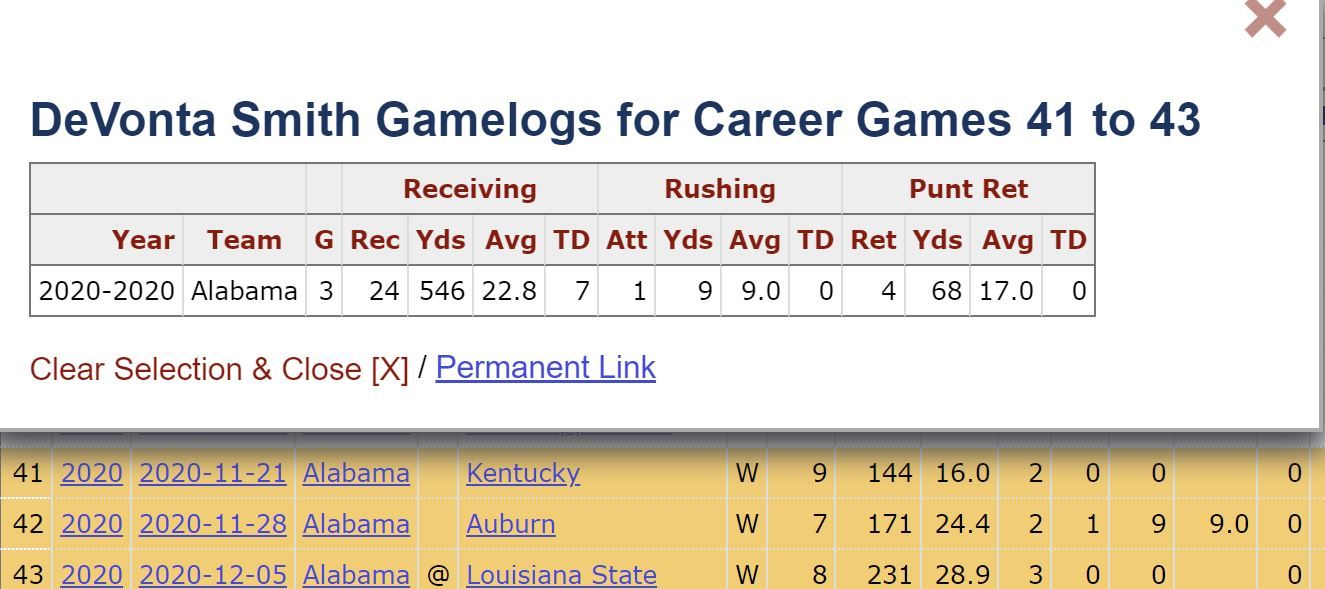 Smith's 2020 was so cartoonish that he has two separate stretches that are worthy. He obviously did it against better competition, but that offense also had a ton of other weapons to stop defenses from completely locking in on him. It also helps when the opposing coaching staff has Tuf Borland guarding you, but production is production.
Ja'Marr Chase & Justin Jefferson (2019)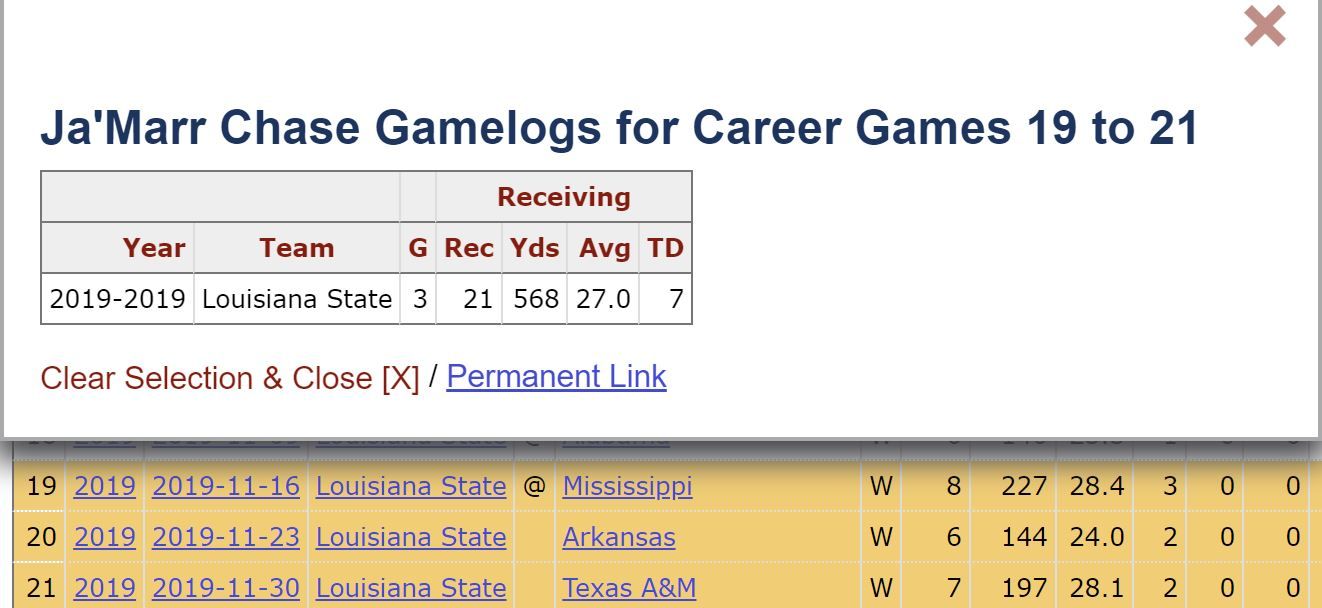 The definition of pick your poison. As with Smith, both get extra credit for doing it against the toughest competition in the country. Jefferson didn't put up the sheer numbers the others did, but his performances can't be ignored, given that all three were championship/playoff games.
Michael Crabtree (2007), Davante Adams (2013), Marqise Lee (2012), Terrance Williams (2012)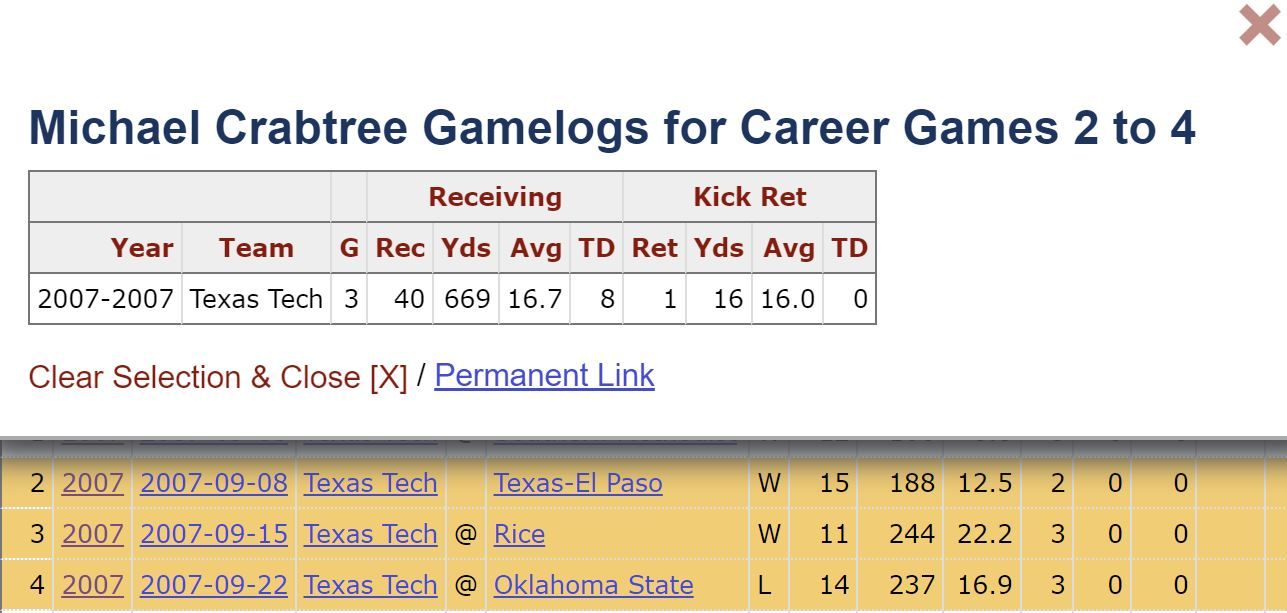 More hilarious production from some of the best college receivers ever. I'm sure that I forgot several handfuls of other players who deserve to be mentioned - so please forgive me, but you get the point. I get that picking a three-game sample size is arbitrary as hell, but Lelie's performance in those games warrants the cherry-picking. It's one of the finest displays of receiver play in the history of the sport, and hopefully this video helps it stand the test of time.