10 Takeaways
10 Takeaways: Week Six
Just take a knee, Mario!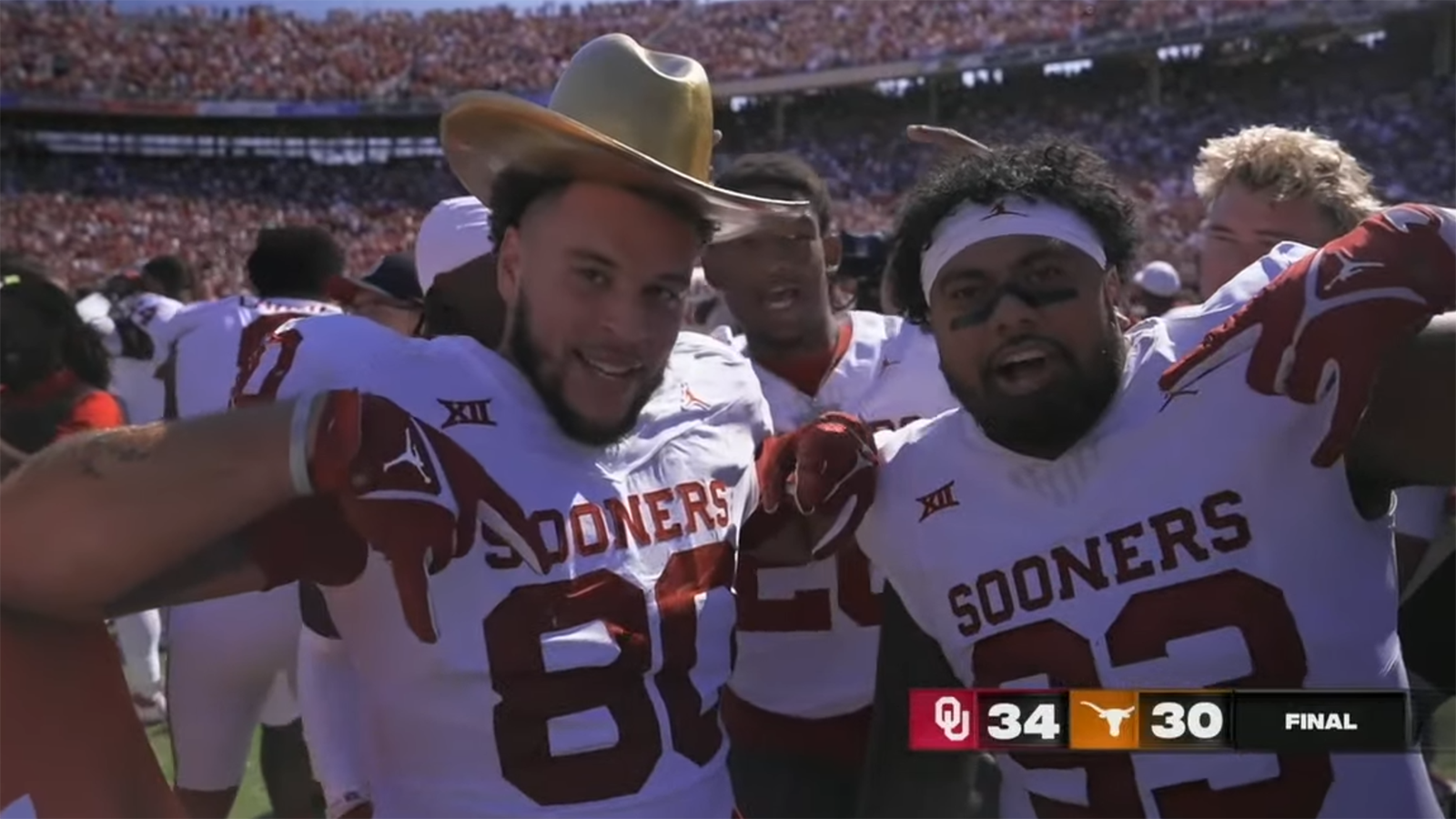 For those reading on e-mail: click 'view in browser' to see the full contents of today's post
---
1. A perfect Red River Shootout
Outside of the major implications for the playoff race, the Big 12, and both programs, I just want to give a solo standing ovation to Oklahoma and Texas for the game they played yesterday. Their rivalry is the perfect embodiment of everything that makes this the best sport in the world, and I can't get over how entertaining and dramatic that game was. It's my favorite of the year so far, but the environment in the Cotton Bowl took it to the next level. Both of those fanbases made it feel like the fate of the universe was on the line every snap, and it's a shame one of their teams had to lose.
I thought Oklahoma was a bit overlooked coming into the season, but even I'm surprised at just how strong they look when they're playing their best. Their defense made a couple crucial stops in the redzone, and is leaps and bounds ahead of where they were in Brent Venables' first season. Offensively, their passing game is as dangerous as any in the country, and Dillon Gabriel became a contender for the Heisman after that masterful final touchdown drive. There's no game left on their schedule that scares me –depending on the status of Kansas quarterback Jalon Daniels– and they should be playing for an auto-playoff spot in the Big 12 Championship game by the time December rolls around.
As for Texas - they've gotta be feeling sick today. They had two separate redzone trips end with zero points, –including having four plays from the one-yard line in the fourth quarter– but I don't have anything negative to say about them. They've turned the corner completely, and are at worst a top-ten team. I admit that I was wrong about Steve Sarkisian!
2. Michigan is the best team in the country (right now)
It pains me to say it, but it's the truth. Regardless of what you may think about the teams they've played, one sign of a great team is shredding opponents that you have a clear edge over. That's exactly what Michigan's done through six weeks, including last night when they blasted Minnesota 52-10. I feel confident saying they're a clear step ahead of both Ohio State and Penn State in the Big Ten, and are more of a legitimate national title contender than they've ever been in the Jim Harbaugh era. They've outscored their opposition 220-40, and that gap is only gonna get wider in the next three games against Indiana, Michigan State, and Purdue.
ARE YOU HAPPY FOR THE NICE WORDS I SAID ABOUT YOUR TEAM, MICHIGAN FANS?????????? (Tell your friends to subscribe)
3. What happens next, Miami?
It's almost impossible to fumble a sure-fire win worse than Miami did against Georgia Tech. First, they didn't take a knee despite being up three points with less than 40 seconds left:
Then, their secondary committed the cardinal sin of last-minute defense in letting someone get behind them:
It's hard to fathom, and Canes Head Coach Mario Cristobal certainly looked like a dude who had no idea what he'd just witnessed afterwards:
The shocking way they failed at the end is rightfully getting all the attention, but Miami even being in that close of a game with Georgia Tech is enough for alarm bells to start going off for me. They had a great first four games, but looked awful against a Tech team who got their asses kicked at home by Bowling Green last week. It was exactly the type of performance that makes you question whether they've actually turned the corner, and it has the potential to derail their entire season if they let it.
4. Here comes Alabama
I really hate horror movies, but in the spirit of Halloween season, I'm getting some strong Michael Myers vibes from Nick Saban and Alabama. As much as most of us wanted to believe it after the Texas game, these MF's ain't dead. In fact, they look as threatening as ever with quarterback Jalen Milroe starting to put it all together. He threw for 321 yards and three touchdowns against a strong Texas A&M defense, and his connection with receiver Jermaine Burton is turning into one of the most devastating and clutch duos in the country. His continued growth, paired with their already monstrous defense should be enough to scare anyone who thought they weren't still very much in the national title conversation.