2023 Season
10 Takeaways: Week Ten
I'm gonna miss Bedlam.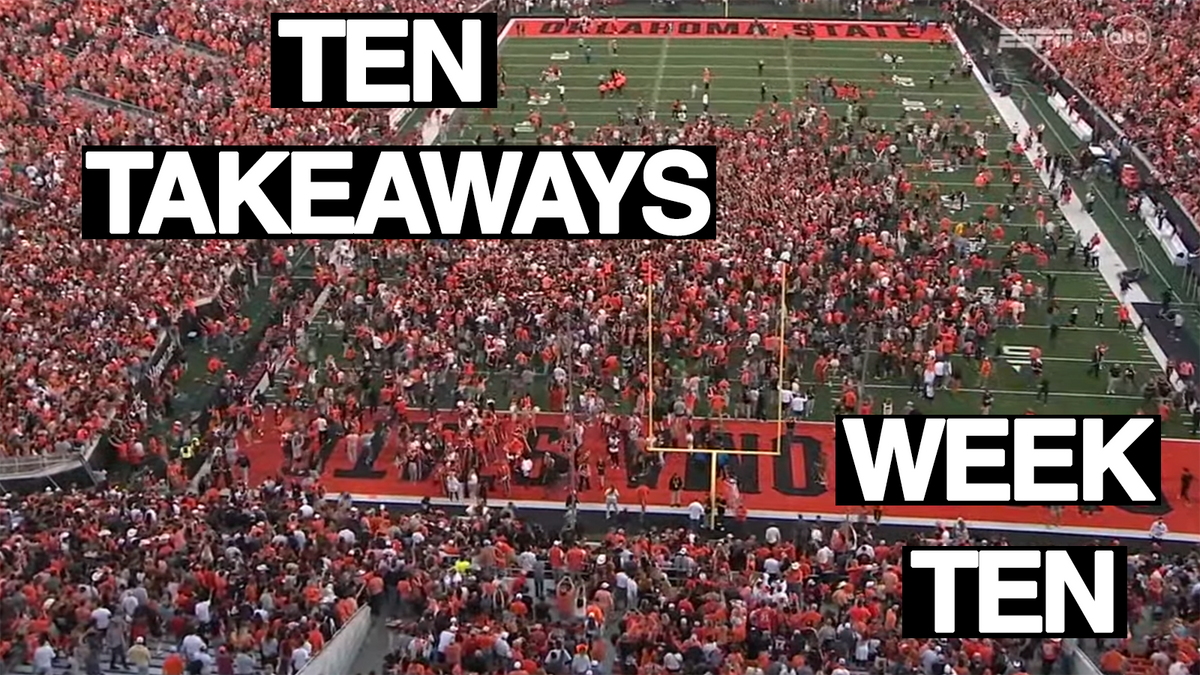 For those reading on e-mail: click 'view in browser' to see the full contents of today's post
---
1. Thank you, Bedlam
I don't even have a breakdown for Oklahoma-Oklahoma State as much as I just want to say how much I'll miss this rivalry. I can't stand that this is the stuff conference re-alignment is taking from us, but I'm at least glad that Bedlam went out with a bang. This was the hardest-hitting game I saw this week, and you could tell how much it meant to each team. This is what the sport is all about, and that was a game that everyone who was in T. Boone Pickens Stadium for it will never forget. Hopefully the people who make decisions at each school get their heads out of their asses and get it back on the schedule as soon as possible.
2. Track meet at The Coliseum
Washington-USC felt like a peak-2008 Big 12 game, and was exactly the sugar rush I needed from the night slate. We got 94 combined points (63 in the first half), 1,087 combined yards, and 51 combined first downs. Washington running back Dillon Johnson ran through gaps in the USC defense wide enough to unclog LA traffic on the 110, exploding for a career-high 256 yards and four touchdowns. If that wasn't entertaining enough for you, quarterback Michael Penix also threw for 256 yards and two TD of his own; one of which may end up being his de-facto Heisman moment:
Washington looked shaky in their two games post-Oregon, and they deserve credit for taking care of business by any means necessary in a spot that looked ready-made for a stumble. They've got tough games against Utah and at Oregon State the next two weeks –so they're far from a Pac-12 title/Playoff lock– but I think it's a positive sign that they've proven they can win in different ways.
On the flipside, I don't blame Caleb Williams for being emotional after he threw for 312 yards and three touchdowns on 27/35 passing in a losing effort. What are you supposed to do as an offense when you put up 42 points and 515 yards, but still lose by 10 because your defense allows the opposing offense to do this:
UPDATE: This is what happens when your defensive drive chart looks like that:
3. Alabama refuses to go away
Part of me is exhausted. How much longer can Nick Saban keep doing this? He lost a Heisman-winning quarterback, a first-round running back, a pass rusher taken in the top three of the draft, and two handfuls of other guys now collecting NFL paychecks. And here Alabama is: 8-1, undefeated in SEC play, and looking like even more of a threat to win a title than they did last year with all those dudes still on the roster.
Their 42-28 win over LSU was impressive in every regard. Quarterback Jalen Milroe threw for 219 yards, ran for 155 and four touchdowns, and keeps improving every week. The defense gave up 28 points through the 11:14 mark of the third quarter, then held what's arguably the country's best offense to just 70 yards on 18 plays (3.8 yards per play) and zero points for the rest of the game. It all makes me sick to the core.
But the other part of me is in awe. It's year 17 for Saban in Tuscaloosa, and it doesn't matter how crazy the roster turnover is, who's on his coaching staff, or what problems his team has - they just win, and do it at an elite level. He's the greatest of all-time, and this season might be the best job he's done. It'd be the least surprising thing in the world if it ends with his eighth National Championship.
Also, he gets bonus points for being an elite troll: