Throwback
Throwback: Washington's Corey Dillon has the most prolific quarter of football ever
Dillon's 305 yards against San Jose State in the first quarter are still an NCAA record 27 years later.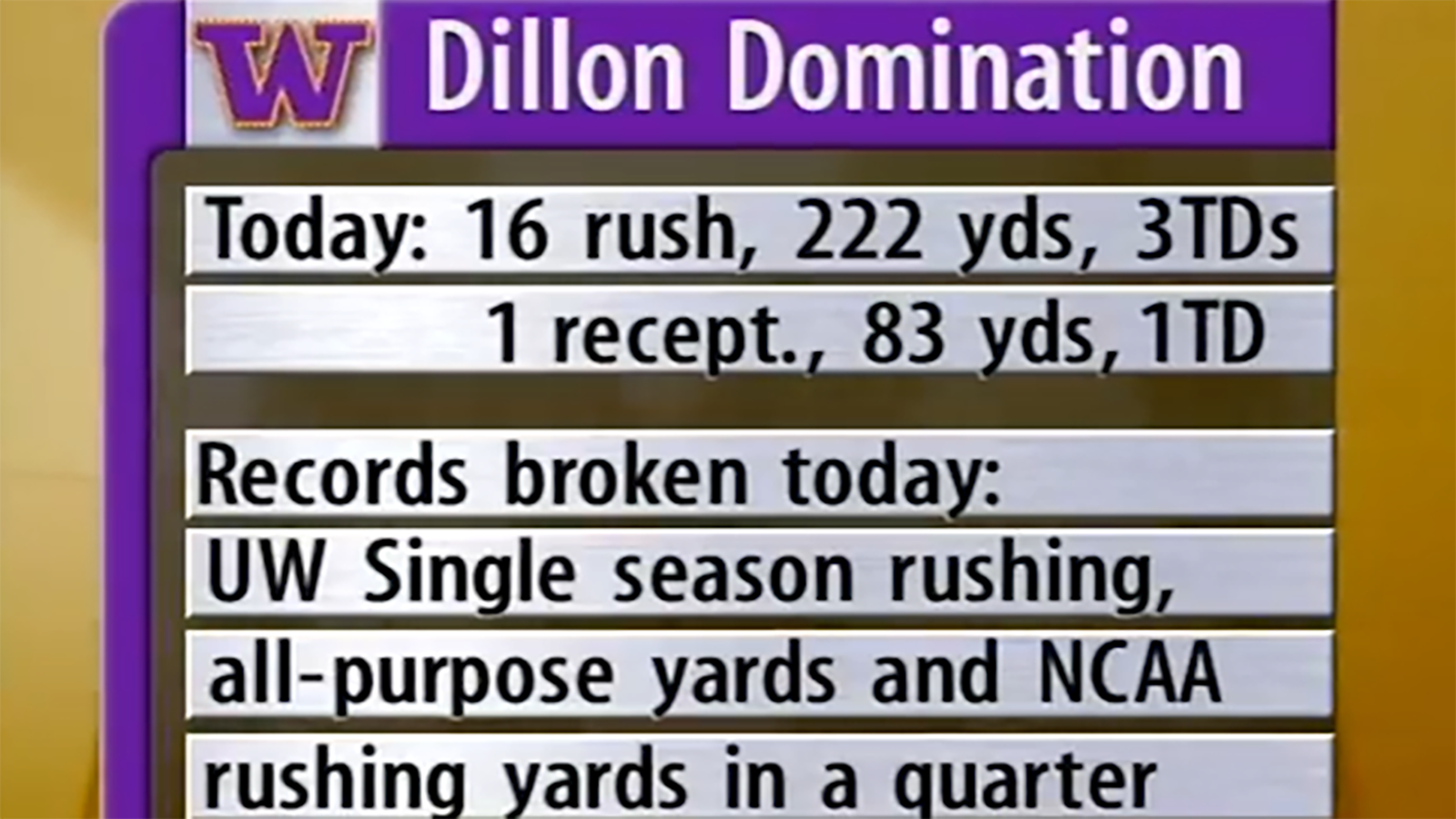 For those reading on e-mail: click 'view in browser' to see the full contents of today's post
---
I've spent an ungodly amount of time over the last decade cutting college football highlight reels for my YouTube channel. I've scoured through almost every resource imaginable to find all kinds of footage, including looking through old VHS tapes that my parents still have. One of my favorite feelings in the world is finding a random game or performance that I've been searching for - sometimes for years!
I had one of those glorious moments recently, when I opened YouTube and found a 1996 game between Washington and San José State sitting right at the top of my recommendations homepage. (shoutout to my algorithm that day.) I'd been looking for this game since at least 2020, and it's the most fortuitous thing that's happened to me on YouTube since the 2010 Ohio State-Miami game popped into my feed the day before I made the Terrelle Pryor video.
But why would I covet some random game between 7-2 Washington and 2-8 San José State from 27 years ago so highly? Because it contains the single-greatest one-quarter performance in the history of college football.
On November 16, 1996, Washington running back Corey Dillon was unstoppable. (Well, more unstoppable than he usually was already.) In the first quarter alone, Dillon ran for 222 yards on 16 carries, caught one pass for 83 yards, and scored four total touchdowns. He set NCAA records for most rushing yards in a quarter (222) and most all-purpose/scrimmage yards in a quarter (305) that still stand today. If that weren't enough, he also set then-school records for most rushing yards in a season, most all-purpose yards in a season, and most touchdowns in a season that day, too. The funniest part of it all? He didn't play a single snap after the first quarter in the Huskies' 53-10 win:
Corey Dillon is one of my favorite running backs of all-time. I grew up in Colorado as a Cowboys fan who hated the Broncos, (still do) and I'll never forget watching him torch Denver for the NFL single-game rushing record in 2000 when he was on the Bengals. It was honestly a major bright spot of my football fandom as a kid, given that Dallas was knee-deep in the mud of the Dave Campo era. Dillon had me as a fan for life after that. Hell, I was even happy to see him win a ring with the Patriots in 2004 after the seven years of hell he endured carrying the weight of the late 90's/early 2000's Bengals on his back.
His UW career understandably doesn't get talked about as much, because he was only there for one season. Dillon made stops at three different JUCO's prior to playing for the school he always wanted to be at, and left for the NFL after just 11 games as a Husky. He made the most of his time, though, setting then-single-season school records for rushing yards (1,555), touchdowns (23), and all-purpose yards (2,356), headlined by his record-breaking day against San José State. I'm glad that this classic performance can finally live in video form as a small slice of college football history, and I'm even happier to say that his full 1996 highlight reel is coming to the channel this offseason, too.