Throwback
Classic Performances: Donovan McNabb takes over the Big House
An all-time ass-kicking.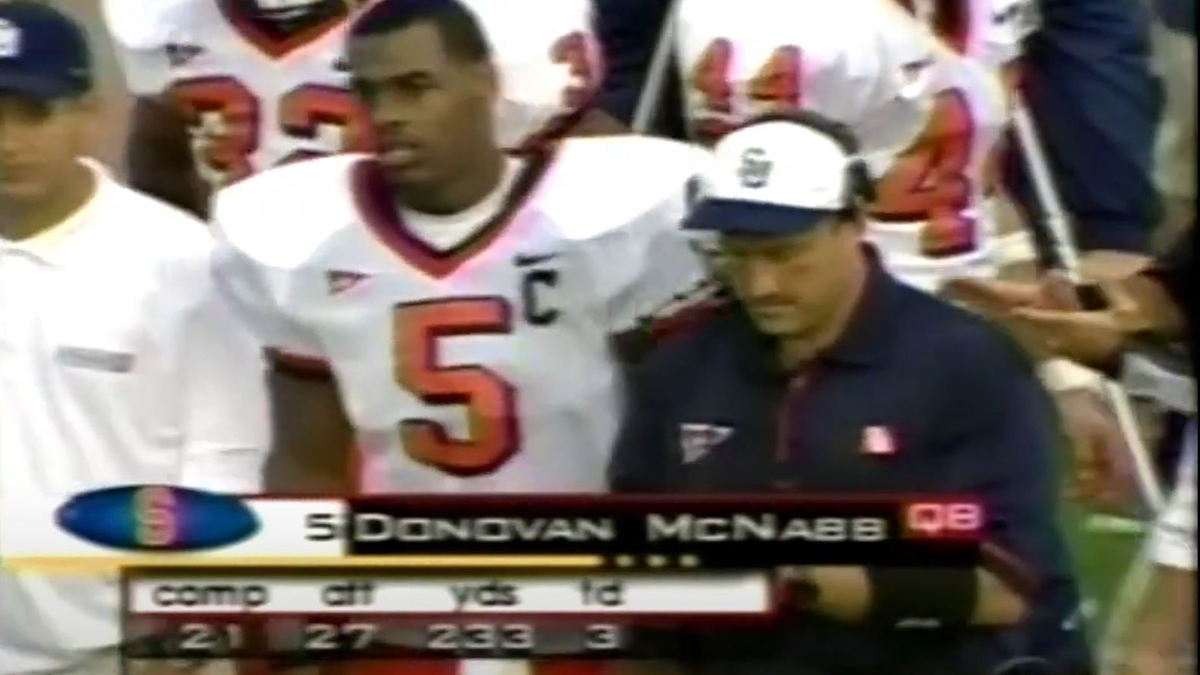 ---
There's something special about watching star-making performances in college football. Think Jameis Winston carving up Pitt in his first start. Or Johnny Manziel and Zeke Elliott reaching living legend status against Nick Saban's Alabama defenses. Those moments where a player shoots into superstardom are so awesome because you know you're witnessing history, and it's something you're going to talk about forever. That's exactly what happened with Donovan McNabb at Michigan Stadium on September 12, 1998.
To be clear, McNabb was far from an unknown heading into the season. He'd been Syracuse's starting QB the past three years, leading the team to a 27-10 record and three top-25 finishes. He won back-to-back Big East Offensive Player of the Year awards, and even played a couple seasons on the basketball team. McNabb was already a bonafide star, but dominating the Big East (unfairly) came with questions of whether he and the Orange could match up with the powerhouses of the sport. Those questions were emphatically answered in the first two weeks of the 1998 season.
In the season opener against Tennessee, McNabb went 22-28 for 300 yards and three total touchdowns, as the Orange lost a heartbreaker on a last second field goal to the eventual undefeated national champions. The game was an instant classic, and showed that McNabb and his squad could play with anyone. But if there were somehow still any doubters, they'd be gone the very next week after what he did in The Big House.
Against the defending national champions, McNabb threw for 233 yards and three TDs on 21-27 passing, while also running 19 times for 75 yards and one jaw-dropping TD where he lost his shoe mid-play. I'm convinced he could've thrown for 400-plus and five or six touchdowns if the game situation would've called for it. Michigan had no answers for him or the Syracuse offense, and even though the game finished 38-28, this was a certified ass-kicking. Syracuse was up 38-7 with less than 10 minutes left, and McNabb was lounging on the sidelines with a young, HAT-WEARING Steve Addazio: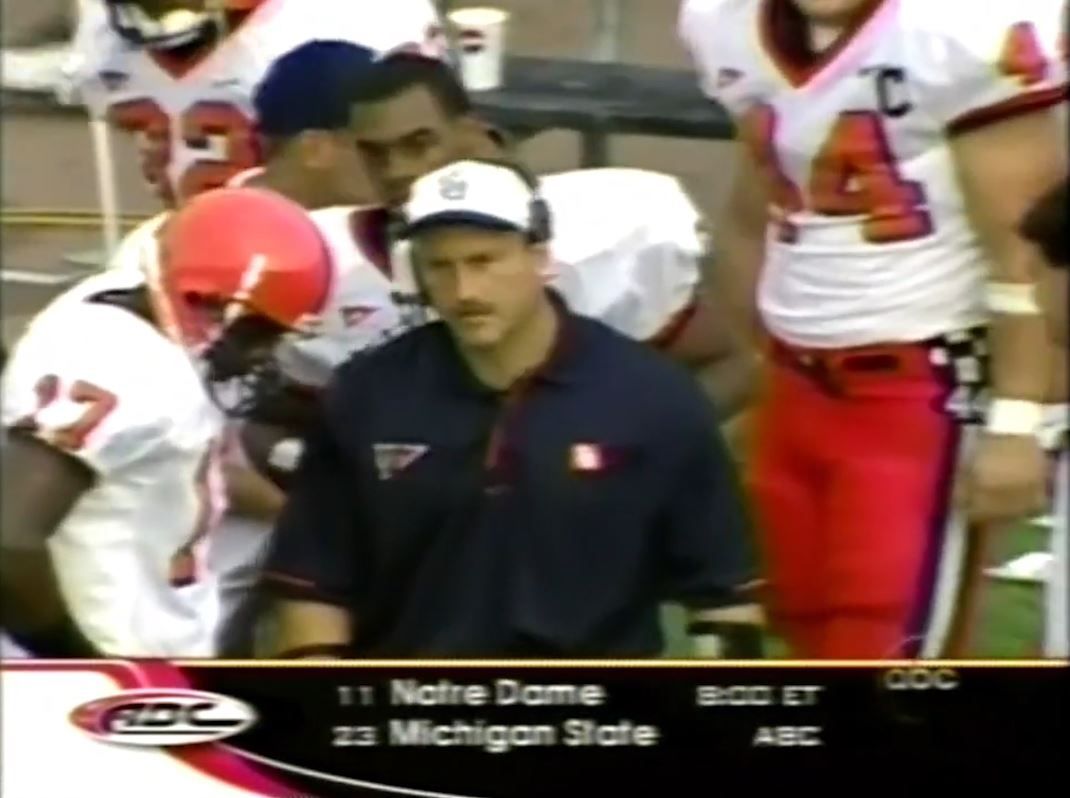 Meanwhile, the QB on the other sideline had a tough day: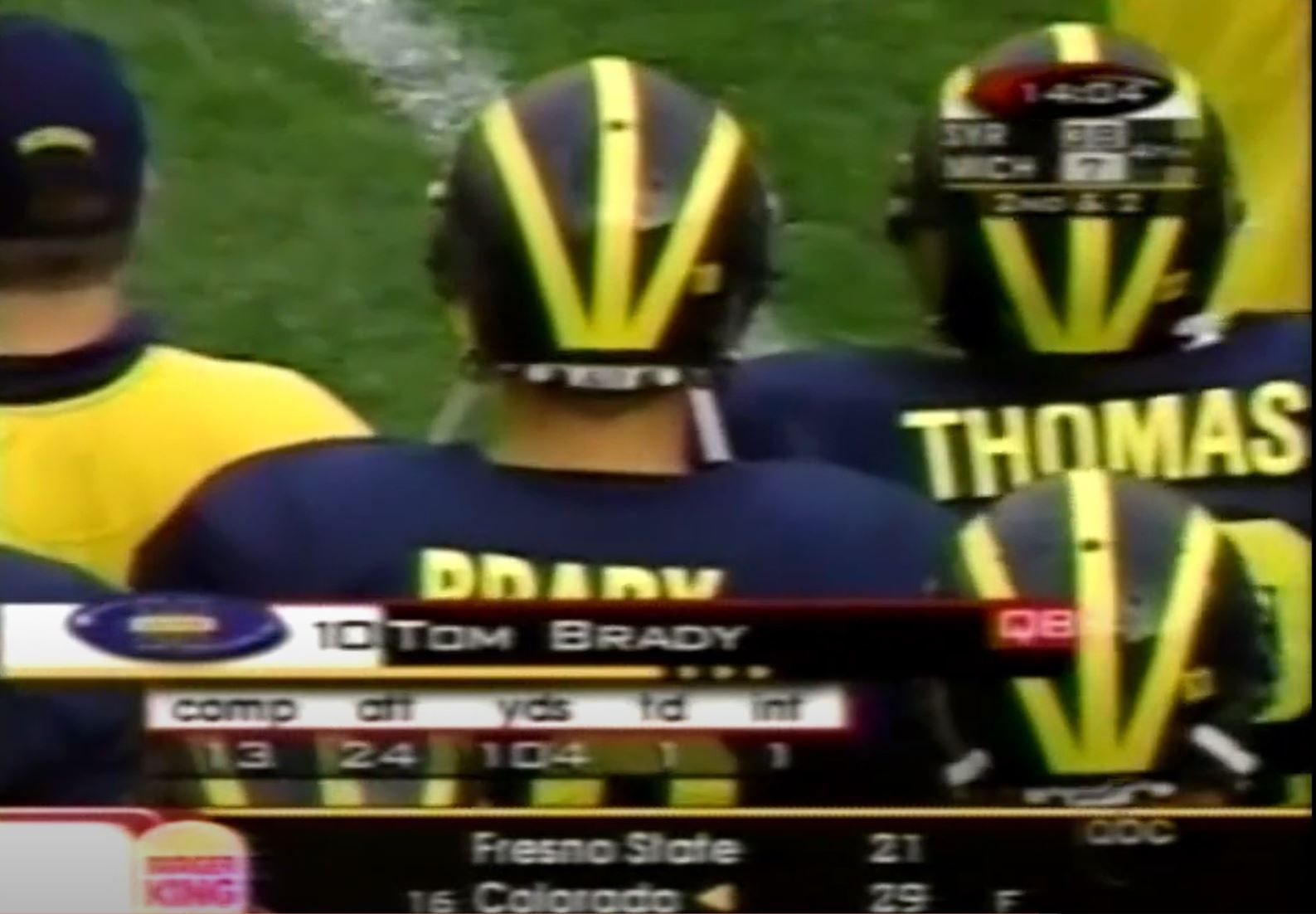 (Bonus: Before the 2005 Eagles-Patriots Super Bowl, Brady told the New York Times this game was the "worst defeat" of his career.)
McNabb's performance rocketed him into true national star status, and put him in the thick of a loaded Heisman Race, where he finished fifth. It also set the stage for him as a top NFL Draft prospect. Dan Fouts spent the whole broadcast (rightfully so) praising his game, how he was built for the NFL, and even called him "Barry Sanders in cleats," for some of the moves he pulled off. It was all high praise, but pretty spot on given that he was eventually taken second by the Eagles in the 1999 NFL Draft and had a very successful pro career. (Finishing up the article now because I'm a Cowboys fan who hated McNabb as a pro. I was 9 years old when he got drafted, so I had to watch this guy mostly kick my team's ass for a decade-plus. Except for 2009. I'll always have that.)
ANYWAY, I'd never watched this game before yesterday when I cut these highlights, and I was blown away by just how in control of the game McNabb was. He did anything he wanted to Michigan's defense, and they really had no hope of stopping him. It's an all-time performance, and one of my new favorites in retrospect.
(Click 'View in browser' if you're reading this on E-Mail to see the video, or watch the video here.)