MY COLUMN
My 15 favorite Ohio State-Penn State moments
Spoiler: There are many pick-sixes.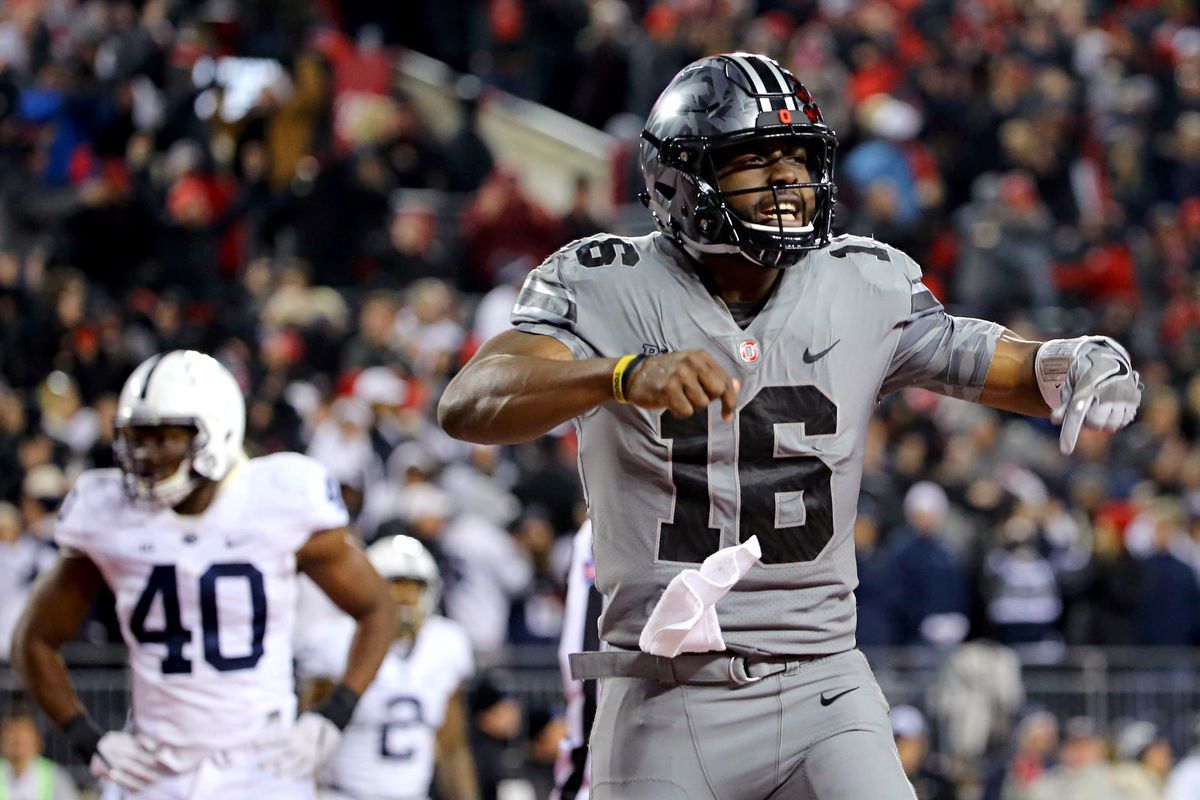 Contrary to what the message board posters say, Ohio State-Penn State is a rivalry. There've been too many classic games, big moments, and –if we're keeping it real– Penn State wins for it to not be. No Big Ten team gives the Buckeyes more trouble, and there's a level of pure animosity and hatred towards the PSU fanbase that doesn't even exist toward Michigan fans.
Sure, some of that might be [gestures broadly to the topic I'm not going near]-related, but a lot of it is also because these games tend to be pretty damn good. I sure as shit couldn't make a list of my 15 favorite memories from it if they weren't. Anyway, let's get to it.
---
15. Michael Jenkins does it again (2003)
I'll admit: I'm starting with a game I never actually watched until this summer when I updated the Michael Jenkins highlight video, but it's my list, so it makes the cut. Jenkins made more big plays than any Ohio State player ever, and he only added to his legend with this last minute game-winning TD in Happy Valley:
Bonus nugget: An injured Craig Krenzel is the one who called this play from the sideline.
---
14. The debut of the black uniforms (2015)
AKA the best Ohio State alternate uniform. The game was a snoozefest, but I love the all-black, and still rock the Justin Fields No. 1 every game day. Superior in every way to the all-scarlet uniforms they're wearing on Saturday.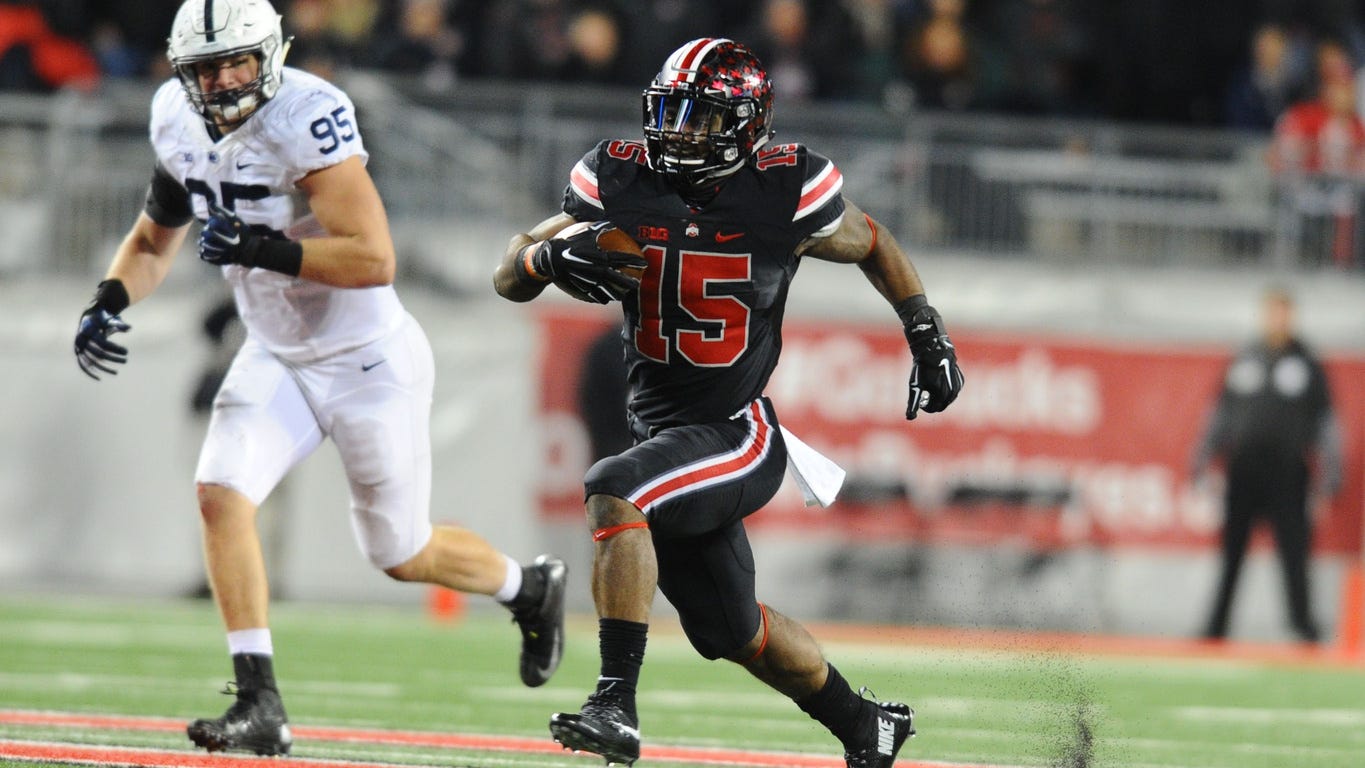 ---
13. Devon Torrence's moment (2010)
Devon Torrence is the first Ohio State player I can remember being mad online about. (Or Anderson Russell. Same time frame, take your pick.) He was the OG Tuf Borland for 17-20 year old me. I was unhealthily online even back then, and I definitely shit-talked his play for multiple seasons on the Ohio State section of Sports Blog Nation (before they changed it to Land-Grant Holy Land and SB Nation. God damn I've been online a long time.) Enter the 2010 Penn State game.
Penn State's coaches made a point to go after him, and it was a good strategy. Torrence gave up at least five first half catches, plus a brutal pass interference in the endzone that led directly to a 14-3 PSU lead. If you watched this game live, you remember exactly how insurmountable those 11 points felt. After Ohio State's offense finally scored a touchdown on their opening drive of the second half, Torrence made a play that almost perfectly describes his career:
"Only this fucking guy could drop the ball twice in one play,"- My brain, as the ball was in the air. Instead, he caught it, threw the most robotic juke of all-time on Matt McGloin, and scored the touchdown that might've saved the season.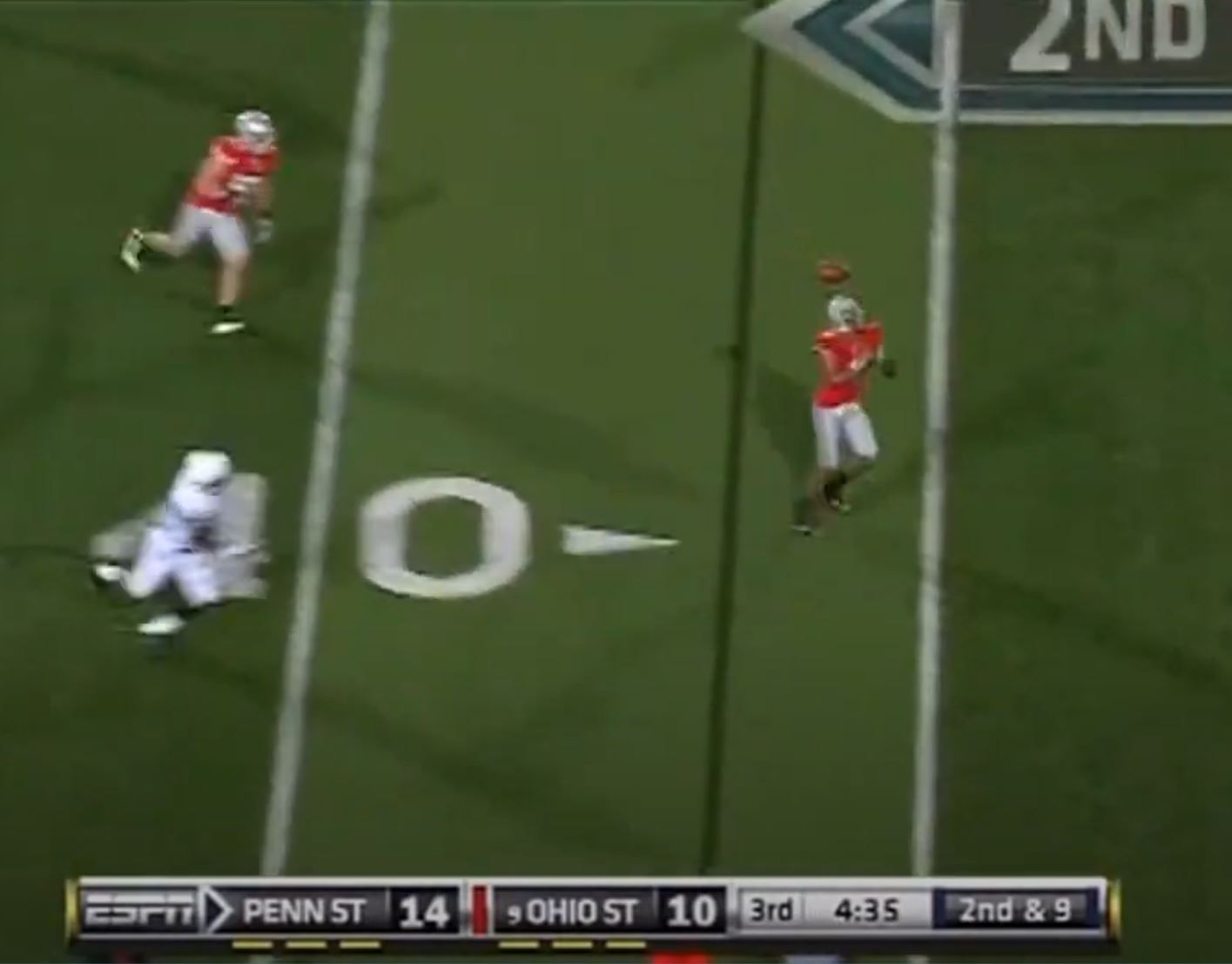 Devon currently plays pro baseball, and from what I could find helps develop young baseball players in North Canton. Devon: I'm sorry for screaming online during the 2009-2010 seasons about how you shouldn't be playing division one football. I'm an idiot. Thank you for being a Buckeye, and for that touchdown.
---
12. 63-14 (2013)
There was beauty in the devastation of Ohio State's 2013 offense, and the Penn State game was its masterpiece. They put up 686 total yards –including 408 rushing– and probably could've scored 90 if they wanted to. It's arguably the heftiest ass-kicking of the Meyer era, non-2013 Purdue edition. Can you imagine another Ohio State team with an offense that good, but the defense isn't worth shi- HEY WAIT A SECOND.
Can't bring up this game without mentioning the Dontre Wilson spin: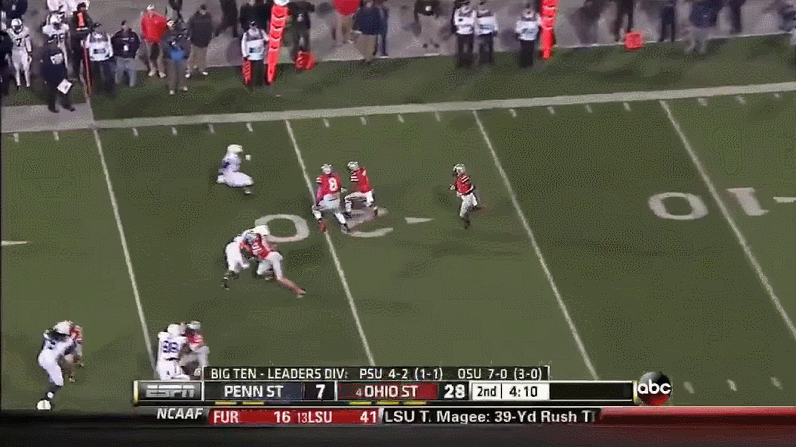 ---
11. Chase Young returns and kills everything in his path (2019)
The only person who could stop Chase Young in 2019 was Mike Locksley. (Allegedly.) After serving a two-game NCAA-mandated suspension for something frivolous, Young returned against Penn State and put on a one-man demolition show with nine tackles and three sacks:
---
10. Malcolm Jenkins gets away with one (2006)
It's time for the pick-six section. From 2001-2012, Ohio State's defense scored nine touchdowns off interceptions in 11 games against Penn State. It became such staple of the rivalry that there's a full YouTube video dedicated to (most of) them called "Pick Six University," and five make this list. Devon Torrence's was the first, so let's talk about Malcolm Jenkins in 2006.
Point blank: This game sucked. It really only had one other moment –which we'll get to later– but with three minutes left in a one-score game, Jenkins picked off Anthony Morelli and zig-zagged 62 yards for a touchdown that put the game away:
It was a great play, except he didn't actually score: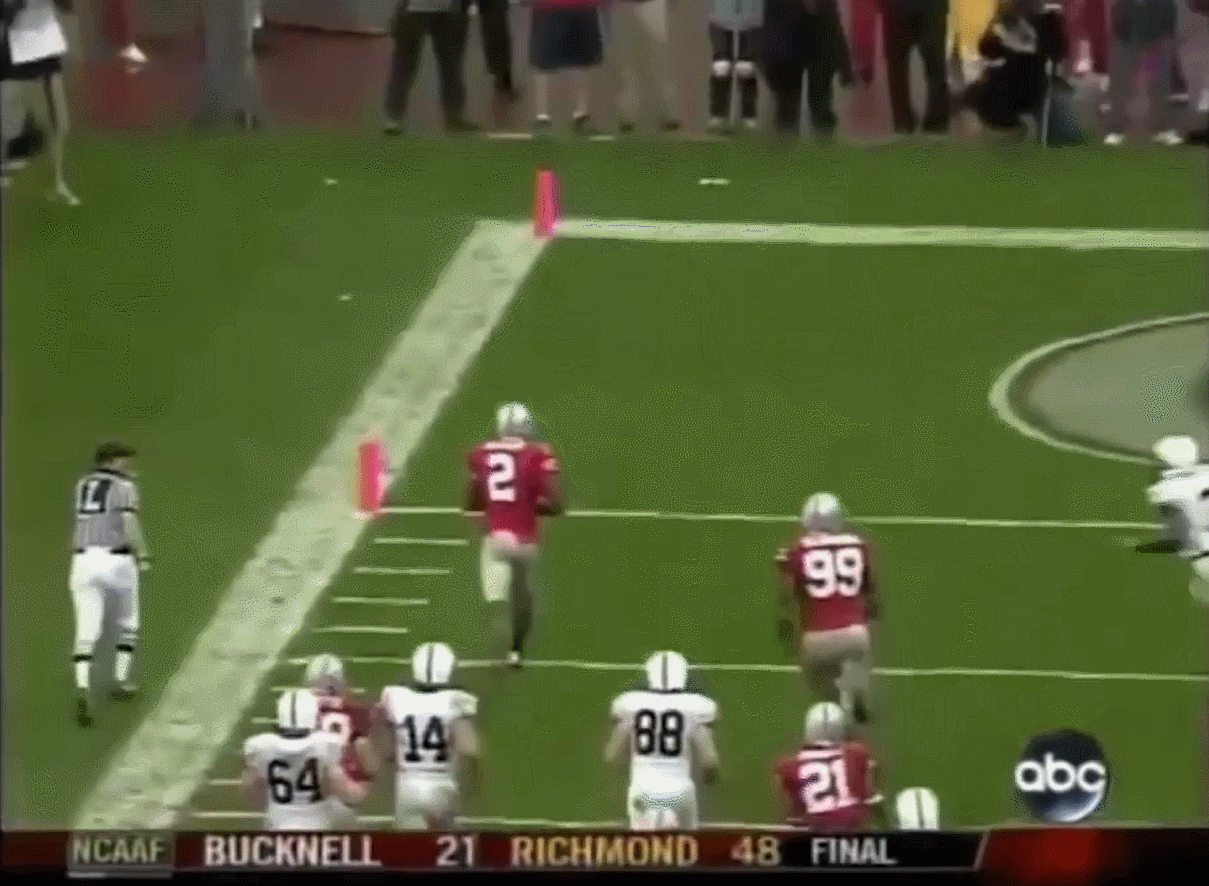 The best part is that they reviewed the play to see if he stepped out of bounds, but didn't think twice about him spiking the ball at the one. I'm not sure why, but seeing this play always makes me laugh, and that's why it's here. Also: Antonio Smith had another pick-six on Penn State's next drive.
---
9. Malcolm Jenkins, for real this time (2007)
Anthony Morelli was a fan of storyline continuity and let Jenkins leave no doubt the next season:
---
8. Ryan Shazier's tribute (2012)
In early 2012, Ryan Shazier's high school friend Gary Curtis passed away from muscular dystrophy. To honor him, Shazier wore Curtis' favorite number –48– against Penn State. Seven tackles, two sacks, and a pick-six later, he had a game that he'd never forget, and a fitting tribute to his friend:
No, the Braxton Miller touchdown you're all thinking of from this game doesn't make the list. Sick move by him, but holy shit the sheer degree of holding on that play.
---
7. Joey Bosa walks it off (2014)
I've never seen an Ohio State player more sick of this shit and ready to go home than Joey Bosa was as this play unfolded. Also, the first appearance of the rare 'make a tackle on two offensive players at the same time' play that Sam Hubbard also pulled off in the 2017 comeback.
I watched this game at my buddy's house with him and his girlfriend, and her friend I was trying to make a move on. We ended up making out at the bar later, but then she ditched me when one of the Denver Nuggets showed up. True story. But the Bux won, and that's all that matters.
---
6. The punt block (2017)
There were a lot of things that had to happen for Ohio State to win the 2017 game, but Denzel Ward's fourth quarter punt block was the moment where it felt like their destiny. That crowd was a morgue from the moment Saquon Barkley housed the opening kick, and this play sent them –and the team– into another dimension for the rest of the game. Sidenote: If you're going to on Saturday: Please make some god damn noise.
---
5. Smith to Robiskie (2006)
I have a love-hate relationship with this play. It's a beautiful individual effort –and an absolute rope of a throw– but I've always thought it's kinda weak compared to other "Heisman Moments™" from the last 20 years. Maybe it's because that game was so boring. Maybe it's because of how that season ended. Maybe I just miss natural grass at Ohio Stadium, and it makes me bitter every time I see it because of the cheap, mini golf course-ass surface they play on now. I'm sure a lot of people have this as their No. 1, but it lands at No. 5 for me.
---
4. The greatest week of my sports life (2009)
As a combo Ohio State/Dallas Cowboys fan, you can be sure of two things with me:
I fucking hate Pennsylvania sports.
Only one of my teams knows what it's like to play for a conference championship.
My worlds collided on the weekend of November 7-8, 2009, with the Bux® playing at Penn State in primetime, and the Cowboys travelling to Philly for Sunday Night Football. Judging where this ranks on the list, you can guess how things went.
Ohio State got revenge for the 2008 debacle thanks to this sweet 62-yard bomb from Terrelle Pryor to DeVier Posey:
And the Cowboys beat Philly for the first of three times that season on a Romo-to-Miles Austin TD in the fourth quarter.
Also, the Phillies lost the World Series earlier that week. Fuck them, too.
---
3. Binjimen Victor to the rescue (2018)
I've never watched an Ohio State win I thought they earned less than 2018 Penn State. They overcame multiple double-digit deficits, an all-time turtle from Urban Meyer, and a wild crowd in Happy Valley to somehow pull it off. We can all thank Binjimen Victor:
Seriously, look at this at catch:
The KJ Hill game-winning TD also works here, but I always had a soft spot for Victor, so I'll never forget how pumped I was for him. A stolen win in every sense, and a reminder that Penn State blew double-digit fourth quarter leads to Ohio State in back-t0-back seasons.
---
2. Chris Gamble * incoherent screaming * (2002)
The final –and most important– pick six on the list. Of all the Ohio State highlight reels I've ever cut, Chris Gamble's is the best. The sheer amount that Jim Tressel asked him to do in 2002 was borderline illegal, and almost every time the season needed saving, it was Gamble (or Michael Jenkins) who made the play. The Penn State game was no different:
This should've been his Heisman moment. Or the Wisconsin interception. Or the Purdue interception. Or the 31 catches and almost 1000 combined receiving and return yards he had. Instead, he didn't even finish in the top-10. Chris Gamble crawled so Jabrill Peppers could walk to New York on the back of one career interception and a couple of offensive touchdowns against Rutgers.
To really bring the pick-six stuff full circle, he might've been the one who inspired Malcolm Jenkins in 2006: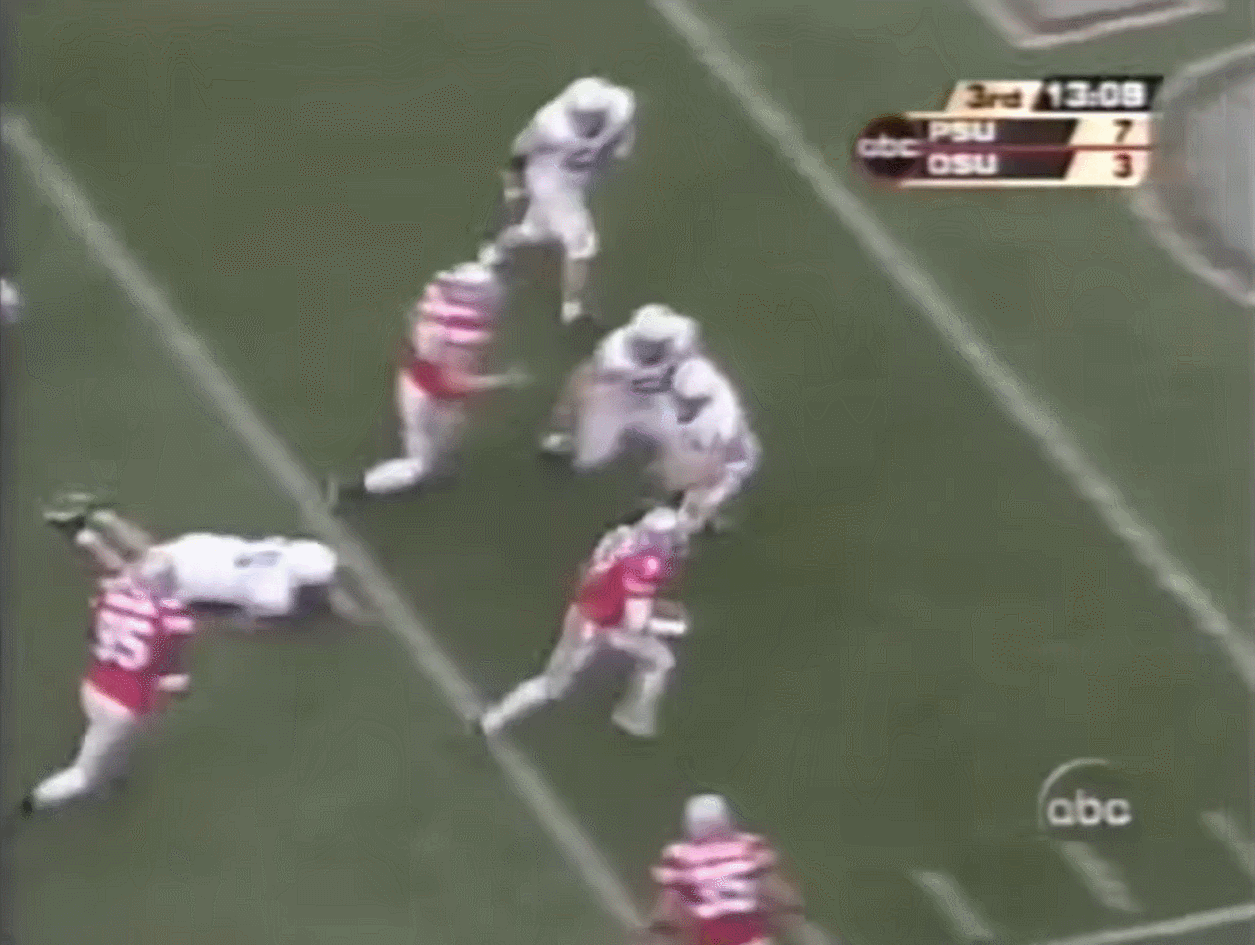 ---
1. JT Barrett's fourth quarter masterpiece (2017)
The throws? Impeccable. The leadership? Immaculate. The QB plunge at the end to close it out? Vintage. JT Barrett's fourth quarter against Penn State in 2017 is the Michael Jordan shrug game of Ohio State Football. I didn't even think twice about putting this No. 1. My favorite performance from a Buckeye ever.
Barrett took a lot of criticism during his time in Columbus –including from me– but he never backed down. Not after a career-altering knee injury. Not after watching from the sidelines as his teammates finished off a National Championship chase he helped put them in. Not after a completely bungled QB competition derailed their chance to repeat, with a horrendous QB coach also stunting his development until 2017 at the same time. Not after another injury almost meant not finishing his college career on the field. Say what you want, but JT always came back for more, no matter how much punishment –physical, verbal, or written– came his way.  
I hate the word "deserve," but JT Barrett deserved this moment for everything he gave to Ohio State Football. There's a large segment of this fanbase who still actively think he wasn't very good, and they're dead wrong for that shit. Go watch the 2014 Michigan State game, or really anything post Virginia Tech from that season. They don't win the title that year without him.
It was ugly as hell sometimes, but that dude never didn't leave it all on the field. And yeah, we all know what happened the week after Penn State, but when the students mobbed onto the Ohio Stadium field that night, it was JT Barrett in the center of it all, soaking in one of greatest moments of pure joy in Ohio State history. He deserved that, and I'm glad he got it.
Honorable mentions: The dumbest touchdown ever (2010), Chris Olave owns the right side of the endzone (2019, 2020), JT Barrett has to do everything while playing on one leg because Urban Meyer turtles in a big game (2014 edition), Terry Glenn puts on a show in Happy Valley (1995 - This would be top 10 but I was five when it happened), I wasn't gonna spend 400 words on it, but that time Joe Paterno definitely shit his pants (2006)