Bulletpoints
Bulletpoints: Maryland
Thoughts on the Buckeyes' 37-17 win.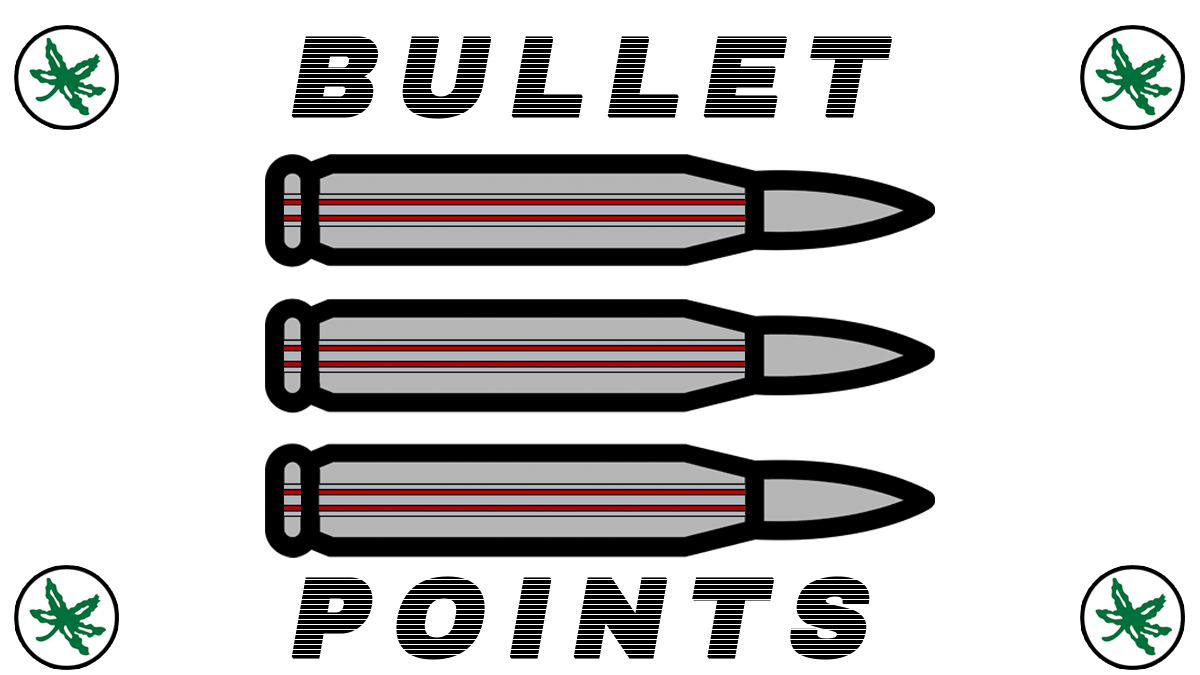 I'm not sure this defense gets after the quarterback consistently enough for me to be confident they're a top-five group, but they're damn good, and fun to watch. Even as last year's defense stacked up strong performances during the middle of the season, I never felt quite as comfortable in them getting off the field as I do with this one.

To that point, almost every time they needed to make a big play today, they did. JT Tuimoloau's fourth down stop in the first quarter, Josh Proctor's pick six, Lathan Ransom's interception, and the third-and-goal stop at the two-yard line with Maryland up 7-0 early in the second quarter are the plays that stand out the most to me. It's fun watching an Ohio State defense play with some real juice for the first time in at least 3 years.
I love how they responded after getting carved up on Maryland's 75-yard touchdown drive to open the second half. Do you think last year's defense does this:
It felt like Jim Knowles brought more pressure today. Not a ton, but enough that it was noticeable compared to how much (or a lack thereof) that they usually bring. It was calculated and gives offenses they're up against the rest of the season something new to worry about. How about that play Sonny Styles made?
I'll gladly step to the front of the line and eat shit on any previous Josh Proctor slander. Today was the best game of his career, and he's been one of their best players so far this season. The pick six was obviously his most impactful play, but he also had a huge hit on kickoff, another in the flat, showed up in run support, and did what he needed to do in coverage. A+ day from him.
Another thought on the defense before I get to the offense: They shouldn't have to lights out for Ohio State to compete with anyone. They got off the field when they had to, forced a couple turnovers, and once again didn't get smoked deep. This is the recipe.
In the same vein of liking how the defense responded: Kyle McCord did, as well:
I don't think those numbers tell the full story –He badly underthrew Marvin Harrison Jr. and Julian Fleming on two passes that were completions but should've been easy touchdowns, and there were times he looked far too shaky in the pocket with open receivers available– but he bounced back. The second and 33 throw to Harrison Jr. was ridiculous, and the the two touchdowns to Marv (one called back) had some serious heat on them.
That said, he needs to be more consistent. He got bailed out against Notre Dame when their DB dropped a sure-fire pick, and some of the misses early in today's game will get Ohio State in trouble against a better team like Penn State or Michigan. He's gotta find consistency to take this offense to the next level.