Bulletpoints
Bulletpoints: Penn State
The Silver Bullets are back.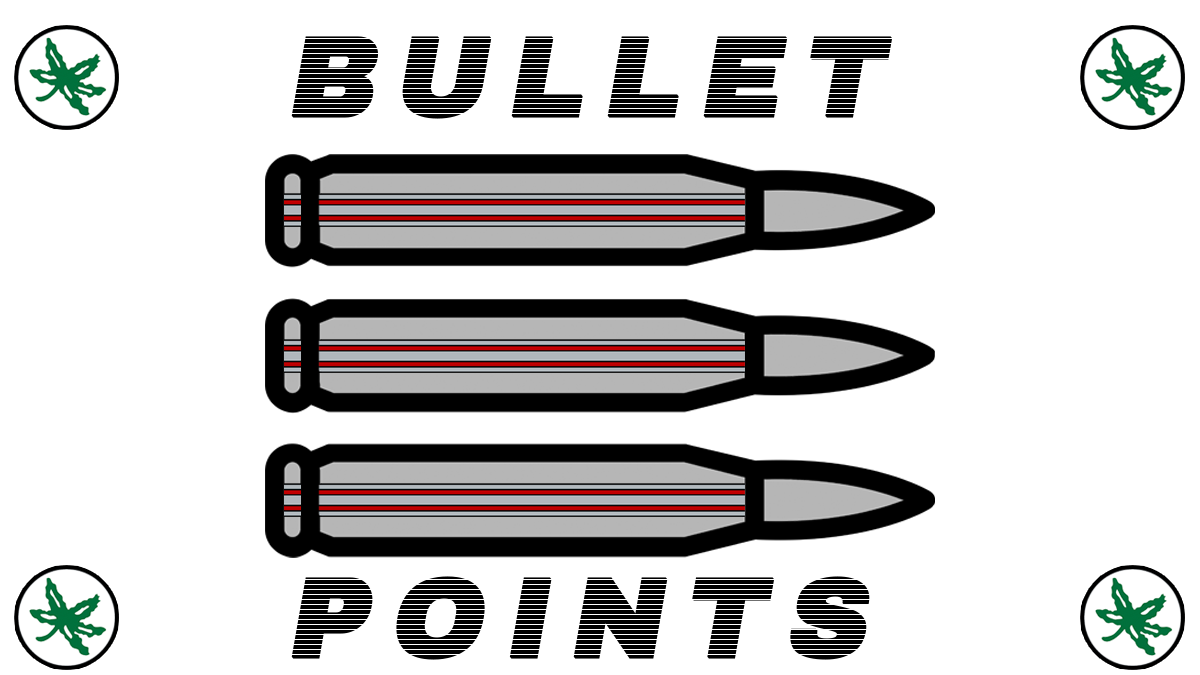 Beating Penn State never gets old. There's always been a debate about whether this is a rivalry, and I've always firmly been on the 'yes,' side. I hate these guys, and no amount of consecutive wins will ever change that. This is a measuring stick game for Penn State every year, and I'll never take them falling on their faces for granted.
Jim Knowles and his defense spent all offseason taking hell for how 2022 ended. They owned up to what happened against Michigan and Georgia, didn't make excuses, and have simply been dominant for the first seven games of 2023. Penn State was 1/16 on third downs, and that lone conversion came on the final drive. Prior to that drive, the Nittany Lions offense ran 25 plays for 36 yards (1.44 yards per play) in the second half. This was the best Ohio State defensive performance since at least 2021 Michigan State, and this defense is obviously miles ahead of that one.
Penn State fans have to be happy as hell to never see JT Tuimoloau again. He had a sack in the 2021 game, single-handedly wrecked their shit last year, and was all over the place again today. He had a huge sack, plus a QB hit on fourth down in the fourth quarter that damn-near sealed the game:
Remember what I said at the top about Knowles and the defense not making any excuses? Accountability, even in dominance - we love to see it!
I'm not gonna pretend that Drew Allar wasn't complete ass, but I thought the secondary did a great job in Denzel Burke's absence. Jermaine Matthews has a bright future. Another great day for Josh Proctor, too.
It's been a while, but I feel like we can confidently –and more importantly, accurately– say that the Silver Bullet defense is back. Ohio State can compete with anyone if this is how the defense keeps playing.
Alright, let's get to the offense. Here's the best way I can describe the first half:
The whole first half for Ohio State was defined by Kyle McCord's misses. Forgive me for being screenshot guy, but it looked like he not only short-armed this throw to Carnell Tate, but also had Marvin Harrison Jr. breaking wide open on a drag if he waits a split-second longer: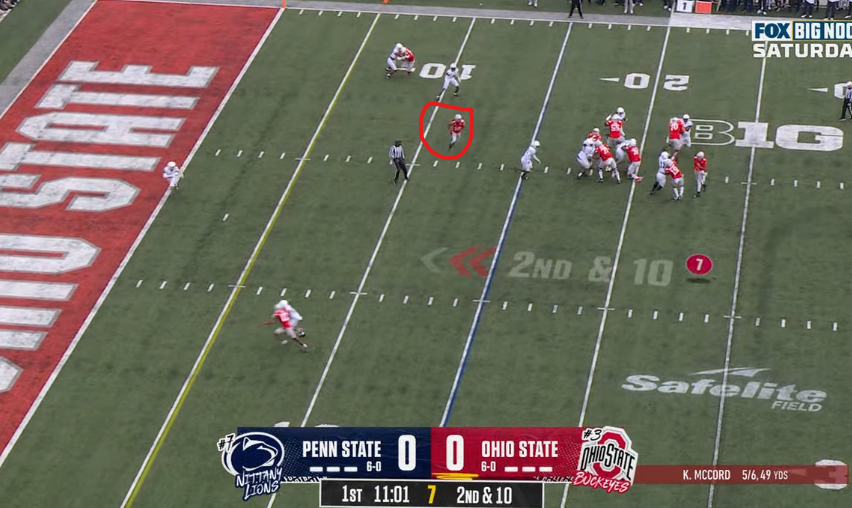 It's late enough in the season where McCord isn't an inexperienced QB anymore. He's gotta hit those, and Ohio State probably would've been up 14-3 after the first quarter if he did.