Ohio State
My favorite moments in Ohio State-Notre Dame history
You already know what No. 1 is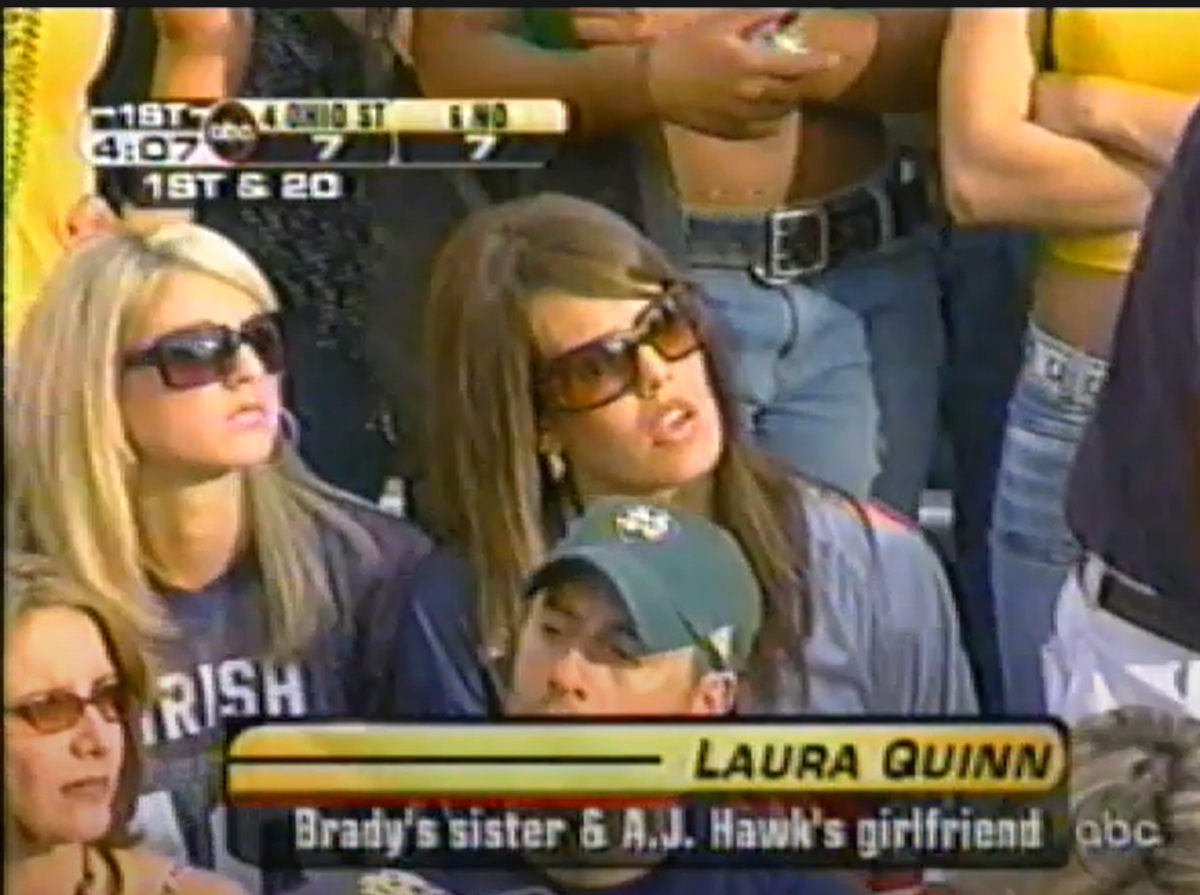 (There are a lot of videos in this one, so for the best viewing experience, you should click "view online" if you're reading this on email.)
It's hard to believe that Ohio State and Notre Dame have only played six times over the course of 100-plus years. For whatever reason, they just haven't played as much as they should. After their first meetings in 1935 and 1936, they went 59 years until the next one. They've played four times since –1995, 1996, 2005, and 2015– and despite the sheer lack of games to pull from, this series has given us some fantastic moments.
With the rivalry set to renew in this year's season opener and also in 2023, I went through each of the previous six games and ranked my 15 favorite moments from them. I'm glad I don't have a comment section. Enjoy!
---
Honorable Mention: Jim Tressel gives Jack Arute fashion advice (2006 Fiesta Bowl)
Was the collar stay originally Arute's? If so, did it fall out and Tressel picked it up on the spot and then owned him like that? What if Tressel just had an extra one in his pocket? Would you put something like that past him? How humiliated do you think Jack Arute was in that moment to hear Jim Tressel tell him, "You're not lookin' sharp"?  
15. The fact that footage of the 1935 game exists
I gotta be honest: My whole thing is loving to dig through old CFB games, but even I have my limits. I have almost no interest in watching anything pre-1985 –unless it's for a legendary player like Dan Marino or something– and this video reminded me why. Watching football from the 1930s makes watching a Woody Hayes offense feel like 2019 LSU, but even I'll admit it's cool that a game from 1935 is documented and right at our fingertips almost 100 years later.
Ohio State lost the 'Game of the Century,' but at least this happened:
The video says there were 81,000 people in attendance, and I'm sure they were louder than any Ohio Stadium crowd's been over the last 10 seasons.
14. The 'Champions Today' shirts (2016 Fiesta Bowl)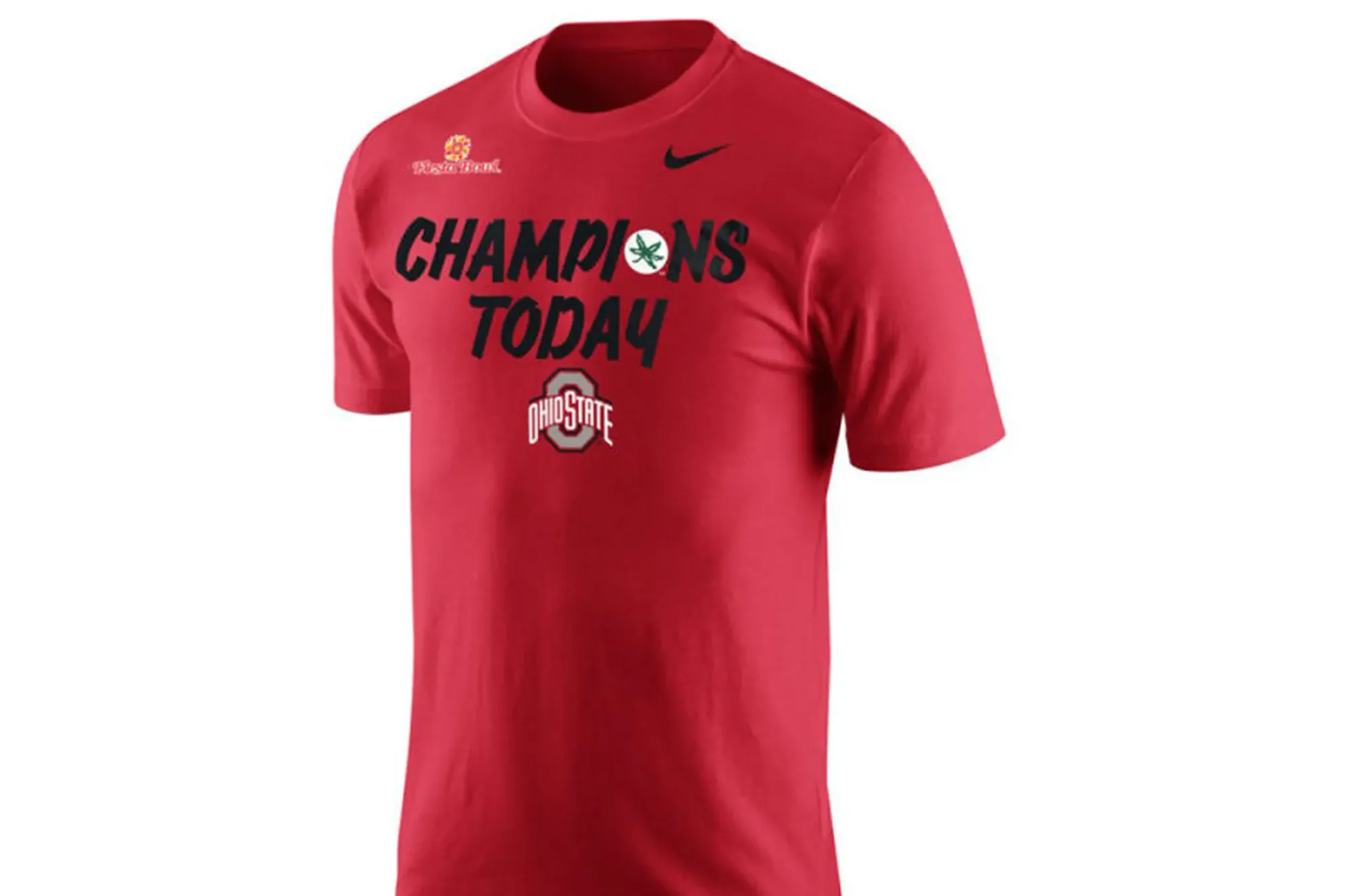 This was a solid dig at Notre Dame from Nike, and in retrospect I'm kinda pissed that I didn't buy one just as a keepsake. These were the official Fiesta Bowl Champions t-shirts, obviously alluding to Notre Dame's iconic "Play like a Champion Today" sign. This is one of the reasons I'll always cape for the Ohio State-Nike relationship.
13. Jerry Rice's insane sideline fit (2006 Fiesta Bowl)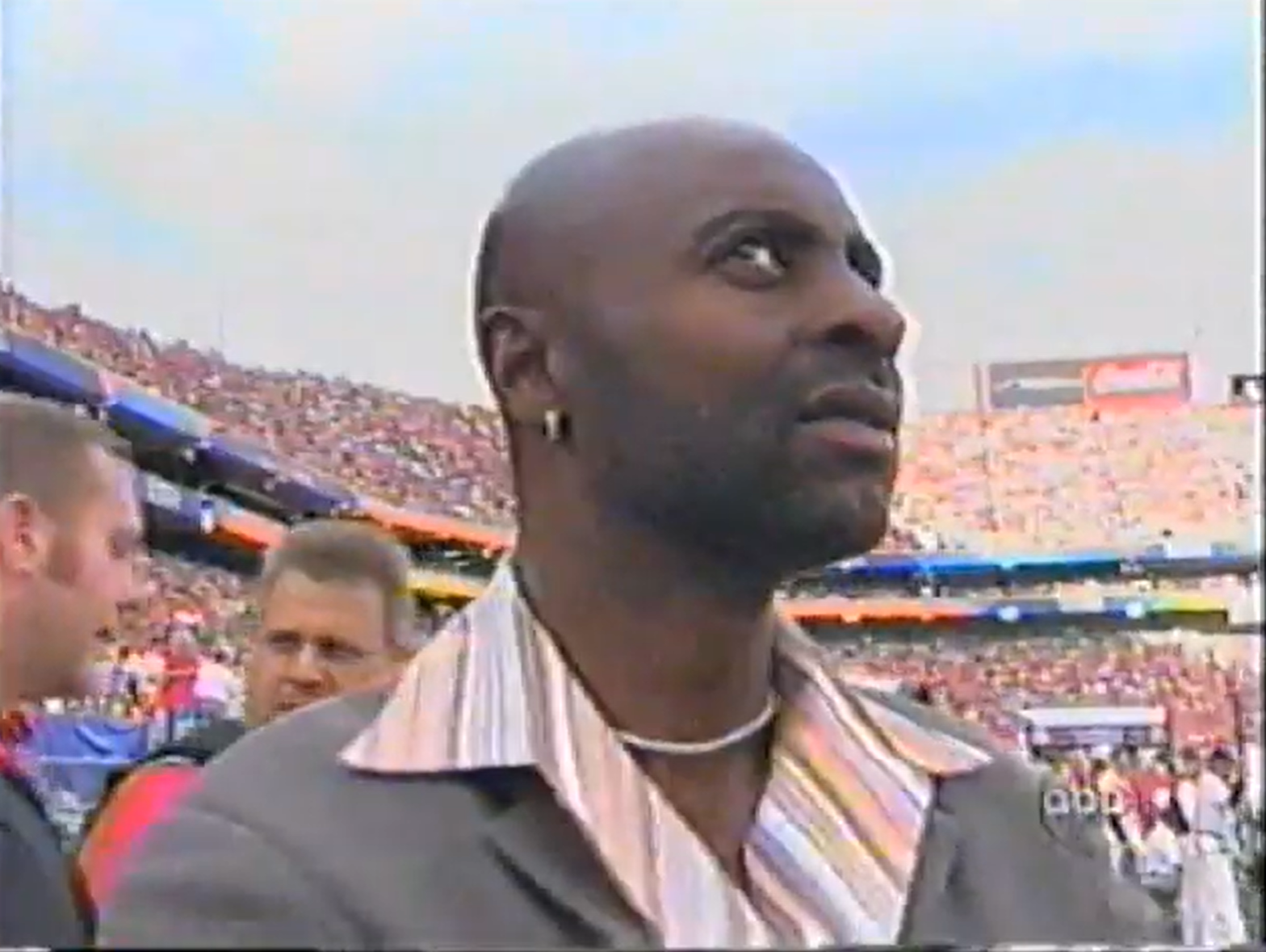 The GOAT is giving strong "what the fuck is MJ wearing?" vibes here. That shirt looks like background gradient from a seventh-grader's PowerPoint presentation in 2004. He was at the game promoting Dancing with the Stars for ABC, and was pretty impressed with Ted Ginn.
12. Tony Alford runs off on the plug (2016 Fiesta Bowl)
This was the hottest endzone celebration at the time, and I can't stop laughing at how much fun Alford had with it. God bless the Skycam feed for picking it up, and god bless my old Vine account for making sure it lives on.
11. Luke Fickell's interception (1996)
Luke Fickell had two career interceptions at Ohio State, and this was his second. It's a beautiful playcall that stopped a potential Notre Dame scoring drive, and kept a 12-7 lead that the Buckeyes would never relinquish.
10. The stars finish what they started (2016 Fiesta Bowl)
I've made my thoughts on Ohio State's 2015 season clear, but at least they ended it with a strong win. It would've been easy –and fair– for their best players to punch out and start focusing on the NFL, but they stuck it out for one more game and took care of business. Imagine a group this talented playing in a bowl game in 2022*: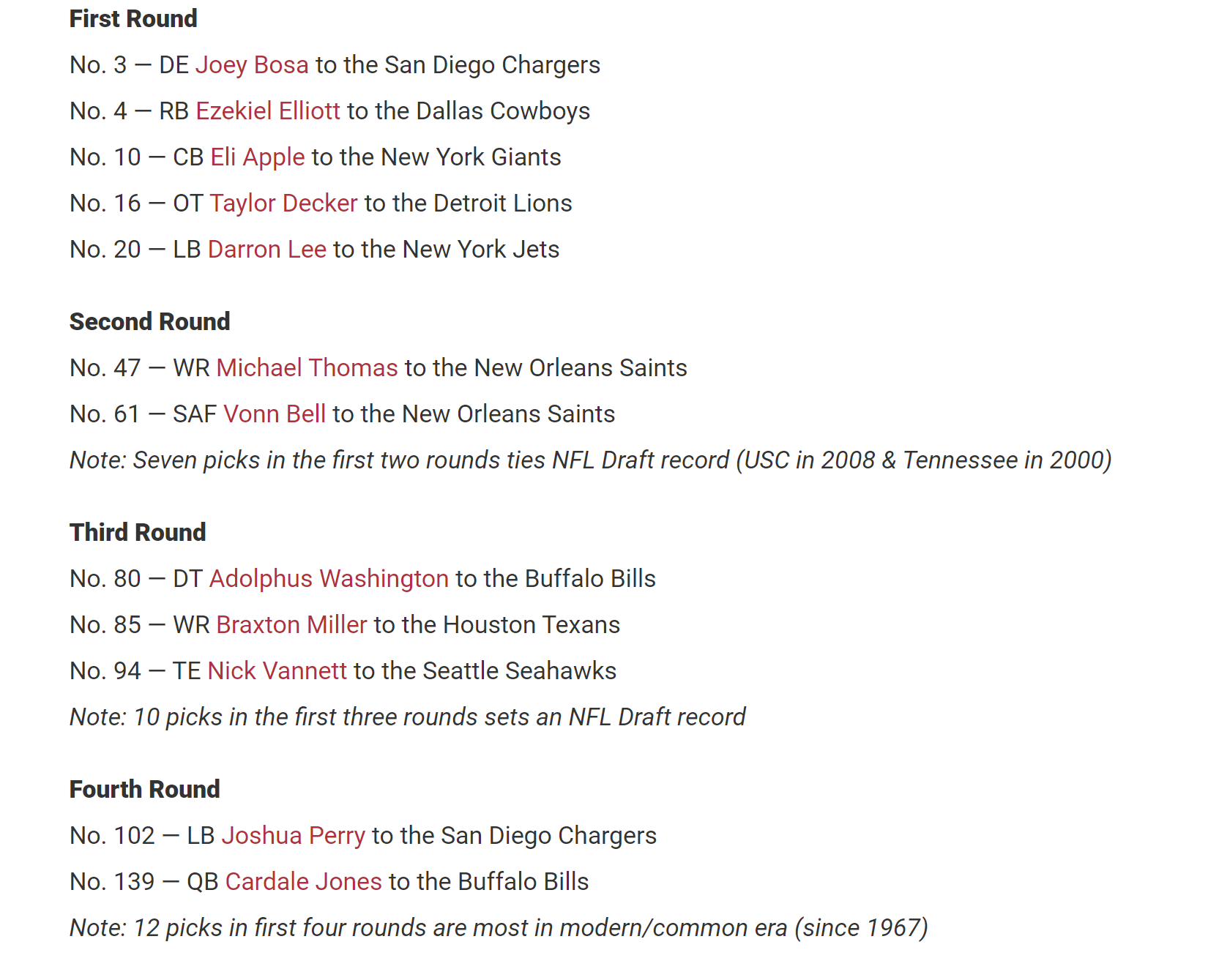 Obviously the flip side to that is the Jaylon Smith injury. What happened to him not only plummeted his draft stock, but was catastrophic enough that it affected the rest of his career. I'm good with any player not wanting to take the same risk he did, and I always hate that this discussion comes up each bowl season. That said, I'm also good with players who want to be out there, and I appreciate that each one of those guys suited up. Ezekiel Elliott, in particular –we'll get to him later– played like it was the national championship. The 2015 season will always be a massive 'What if,' but it ended in historic fashion thanks to maybe the best group of players in program history:
9. Brent Musburger buries Charlie Weis (2006 Fiesta Bowl)
It might not seem like much, but it's rare for any play-by-play voice –even one as opinionated as Musburger– to not only say, "I don't think he had any idea what he was in for," about a head coach, but to also flip the "college coach can't handle the NFL" trope right on its head. The funniest part is there's over 12 minutes left in the fourth quarter in an 11-point game and Brent's still talking his shit.
8.  "They don't want to be here no more" (2016 Fiesta Bowl)
Remember what I said about Zeke playing this game like it was the national championship? Well:
You can't coach stuff like that, and it's something that Ohio State was sorely lacking last season that it needs to find in 2022.
7. The Orlando Pace replays (1996)
Putting aside how obsessed the SEC on CBS crew was with Barrett Jones when he was at Alabama, we've never seen an offensive lineman get more TV broadcast love than Orlando Pace. That was on full display against the Irish in 1996 when he racked up four pancakes, a plethora of replays dedicated to his run blocking, and a special feature near the end of the game. It's a crime that he didn't win the Heisman.
6. Eddie George goes off (1995)
The 314-yard game vs. Illinois game later that season was probably the icing on his Heisman cake, but what Eddie George did against Notre Dame was the foundation. 32 carries for 207 punishing yards, two touchdowns, and one hell of a serenade from the Ohio Stadium crowd as he was pulled from the game.
5. Troy Smith dances away, Antonio Pittman puts it away (2006 Fiesta Bowl)
There's no reason this should've been as close as it was. Ohio State outgained Notre Dame 617-348, had a 9.4-4.8 yards per play advantage, and controlled almost every aspect of the game after ND's opening touchdown drive. Three bad turnovers kept the Irish in it, but it at least led to an exciting finish. It was only fitting that the Buckeyes put it away with a little bit of Troy Smith magic, followed by their fourth touchdown of over 55 yards on the day.
4. Zeke's masterpiece (2016 Fiesta Bowl)
This is the third time I've mentioned him on this list, but that's how awesome Ezekiel Elliott was in the 2016 Fiesta Bowl. He ran through, over, and around Notre Dame defenders, and it might've been the best blocking game of his career, too. It gets lost in the shuffle because of some of his other huge performances, but this was one of Zeke's finest efforts.
3. The Ted Ginn Show (2006 Fiesta Bowl)
Simply put, this is one of the best individual game performances in Ohio State history. Ted Ginn looked like he belonged in a different universe, and there was really nothing Notre Dame could've done –other than maybe use a triple team– to stop him. I hate to big-up Brent Musburger twice in one column, but it never fails to make me laugh when he says, "He's gonna take it to the house, folks," on the reverse touchdown when Ginn's on the 40 yard line and still has two defenders to weave around.
I also uploaded a director's cut of these highlights to YouTube:
2. Terry Glenn goes 82 yards while Regis Philbin is talking (1995)
Everything I love about this play:
Regis giving Lynn Swann shit for the way Notre Dame's playing since he came down to the field. (And you know he meant it.)  
Before the touchdown: "WE'RE GONNA WIN!"
After the touchdown: "WE'RE STILL GONNA WIN!"
Terry Glenn catching this pass flat-footed: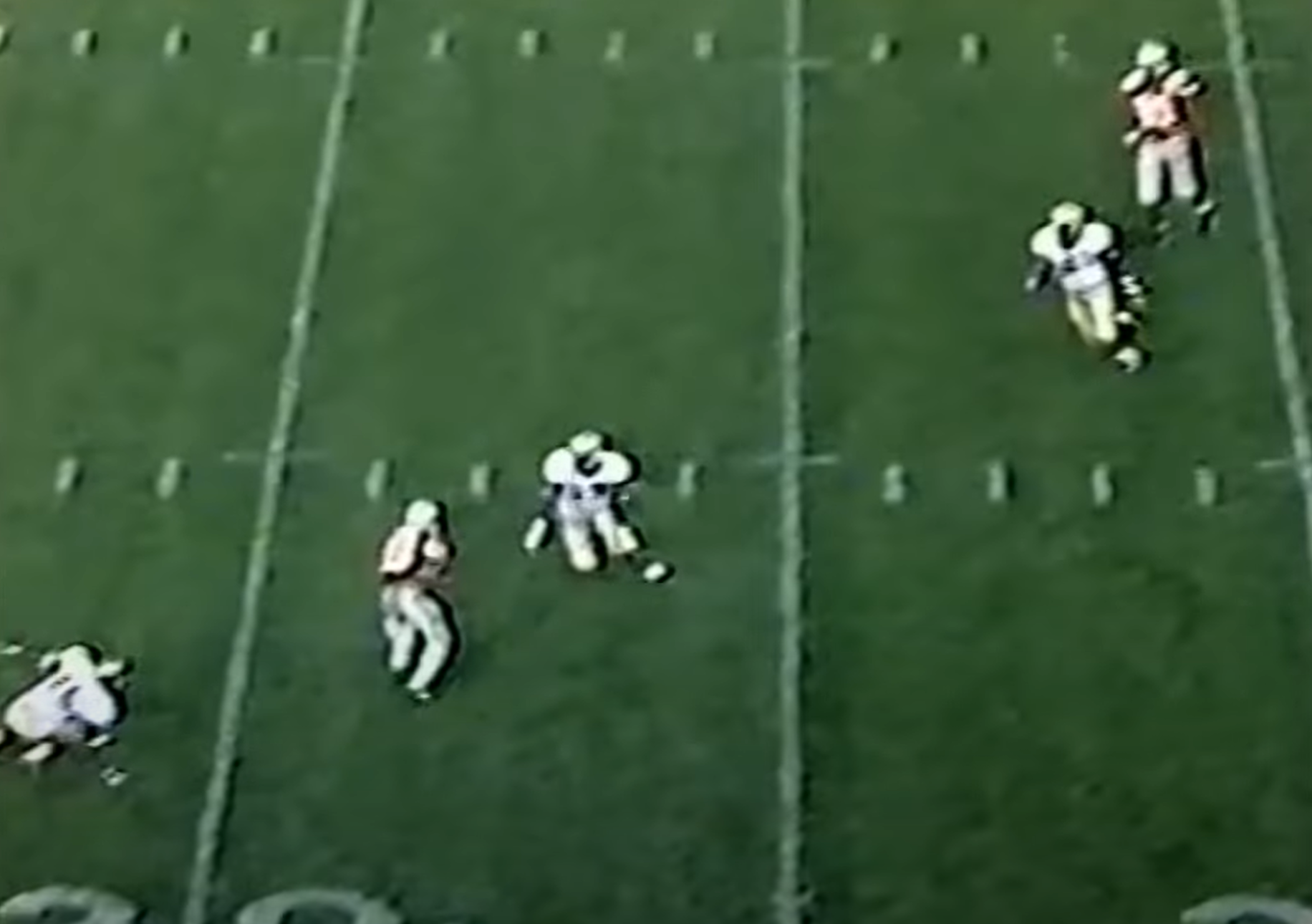 Allen Rossum was legitimately one of the fastest dudes in football in the late-90s/early-2000s. He set the Texas state record in the 100 meters in high school, and was a track All-American at Notre Dame. Glenn split him and safety LaRon Moore like it was nothing.
The on-field camera replay showing Glenn looking over his shoulder as he's dusting them.
I didn't include it in the Twitter video above, but Bob Griese saying, "This was not supposed to be a touchdown."
The Ohio Stadium crowd. That has to be a top-10 loudest moment ever, right?
RIP to both Terry and Regis.
1. The dual jersey (2006 Fiesta Bowl)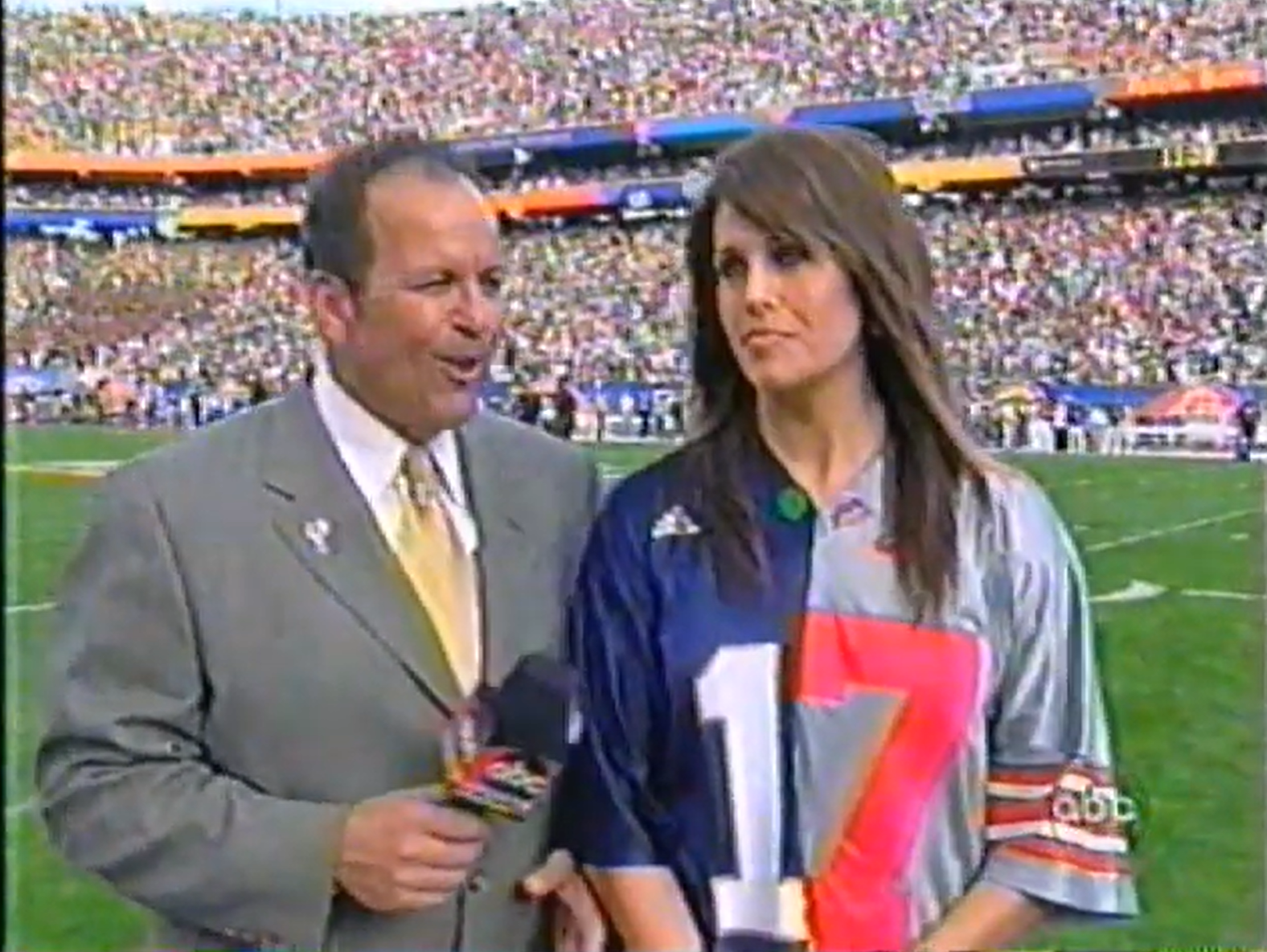 It's inarguably the most discussed and controversial Ohio State/Notre Dame moment, but I'm not here to talk about how much time the broadcast spent on the Brady Quinn/Laura Quinn/AJ Hawk story. I'm just here for the jersey, and to make a demand:
I'm petitioning for the dual jersey to become the official Ohio State-Notre Dame rivalry trophy. College football is better with trophy games, and Ohio State rarely gets to play in one since Illinois moved to the Big Ten West. (Thank god.) With Notre Dame on the schedule the next two seasons, –and maybe more in the future, depending how expansion goes– I can't think of a better way to celebrate this rivalry. I want whoever wins next month to run to the sideline and hoist this monstrosity into the air like it's the Paul Bunyan Trophy.
It sounds like the jersey still exists –and it's already in a frame– so I'm not gonna let this one go. Everything about it is so offensive, and that's why I love it so much. Apparently the same company who did Nelly's split jersey at Super Bowl 35 made it, and little did they know they were creating one of the most infamous things we'd ever see on a CFB broadcast.
The only flaws in my plan are: 1) The Quinn family would probably never agree to this, and 2) Notre Dame is outfitted by Under Armour now, so they'd have to give their blessing, and also slap a UA logo over the old Adidas one. Outside of that? We're cooking, baby, and I won't be told otherwise by the haters. It's time to bring back one of most hideous jerseys ever created, and celebrate it for the classic moment it gave us.