2022 Season
5 Takeaways: Ohio State-Penn State
Thoughts on J.T Tuimoloau's breakout, Ryan Day's play-calling, and more.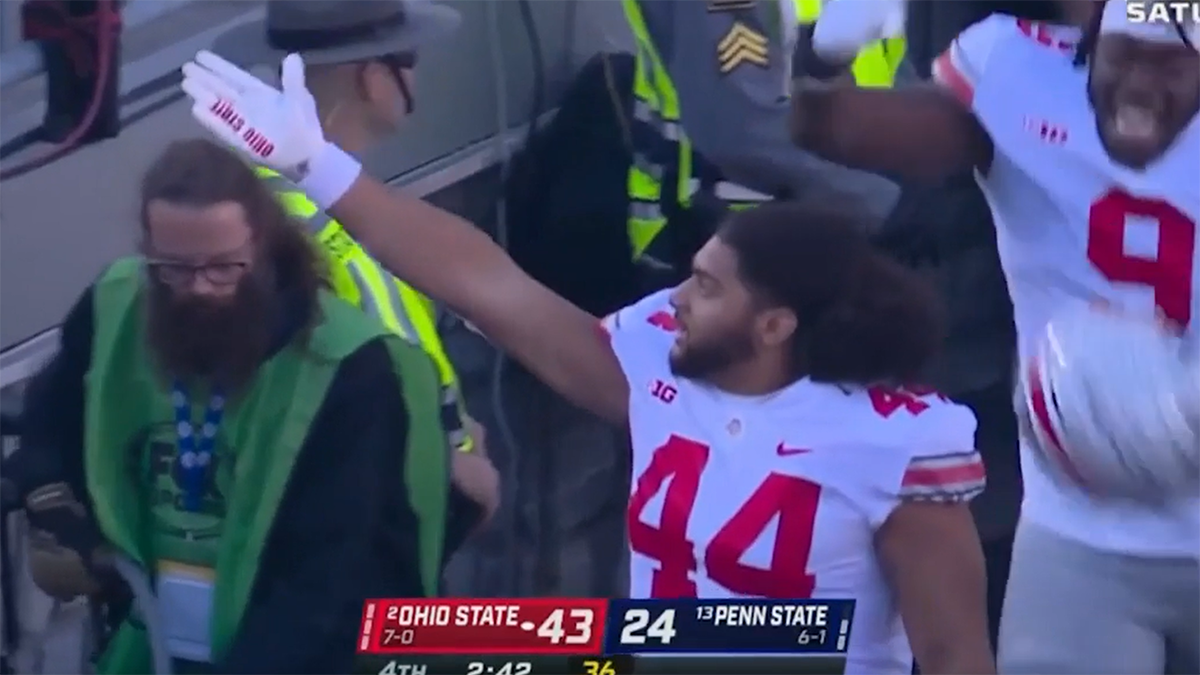 (PSA: Click 'view online' if you're reading on e-mail to see all the content in this article.)
1. Seek help, Ryan Day
I complain about Ryan Day a lot, but I feel like I need to be clear that I actually really like him as Ohio State's coach. I think he's done a great job in his four seasons, and he's got them in position to compete for a national championship this year. That being said, some of his tendencies in big games are too brutal to give a pass to. Day put on a masterclass in game mismanagement against Penn State, and played all the hits we've seen during his tenure that made Ohio State's 44-31 win much closer than it should've been:
Multiple delay of game penalties deep in Penn State territory in critical situations:
An offense that once again couldn't run the ball against a tough defense. After running 30 times for 66 yards against Iowa last week, the Buckeyes only gained 98 yards on 26 carries yesterday, and 41 of those came on TreVeyon Henderson's TD in the fourth quarter to give them a 23-21 lead. I'm scheme-stupid, so I can't tell you what the problem is or how to fix it, but it's clear that whatever they're doing right now isn't going to work against any top-level defense. With Michigan still left on the schedule –not to mention any potential conference title or playoff matchups with Illinois, Georgia, Alabama or Clemson– Day needs to find new solutions, quickly. I feel confident that it shouldn't be using wide receiver screens as an extension of the run game:
Speaking of issues that keep popping up against good defenses: The redzone offense. It was a problem last week against Iowa. It was a problem in last year's loss to Michigan. It was a problem in last year's close wins over Penn State and Nebraska. It was a problem in the 2019 playoff loss to Clemson. Do you notice a trend? Ohio State scored touchdowns on just two of five redzone opportunities against Penn State, and were probably fortunate it wasn't just one given how Day handled not challenging Miyan Williams' obvious TD run in the first quarter:
They went 4/5 scoring in the redzone overall –Noah Ruggles has quietly been a clutch piece to this year's team, by the way– with the only miss being CJ Stroud's sack fumble on the last play of the first half that Day took the blame for. Again: I'm not going to pretend I'm smart enough to have the fix, but it's hard to believe this is an issue we won't see again vs. Michigan or any top teams they play in the postseason.
Day is a great coach, but I don't know how he looks at the areas the offense has struggled with the past two weeks and keeps the same process going forward. Him giving up play-calling isn't realistic, so what does that entail? Giving more run-game liberty to Justin Frye instead of the scheme he and Kevin Wilson prefer? I don't know! Not constantly running behind your right guard who's repeatedly being driven into the ground by his defender? I don't know! Not making it completely obvious to the defense what you're doing whenever you line up under center or in the pistol? I don't know, but that would be a great start! While we're at it, let's also throw that bum-ass shotgun toss in the trash forever.
We already know Ohio State's offense is explosive enough to score on anyone in any situation, but they need to start adding some consistency to the recipe –and fast– or else it's going to cost them (again) in a big-game situation.
2. J.T. Tuimoloau takes over
J.T. Tuimoloau was everywhere against Penn State, forcing four turnovers, sacking Sean Clifford twice, and putting the game away with a pick six that showcased why he was so highly coveted as a recruit. He hadn't been racking up splash plays this season until yesterday, but Tuimoloau's quietly had a great year doing the dirty work along the line, blowing up plays, and helping other defenders make them. That hard work finally paid off with a game that stands alongside –or above– anything else we've seen from a defensive player in college football history.
3. Don't forget about CJ
I'm not gonna try and convince you that CJ Stroud had the best game of his career, but it might be my favorite so far. Stroud was awesome against a top-flight defense in one of the most hostile environments in the sport, despite the run game being almost a complete non-option. He had to fight through the mistake that was the sack-fumble at the end of the half, plus a couple missed throws and the general discombobulation we saw from the offense. The three-play touchdown drive in the fourth quarter to give Ohio State the lead back after Penn State had just scored was cold-blooded, and so were these two throws to Marvin Harrison Jr. and Emeka Egbuka on the next drive:
We've seen him make so many special throws in one-and-a-half seasons that it's almost like it's taken for granted at this point, but what he did yesterday was special. One of the areas I thought Stroud really struggled with last year was how he dealt with setbacks in the flow of the game, and he's been amazing the last two weeks with how he's responded to the situations the offense has been put in.
4. Worried about the defense?
Giving up 31 points –24 without garbage time– and 482 yards to Penn State's offense is by far the worst defensive performance of the season, but how concerning is it going forward? Here's what I'm most worried about:
Corner - First of all, Penn State deserves some credit. Sean Clifford made and got away with some wild plays, and Parker Washington was basically unguardable. Sure, you need better tackling on that long touchdown, but he also made two or three catches that I don't think they could've done anything about. That dude's legit. As far as the actual corner play? It's not great, but I don't think it's shit, either. They need Cam Brown to get healthy in a bad way, but I like how Denzel Burke's played the past couple of weeks for the most part. It'd be nice to get a more consistent pass rush to help them out. We probably need to make peace with the fact that they're getting burned a few times against good offenses. Not ideal, but that's the reality with what they're working with right now.
The defensive line - This may sound stupid after the game Tuimoloau and Zach Harrison just had, but it isn't a worry/complaint as much as a legitimate question because I want to know more: What's up with the d-line rotations? Why has Mike Hall played so little lately? Tyleik Williams made a couple of huge plays yesterday, but his snaps seem to come and go. What's going on there? Why are Harrison and Tuimoloau ever off the field for an extended time? The pass rush makes splash plays when they get home, but can they get home enough against a good offense? Again, not a complaint. Just something that I think is worth monitoring down the stretch.
Tackling - Missed takcles were a problem throughout the game, but the two biggest ones were on the Washington touchdown, and Tommy Eichenberg's miss on Kaytron Allen's touchdown that gave Penn State the lead in the fourth quarter. That's not gonna fly against Michigan's offense, especially Blake Corum. I don't know how that gets fixed in three weeks, but it's a big issue.
Overall: I still think the defense is in a good place, but I'm wary of how they might look against a legitimately good offense, numbers be damned. Maryland's offense is going to be challenge, but at least they've got two weeks to clean things up before then.
5. Actually, I'm not mad
Outside of the run game and Ryan Day going 2016 Urban Meyer mode with his play-calling, I'm actually pretty happy with that win. Ohio State games against Penn State are stupid more often than not, and it's not surprising that it was as close as it was. There's a conversation to be had another day about it becoming a bit of a self-fulfilling prophecy each year when Day –and formerly, Meyer– spend all week talking about how they know it's going to be stupid and then it plays out that way because they've planned all week for it to be stupid. Does that make sense? Anyway, it was a nice win. Stroud and the offense came through in the clutch, Tuimoloau jumped onto the scene, and the defense made plays when they needed to. The 28-3 run in the fourth quarter was championship-level shit, and this team continues to win games in different ways, which is a great sign heading down the stretch.