Ohio State
My 15 favorite moments in Ohio State-Wisconsin history
There are more classic moments than you probably remember from this series.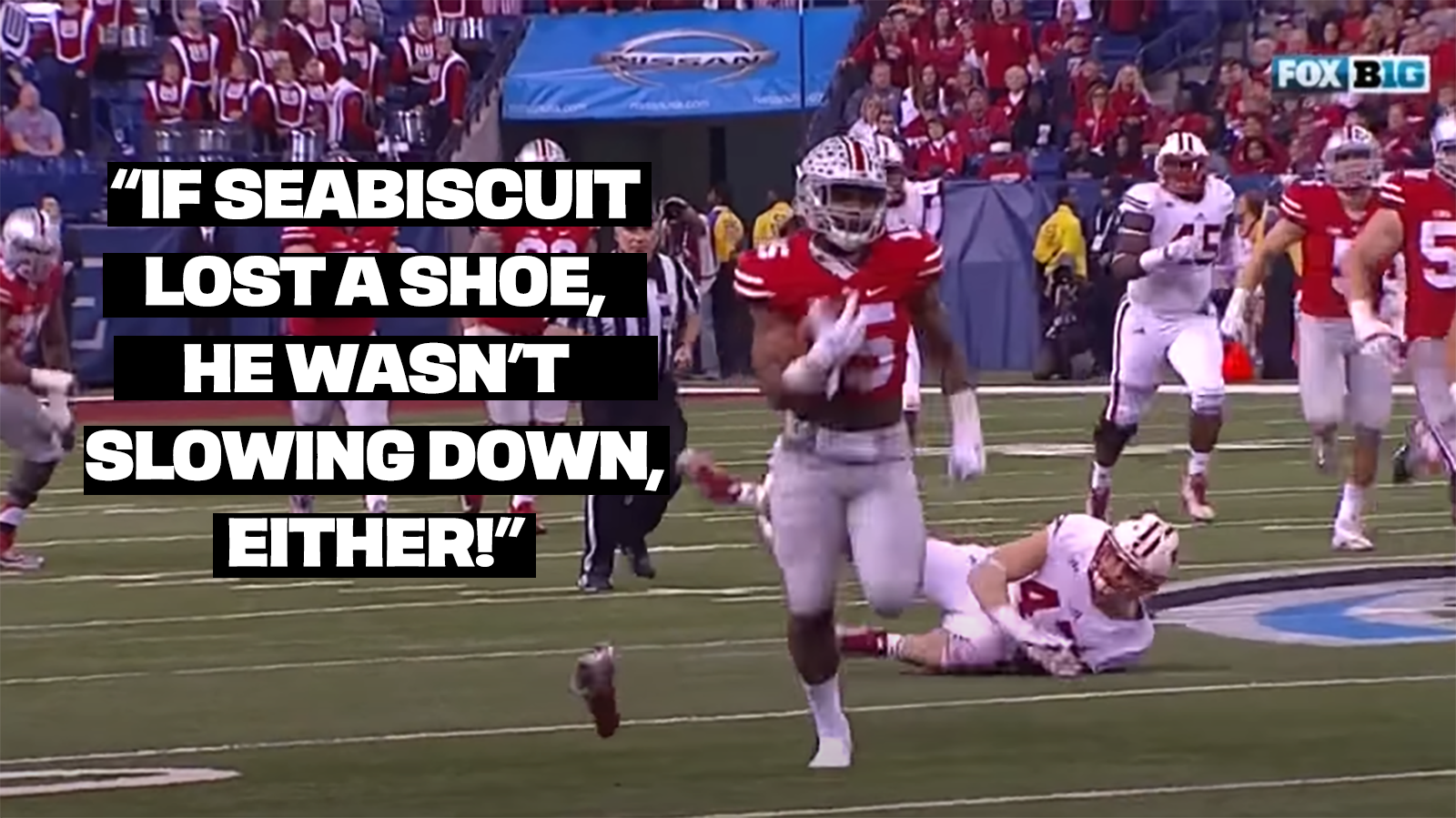 For those reading on e-mail: click 'view in browser' to see the full contents of today's post
---
Wisconsin is Ohio State's most interesting conference opponent to me. Despite the Buckeyes having a 62-18-5 edge in the all-time series –with a current nine-game win streak dating back to 2010– no matchup with the Badgers has ever felt like a gimme, especially if it's in Camp Randall. The programs have met in three Big Ten Championships, and have a host of classic moments over the years that make it a series that doesn't get it's due because of the lopsided record. With the two set to square up in prime time tomorrow, I thought I'd run through my favorite moments in the series' history. Enjoy!
HONORABLE MENTION: Brent Musburger cuts a promo on voting in the Presidential Election (2004)
Nearly everything about the 2004 Wisconsin game was a disaster. The Badgers mostly dominated in a 24-13 win, giving them their third-straight at The Shoe. It also snapped the Buckeyes' 18-game home win streak dating back to November 2001. Outside of a first quarter Ted Ginn Jr. punt return touchdown –the first TD of his career– Ohio State didn't do much of anything in the midst of what would be a three-game losing streak. With the game all but settled, Brent Musburger took matters into his own hands:
15. Malcolm Jenkins makes 'Jump Around' his own (2008)
Wisconsin's fourth-quarter 'Jump Around' tradition is spectacular, and it hits extra hard in prime time. With the Buckeyes and Badgers tied 10-10 heading into the fourth quarter of their crucial 2008 matchup, Malcolm Jenkins stole the spotlight from the Badgers' faithful with his own rendition on the sideline. Unfortunately, I can't find the full broadcast video of it anywhere, so this short clip of the moment with no sound has to suffice:
I remember this as an early college football internet moment, because there was actually a semi-legitimate discussion on whether it was 'disrespectful' for Jenkins and the rest of the Ohio State sideline to partake. It ruled then, it still rules now, and until a full broadcast cut of that game resurfaces, it's a classic "You just had to be there" moment.
Jenkins also iced that game with an interception:
14. The boxscore from Ohio State's 31-13 win in 2009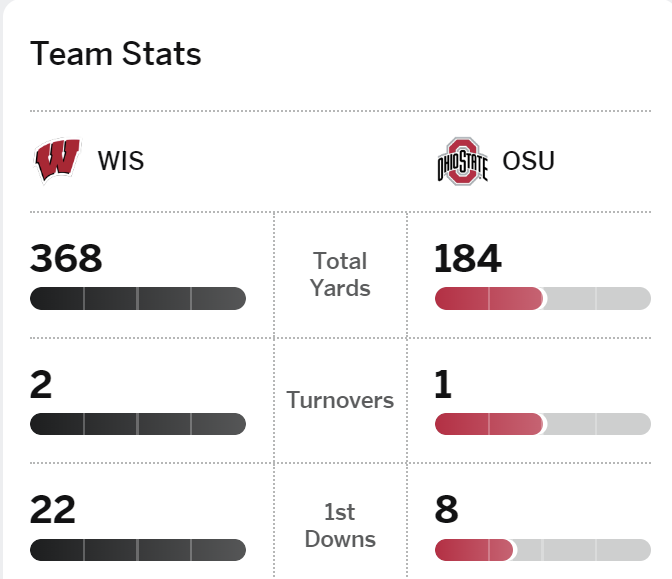 Of all the weird wins in the Jim Tressel era, this one might've been the most Jim Tressel-est. Ohio State's offense gained just 184 totals yards and only scored one touchdown, but the defense and special teams combined for three TD of their own, leading a very frustrated Bret Bielema to point-blank say, "I hate losing to these guys," in his postgame presser.
13. Fields to Victor on third and 18 (2019 Big Ten Championship)
I'll admit to being a hipster when it comes to important Ohio State plays. Hell, I've made an entire Twitter account out of it. I'm probably the only fan in the world who would have this in their top-15, but that's how much I love Binjimen Victor making a play when the Buckeyes needed it most in the 2019 Big Ten Championship:
KJ Hill scored four plays later, essentially sealing Ohio State's third-straight Big Ten Title.
12. CJ Stroud throws a missile to Emeka Egbuka (2022)
I still have no idea how this got through:
We also got this cool celebration out of it, thanks to Skycam:
11. Joey Galloway's celebration after his game-tying touchdown (1993)
Older fans will remember this as the touchdown that capped Ohio State's last-minute drive, saving the Buckeyes' undefeated record. Unfortunately, it also resulted in a 14-14 final score –yes, ties were a thing back then!– and nobody really remembers it because of [redacted thing that happened two weeks later]. Anyway, the era where players could take their helmets off without a penalty was elite, and Galloway did this at least three times during his career.
10. Chase Young wrecks Wisconsin's offense by himself (2019)
If I had to rank the most dominant single-game performances in Ohio State history, Chase Young's four-sack day against Wisconsin in 2019 would be a strong contender for the top spot:
9. Dimitrious Stanley to the house (1996)
Ohio State's 1996 season was mostly defined by blowout wins, but a 3-1 Wisconsin team gave them everything they could handle. The Badgers held a 14-10 lead midway through the fourth quarter, until receiver Dimitrious Stanley pulled off his best Terry Glenn vs. Notre Dame impersonation: