Throwback
Pat White was one of one
This is the best highlight reel I've ever cut.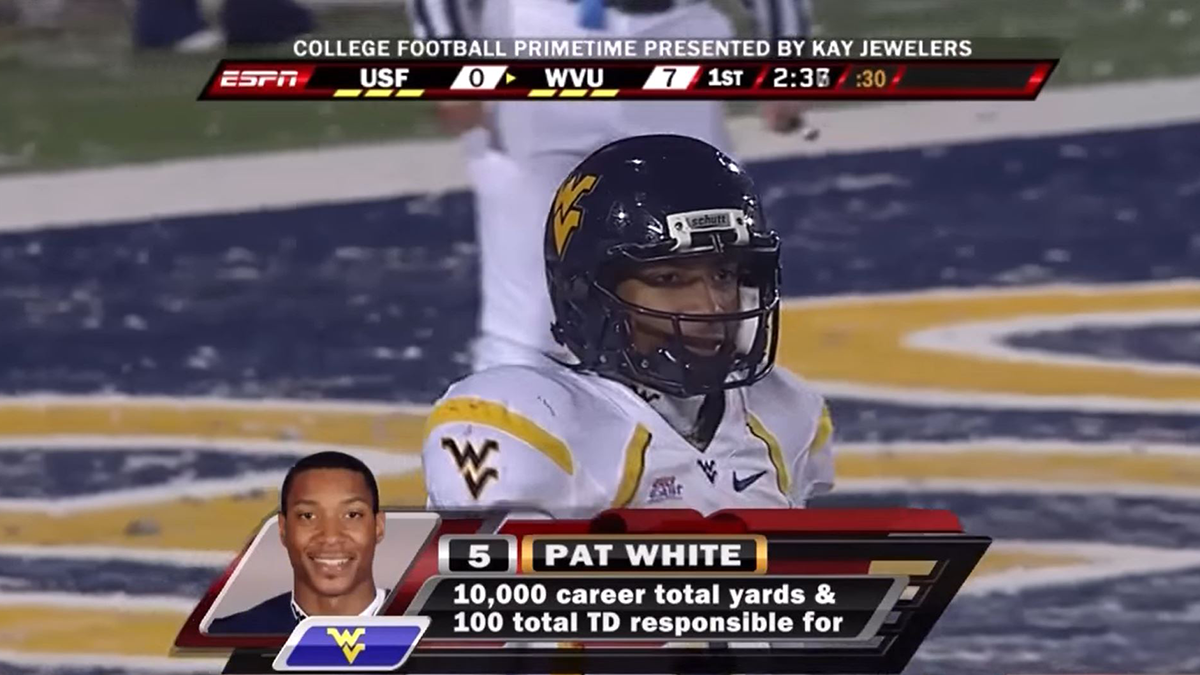 For those reading on e-mail: click 'view in browser' to read the full contents of today's post
---
Here are some facts about Pat White's career at West Virginia:
WVU went 35-8 with him as the starting quarterback, with a 7-2 mark against top-25 competition.
He was the first QB in NCAA history to start and win four consecutive bowl games, two of which were BCS bowls.
He was responsible for 103 total touchdowns (56 passing, 47 rushing) - a Big East record.
He had 10,529 yards of total offense (6,049 passing, 4,480 rushing) - another Big East record.
He held 19 WVU, Big East, and NCAA records by the time he left, headlined by becoming the NCAA's all-time leader in rushing yards by a QB: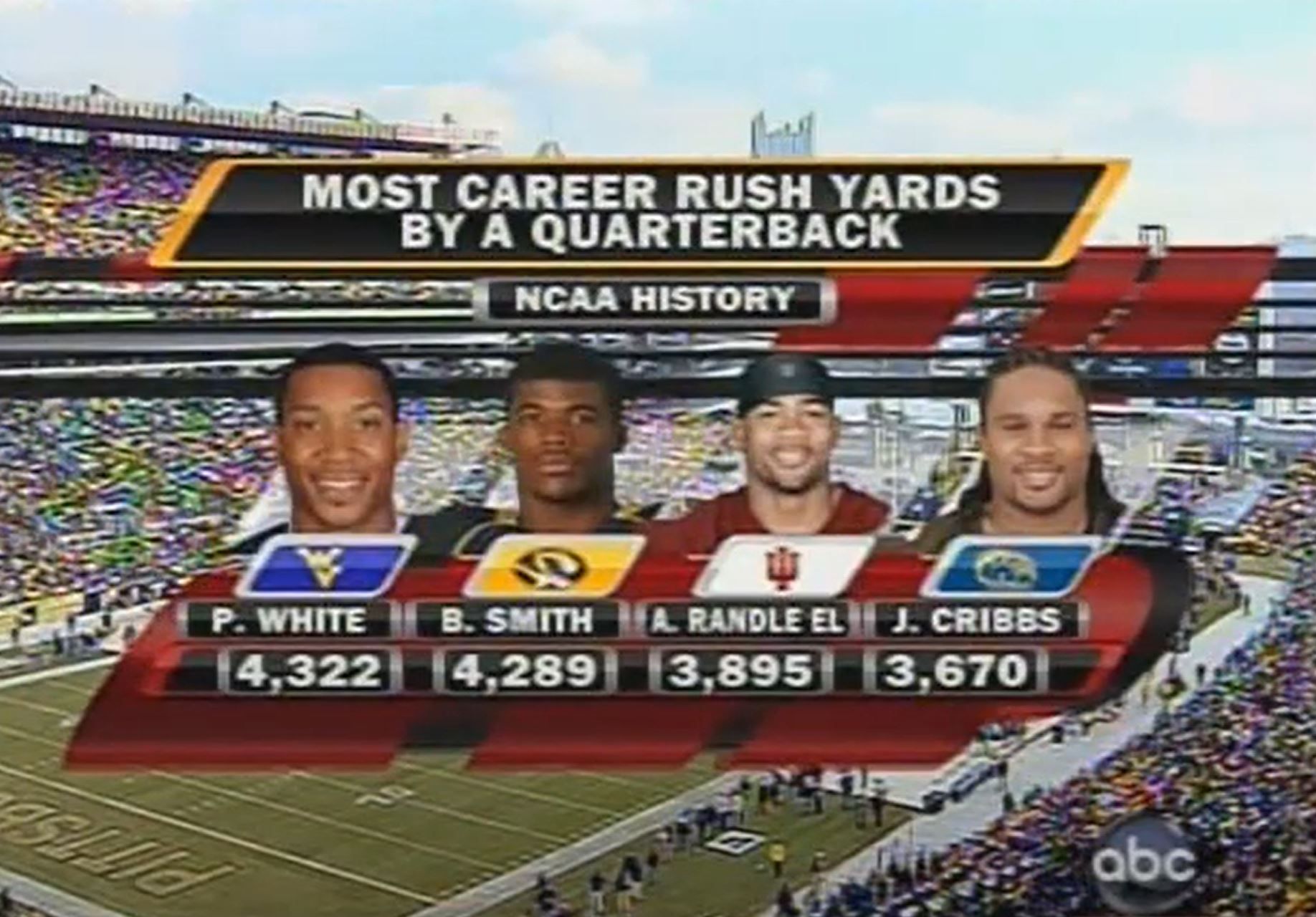 If you look at the football field as a canvas, then Pat White was the most creative artist of his generation. He conducted Rich Rodriguez's devastating offense with precision, speed, and a level of execution that made the Mountaineers the most exciting team in the country, and took them to the forefront of the college football universe.
I'll catch some heat for this, but on an offense with Steve Slaton, Noel Devine, and Darius Reynaud, White was the fastest player on the field. Those guys had better 40s, but I've seen multiple plays where they all got caught from behind. No one chased down Pat White. He had the uncanny ability to find a seam, split multiple defenders closing in on him, and hit the jets:
If his speed wasn't unfair enough, he was also nearly un-tackle-able in the open field. His highlight reel is littered with defenders helplessly trying to get a hand on him, much like this poor bastard from ECU:
Despite all the flashiness, White's most impressive trait was his toughness, both physically and mentally. Listed at "just" 6'1, 192 pounds, he never shied away from contact. He took the beating of a running back –He had 684 career carries, plus all the usual hits QBs take from the pocket– and rarely slid or voluntarily stepped out of bounds. He finished runs like a power back, carrying out goal line QB sweeps with the same physicality we saw from Tim Tebow and Cam Newton. He also dealt with the constant criticism about his throwing ability. I'm not going to pretend he was a marksman, but he could sling the shit out of the ball when they asked him to, and got better every year. Nothing exemplified that better than capping his career with a 326-yard, three-TD performance against North Carolina in the the Meineke Car Care Bowl:
Note: Even WVU's most infamous moment –their 2007 loss to Pitt– is partly defined by White's grit. He dislocated his right thumb in the second quarter, and came back into the game midway through the fourth to try and rally the Mountaineers to a last-minute win.
Above everything else, Pat White was just cool as hell. He was a left-handed QB who could run past you, around you, or through you. He was a former fourth-round MLB Draft pick (2004, Angels) with a missile of an arm. He ran one of the most fun offenses ever, and had an equally badass running back flanking him, forming one of the best one-two punches ever. (Steve Slaton highlights next week!) Unless you're a Pitt fan –or a Georgia/OU fan still scarred from those BCS Bowls– I don't know how Pat White isn't one of your favorite players of all-time. I don't know where he ranks on the all-time list of college QBs, and I don't care to argue about it with anyone. All I know is this is the most fun I've ever had cutting a highlight reel. I'm grateful I watched the Pat White era in real time, and now a whole new generation of fans can experience it, too: