Throwback
Has any running back ever been cooler than Steve Slaton?
Short answer: No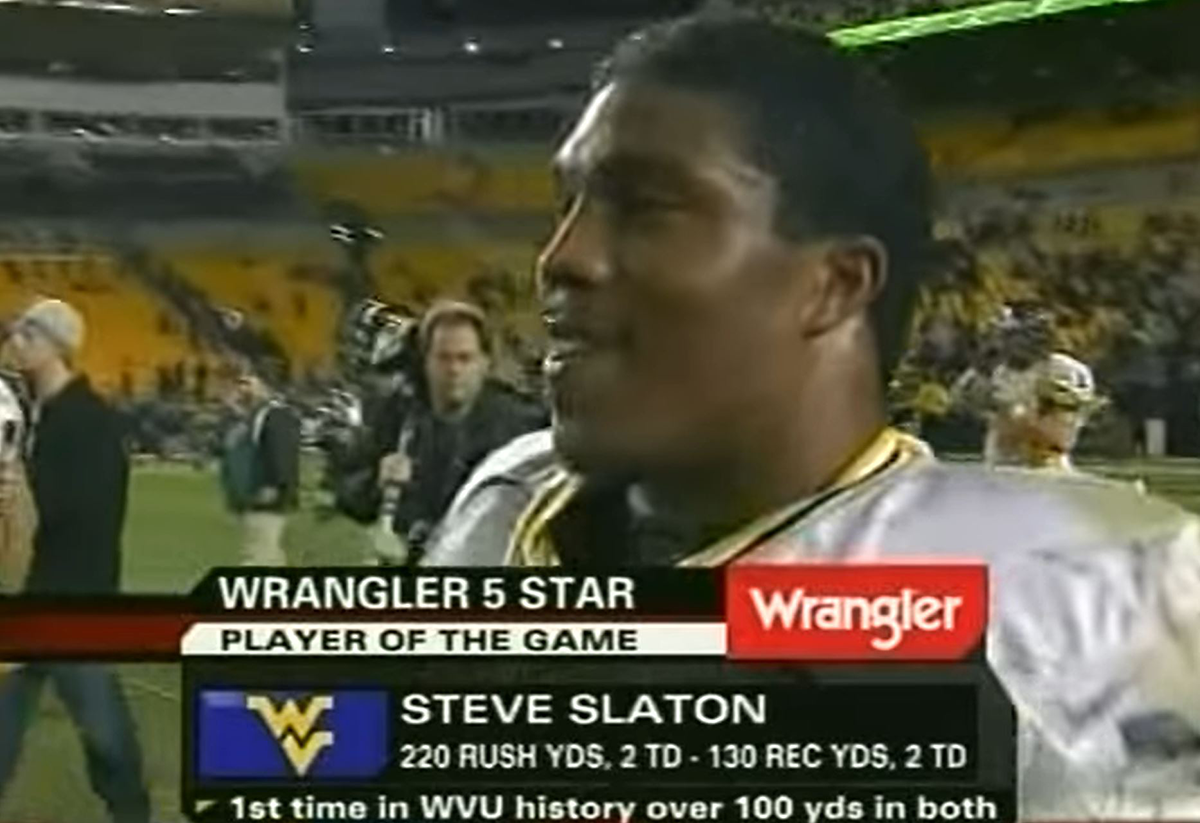 For those reading on e-mail: click 'view in browser' to see the full contents of today's post
---
Today marks the end of the West Virginia takeover on the YouTube channel, and I can't think of a better way to finish it than with highlights of the one and only Steve Slaton:
My favorite thing about Slaton is how quickly he became one of the best running backs in the country the moment he got his opportunity. He recorded carries in just two of WVU's first five games as a freshman in 2005, but put up strong numbers in a small sample. He got his first chance to start in their sixth game at Rutgers, and he never looked back: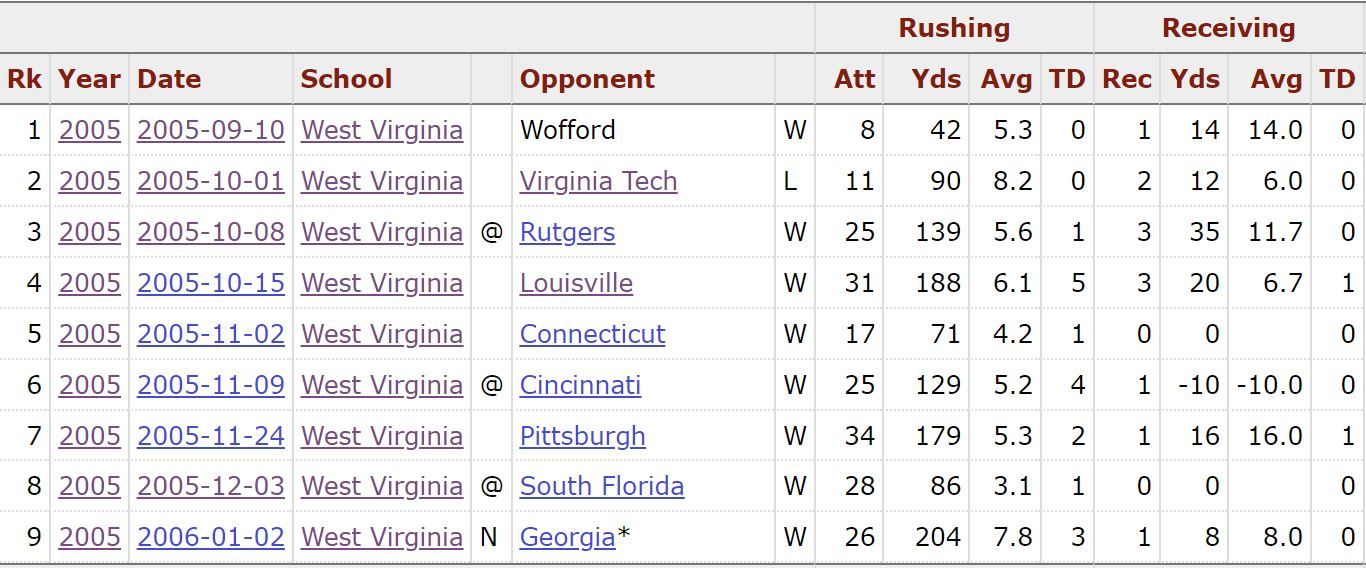 Slaton finished the season with 1,128 yards rushing, doing almost all his damage from the Rutgers game on. In those final seven games, Slaton ran 186 times for 966 yards (5.4 per carry) and 17 rushing touchdowns, plus 9 catches for 69 yards and two receiving TD. Slaton's emergence alongside fellow Mountaineer legend Pat White made West Virginia's run game near-unstoppable, as the duo powered WVU to an average of 336 yards rushing and 38 points per game over their final seven. This included a thrilling three-overtime win over Louisville, where Slaton finished with six touchdowns, despite WVU trailing 24-7 with under 10 minutes left in the game:
Steve Slaton scored 6 touchdowns in this game pic.twitter.com/J9Yi28b2fD

— Colton Denning (@Dubsco) May 16, 2023
It also included the Mountaineers' crowning moment: Their Sugar Bowl win against Georgia. With Hurricane Katrina damage to the Superdome forcing the game to the Georgia Dome, Slaton absolutely torched the Bulldogs in front of their own fans. 204 yards rushing, three TD, and a Sugar Bowl MVP capped WVU's 11-1 season with a top-five finish in the AP Poll:
As amazing as his finish to 2005 was, Slaton took things to another level in 2006. He ran for a WVU-record 1,744 yards, adding 360 receiving yards for a total of 2,104 scrimmage yards and 18 total TD. He finished fourth in Heisman voting, top three in the Doak Walker, earned Consensus All-American honors, and helped lead WVU to their first back-to-back 11-win seasons in program history. His performance against hated rival Pitt is still one of the greatest single-game efforts in college football history - 23 carries for 215 yards and two TD, plus 6 catches for 130 yards and two more TD:
His elite vision and speed separated him from every other back in the country. A play designed to one side of the field could end with Slaton on the whole other side and in the endzone thanks to one sharp cut:
He dealt with injuries in his final season in 2007, but still ran for 1,051 yards and 17 TD, helping the Mountaineers to another 11-win season where they were agonizingly close to playing for the National Championship. Slaton finished his career third in WVU history in rushing yards (3,923), first in rushing TD (50), first in total TD (55), and first in points by a non-kicker (330). He also had 65 catches for 805 yards and 5 receiving TD, for good measure.
In conclusion: Steve Slaton kicked fucking ass. He's one of the most entertaining running backs ever, and you'd be hard-pressed to find a cooler duo in the history of college football than him and Pat White. The further we get from the era he played in, the more I appreciate how unbelievable what Slaton, White, and the Mountaineers did during their mid-2000s run, and how I retrospectively wish one of those teams would have won a national title. That being said, what they accomplished will always stand the test of time, and I'm thankful that I got to watch it first-hand.