I never got the chance to enjoy Champ Bailey's career.
When he got traded from [Football Team] to the Broncos in 2004, I was 14 years old, growing up 30 minutes outside of Denver. I should've been ecstatic. I already knew how awesome of a player he was, and how exciting it was that he was coming to town. I should've enjoyed the ensuing 10 years he spent as a Bronco, given that I was right there for all of it.
The problem: I'm a Cowboys fan who hates the Broncos even more than I hate the rest of the teams in the NFC East. I was already sick of Champ Bailey from his time in Washington. I knew that all my Broncos-fan friends were about get their new favorite player, which made me even sicker. When I say, "I never got the chance to enjoy Champ Bailey's career," I mean it literally. I couldn't stand Champ Bailey.
But even when he was torturing the Cowboys as a rookie in Washington, I understood the reason I couldn't stand him was because he was a great player. He just happened to play for a team I hated, then got traded to one I hated even more. It wasn't until April 2020 –When I cut his college highlights– That I actually got to enjoy Champ Bailey's greatness.
[Here's the link to his highlights for people viewing on email]
---
In my mind, there are two pantheons of great football players:
Players who dominate at their position.
Players who dominate at their position, and also look like they could do the same at other positions around the field.
Guys like Deion Sanders, Calvin Johnson, Charles Woodson, JJ Watt, and Aaron Donald are in the second class. So is Champ Bailey.
I'm not breaking new ground by saying Champ Bailey is one of the best corners of all-time. He's in both the College/Pro Football Hall(s) of Fame, made iconic plays, won lots of awards, and raked in a ton of money. He was the actual lockdown guy that every corner today with an Instagram wants you to believe they are because they broke up three passes last season. There's no question that he belongs in the group of players who dominated their position. But what elevates him to that second pantheon of players is that he could've been that great at wide receiver, too: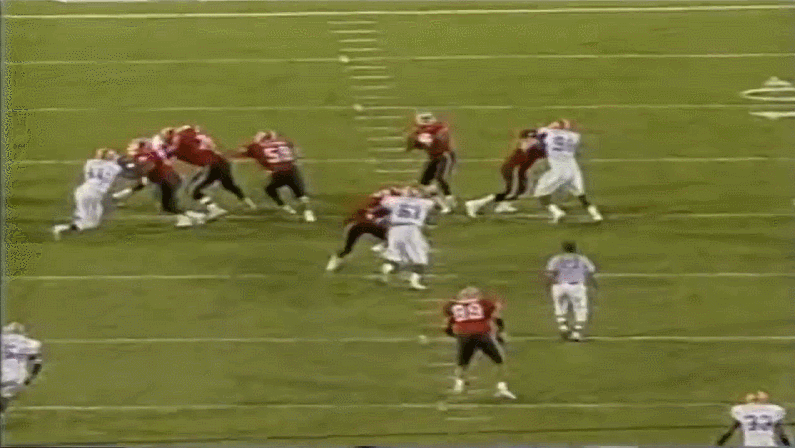 That's where he, Sanders, and Woodson separate themselves from even elite counterparts like Johnson, Watt, and Donald. They didn't just look like they could dominate at different positions - They actually did it.
Bailey pulled double duty for his last two seasons in Athens, but he cemented his status as one of the all-time great two-way players in 1998. On one side, he put the other team's No. 1 receiver in a bodybag every game, and won the Bronco Nagurski Award for being the best defensive player in college football. On the other, he was Georgia's most dangerous offensive weapon, and finished top-10 in the SEC in both receptions and receiving yards.

It's not like he was just a deep-ball receiver, either: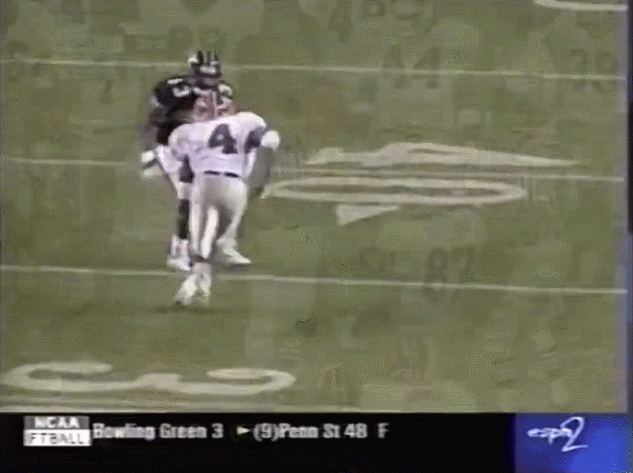 But that's where he was at his best:
(For those viewing on email, the play starts at 11:41)
Bailey's Ironman 1998 season doesn't get the love that Woodson's 1997 does, despite Bailey having a significantly greater offensive impact:

Hell, he basically didn't leave the field during the 1998 Peach Bowl against Virginia: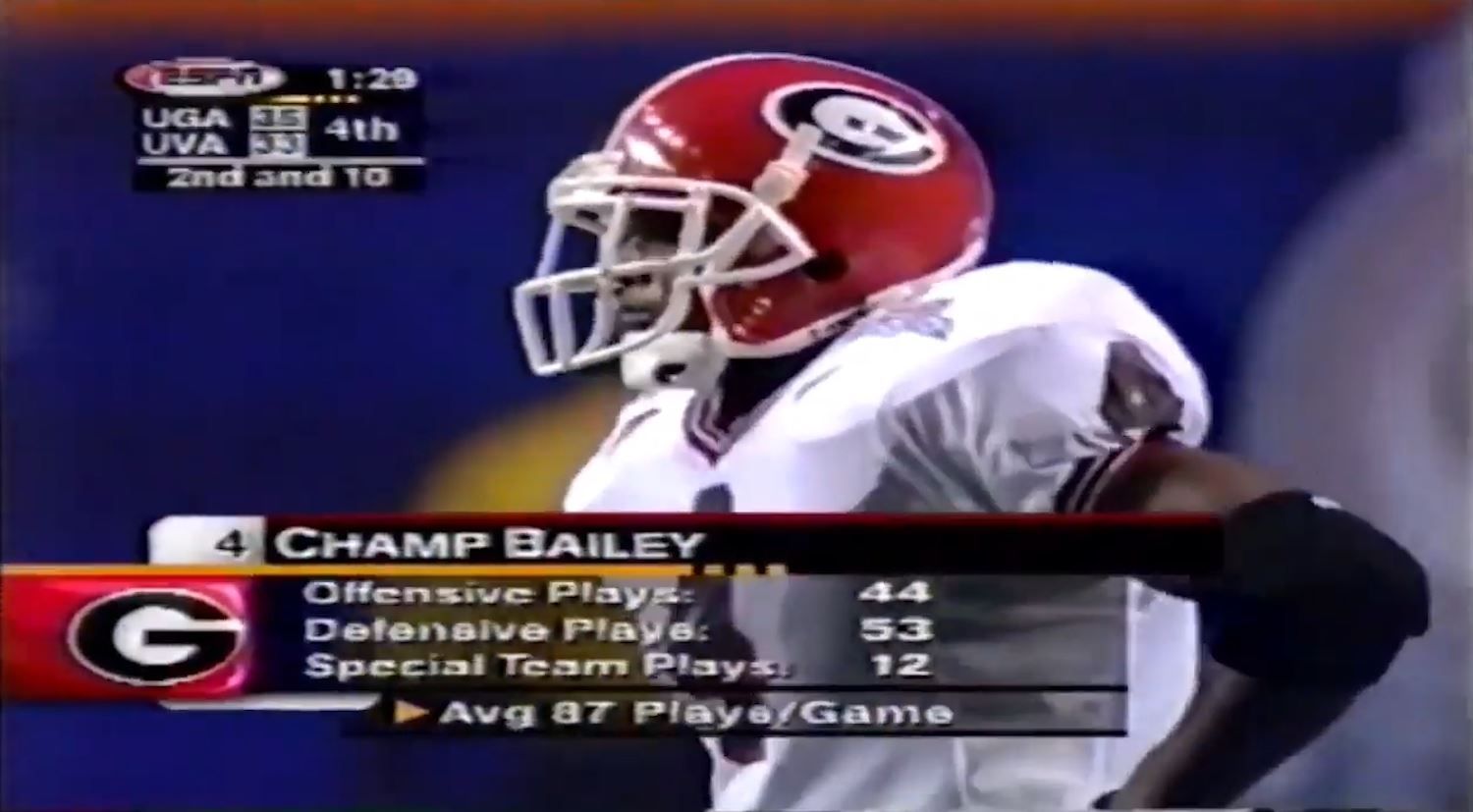 It's probably because he didn't have a Heisman Moment™️ like Woodson's vs. Ohio State, but how does a guy who was actually a two-way starter, –unlike Woodson– finished as a top-10 receiver in the SEC, and won the award for best defender in the country not finish top-5 in Heisman voting????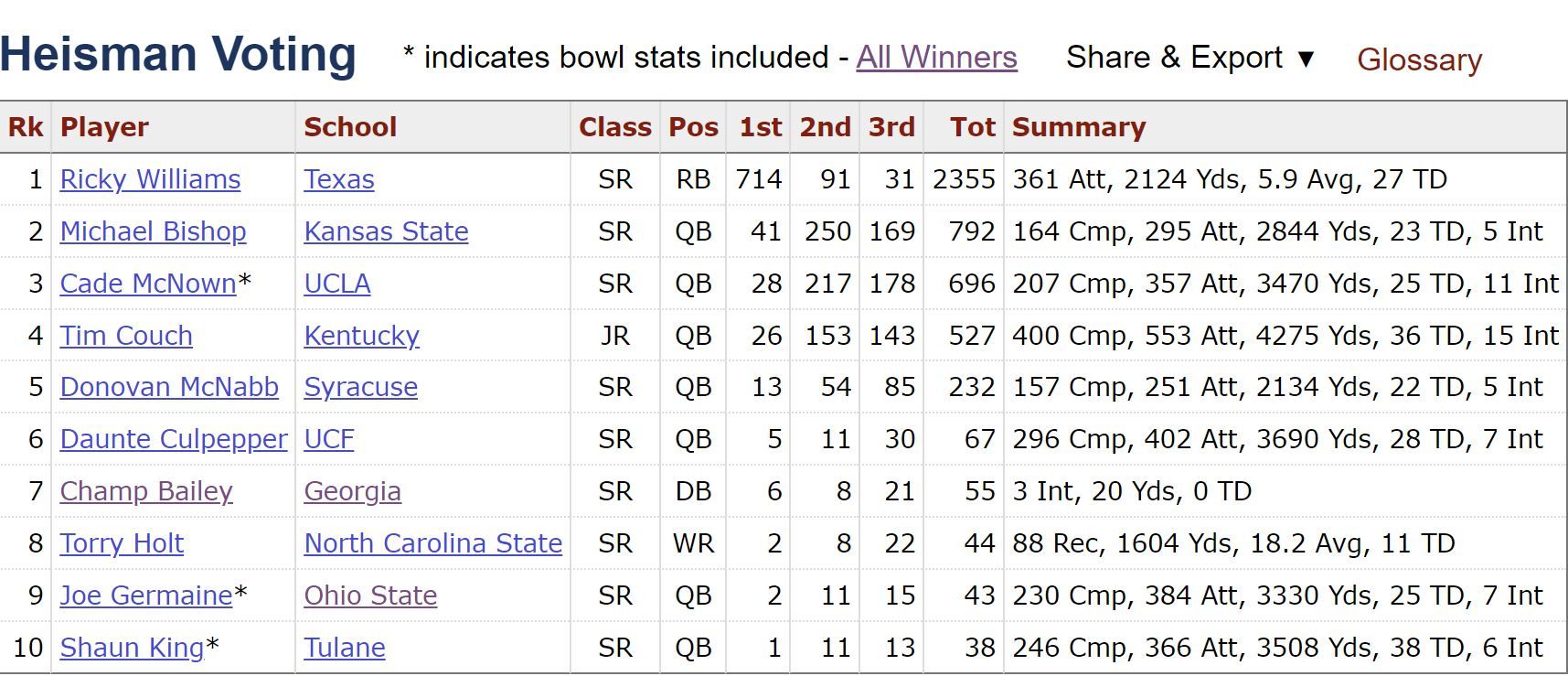 Unfortunately, we rarely saw what he could do offensively in the NFL. He had six total offensive touches in 15 seasons, and four of those were in 2000 alone. (Including the only offensive TD of his career.) But it makes sense. With expanded rosters, salary increases, and injury concerns, the league built itself out of needing two-way players, and now we really only see it in special goal line packages.
The last true two-way NFL player was Deion Sanders in 1996. He had 36 catches for 475 yards, and one TD on 67 (!) targets that season. It's a bummer that Bailey didn't get the chance to do that at least once in his career, preferably with a young Jay Cutler throwing him bombs. Regardless, Bailey still stands as one of the best players ever thanks to his work at corner; but his time at Georgia serves as a reminder of how special he could've been offensively, too.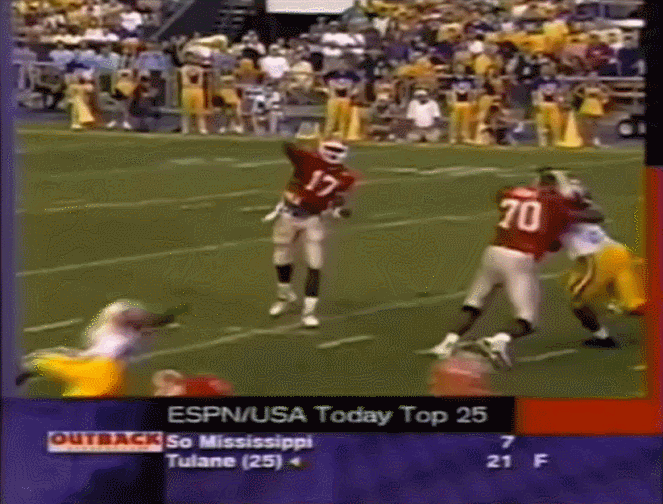 I'd like to think that cutting his college highlights and writing this finally ended my (one-sided) beef with Champ Bailey. How long can I hold it against him for playing in Washington and Denver? Shit, the dude's been retired for almost a decade! But then I think about the first interception of his career on Troy Aikman, or his pick-six on Thanksgiving 2005, or being at the Cowboys-Broncos game in 2009 when he had one of the most insane interceptions of his career, THEN made the play that won Denver the game. It makes me sick all over again; the same way I felt in 2004. But now that I'm a bit older, I understand that the best players of all time make you feel that way when they're not on your team. Greatness at that high of a level doesn't come around often, and I'm happy I got to witness it firsthand.