Welcome to "Throwback Player of the Week," where I drop a retrospective (sometimes), and highlights (always) on some of my favorite players in CFB history. This week: Former Miami receiver/returner Santana Moss.
Last week: Miami Receiver Santana Moss
---
Whenever I think about Jamaal Charles, I remember this video:
Jamaal Charles showing off his ball security technique with a pair of burnt orange patent leather Air Force 1's pic.twitter.com/8PKA0tGcbi

— Colton Denning (@Dubsco) June 10, 2019
This, just like everything else about Jamaal Charles, was fun. The running style. The quick cuts and vision. The outlandishly stupid speed. From his days at Texas, to his dominance in the NFL with the Chiefs, it was a joy to watch Charles with the ball in his hands. You don't have to be a football expert to see that some players just move differently than everyone else on the field, and he was one of those guys. He's the type of player that you remember being great, but when you actually go back and watch him again, he's even better than you remembered:
(Here's the link to his highlights for those viewing on email)
Looking back, Charles doesn't have the gaudy numbers you'd expect from a player of his caliber, but that's mostly because he didn't get the chance to be the true focal point of the Texas offense until his junior year. But if his numbers from the 2007 season were any indication, his career would've been an all-timer:

Despite not getting the sheer volume of touches throughout his career as some other great running backs got, Charles still left a hell of a mark in Austin. As a freshman in 2005, he instantly became an important piece for one of the greatest teams of all-time, and paired with Vince Young to make one of the most dynamic backfields in modern college football history. Imagine how terrifying it must've been for a defender playing against Texas in 2005 to look into the backfield and see this: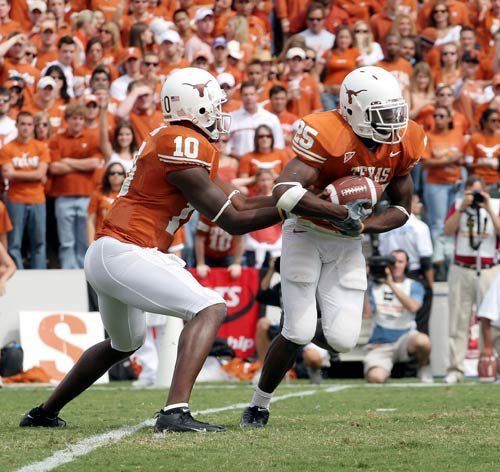 Charles had some great moments in that 2005 season, but the most memorable was demonstrating just how explosive he was going to be with this 80-yard touchdown against Oklahoma, which I'm also pretty sure is the play from the photo above: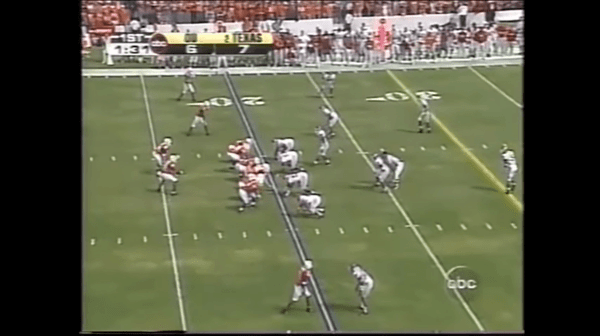 He wasn't just a finesse runner, either. Watching these highlights today made me realize just how much power he ran with, and how that was an underrated aspect to his game: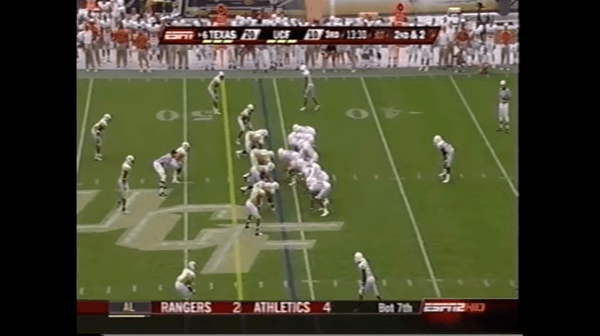 His arsenal even included my personal favorite running back move, the quick stiff-arm jab to the face: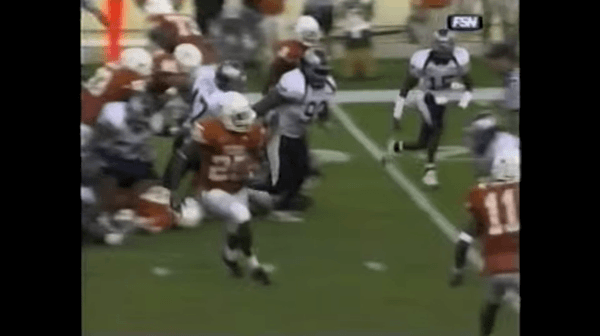 Beyond the field, Charles is just a great story. He discovered he had a learning disability in third grade, and through his involvement with The Special Olympics was able to find his confidence, and participated in Special Olympics track and field events. He gave a great speech during their 2015 event, and continues to work with the organization today.
He's one of the players people will always probably remember more for his awesome NFL career, but his time in Austin shouldn't be slept on either. In an era that included some of the most dynamic players we've ever seen –Reggie Bush, the duo of Steve Slaton and Pat White, Ted Ginn, Darren McFadden, etc.– Jamaal Charles was as explosive as any of them, and one of the most fun players you could ever watch on a football field.