Throwback Player Of the Week
Throwback Player of the Week: Mike Williams
Saluting one of the coldest to ever lace up a pair of cleats.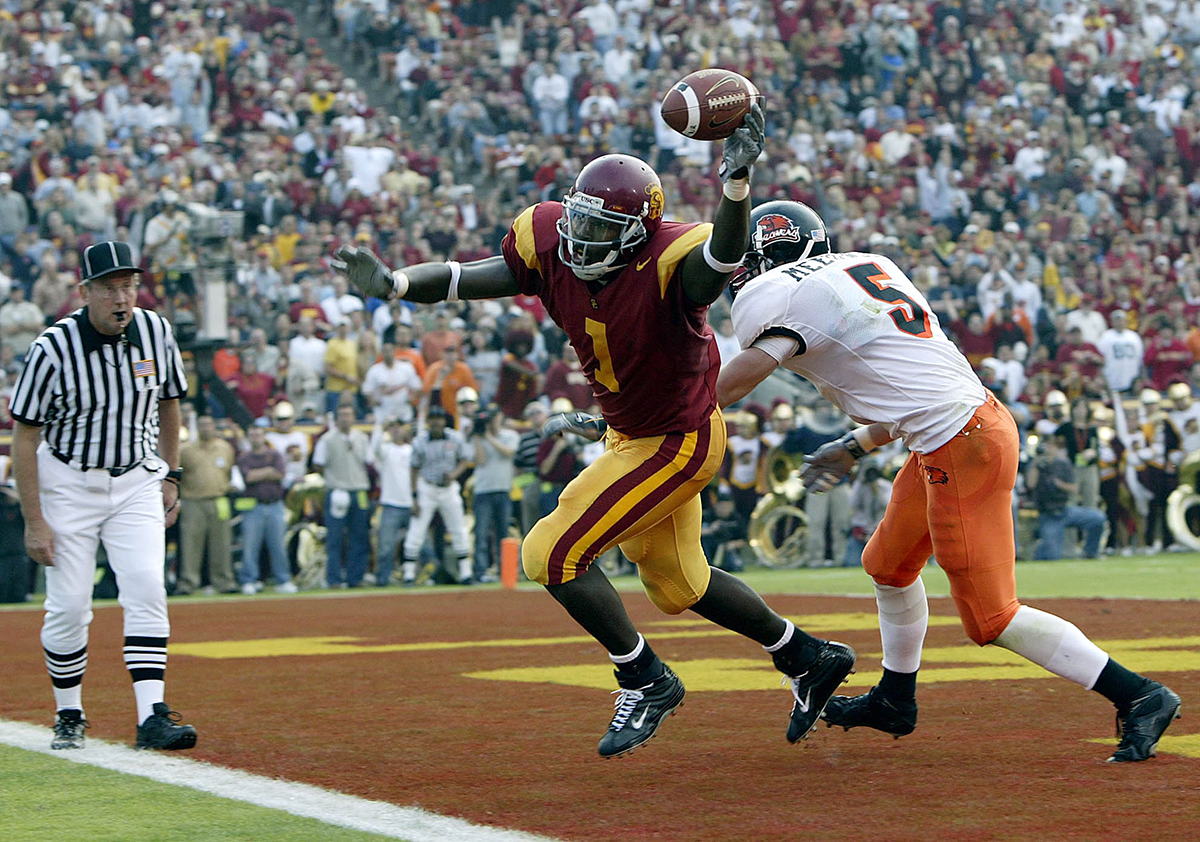 We're knee-deep in the offseason –and I'm desperately searching for content to post– so it's time to introduce one of the feature series' I've been cooking up. Welcome to "Throwback Player of the Week," where I drop a retrospective (sometimes), and highlights (always) on some of my favorite players in CFB history. Up first: Former USC WR Mike Williams.
---
I can't stand the phrase, "NFL Draft bust." There are so many factors that go into a player being successful in the league, and the discourse too often turns into a one-size-fits-all analysis of, "Well, I guess he really just wasn't good enough," or "He was lazy/didn't care/wasn't smart/had a bad attitude, etc." It's true in some cases, but in reality, the player is just one part of the equation.
What if you hate the city you get drafted to? What if your coach is a moron? What if Matt Millen is your GM? What if the timing just isn't right? If DK Metcalf shows up in 1998, how likely do you think it is that some boomer front office/coaching staff combo has him running timing routes in a west coast offense? Hell, how many teams now wouldn't use him to his strengths like the Seahawks do? All of that is to say there's more nuance to why a player might not work out in the league than the usual blame that gets put squarely on him.
That brings us to Mike Williams.
His NFL story with the Lions is fairly infamous. He was the 10th overall pick in 2005, and out of the league by 2008. I'm not here to argue that he wasn't responsible for how things went, but having to play for the mid-2000s Lions probably wasn't the best spot for development. What I am here to do is give him his flowers as one of the best college wide receivers I've ever seen.
(For people viewing on their email, this is the link to his career highlights)
In two seasons at USC, Williams put up the kind of ungodly numbers it takes most receivers at least three years to reach, and even today he's still among the school leaders in every major receiving category. It's also important to note he was doing this in the early 2000s, which wasn't exactly a period of offensive creativity among blue blood schools like we see now.

He dominated defenses with a full skillset that basically made him un-guardable:
You couldn't press him: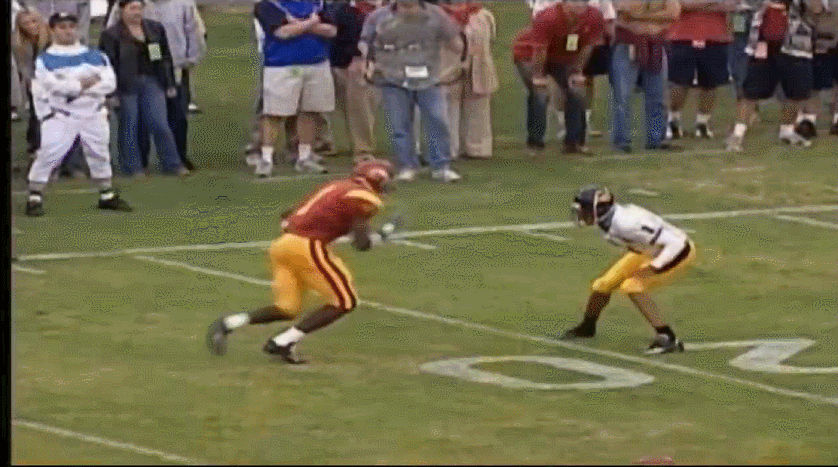 You couldn't out-jump him: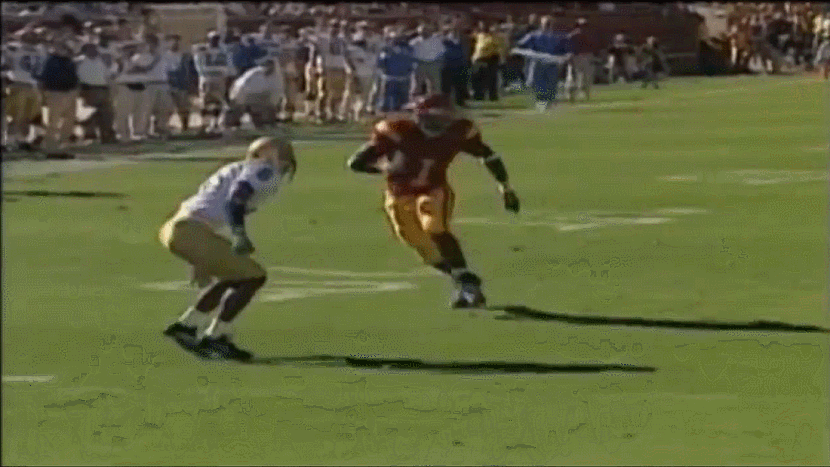 And you probably couldn't tackle him in space:
No matter what you tried, Mike Williams was going to fuck your defense up severely.
My favorite Williams moment showcased all of that in one play. Late in the third quarter of the 2004 Rose Bowl against Michigan –Williams' last collegiate game/USC's National Championship game– he matched up with UM cornerback Leon Hall –another future first round pick–  and I still laugh every time I see this play:
(For people viewing on email, here's a link to the play starting at 16:04)
If you're keeping score at home:
Hall tries pressing Williams and immediately gets put on his ass.
Williams still sells the post-corner he's running, despite the fact that Hall is now eight yards behind him.
Hall catches up because Matt Leinart's arm had a 40 MPH speed limit programmed into it, so Williams has to make a contested sideline catch, stay inbounds, plus hold on to the ball through contact.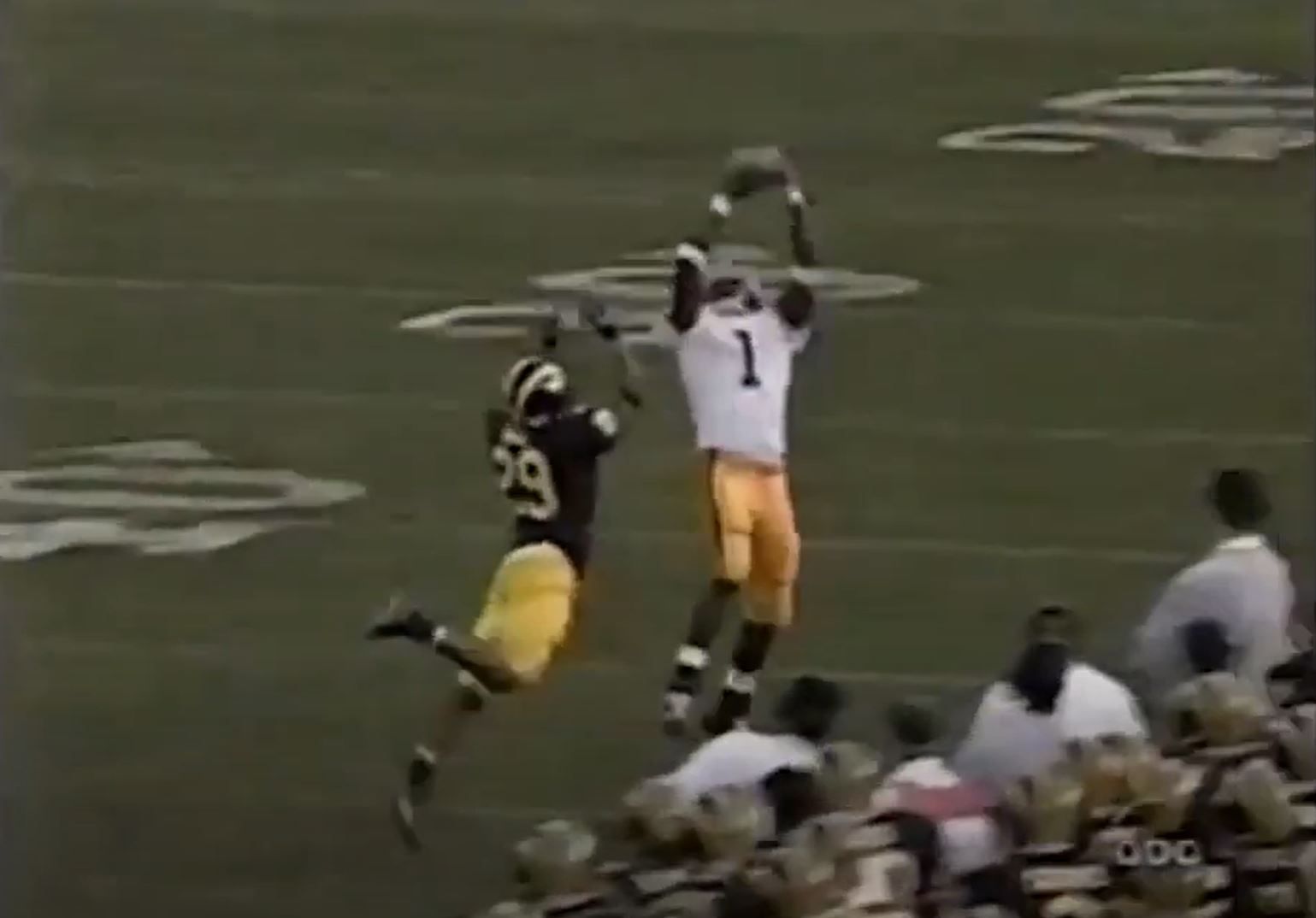 Beautiful stuff from a receiver who could do it all. He closes out that same drive by throwing a touchdown to Leinart, basically sealing USC's first national title since 1978.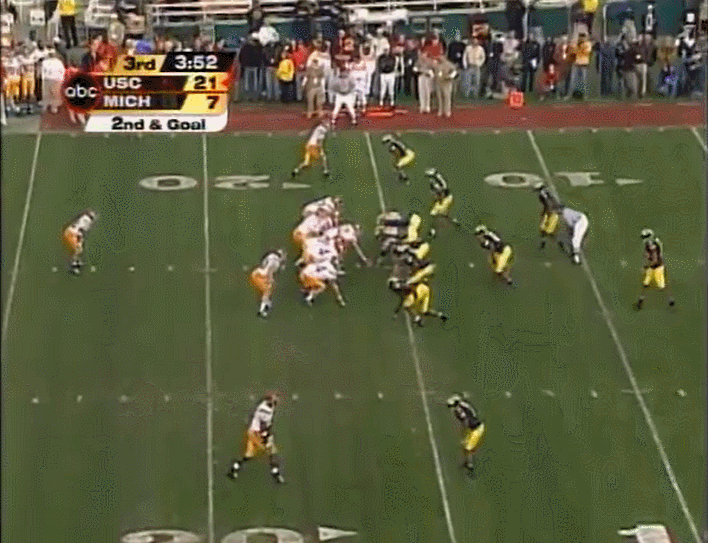 ---
Williams is always going to be synonymous with Detroit, but even his NFL story is more than that. After two years out of the league, he made the Seahawks roster in 2010, led the team with 751 yards receiving, and even scored a crucial TD in the Beast Quake game. He only played one more season in Seattle before retiring, but it's pretty cool that he got a shot at NFL redemption and made the most of it.
Today, Williams is a high school football head coach in Tampa Bay, molding the next generation of players. 20 years ago, he was one of the most dominant players I've ever seen, and is still one of my favorites to go back and watch. Mike Williams is much more than his career in Detroit –both on and off the field– and a good reminder that some of the greatest players you may ever watch don't have to be defined by how they do on Sundays.