2023 Season
10 Takeaways: Week Nine
The back-to-back champs are done messing around.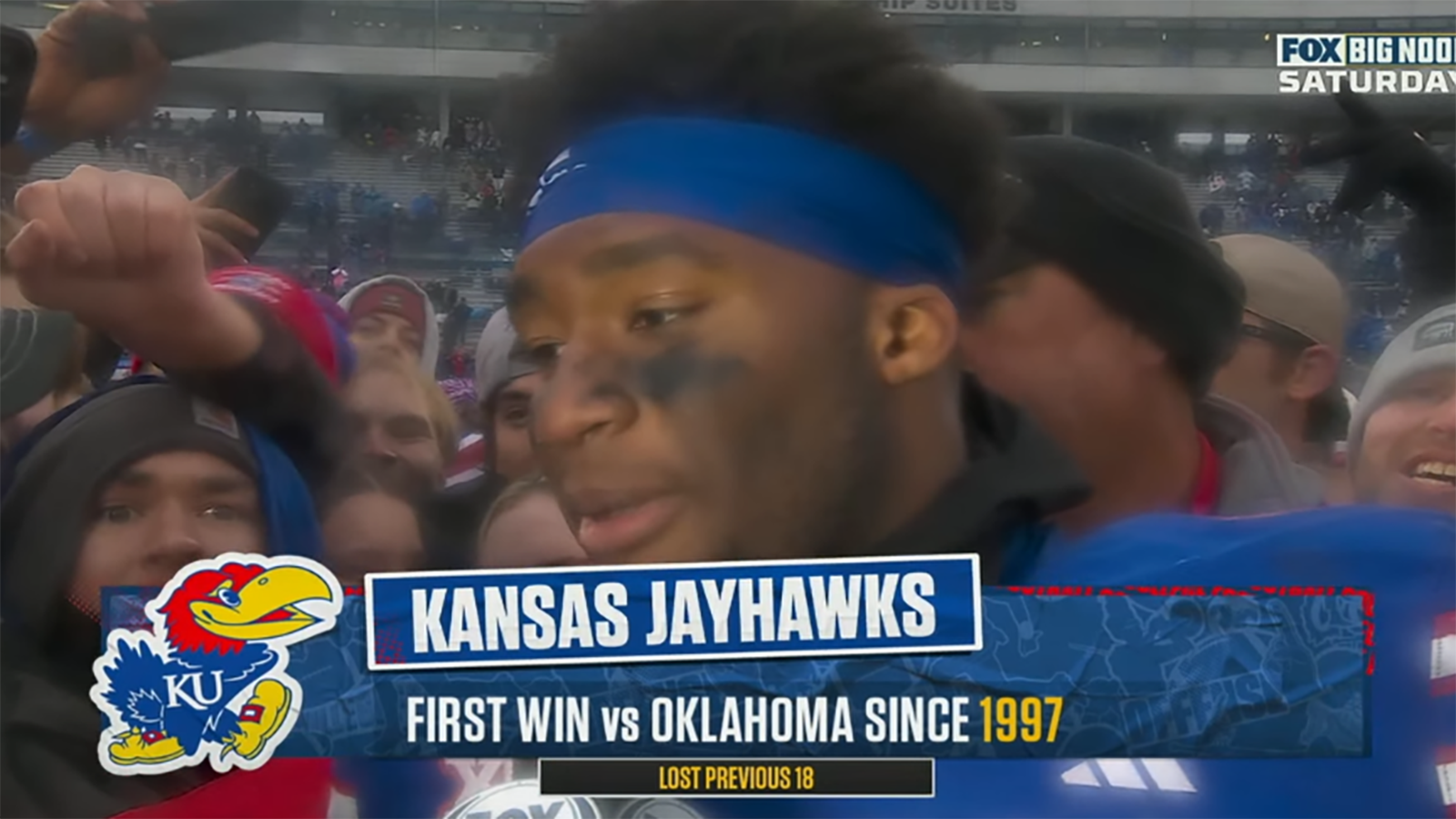 For those reading on e-mail: click 'view in browser' to see the full contents of today's post
---
1. Kansas gets their moment
Kansas-Oklahoma was more than just a great game. It was a great game that had it all. There were special teams turnovers, a defensive touchdown, and six lead changes. There was a one-hour weather delay, a last-minute touchdown drive, and a Hail Mary attempt on the final play. It's almost everything you could ask for from a college football game. Oh, and it was also top-ten upset where the winning team beat their opponent for the first time in 26 years, and also clinched bowl eligibility in back-to-back seasons for just the second time in program history.
I know that doing the "This is the spirit of everything great about college football," schtick can sound corny, but that's how this game made me feel. My buddy Patrick Mayhorn said this about New Mexico Sate last week, and I instantly thought about it in regards to Kansas: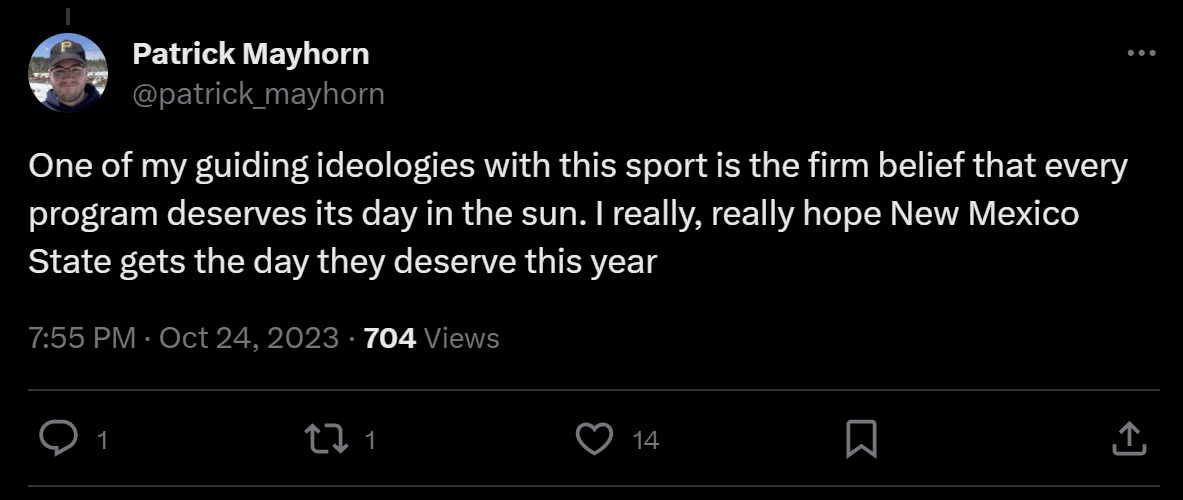 Saturday was Kansas' day in the sun, but it's gonna last a hell of a lot longer than a day as long as Lance Leipold is there.
2. November football is here
November is the month where shit gets real in college football, and it came a couple days early this year.
First, there were the upsets. Kansas beat Oklahoma, North Carolina's season is officially off the rails after their loss to Georgia Tech, and the night ending with Arizona beating Oregon State was the perfect finale.
Outside of that, it was just a day full of weird results. Cal and USC played the funniest game of the season. Washington had a tough time putting Stanford away. Penn State looked like they were legitimately going to lose to Indiana at home. Maryland somehow lost to Northwestern. Washington State continued their bizarre slide by getting blown out by Arizona State. Virginia almost pulled off another stunner. Finally, Boise State destroyed Wyoming, putting my Andy Avalos hot seat agenda in serious jeopardy.
It was a weird ass day, and you can bet that things are only going to ramp up as we hit the home stretch of the season.
3. The Big 12 Race is getting fun
OU's loss to Kansas means that the Big 12 is officially the only power conference without an undefeated team. While that's probably not great news for their playoff hopes, it's excellent for the drama of what should be an entertaining month of deciding who plays in the Big 12 Championship. Look at this cluster at the top: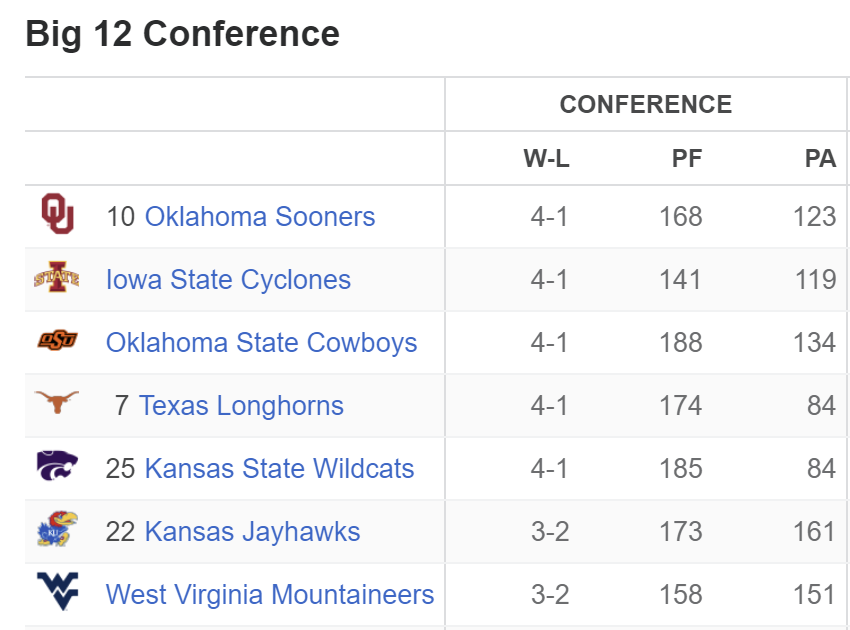 Texas beat Kansas, but lost to Oklahoma. Oklahoma beat Texas, but lost to Kansas. Kansas beat Oklahoma, but lost to Oklahoma State. Oklahoma State beat Kansas and Kansas State, but lost to Iowa State. It's a jumbled mess, but in a great way! The best part is that there's a handful of big games left, starting this week. Kansas State-Texas, Oklahoma-Oklahoma State, and Kansas-Iowa State are all on the slate, and I don't think it's crazy to say that what happens in the Big 12 will be the biggest story of week ten.
4. Georgia has that look again
I won't lie - I was among the people who thought Florida could beat Georgia. The Dawgs have been spotty at times, and coming into a huge rivalry game without Brock Bowers felt like the recipe for some chaos to occur. I felt like a real genius after Florida's 66-yard touchdown march on the opening drive, then proceeded to feel like a real jackass for the next three hours.
Georgia scored 36 unanswered points, and held the Gators to just 106 yards on their next 34 plays. The champs are back, and I don't think anyone in the country can knock them off until I actually see it happen.