10 Takeaways
10 Takeaways: Week 12
What if they just didn't award The Heisman this year?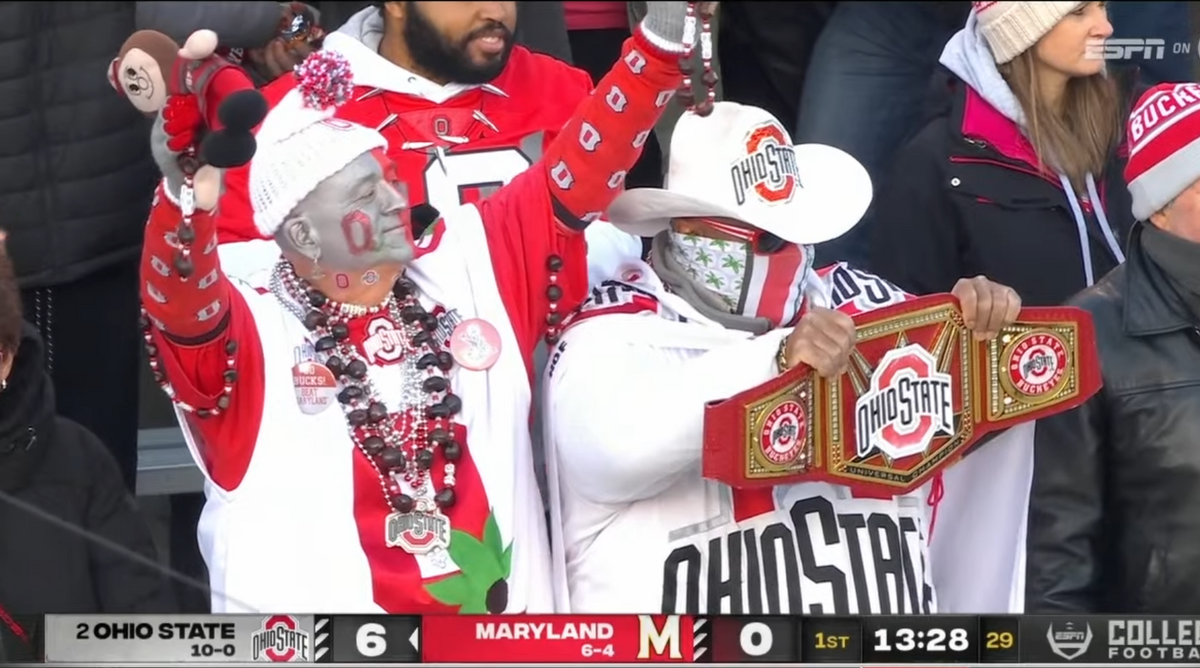 (PSA: Click 'view online' if you're reading on e-mail to see all the content in this article.)
---
1. A stupid week and a beautiful week
Yesterday was a good reminder that sometimes the most important thing is just winning and moving on. As ugly as their performances were, who would you rather feel like today: Ohio State, Michigan, and TCU fans? Or Tennessee, Ole Miss, and North Carolina fans? Hell, even Georgia didn't look their best in a 16-6 win over Kentucky, though some of that has to be tied to Kirby Smart's desire to run the most souped-up version of Jim Tressel-football the sport has ever seen. It was a week high on bizarre results, upsets, upset-potential, and pure entertainment. USC-UCLA and Oregon-Utah were two perfect games to finish the day off and set us up for what should be a very exciting final week of the regular season.
2. The Heisman should take a year off
I'm only half-joking, but here's my case:
There are obviously a group of players more than worthy of winning it –CJ Stroud, Caleb Williams, Blake Corum, and Bo Nix seem to be at the top of most people's contenders list– but has anyone really distinguished themselves this season? Any of those guys can change my mind with what they do in the next two weeks –and I'm sure they will– but this feels like the the most meh Heisman race in a long time for how open it is. I'm honestly more interested in who takes home other individual awards (Biletnikoff, Thorpe, etc.) than whichever QB out of that group wins the Heisman by default because their team finished the season the strongest - but maybe that's just me!
Here's a dumb wildcard take: If Marvin Harrison Jr. has a big game against Michigan and then follows up with another in the Big Ten Title, he's going to sneak into NY and might even win.
3. Looking back at my thoughts last week
Even I get a few right every now and then:
Blake Corum's injury was terrible –and hopefully it's not as bad as it originally looked– but Illinois' defense did in fact hold their own against Michigan, and they probably should've won, if we're being honest.
Minnesota scored 10 points against Iowa.
USC-UCLA might've been the game of the week, and Oregon-Utah was right there with it. I still think USC's going to lose again and keep the Pac-12 out of the playoff, but those are the type of games that are going to put the conference back on the map nationally.
I thought South Carolina would win, but even I didn't think they'd whip Tennessee's ass that thoroughly.
4. Player of the week: Bowling Green WR Odieu Hiliare
Odieu Hiliare is the main reason The Boys™️ brought the Battle of I-75 Trophy back to The Doyt:
5. Play of the week: TCU's fire drill finish
With everything that's on the line for them, I still can't believe how cool and collected the whole TCU field goal team was here:
6. Dallan Hayden: RB1
It's wild what happens when your running back decides to simply get upfield and gain yardage:
7. Imagine being in Michigan State's special teams meetings this week
I can guarantee that they aren't going to be as positive as TCU's are.
First:
Then:
Indiana somehow won in double OT while only throwing for 31 yards, 24 of which came in overtime. Incredible.
8. Spencer Rattler went NCAA 07 Mode
Rattler may never live up to the hype he had his first couple years at Oklahoma, but he was legitimately on a different planet last night. 30-37, for 438 and 6 TDs is the stuff of legend, and made for a night South Carolina fans will never forget:
9. Assorted other thoughts
There were some fluky things that happened to Florida in their loss to Vanderbilt –the muffed punt for a TD and one of the weirdest interceptions of the season stand out– but they've played sloppy football all year, and Vandy took it to them for most of that game. They might get smacked at Florida State next week if they're not ready to go from the start.
My Oregon State nine-win agenda from the preseason is looking splendid. They've been one of my favorite teams to watch this season, and they beat down Arizona State yesterday.
How is Louisville 7-4?
Texas A&M truly is a broken program right now:
Credit where it's due to Marcus Freema,: Notre Dame fought through that ugly start and is finishing the season as strong as anyone. Their defense vs. USC's offense is going to be fun.
"Say the line, Bart!":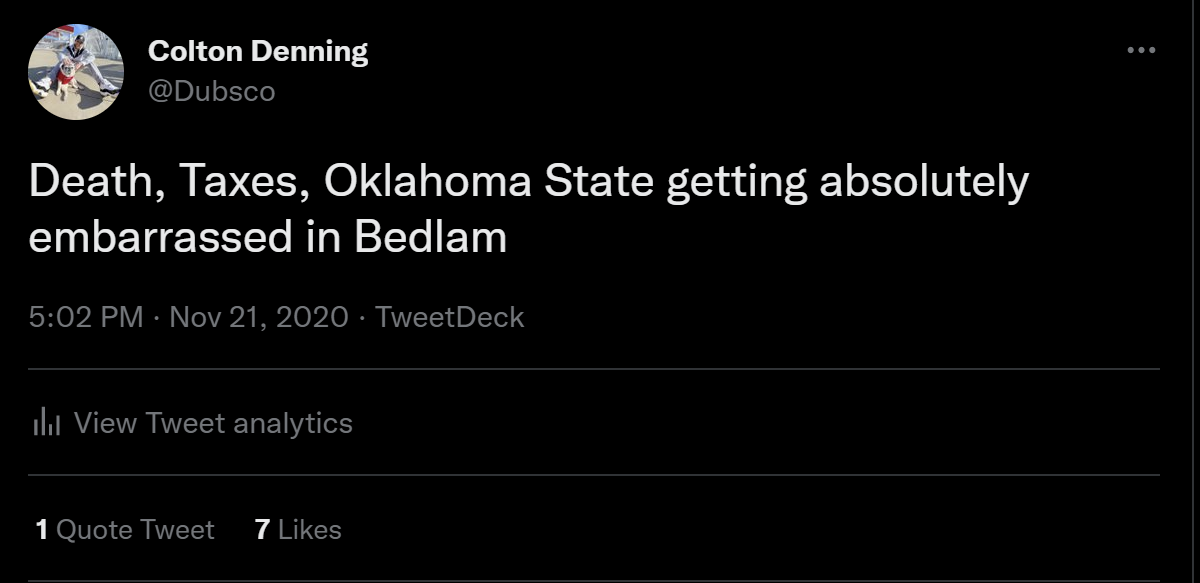 10. Early week 13 thoughts