2022 Season
25 Bad Predictions for the 2022 College Football Season
I'm going to have to delete this in September.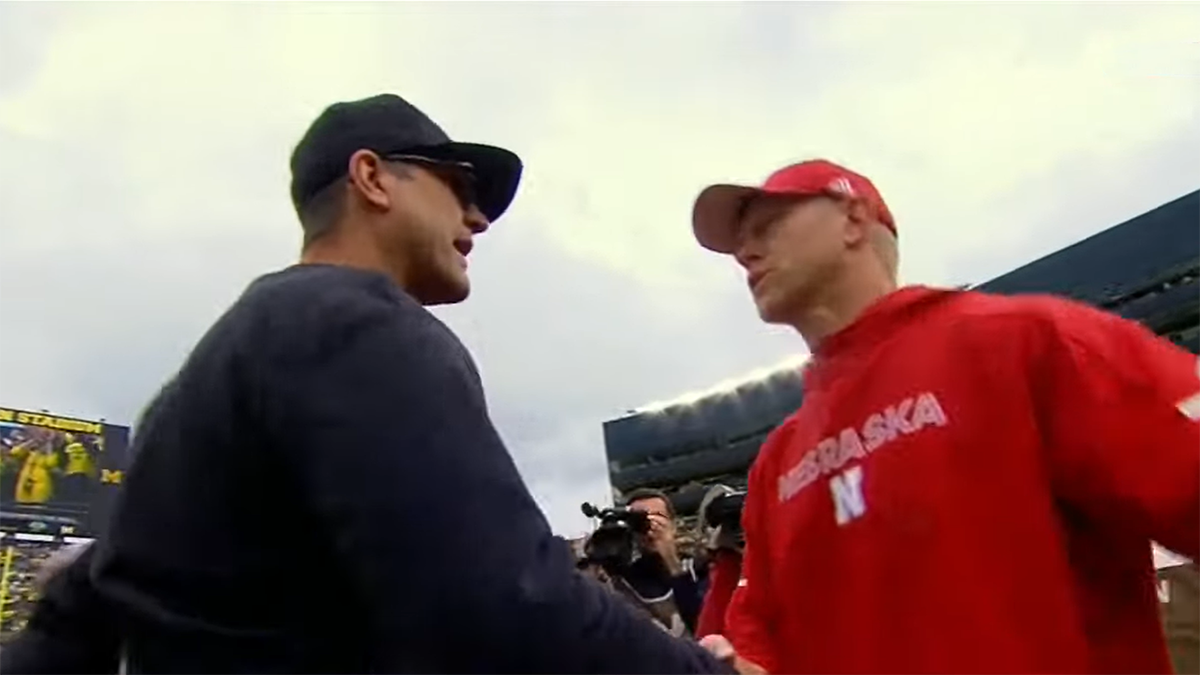 We're a little over a month away from the start of the 2022 CFB season, and I can't help myself: I simply had to put together a list of 25 of my worst predictions. I'm positive that 90% of these are going to look horrific by mid-September, but that's the beauty of it. This isn't a "CFB BOLD PREDICTIONS™" column where I'm trying to look smart. I want to go off the deep end a bit here, and hopefully ascend to a different level of chaos.
---
1. UT is BACK (for real this time)
That's right, folks. I'm buying the hype. After years in the wilderness, it's finally time for one of the oldest powers in CFB to step back into the spotlight. Their fans won't shut up about it, and this time they're right: The boys in orange and white are back.
The Tennessee Volunteers are winning 10 games.
2. Florida State-LSU is the most out of control game of the season
This matchup is radiating the same vibes as the Texas-Notre Dame 2016-season opener. Similarly, this is two prominent programs playing in a season opener and looking for a signature win. Whoever gets it will be instantly overrated. Add in that Brian Kelly's first game at LSU is in the Superdome, plus the general absurdity of any Florida State game under Mike Norvell? We're in for four hours of pure chaos, baby. If we're lucky, this game ends with Joe Tess screaming, "IT'S TIME TO TALK ABOUT THE 'NOLES AGAIN, FOLKS!"
3. Kansas State wins the Big 12
Life is better when Kansas State's in the mix. This initially said "Kansas State plays for the Big 12 Championship," but I'm already all-in on them this season, so fuck it. They went 8-5 last year, and I think they take a big jump in 2022. I love the addition of Adrian Martinez at QB, and I'm banking on him cutting down his turnovers solely because he's hundreds of miles away from the bad juju constantly emanating from Scott Frost. They get Texas and Oklahoma State at home, and the road game against Oklahoma doesn't scare me as much in Brent Venables' first season. I think they lose at Baylor on November 12, but then get them back in the Big 12 Title.
4. Geoff Collins is the first Power 5 coach fired (Non-Bryan Harsin edition)
I'm not rooting for anyone to lose their job –except for Karl Dorrell– and picking Harsin or Scott Frost would be too easy, so Geoff Collins it is.
Collins came to Georgia Tech in 2019 with a ton of enthusiasm, but things are looking grim in year four. GT is just 9-25 in his tenure, and things don't get easier in 2022. They open the season against Clemson at Mercedes-Benz Stadium, and have non-conference games against Ole Miss, at UCF, and the season finale at Georgia. I'd be stunned if Collins is on the sideline vs. the Bulldogs.
5. Fox plays an Arch Manning highlight package when Texas trails Alabama 45-10
It's early in the fourth quarter, and Alabama's second-stringers are kicking Texas' teeth in. In between plays, Gus Johnson throws to 20 seconds of Arch Manning high school highlights. He and Joell Klatt spend the next 5 minutes talking about the Manning's –accompanied by gratuitous crowd shots of the family, if they're there– and discussing the "bright future of the Texas program" under Steve Sarkisian. It's destiny.
6. Air Force: New Year's Six
The Falcons are coming off a 10-win 2021, return a ton of offensive production, and have a super light schedule. 11/12 wins are on the table if the defense is good. Imagine a Power Five conference champion having to play a triple option service academy in the Cotton Bowl as their postseason reward.
7. Jim Harbaugh and Scott Frost have a heated postgame handshake
All eyes will be on Nick Saban and Jimbo Fisher's postgame handshake on October 8, but they're both wise enough to avoid the distraction that an actual on-field confrontation will bring. They'll do a quick shake, maybe a pat on the back, and be done with it. If we want to see any head coach smoke this season, we need to come up with a different combo. We need to find two coaches 1) with big attitudes 2) whose teams play each other 3) preferably in a high-stakes game where one of them is on the verge of getting fired. Harbaugh-Frost on November 12 fits the bill.
They both have the attitude, Harbaugh already has a history in this department, and this is the kind of game Frost has to prove his team can win if he wants to stick around. Geoff Collins ripping away from Pat Narduzzi in 2020 is the last handshake gone wrong I can remember, so we're overdue in this category.
8. North Carolina rebounds and makes a push in the ACC Coastal
North Carolina's 2021 was a disaster. They entered as Coastal favorites, then lost their opener to Virginia Tech and fell out of the division race by early October. They couldn't pass protect, and had one of the worst defenses in the country. In some ways it looked similar to the end of Mack Brown's tenure at Texas. So why am I high on them in 2022?
I'm not; I just have no faith in the rest of the division. Pitt lost everyone on offense. Miami's probably the best team, but I refuse to believe they can be consistent for a full season until they actually do it. Virginia Tech, Virginia, and Duke all have new head coaches with major issues to fix, and we already covered the sad state of Georgia Tech. North Carolina's going to have a decent chance at playing for the ACC Title if they can play normal-ass football for 3 months. Stealing a win at Miami in October would also be a huge boost.
On the other hand: Their schedule is quietly rough, and Brown hired Gene Chizik to fix his defense. This one's gonna age poorly.
9. Lincoln Riley leaves USC for the Rams when Sean McVay takes a TV job
"Nick Saban gets tired of telling his fanbase they're spoiled and takes the Auburn job to teach them a lesson" was too unrealistic –even for this column– so here we are. McVay dropped hints about retirement last season, and that kind of stuff doesn't just go away. He has nothing left to prove after winning the Super Bowl, and I'm sure he's looking to take the Bill Cowher exit ramp on the football coach quality of life highway sooner than later. As for Riley: He'd be dipping from USC after just one season, but when has that ever stopped a coach before? He clearly likes the spotlight, and almost everyone thought that if he was going to leave Oklahoma, it would be for the NFL. This checks both boxes, and he wouldn't even have to move his family again!
10. Alabama misses the playoff
Look, it's called "Bad Predictions" for a reason. Let me be wrong and have some fun.
11. Minnesota wins the Big Ten West
This instantly goes up in smoke if Wisconsin gets even average QB play, but I have faith that 2022 is the year of the Gophers and PJ Fleck in the West. Their run game and defense will both be strong, and I'm buying a bounce back for QB Tanner Morgan since he's playing for an actual FBS-level offensive coordinator again. (And he's already had success with him before, too.)
Which of these schedules do you favor?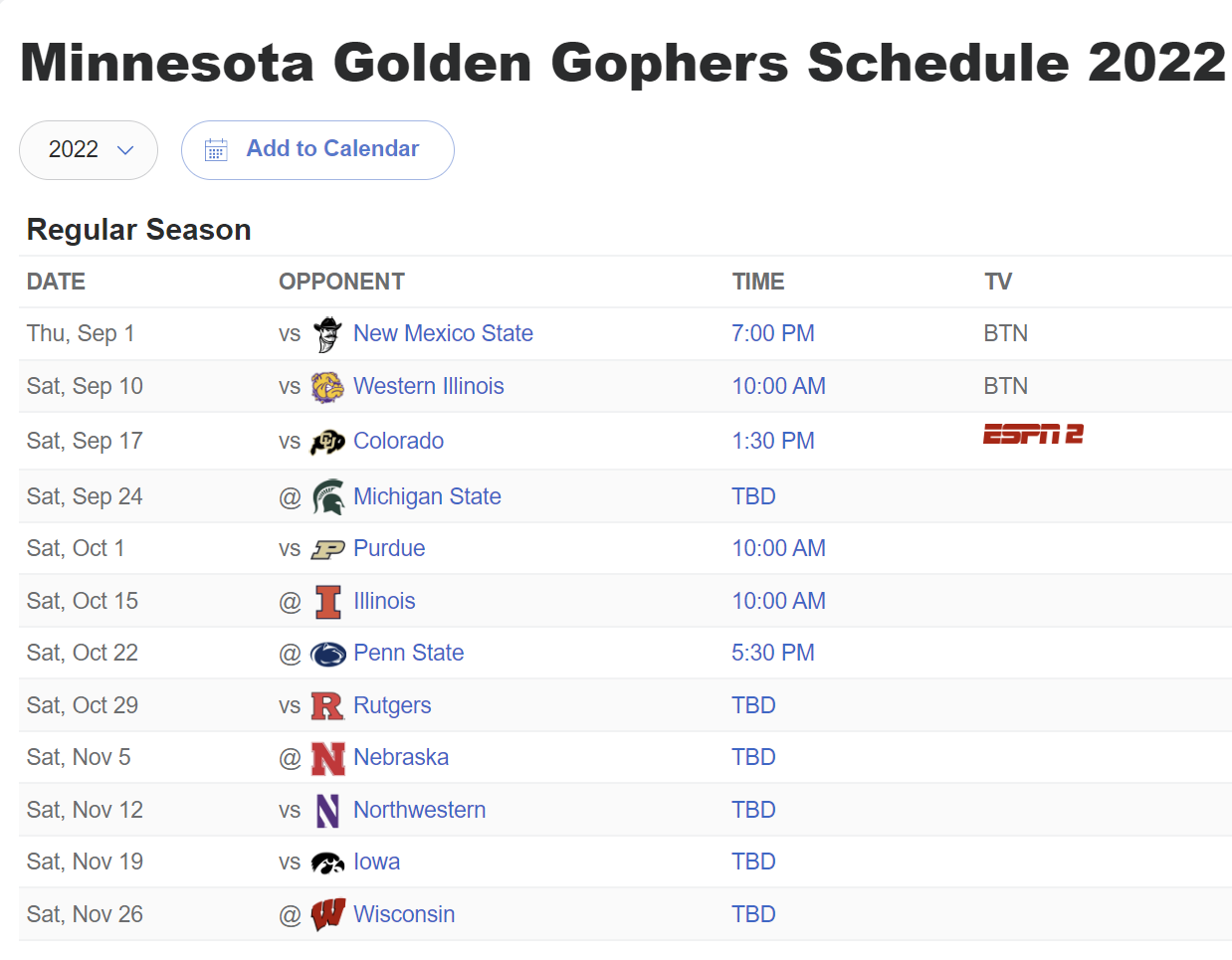 Minnesota avoids Ohio State, but has to play at Michigan State and Penn State in the east, plus at Wisconsin to end the season. The Badgers get the Buckeyes and Spartans on the road, plus Iowa. It's pretty even, and it might depend on how you feel about Rutgers, Maryland and Purdue. I'm giving a slight edge to the Gophers. Regardless, the season finale between the two might be for the crown.
12. Utah makes it back to the Rose Bowl
This probably doesn't belong in a "bad predictions" column –I'm far from the only person high on Utah– but Lincoln Riley and USC have taken up so much of the Pac-12's oxygen this offseason that it feels like the Utes are a bit undervalued. They're still the best team in the conference, and they also match the blueprint of teams that Riley struggled against at Oklahoma.
13. EA Sports unveils the NCAA 2023 trailer and it looks exactly the same as Madden*
Excited for Dynasty Mode to have 25 percent of the features it had in 2007!
*this is the one prediction I have 100% faith in coming true
14. Rutgers wins eight games
I'll go on record right now: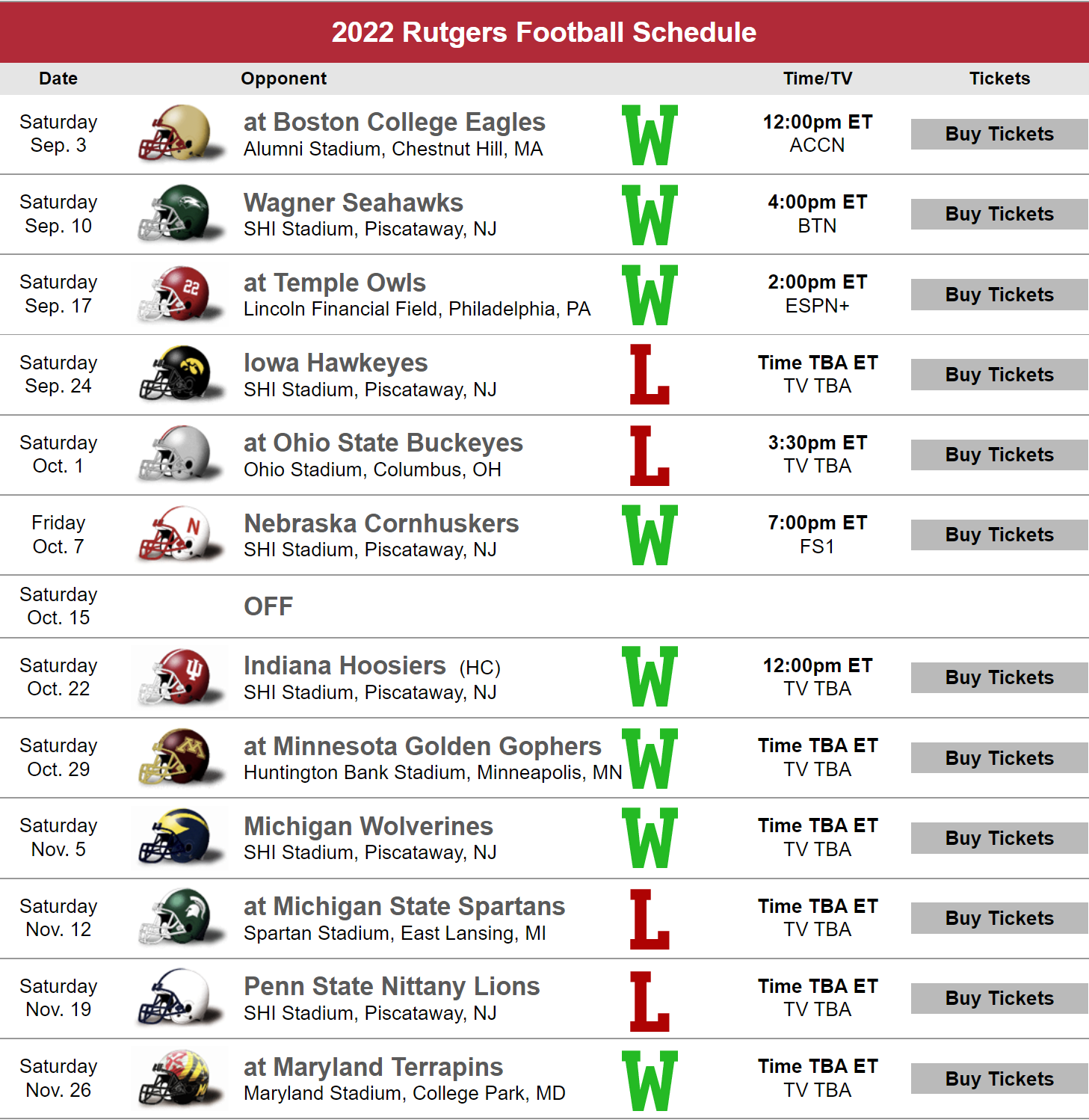 Colton Denning: Greg Schiano-believer.

16. Ole Miss is in the SEC West title hunt into mid-November
The biggest question with Ole Miss is how good all the transfers they brought in are going to be, and if they can make it work right away. If anyone can, –at least offensively– it's Lane Kiffin. The main reason I'm super bullish on the Rebels is their schedule: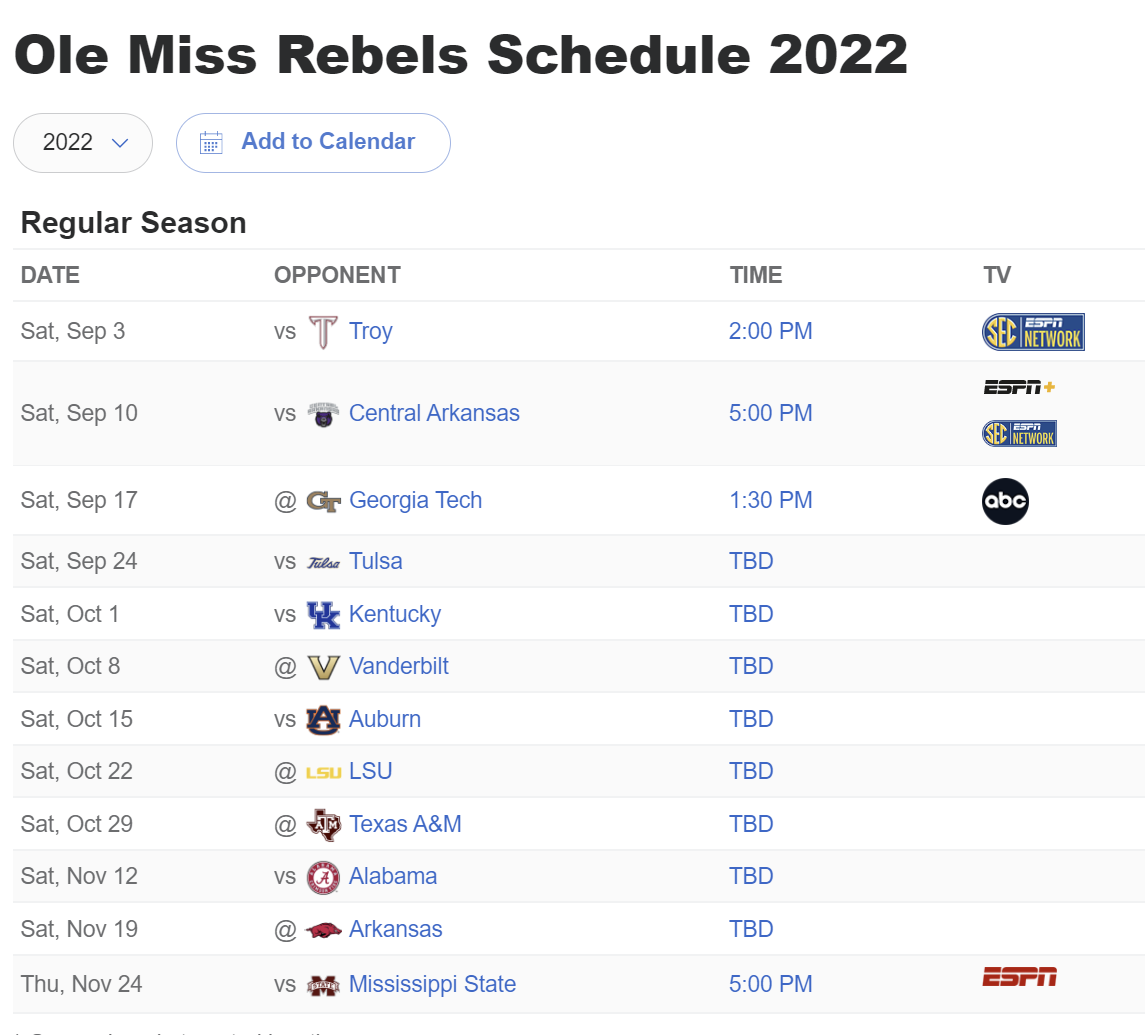 There's a decent chance they're undefeated –or just have one loss– heading into the Texas A&M game, and all bets are off if they win that. I'm not saying they win the West, but this might be the year they at least threaten for it.
17. Someone tries to hire Urban Meyer
The Head Breakfast Coach returning to FOX is the least shocking thing in the world, but could he actually be back on the sideline next year? Probably not, but that doesn't mean there won't be rumblings. People have already speculated that Meyer might want to return to Bowling Green –who most certainly will be hiring a new coach after this season– but he's already publicly refuted that. Whether you're willing to take him at his word is up to you, but would you really be shocked if a couple of programs at least put out some feelers as we get closer to the end of the year? For the record: The funniest scenario is Auburn making a run at him.
18. Next year's coaching carousel won't be as insane as last year's, but it'll still get pretty crazy
2021's hiring cycle felt like a once-in-a-lifetime event. The USC, LSU, Oklahoma, Notre Dame, Florida, Oregon, and Miami jobs were all open at one point, with good spots like Virginia Tech, and Washington also up for grabs. I don't think it gets to that level again, but things could get spicy if we roll with my "Lincoln Riley to the Rams" theory. Here's how I think it shakes out:
Big jobs open
Auburn
Florida State
Nebraska
Other P5 jobs probably/maybe open
Georgia Tech
West Virginia
Syracuse
Colorado
North Carolina
Boston College
Arizona State
Wildcards that could throw everything into chaos
USC - See above
Texas - What if it goes south again for Sark in year two?
Michigan - Was the Vikings job Jim Harbaugh's last gasp at an NFL job, or will he dip at another chance?
Oklahoma State - See No. 24 on this list
P5 coaches teams will try to poach from their current spot
Dave Doeren/NC State - He's 14 wins away from becoming the winningest coach in school history, he's putting high-level talent into the NFL, and it looks like the Wolfpack are in for another big year. You'd figure that someone's gonna make a big push for him eventually.
Dave Clawson/Wake Forest - Clawson's jumping up Wake Forest's all-time list, too. They just went to the ACC Championship, and are 23-13 the last three seasons. Jim Grobe was the first coach in school history to bring Wake to three straight bowl games (2006-08), and Clawson will (most likely) have them in their seventh straight this year. I don't think the general public truly understands how ridiculous what he's doing there is.
(Just to be clear: I'm not rooting for either of these dudes to leave their current spot. They're both doing remarkable jobs, and I'd be bummed out for each fanbase if either of them left.)
19. Arkansas is a schedule casualty
This is brutal: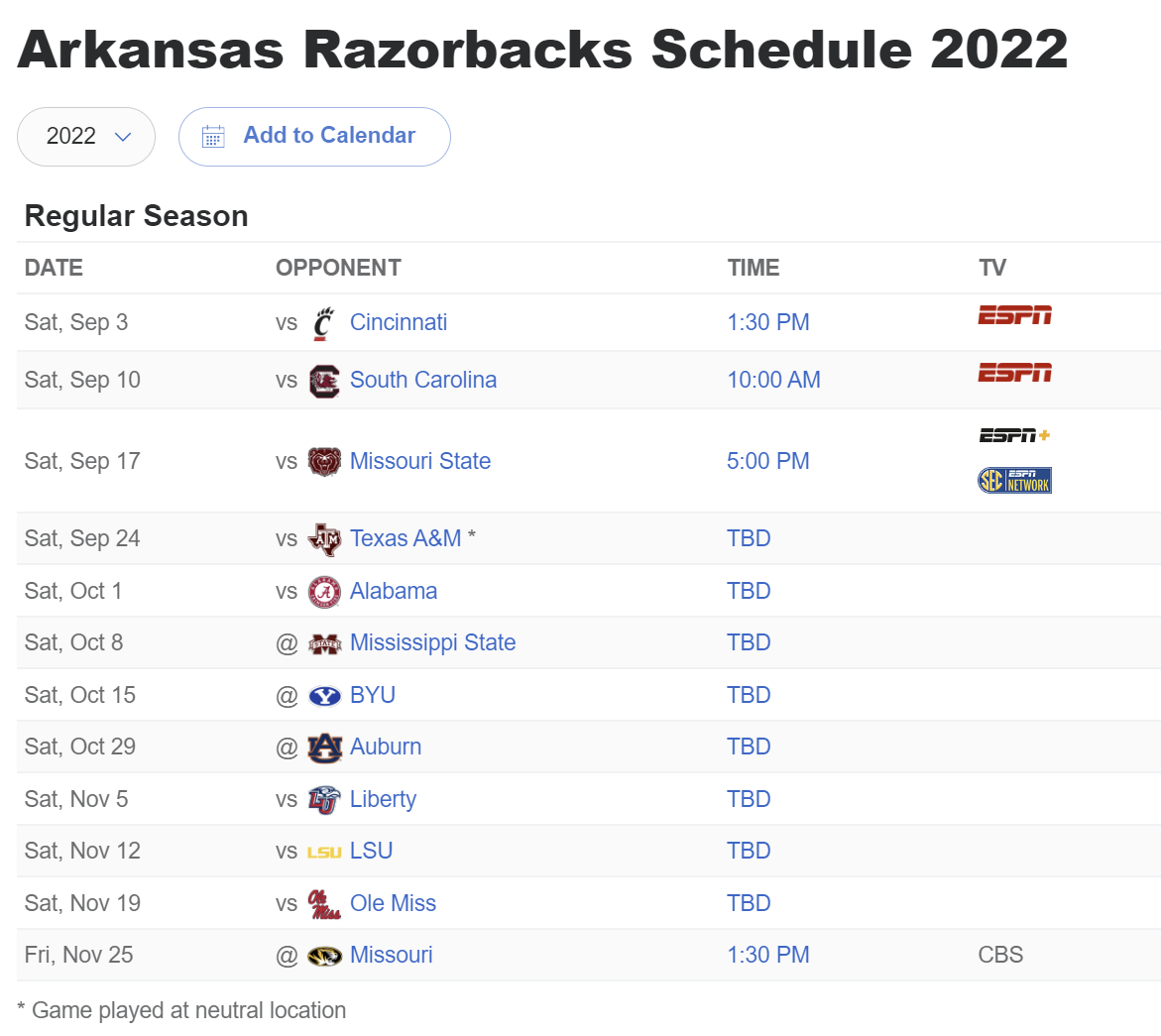 I like Arkansas and hope they have a good season, but there's a reality where they head into Mississippi State 1-4 or 2-3. The back half of the schedule lightens up a bit after BYU, but that's a hell of a first seven games. The Razorbacks could be pretty good and still find themselves at 7-5.
20. Illinois beats Wisconsin in Bret Bielema's return to Madison
This is already the third time I've brought up the Big Ten West. I really need to get a job. Anyway, it's almost been 10 years since Bret Bielema last stepped onto the Camp Randall field, and what better way to re-introduce himself than by pulling off a chaotic upset that has no business happening?
21. One of Texas/Oklahoma/USC/UCLA loses a conference game under shady circumstances
This is bar-none the most hilarious thing that could happen this season. I still don't give a shit about expansion/re-alignment, but it would all be worth it to see one of these four teams get absolutely jobbed by officiating in a conference road game. You can't tell me that Steve Sarkisian, Brent Venables, Lincoln Riley, and Chip Kelly aren't already slightly paranoid that it might happen at some point. Imagine Texas losing to Texas Tech on a bogus pass interference call, and then on Monday the Big 12 puts out a statement that essentially says, "¯\_(ツ)_/¯."
I want it. I need it.
22. Colorado doesn't throw for 300 yards in a single game for the second straight season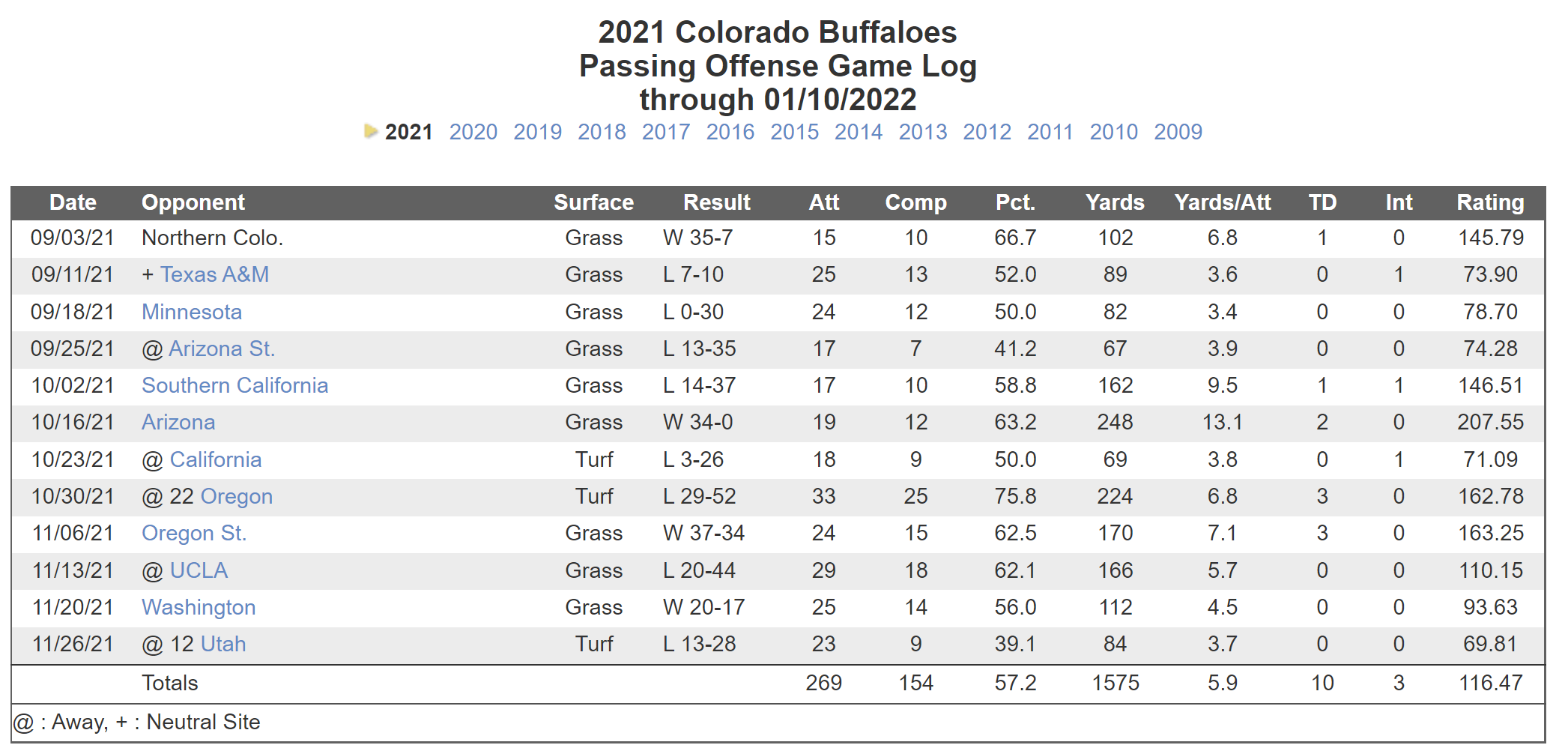 2021 Colorado had the worst offense I've ever watched in-depth at any level of football in my life. There isn't a single thing they did competently, and it started with their inability to complete a forward –or sideways– pass. Their pass protection was non-existent, and it led to QB Brendon Lewis scrambling for his life almost every dropback. I know that using any total yards stat is flawed, but they threw for less than 100 yards FIVE TIMES, and the four teams below them in total passing yards last season were New Mexico and the three service academies running the triple option:

They can't possibly be worse in 2022, but they won't get much better. Two of their top four receivers from last year transferred, and Karl Dorrell's main solution to fix the offense was to hire an offensive coordinator who just got fired at Minnesota because his offense couldn't throw. It's going to be a long season in Boulder.
23. Oregon State wins nine games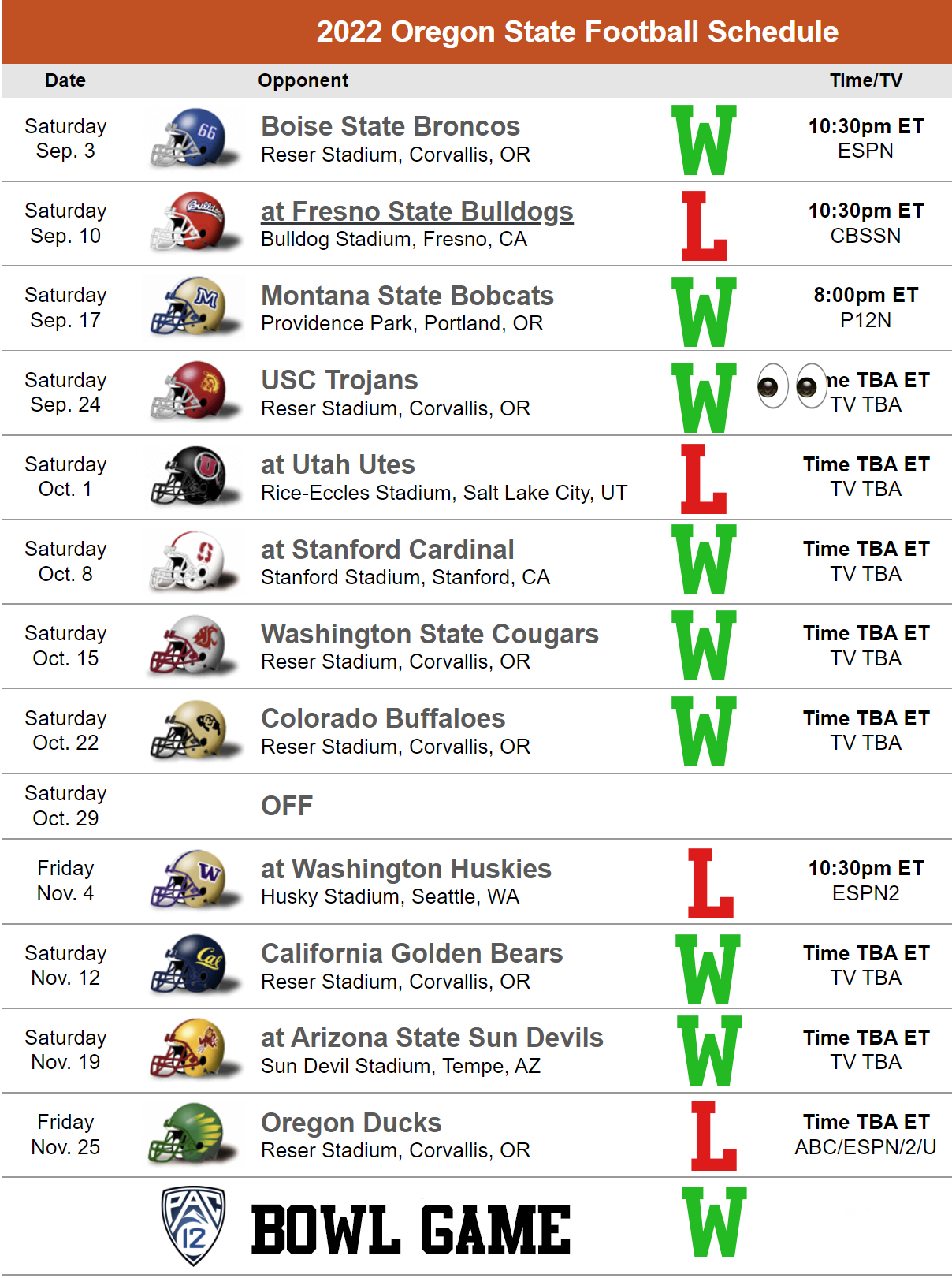 Rev up that god damn chainsaw, baby.
24. Mike Gundy leaves Oklahoma State
I said this in the haiku preview, so here it is again: Mike Gundy's making the move. He's aware of where Oklahoma State stands in everything going on right now, and he's not quiet about it. It feels like there's one story per season about him being disgruntled, and he already has a history of flirting around anyway. I have no idea what school he ends up at, but I think the timing is finally right for a move to happen.
25. Ryan Day beats the charges
January 2023: On the charges of being soft in the trenches, the jury finds Ryan Day and the 2022 Ohio State offensive and defensive lines: Innocent.