10 Takeaways
10 Takeaways: Week Seven
I have nice things to say about Michigan and Clemson, sadly.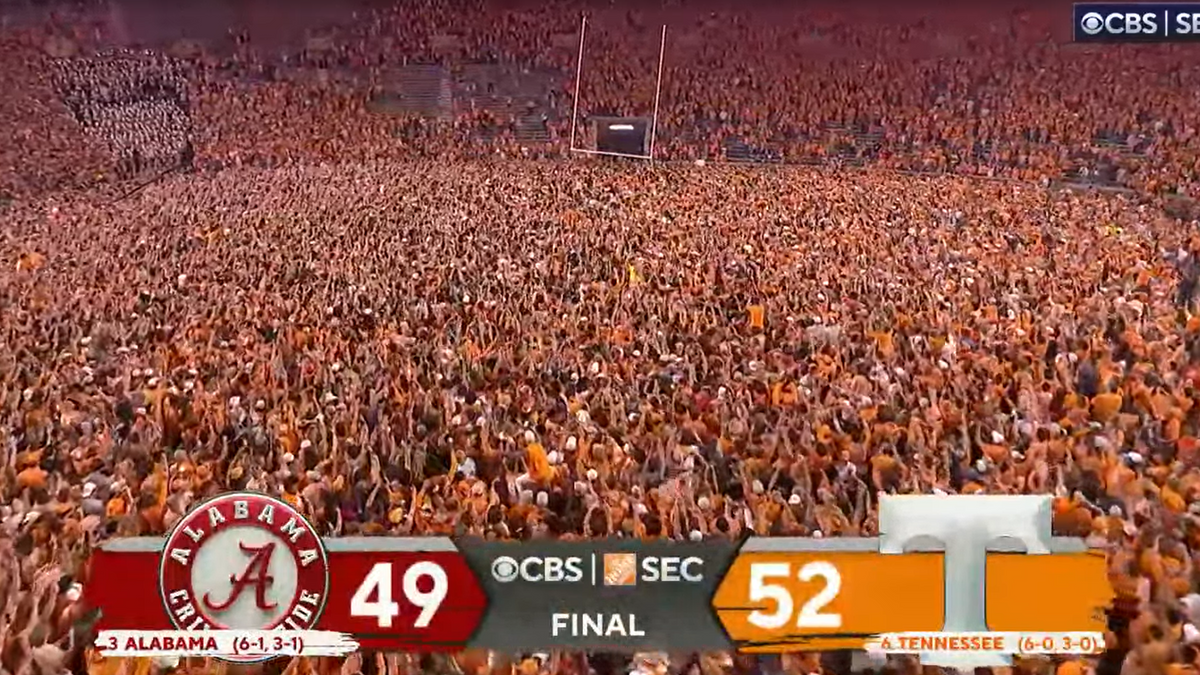 (PSA: Click 'view online' if you're reading on e-mail to see all the content in this article.)
1. The Vols are back
What can I even say about Tennessee-Alabama?
That's probably the biggest "WOW!" moment I've felt after a game since the Kick Six. I don't have a take about what it means for Alabama's playoff chances, or how it affects the SEC moving forward. It's too soon and too much can go down in the next month and a half to change things. But I do know that Tennessee's offense is a machine, and that their fans deserve this moment. Also, Bryce Young is unbelievable. He took an ass whupping all game and kept making play after play. It's time to start putting his name next to some of the best QBs we've ever seen in college football. I'm still in awe at what we watched. That was everything that makes this sport the best.
PS: rare W for my preseason predictions.
2. This is March
You know how every year in the first round of the NCAA Tournament there's a time window where everything happens all at once? That was yesterday's afternoon games. Maybe I'm misremembering because of the Coors Lights, but there was a point where Alabama and Tennesssee were throwing bombs at each other late in the fourth quarter, while TCU-Oklahoma State was going off the rails, and Michigan State-Wisconsin were taking turns trying to give away their overtime game to the other team in the most hilarious way possible. (No one was watching the last one except for each fanbase and me, but it kicked ass.) I felt like I couldn't function properly after those games ended because of how crazy they were, so I ended up just pacing around my apartment aimlessly for like half an hour. I promise I'm actually a normal human, despite that last sentence.
3. Giving Michigan their props
It's easy to dunk on Penn State here, but Michigan deserves credit for beating the hell out of them. Running for 418 yards against anyone is impressive, much less doing it against a top-10 opponent. Does Michigan have a redzone problem? Yes. Do they do dumb shit sometimes and keep opponents in games? Yes. Is JJ McCarthy secretly not even as good as Shea Patterson? Yes. But they've also mauled every team they've played so far on each side of the line of scrimmage, and it's hard to see how they won't be undefeated going into the Ohio State game. I hate them as much as anyone, but this is a legit top five/seven football team, if not better.
4. Colorado won a game!
This how how the CU fanbase/students showed up to a game where their team was 0-5, coming off a bye, and just fired their head coach:
It warms my heart that all 50,000 got to celebrate on the field after the game:
I'll have more to say about the Buffs later this week, but I'm so happy for all the CU players, coaches, and fans. Hopefully this serves as the first step forward in rebuilding the program. Also, what a freaking hit:
5.  Favorite play of the week- Ball State RB Carson Steele hurdles a UConn defender
6. Player of the week: Dequan Finn - Toledo
7. I will begrudgingly respect Clemson
I still don't think they're in the same class as the other top teams in the country, but Clemson deserves credit for being tough as hell. They kicked Florida State's ass in the second and third quarters last night, and 34-28 final score doesn't do justice to how much they controlled the game. DJ Uiagalelei was efficient, and he's quietly played pretty well this season. It rarely looks pretty for a full four quarters with them, but they just physically wear down the teams they play against. Is there any team left on their schedule that you think can beat them?
8. I will continue to disrespect USC
Who could've guessed that a Lincoln Riley-coached team would lose on the road to a team whose M.O. is physical football???? I know it was a shootout, but USC losing to Utah is the least surprising result of the season. Their defense gave up 562 yards and 7.3 yards per play, and Alex Grinch continues to be the biggest farce in coaching. Caleb Williams made some amazing plays, but running around for 8 seconds to find a receiver 40 yards downfield and hoping it works out isn't a strategy that's going to win you a lot of games against top-25 caliber teams. They'll win 10 or 11 games because UCLA's the only team left on their schedule with a pulse, but this isn't –and never was– a legitimate top-10 team.
9. Assorted other thoughts
Starting to get Scott Frost Nebraska vibes from Marcus Freeman at Notre Dame.
Illinois or Purdue in the Big Ten Championship is becoming a legitimate reality.
Poor Akron:
Arizona and Washington combined for over 900 passing yards against each other:

Wisconsin-Michigan State was hilarious. MSU won in overtime, but this is all you need to see: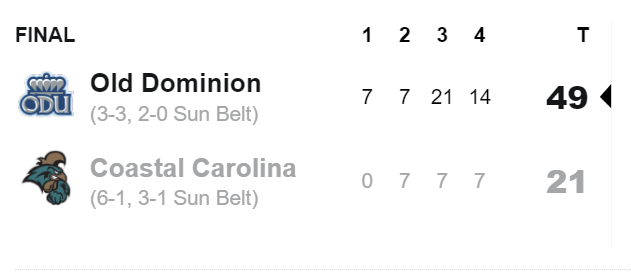 The ACC Coastal is an absolute mess, and whoever wins it (North Carolina) is going to get slaughtered by Clemson: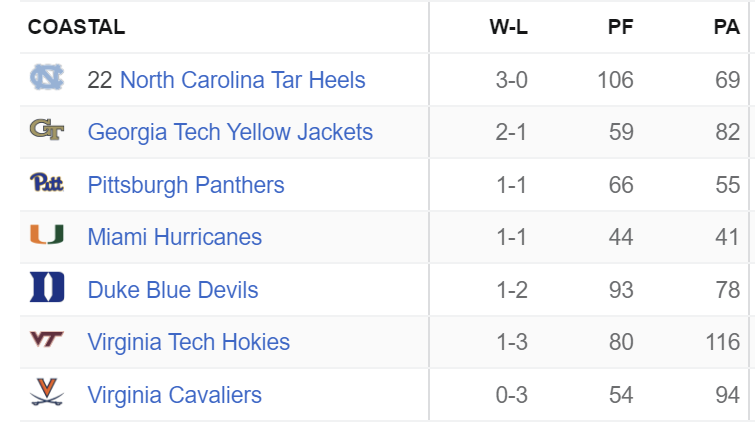 10. Early week eight thoughts
There aren't any players left on Ohio State's roster from their 2017 loss to Iowa, but they owe the Hawkeyes an ass kicking.
Geeked up for Oregon-UCLA. Gonna be a slugfest.
Not getting my hopes up that Syracuse can actually beat Clemson.
Ole Miss has been playing with their food all year, and it's gonna bite them in the ass against LSU. Ole Miss is a better team, but I think the Tigers find a way to win.
Fascinated to see how Alabama responds against Mississippi State.
Winner of K-State-TCU makes it to the Big 12 Championship.
Secret game of the week is South Carolina-Texas A&M, if only for the implications if A&M loses and goes to 3-4.