25 takeaways
10 Takeaways: Week Three
Colorado needs a new Head Coach.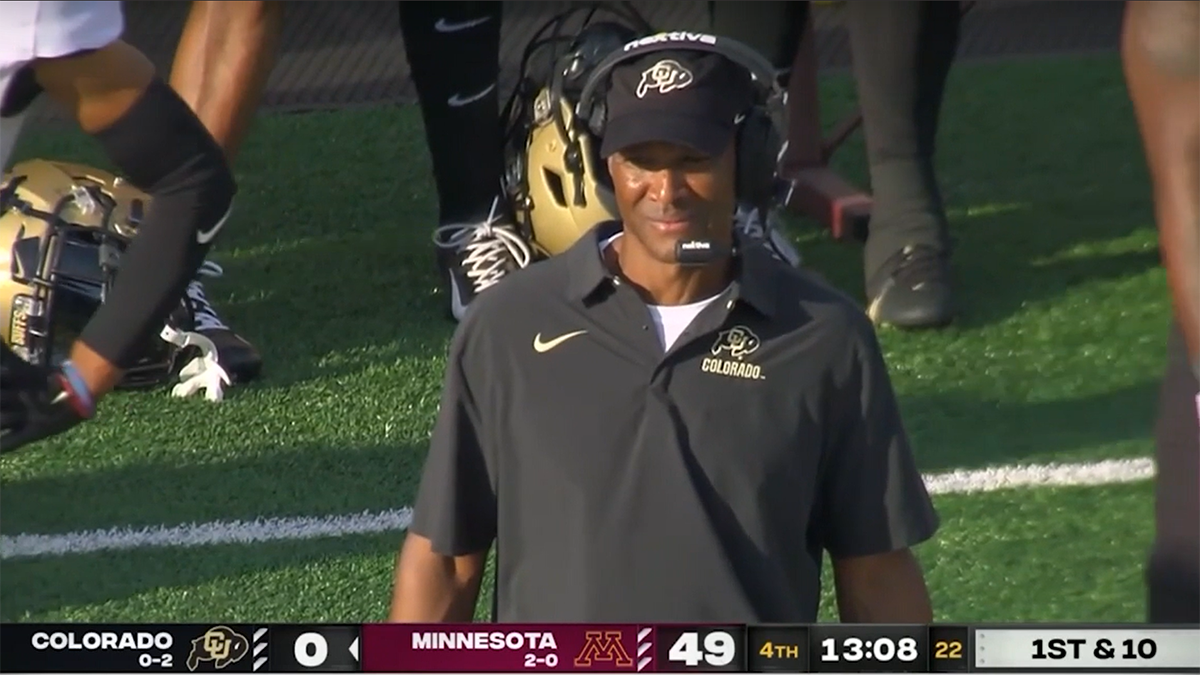 1. Karl Dorrell needs to go
Colorado is 0-3 and I've had enough. I don't know what Karl Dorrell's buyout is, and I don't care. This is one of the most embarrassing coaching jobs I've ever seen, and it's (past) time for Dorrell to go. After losing 49-7 to Minnesota yesterday, the Buffs have now been outscored 128-30 on the season, and somehow that doesn't truly reflect just how bad this team is. Allow me:
Colorado's offense has scored three touchdowns this season, and only one hasn't been in garbage time. The two others were trailing 38-6 against TCU on their last drive of the game in the season opener, and yesterday when they scored on their second-to-last drive against Minnesota's backups to avoid a shutout.
They had 90 passing yards yesterday, which is the eighth time in Dorrell's 21 games that they've thrown for under 100 yards.
They have 736 total yards this season, and 211 of them (28%) are from fourth quarter garbage-time drives against TCU and Minnesota.
Of their 34 offensive drives this season, 10 have resulted in three-and-out punts.
Here's how they started last week's game against Air Force:
This was their first play against Minnesota yesterday:
And that's just the offense! Here's the defense:
So much for the program being in a better place now than when Dorrell took it over, eh? It's hard to see them winning any game left on the schedule, and you have to wonder when CU Athletic Director Rick George wakes up and pulls the plug on this fraud of an operation. (George needs to go too, if we're being honest.)
I feel for the players, and want them to succeed, but this thing is irrepareable as long as Dorrell is in charge. I can't stand this guy, and I'm actively rooting for him to lose his job for the damage he's doing to Colorado Football.
2. Primetime Flop
What was up with Texas A&M-Miami? I can't remember a primetime game being more boring than what we saw from those two last night. You could've taken that game and transported it back to the late-80s and it wouldn't have been out of place. A truly disgusting display from Jimbo Fisher and Mario Cristobal.
3.  My favorite play of the week
Maybe next time ESPN does Gameday in Boone they'll actually put them on TV instead of ESPN+.
4. It's Georgia and everyone else right now
I know it's still early, but can you come up with a plausible scenario for anyone –outside of maybe Alabama– beating this Georgia team? Their defense doesn't look like they've lost a step, and the offense feels like it's actually a threat this year. How the hell do you defend this guy:
5. The Big Ten stinks
The spark everyone expected Nebraska to get from firing Scott Frost lasted exactly one drive before Oklahoma woke up and did pretty much whatever they wanted for the rest of the day. This probably could've been a 70-14 final if Brent Venables didn't call off the dogs.
Northwestern fumbled four times and lost to Southern Illinois at home.
Indiana and Rutgers squeaked out wins over Western Kentucky and Temple.
Maryland was penalized 15 times and needed two fourth quarter TDs to come back and beat SMU at home.
Purdue completely outplayed Syracuse but made a handful of brutal mistakes in a 32-29 loss that quietly was my favorite game of the day:
(I'm stoked that Dino Babers got this win)
Michigan State's defense gave up almost 400 yards passing and to Washington in a 39-28 loss that wasn't even that close.
Iowa beat Nevada 27-0, but had another gross game offensively.
Ohio State and Michigan are the only two teams worth a shit in the Big Ten this year –with Penn State (we'll talk about them in a second) and Minnesota still unknowns at this point– and even they have question marks. Ohio State's season opening win against Notre Dame looks worse by the week, and how much can we really take away from what they've done against Arkansas State and Toledo? (Also, that cornerback play. Yuck.) Meanwhile, Michigan's played maybe the softest non-con slate you'll ever see, and I don't feel confident having any opinion on them until mid-October when they play Penn State. This conference is bad.
6. Penn State is lurking
In saying all that, I've got my eyes on Penn State now. I'm not going to act like Auburn isn't a disaster, but Penn State going into Jordan-Hare and blasting them 41-12 was impressive. Nick Singleton is already a certified dude, and that defense is nasty when they start flying around. Sean Clifford is what he is at this point, but they're going to have a chance in every game they have left if he's not turning the ball over. They'll cruise the next two weeks against Central Michigan and Northwestern, before we learn whether they're true contenders in a three-game stretch against Michigan, Minnesota and Ohio State.
7. Kansas is three wins from bowl eligibility
Lance Leipold, man. This dude took what's been the worst situation in the Power Five over the last decade and completely flipped it on its head in less than two seasons. They dropped 48 points and 438 yards on Houston, and the prospect of them making a bowl for the first time since 2008 is very much in play with this schedule. Leipold is doing the best coaching job in the country, and everything at Kansas right now is basically the exact opposite of what I said about Colorado earlier.
8. Favorite play of the week, part two
Tulane's 17-10 win over Kansas State was brutal for my 'K-State 2022 Big 12 Champions' agenda, but I loved that they went for the kill at the end of the game:
How many other coaches are punting in that situation? Kudos to Willie Fritz on trusting his guys to get it done.
9. Tigers punch back
I'm always down to dunk on Brian Kelly, but credit where it's due here. I thought LSU looked dead in the water down 13-0 to Mississippi State in the second quarter, but I was impressed with how they fought back and scored the last 21 points of that game to win 31-16. I'm still not confident that they're going to play consistently well each week, but they at least showed some resolve in a situation that could've gotten out of control quick. They've got two weeks to keep ironing things out before playing arguably the toughest second half schedule in the country: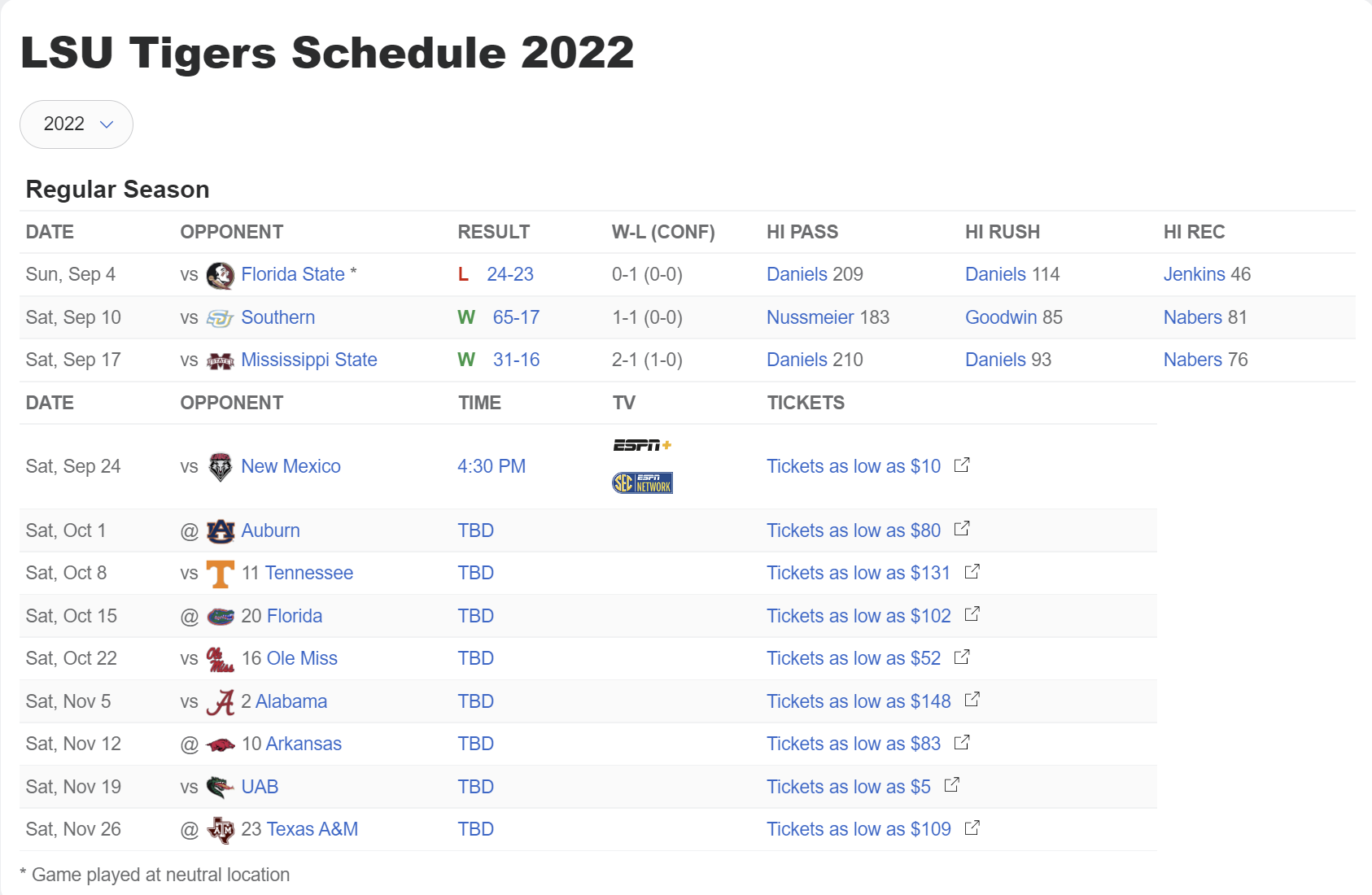 10. Early week four thoughts
I'm still skeptical about Ohio State's offensive line and run game. We'll see how much they've actually improved when they play against Wisconsin's front.
Can Wake Forest score enough on the Clemson defense to win? Can the Clemson offense score against a competent defense?
Bryan Harsin gets fired if Auburn loses at home to Missouri, right?
Duke and Kansas play each other and one of them is going to be 4-0. I'm unironically telling you to watch this game.
Florida-Tennessee has all the makings of the dumbest game of the week.
I have a bad feeling that Texas A&M is beating Arkansas.
I have a great feeling that Oregon State is beating USC.