25 takeaways
15 Takeaways: Week Four
Featuring a Marvin Harrison Jr. NIL conspiracy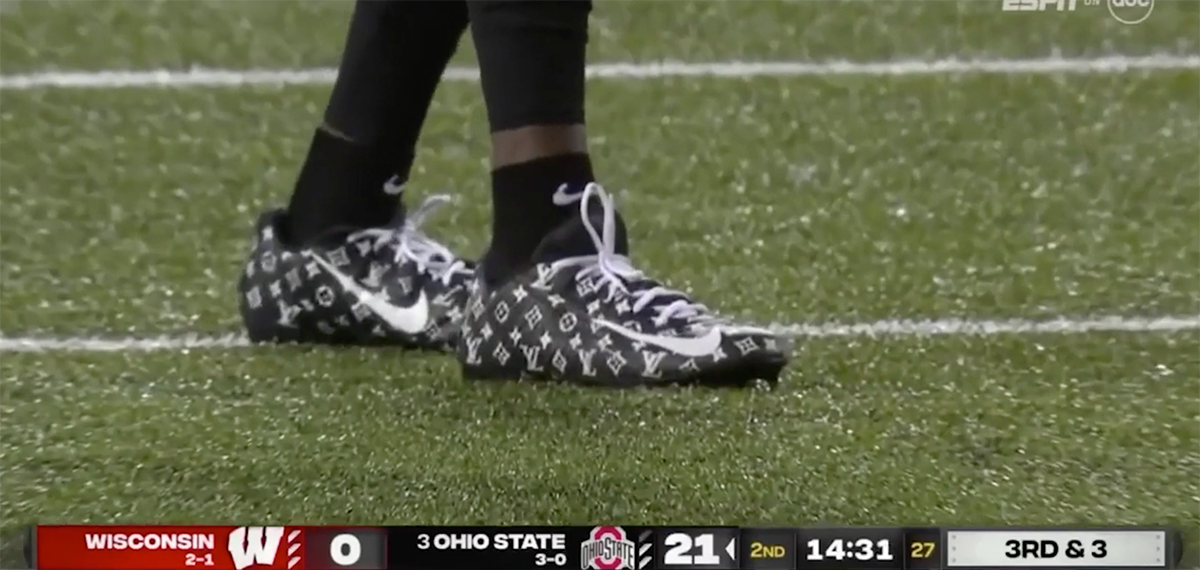 (PSA: Click 'view online' if you're reading on E-Mail to see all the content in this article.)
1. I love the 2022 season
I know we're only four weeks in, but this has been my favorite season in a long time (so far). Each week we've had wild upsets, thrilling finishes, head coach drama, mascots getting obliterated, and basically everything else you could ask for to start a season outside of one of Alabama/Georgia/Ohio State losing. I don't know what the rest of the 2022 season has in store for us, but if it's anything like the first month, we're in for an all-timer.
2. Get baseball off my god damn TV
My distaste for the sport I once loved is mostly due to [redacted, because a piece of paper I may or may not have signed for financial reasons means I need to shut up], but the Aaron Judge cut-ins during the Clemson-Wake Forest game were nauseating. It'd be one thing if it was just studio updates coming out of breaks, but these were honest-to-god split screens of full Judge at-bats, including one during a Wake Forest touchdown in the third quarter: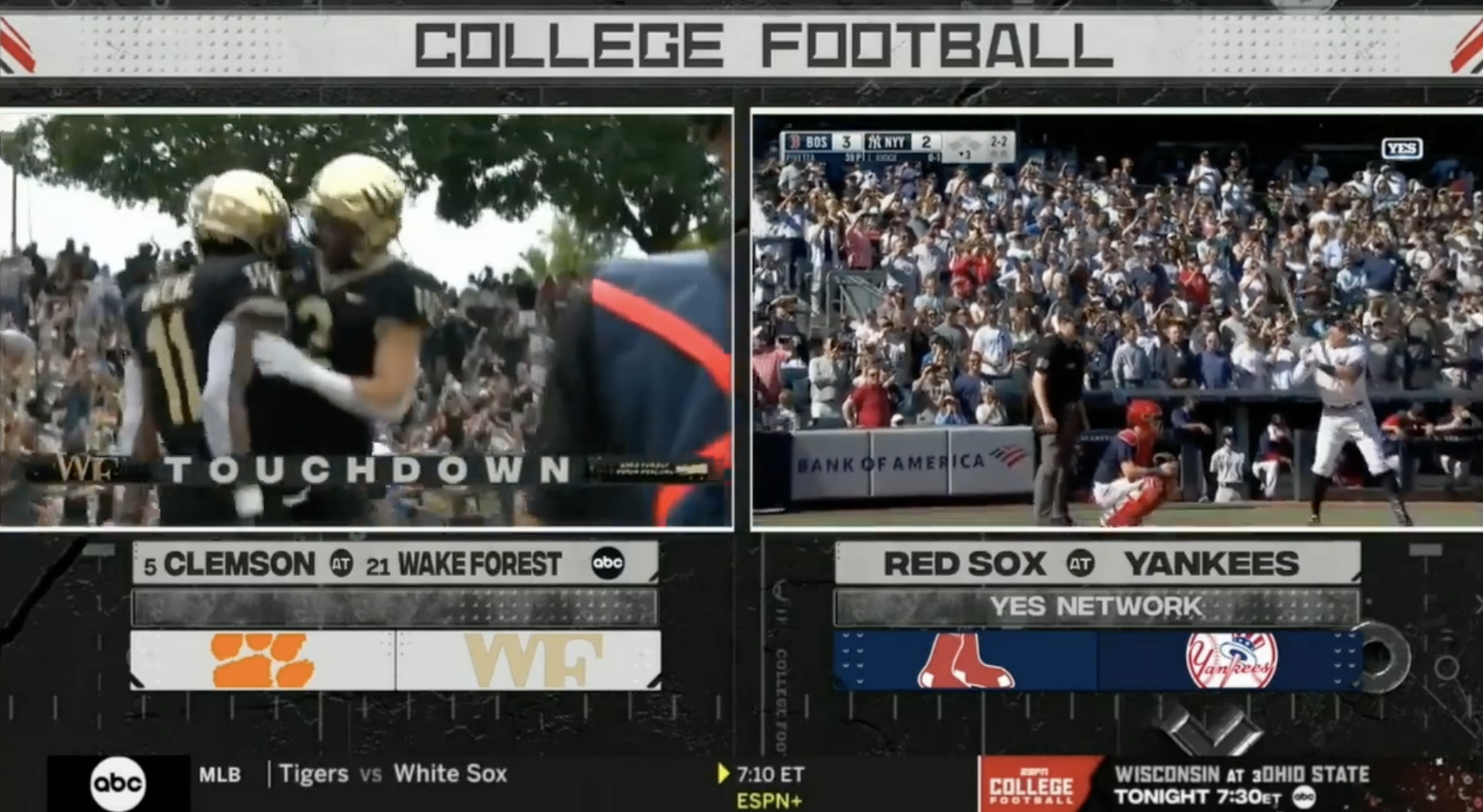 I get that [redacted] league [redacted] wants us to pretend that we all didn't see Barry Bonds, Sammy Sosa and Mark McGwire hit those home runs with our own eyes, but I don't need a live cut-in to Yankees-Red Sox in the middle of what turned out to be one of the most exciting games of the season ever again.
3. Get Marvin Harrison Jr. a Louis Vuitton NIL deal
The Route Man didn't have a huge game (3 catches, 45 yards) but made waves on the Ohio State-Wisconsin broadcast and online when the cameras caught his custom LV cleats: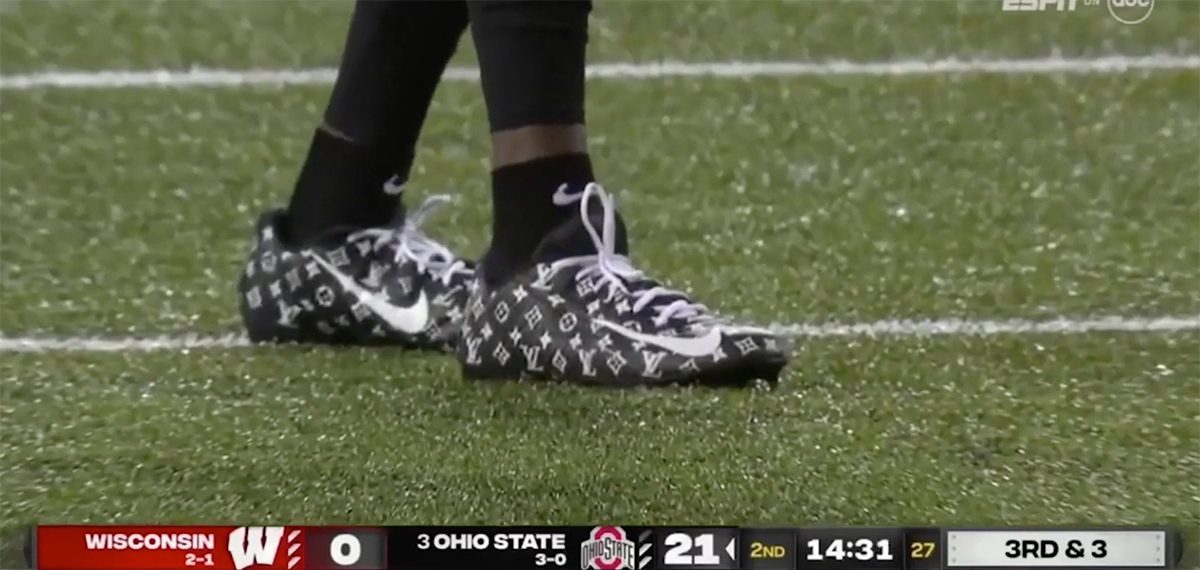 Someone at Ohio State either got a call from a legal team member in Oregon or Paris at halftime, and he switched back to regular Nike cleats in the second half: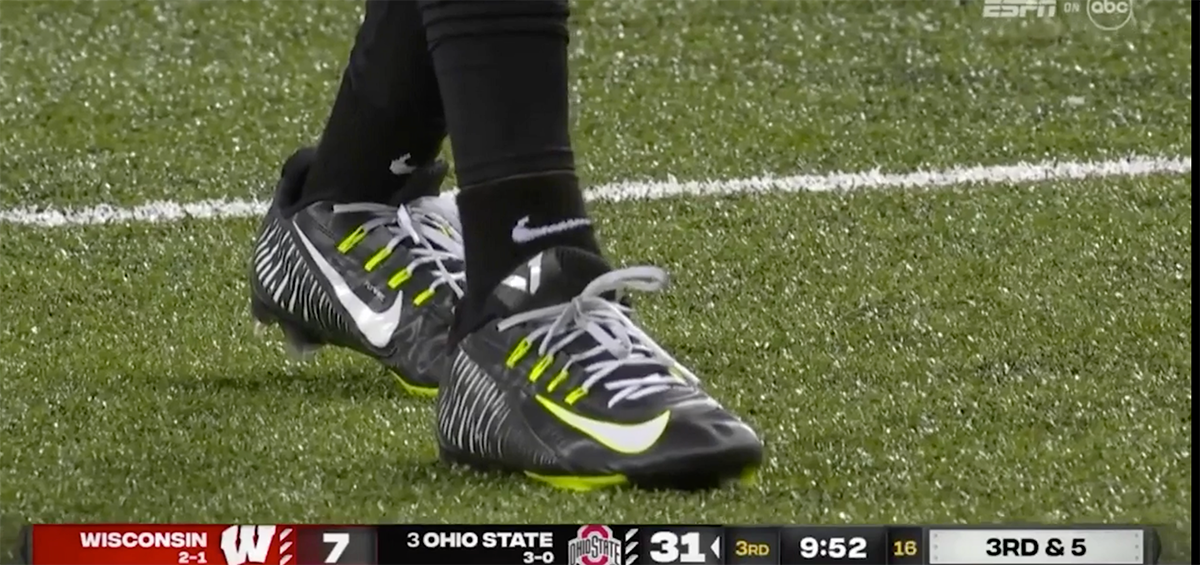 I hope someone on the OSU beat asks Ryan Day about it on Tuesday, because I need to know what that conversation at halftime was like. How'd Harrison Jr. even get those on the field in the first place? What if he already has a secret LV NIL deal and this was just a marketing ploy for some exposure?? I NEED ANSWERS!
4. Revenge of the Big 12
There's always been something special about Texas and Oklahoma losing on the same day, and even more so now that they're both leaving the Big 12. Each lost in spectacular fashion, and I'm loving the "fuck you" tour opposing teams and fanbases are having with them right now.
Texas blew a 14-point second half lead to Texas Tech before losing 34-31 in OT, while OU lost to Kansas State for the third time in four years, breaking the Big 12 race wide open. Conference re-alignment has been going on long enough now that I think it's desensitized us a bit when teams jump ship, but every conference game for these two feels like it's going to be a brawl, because none of these teams know if they're ever going to get another shot at them. You can't tell me this wasn't personal:
5. Auburn-Missouri was the worst game of the season
If it was possible for two teams playing each other to both lose a football game, this was it. Does this win mean anything to you if you're an Auburn fan, outside of just being happy for the players? How do you feel better about anything Bryan Harsin is doing? You probably feel worse! If they just would've lost then he probably gets canned tomorrow! It doesn't matter, because LSU's going to put him out of his misery this week, but Auburn fans have to feel like Missouri's self-inflicted fuck-ups robbed them of some cathartic joy. I can't even imagine how Mizzou fans must've felt watching this unfold. This game is the new heavyweight champion of shitty 2022 college football games, and I can't wait to re-watch it this off-season.
6. Mario Cristobal fraud watch
A week after throwing away a winnable game at Texas A&M, Miami got smoked in their own house by Middle Tennessee, and already looks like a team in complete disarray:
I get that it's only year one for Cristobal, but it's not like he was taking over a major re-building project from Manny Diaz. This was expected to be a top-20[ish] team who could contend for the ACC Coastal title. Through four games it looks like they'll be lucky to finish 8-4. The one [semi] bright spot of their season had been the defense, but even they got torched, giving up 408 passing yards, 8.3 yards per play, and four plays of over 65 yards.
Their next four games are all ones they should win, but I wouldn't count on anything from a team that's been this disappointing to start the season.
7. My Favorite Play of the Week
After a bad loss to Tulane, the Adrian Martinez redemption tour is back in a major way after Kansas State's thrilling 41-34 upset win at Oklahoma. Martinez was unbelievable, accounting for 382 total yards and five touchdowns, and made the play of the game –and my favorite of the season so far– on third-and-16 to essentially ice it:
8. Northwestern's season-opening win is aging like the finest wine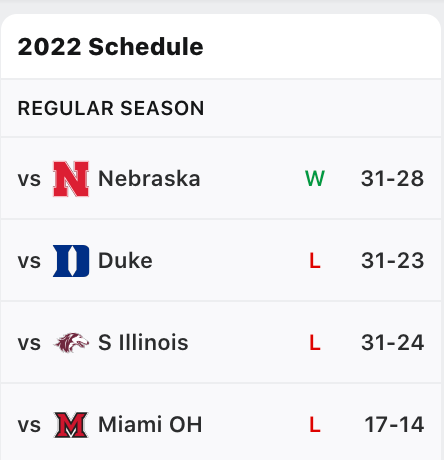 No real deep thoughts here other than Scott Frost should never be allowed to be a head coach at the power five level again.
9. A fully weaponized Ohio State offense
As great as Ohio State's offense has been the last few years, it's oftentimes lacked balance and the ability to push opponents off the line of scrimmage and make defenses consistently worry about the run game. I had concerns through the first couple of games that 2022 would be more of the same, but if what they did to Wisconsin was any indicator, this could end up being the most complete offense of the Ryan Day era.
Despite being without Jaxson Smith-Njigba, they dropped 539 total yards, 7.7 yards per play, and 52 points on the Badgers. As usual, CJ Stroud made some ridiculous throws, but the thing that stood out the most was how dominant they were running the ball. 258 of those yards came on the ground, and there were a handful of plays were you could've legitimately driven a car through the holes: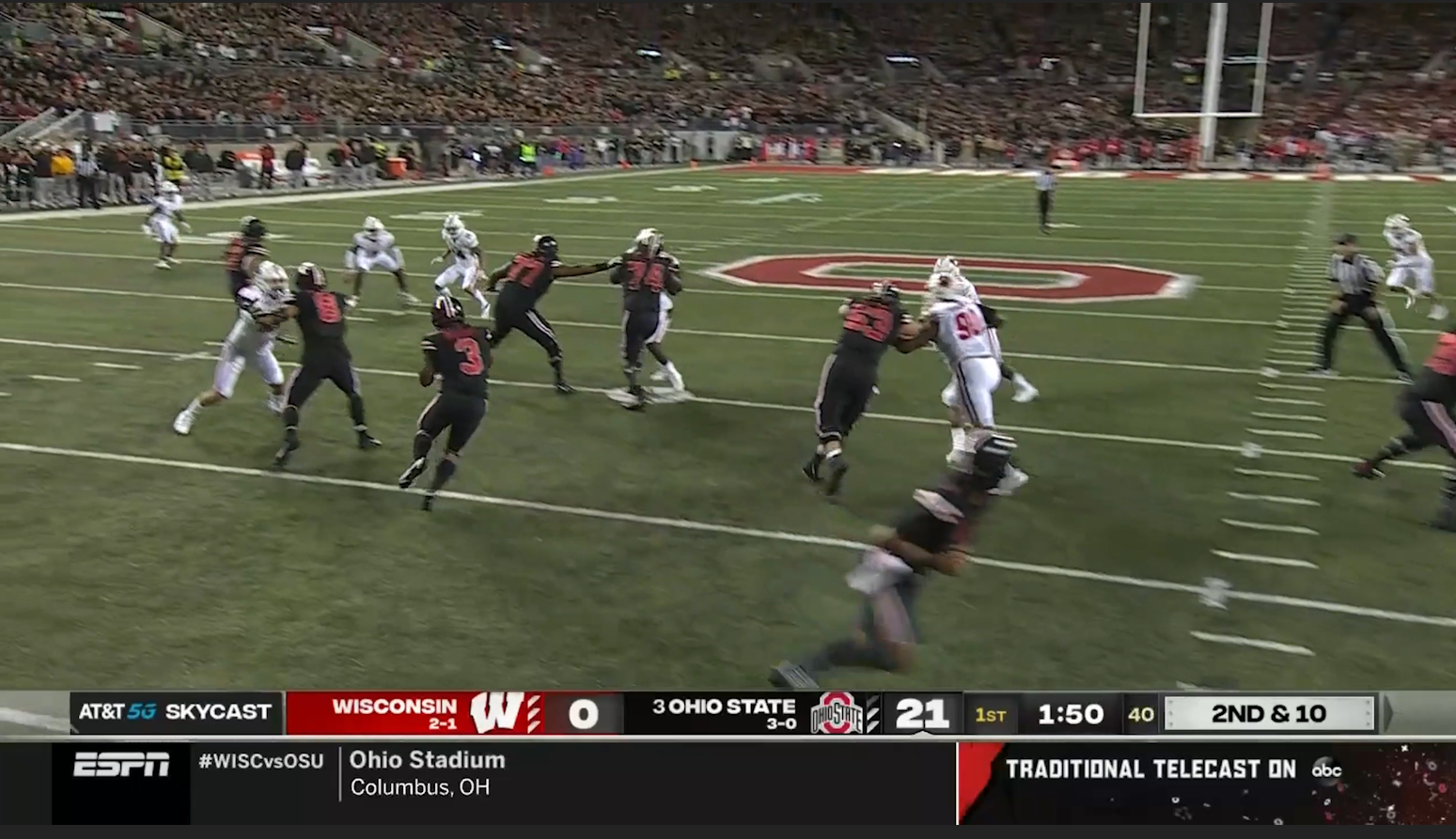 The idea of them pairing that type of run game with what they already do through the air is terrifying for defenses, and I can't wait to see if they can keep it up with defensive fronts like Iowa, Penn State, and Michigan still on the schedule. For those who want to watch the full Skycam broadcast of this game on YouTube, click the button below:
10. USC doesn't scare me at all
Kudos to the Trojans on going into Corvallis and pulling off a gutsy 17-14 win over Oregon State, but nothing about what I saw in that game makes me think any differently about them than I did before the season. Lincoln Riley teams still struggle against any team willing to play physical with them, and Caleb Williams can still be neutralized by dropping 7 or more defenders into coverage and dancing himself into pressure. They still might go 11-1 because the rest of their schedule is pretty cake, but I think we can all see the inevitable coming in three weeks at Utah.
11. New Mexico State's offense explodes!
Outside of a second-quarter safety in their season opener vs Nevada, New Mexico State came into week four being outscored 93-0 in the first halves on the season. That's right. Through four games –This was their fifth, since they played in week zero– NMSU hadn't scored a single first half offensive point. Luckily, the schedule gods blessed them with Hawaii. Not only did the Aggies finally score, but they dropped 35 on the Warriors in the first half, en route to a 45-26 win: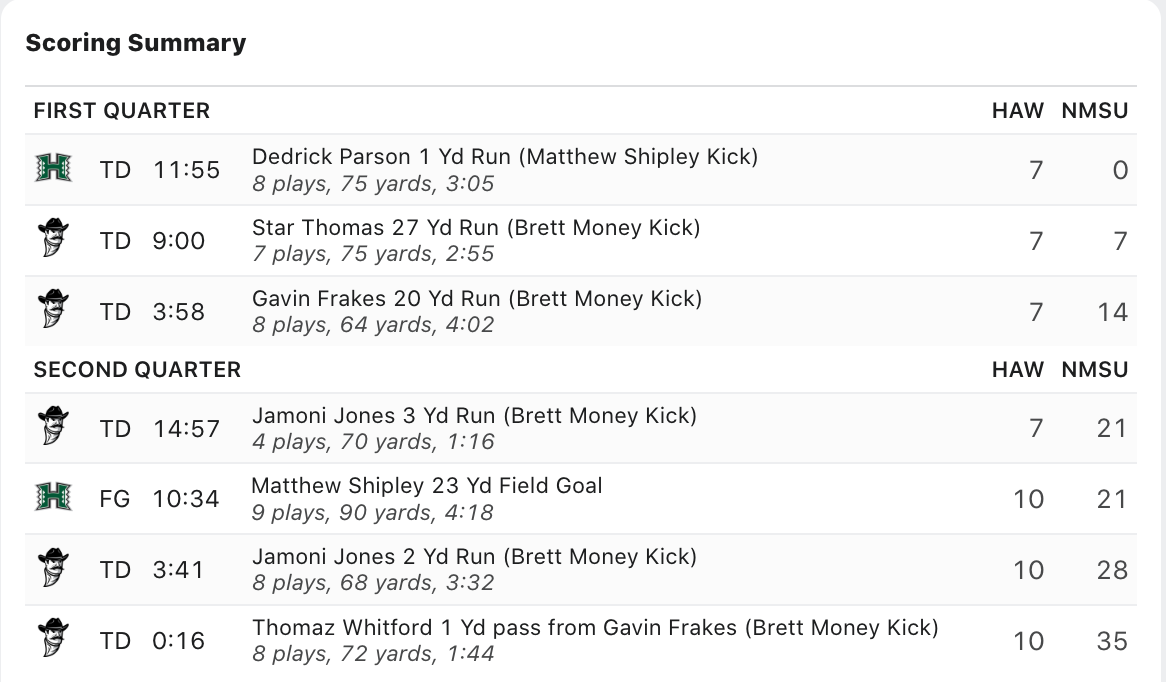 I'll sadly have to drop my 'New Mexico State is the worst offense I've ever seen' agenda now, but I'm excited for the NMSU fans who finally got to see their team get on the board in the first half, and get a win. (Sidenote: Might be time to start talking about where 2022 Hawaii ranks on all-time bad teams lists if this keeps up.)
12. Boise State is toast
It was sad watching Boise State get wrecked by UTEP on Friday night. They looked lifeless, and it's clear that they've taken a huge step back under Andy Avalos. He fired Offensive Coordinator Tim Plough on Saturday, but I don't think Dirk Koetter is the guy who's going to spark any sort of significant change. Also, literally as I was writing this, QB Hank Bachmeier entered the transfer portal. I don't know enough about the dynamics there to say if Avalos on any sort of hot seat yet, but he was taking over a program that had won double-digit games in five of their last six full seasons under Bryan Harsin, and they already look like a middle-of-the-pack Mountain West team (at best) in only his second year. It's been a sharp fall for what used to be the Gold standard of G5 football. I hope they find a way to turn it around and get back there.
13. Play(er) of the Week Fordham WR Fotis Kokosioulis
One of my favorite things to do during the late-night games is comb through box scores to see everything I missed from around the country. I usually find some pretty wild shit, and this week was no different. This time it's Fordham WR Fotis Kokosioulis, who went off against Ohio to the tune of 13 catches for 320 yards and four touchdowns in the Rams' 59-52 loss. This is the stuff that makes me love this sport so dearly. Highlights below:
14. You need to start watching Washington
I won't pretend like Washington's played a murderers row of opponents, but they're outscoring opponents 176-76 through four games, and it's even more impressive when you filter out garbage time:
Michael Penix Jr. has been a blast to watch in this offense, and there's a good chance that they get to 8-0 heading into the Oregon State game on November 4 if they beat UCLA this week: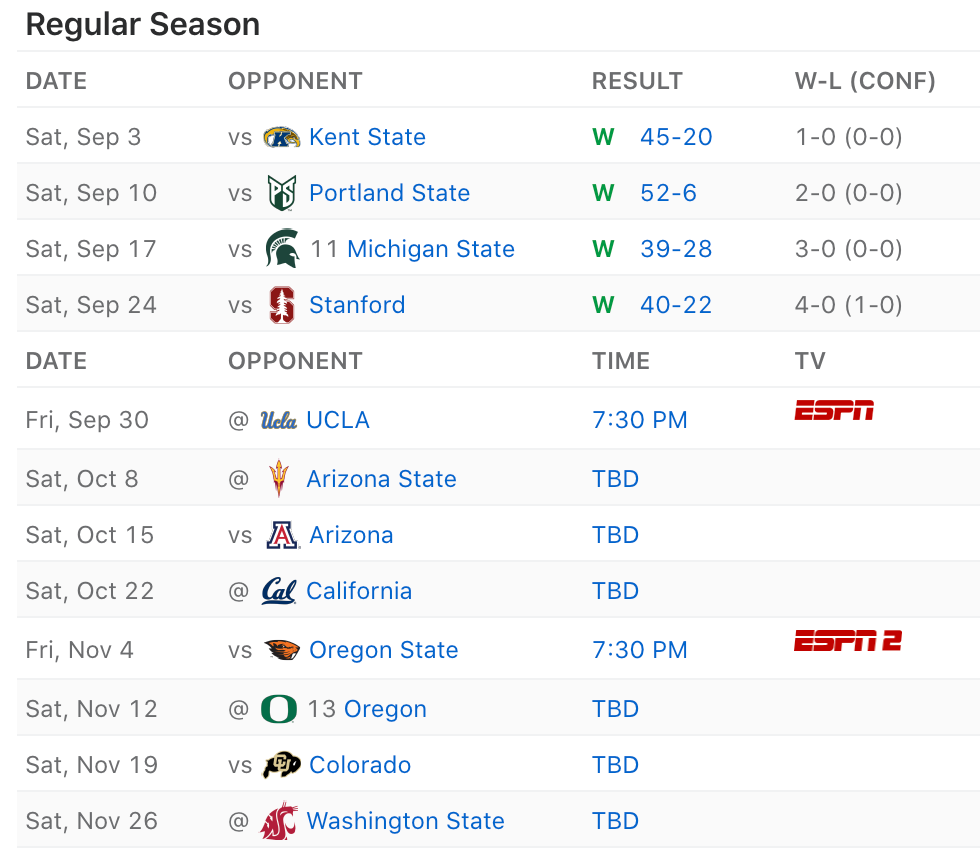 A rare instance where I got one right.
15. Early week five thoughts
Iowa's going to turn their game against Michigan into a rock fight, and I can't wait to watch it.
Time to find out how good Ole Miss is/can be. They've played a comedically soft schedule, and spent too much time playing with their food against Tulsa. The offense is a buzzsaw when it's humming, but how's it going to look against top-10 Kentucky?
Minnesota looks like the best team in the B1G West so far. Taking care of Purdue at home is the kind of win where they can actually prove it.
Good luck to losing head coach in Boston College-Louisville.
Does anyone realize that Oklahoma State is in the top-10? How did that happen? Them at Baylor is a key game for early Big 12 title positioning.
The fallout from the Texas A&M fanbase of Jimbo Fisher potentially losing to Mike Leach seems like something we should all be interested in seeing.
For the love of god, NC State, please do the thing and beat Clemson.