2022 Season
One nice thing about every FBS team
Even Nebraska and Michigan!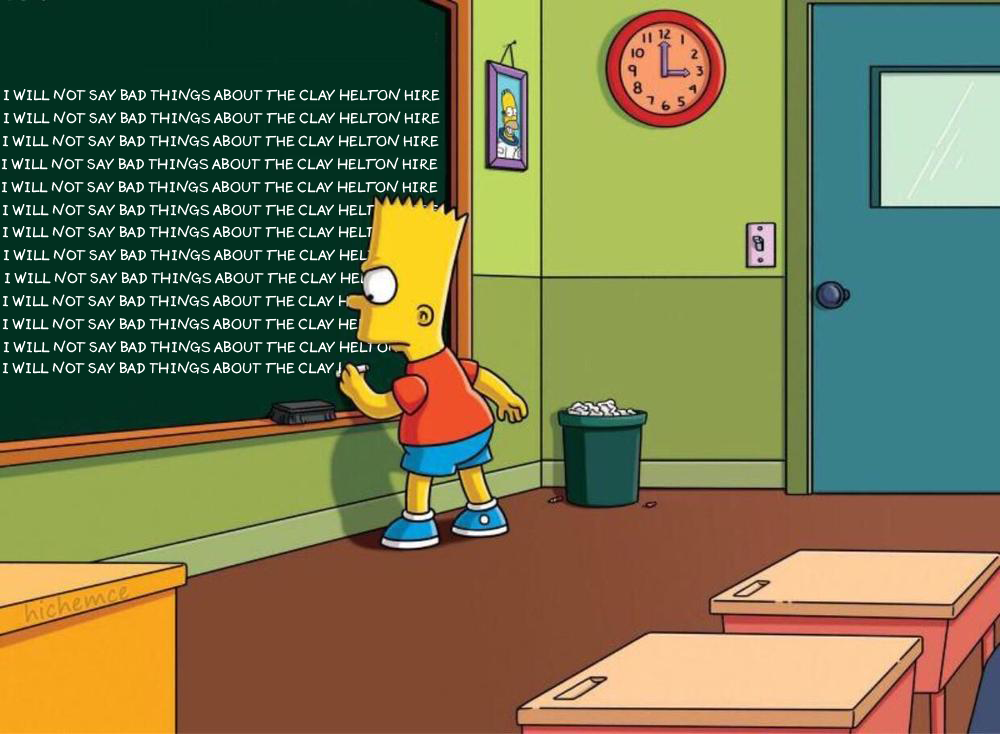 (Note: for the people viewing on email, you probably should click on the full article for this one, because it's pretty hefty.)
It's the middle of March, we're still over 160 days away from the 2022 season, and I need things to write about. I'd rather shut this site down than talk about Spring practice, so I took some time to write one nice thing about all 130 FBS teams. My only rule was that it had to be current, and not everything could be about uniforms. If you think what I said about your team wasn't nice enough - sorry, I tried my best.
---
Air Force
My favorite service academy team. Bonus points for having one of the best helmet logos in college football: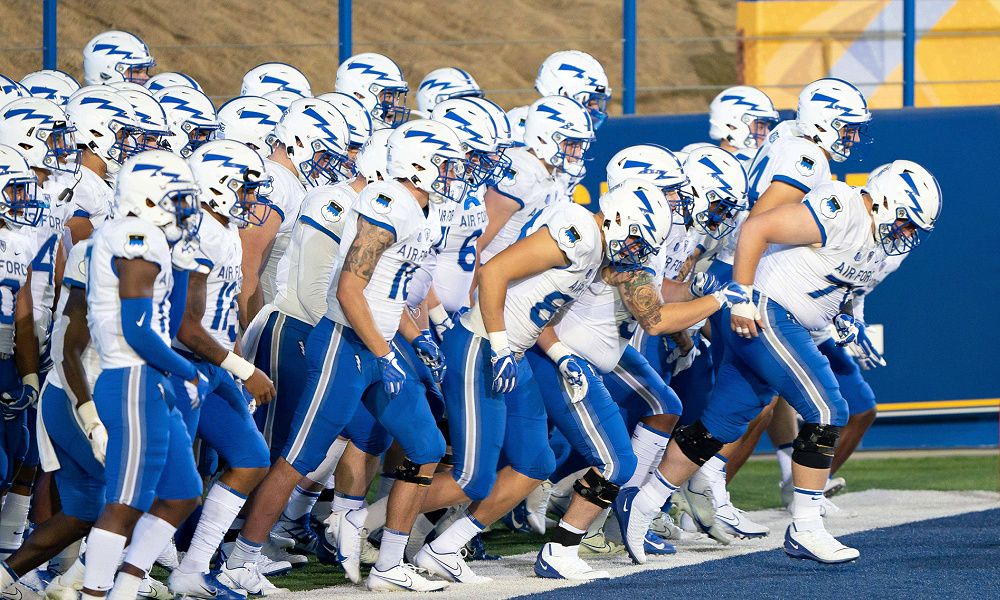 Akron
Hiring Joe Moorhead was quietly the steal of the off-season, and a much needed jolt of positivity for a program with a 3-27 record the past three years.
Alabama
Jahmyr Gibbs spent two seasons in witness protection at Georgia Tech, and I like that a whole lot of new eyes are going to see just how talented he is.
Appalachian State
Consistently one of the most enjoyable programs to watch. Their identity is set in stone each season, and I know, "[Team] deserves more attention," is overused, but it applies to App State Football.
Arizona
Jedd Fisch is recruiting well, probably because after years of hideous uniforms, they went back to one of the best sets in the country: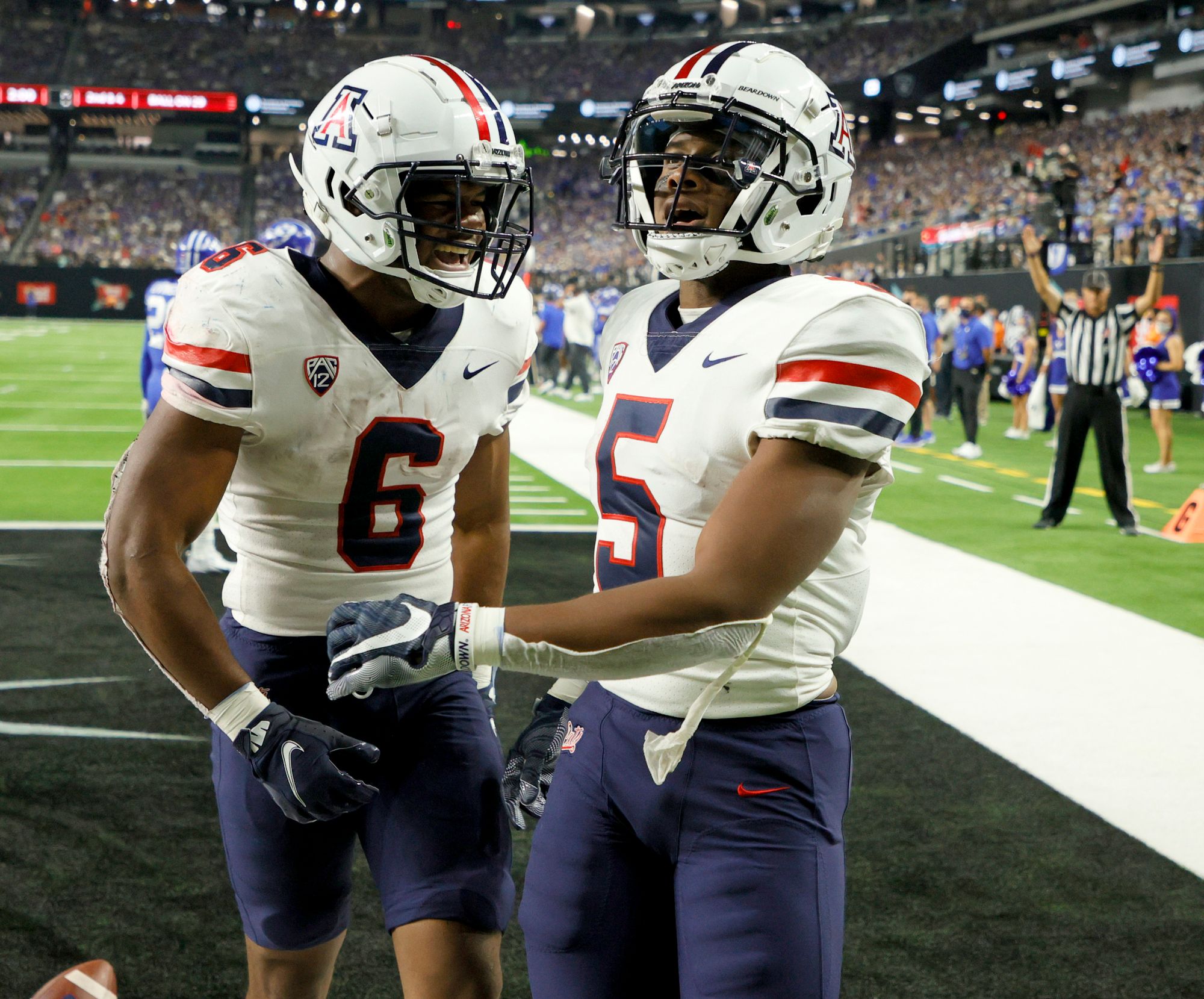 Arizona State
Deserves kudos for the public masterclass they've put on for the last year on how useless the NCAA is.
Arkansas
Sam Pittman is easy to like, and it's wild that he's turned them into a competent threat in the SEC West this fast.
Arkansas State
At some point I have to visit the waterfalls at Centennial Bank Stadium. A+ stadium feature: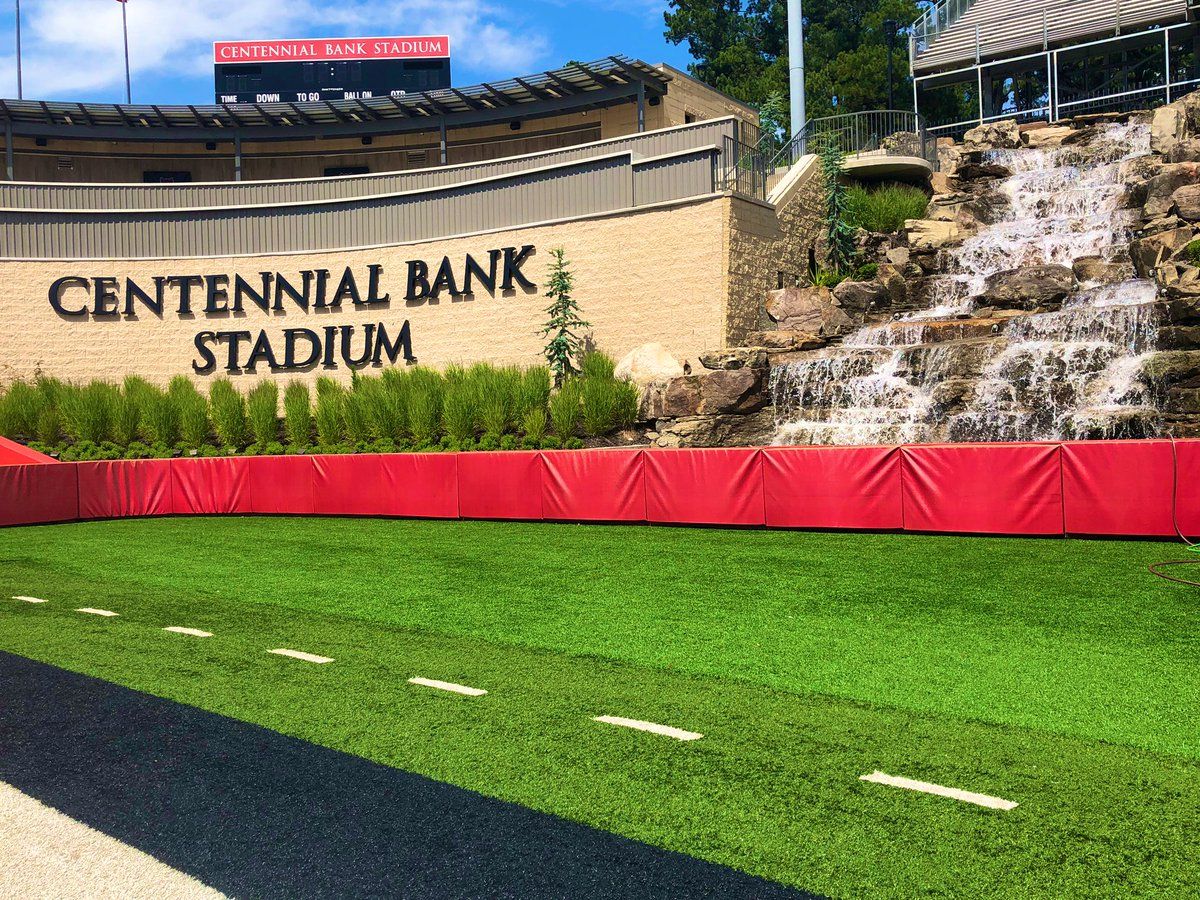 Army
Each coaching cycle that middling Power Five teams decide they're too good to run the option and not hire Jeff Monken is a win for Army. They have eight or more wins in five of the last six seasons, and back-to-back nine win seasons heading into 2022. There's a solid chance they could get to 10 this year.
Auburn
In a sport of constant change, I appreciate that Auburn always operates in state of pure chaos.
BYU
Arguably the most fun schedule in the country: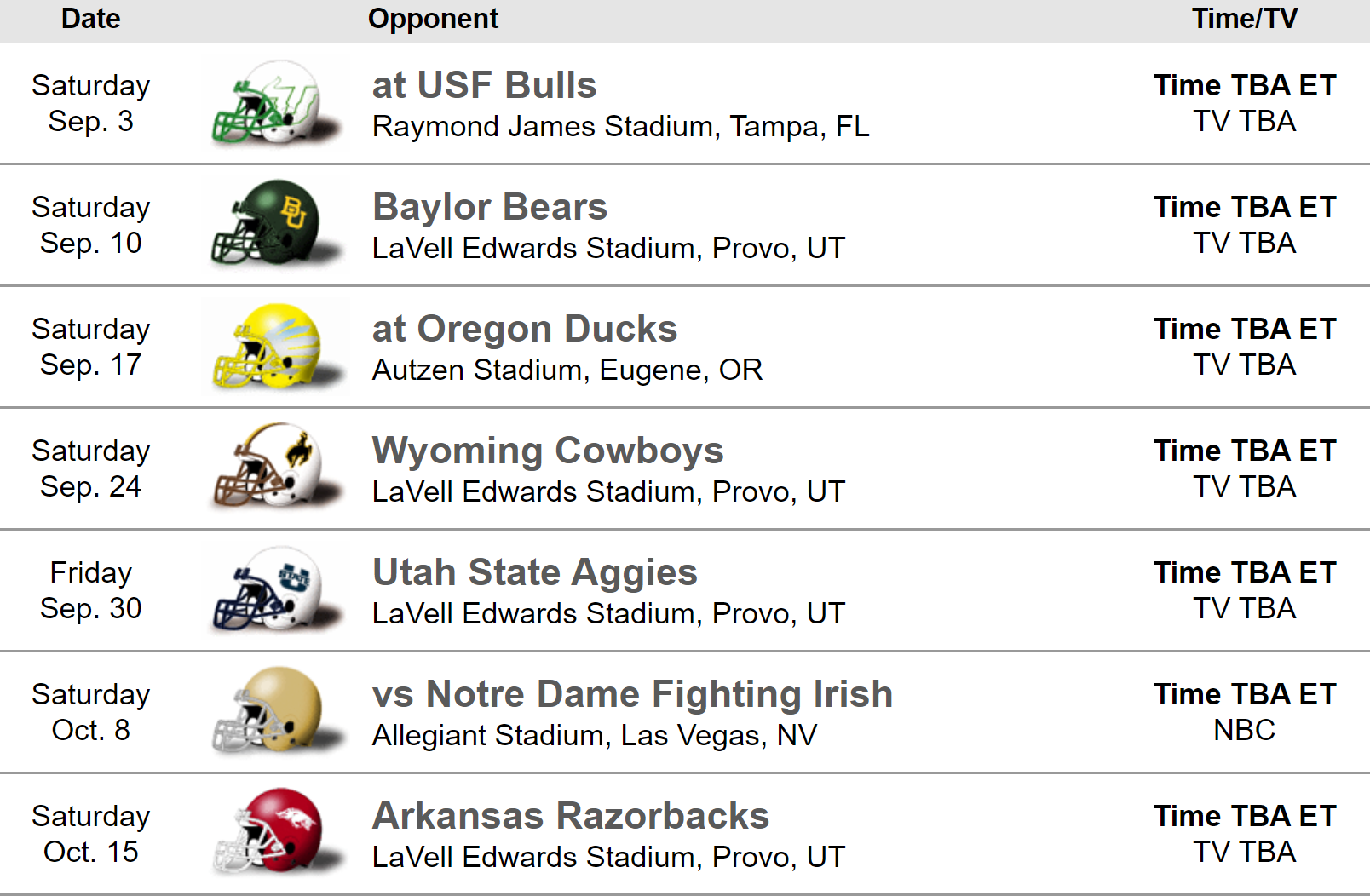 Ball State
The dark red/black helmets with the added chrome flake are quietly one of the best in CFB: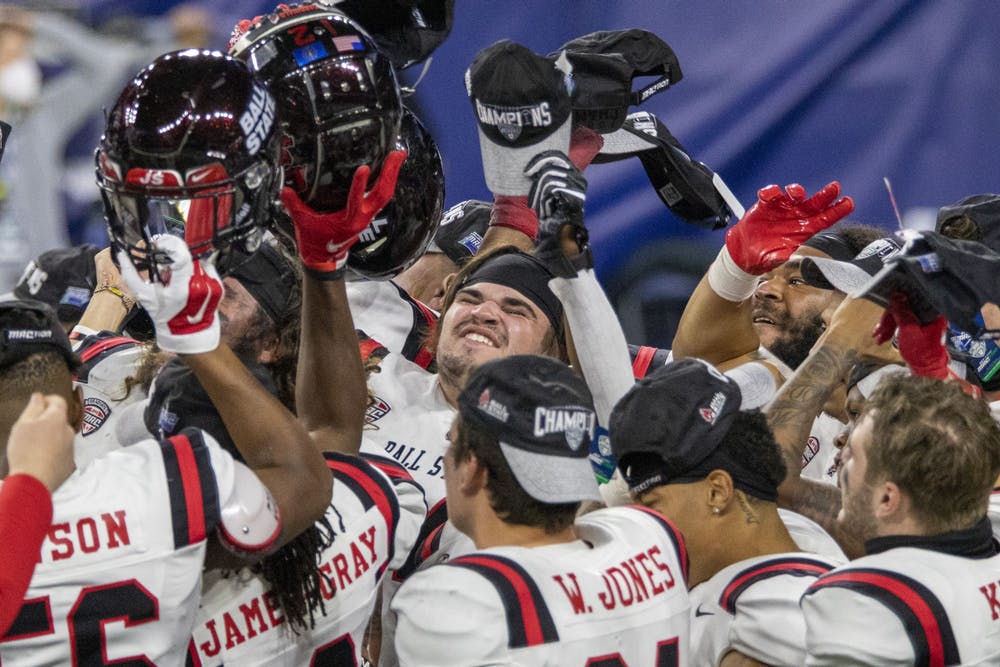 Baylor
Nothing is funnier in the sport right now than Baylor dominating the last days of the Texas/OU Big 12 era. I hope they win the conference again.
Boise State
Safety JL Skinner is back for his senior season, and I'm ready for more of this: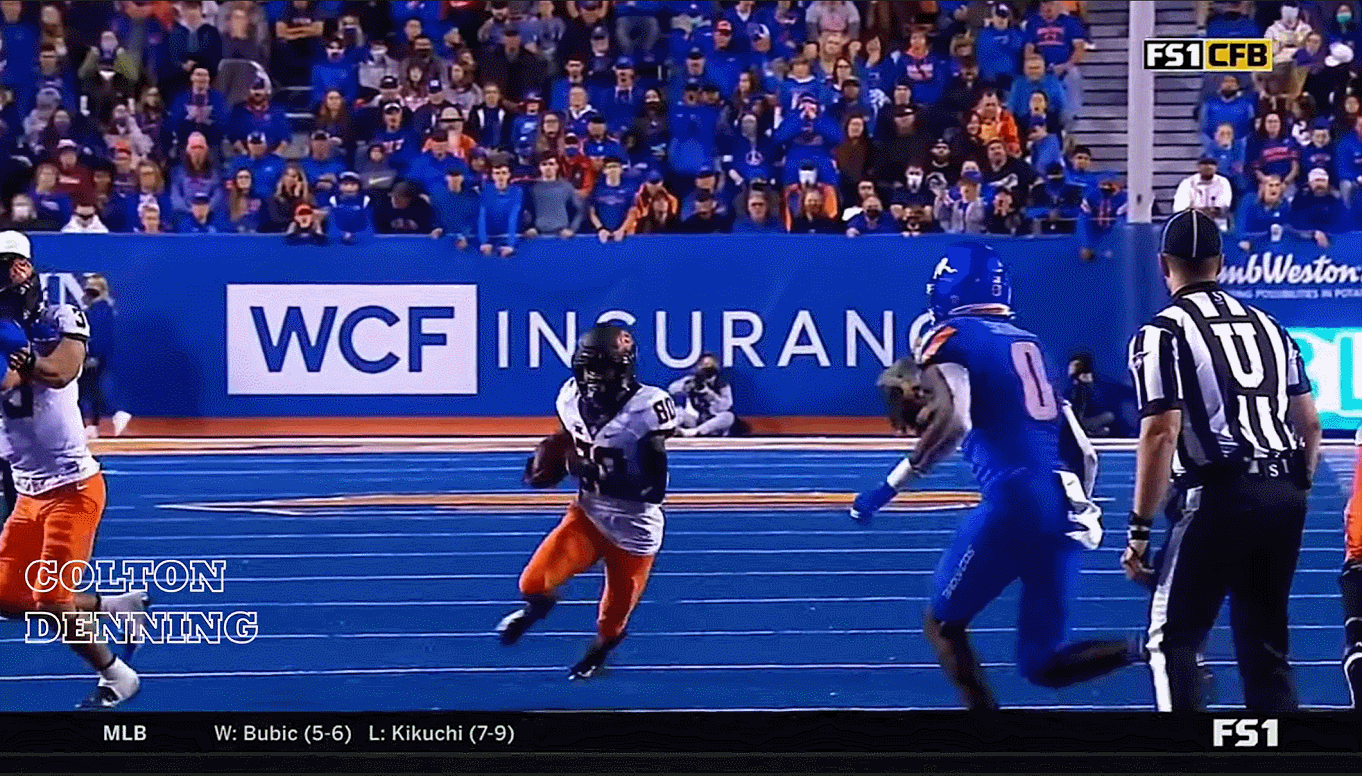 Boston College
We've been blessed with another year of Phil Jurkovec:
Bowling Green
They play in the crown jewel of college football: Doyt Perry Stadium.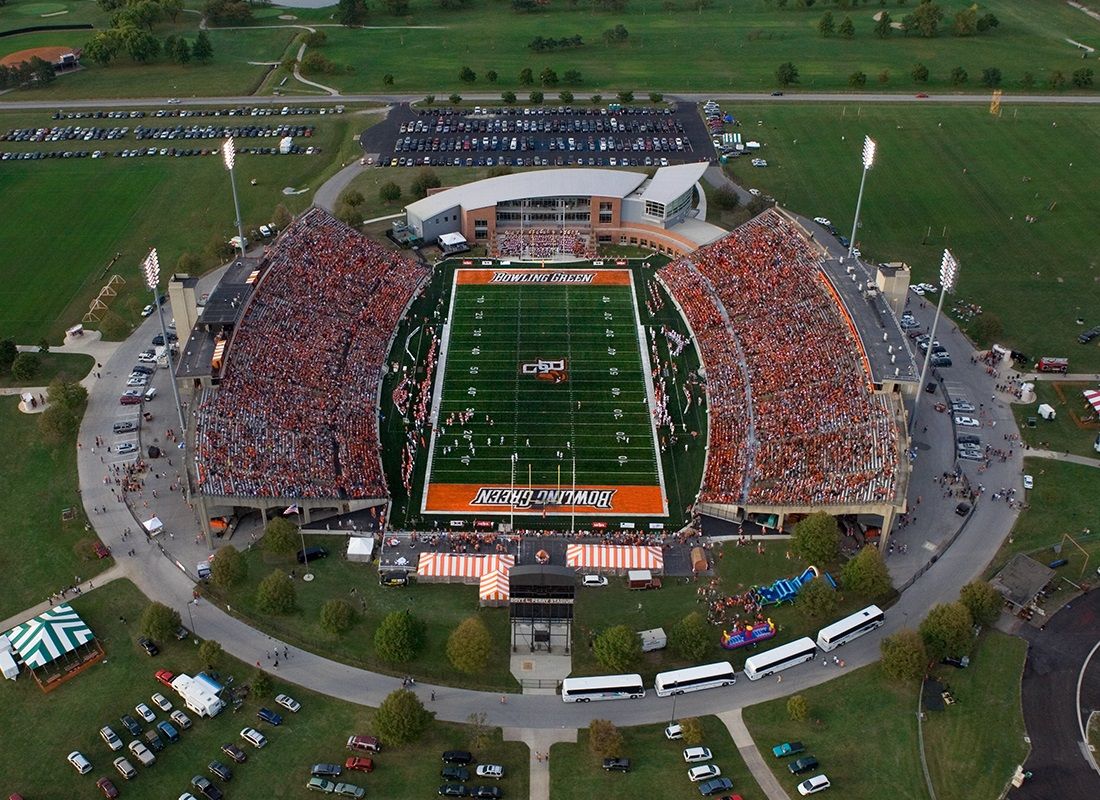 Buffalo
Buffalo is in a rough spot right now, so I'll just go with their cool-looking locker room: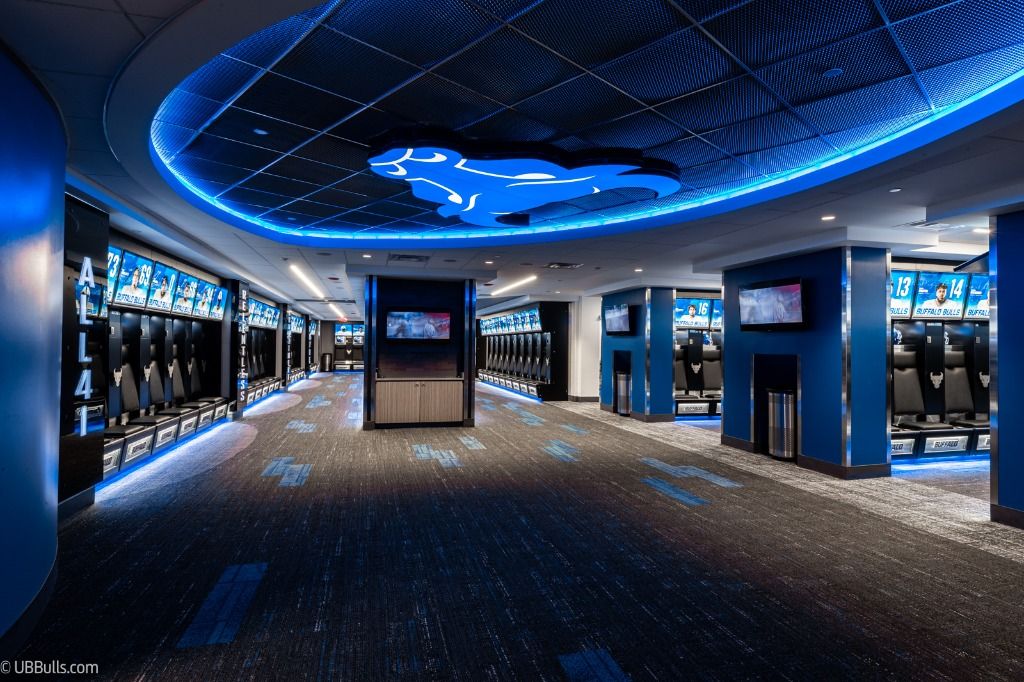 Cal
Memorial Stadium kicks ass, and if you have the chance to go see a game there you should:
Central Michigan
I'm genuinely happy for Jim McElwain's success at CMU. They're 20-13 in his three seasons, and always have a fun offense to watch.
Charlotte
I irrationally love the all-gold uniforms: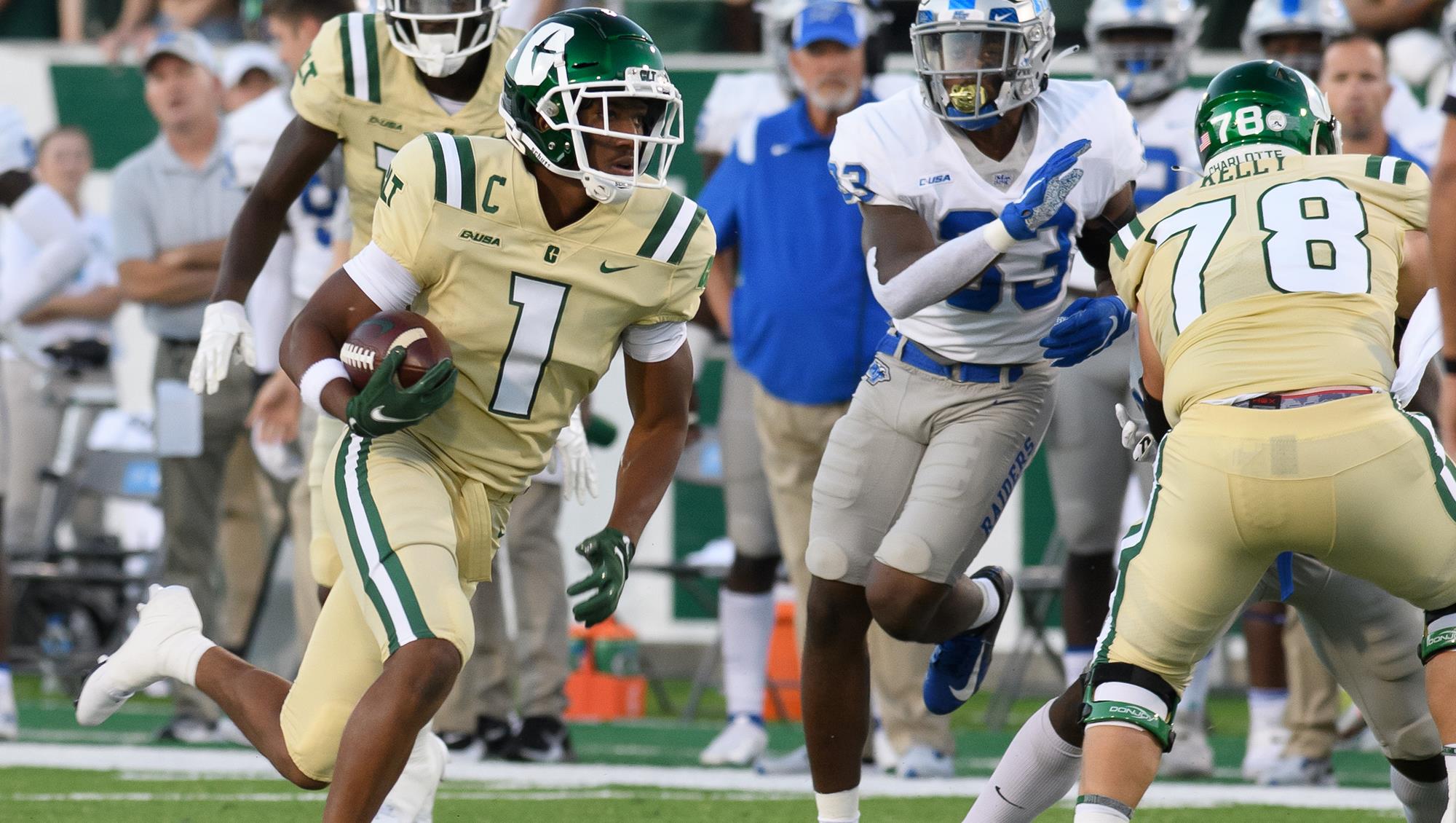 Cincinnati
The fact that Notre Dame, LSU, USC, Oklahoma, Miami, Florida, and Oregon all had openings and Luke Fickell is still there is a testament to how he's built that program. I'm a hater, but even I must show my respect.
Clemson
Happy for Clemson fans that they don't have to watch their 2021 offense ever again.
Coastal Carolina
I can't believe no P5 program has –publicly, at least– made a run at Jamey Chadwell. Back-to-back 11-win seasons, and I don't think they're slowing down as long as he's there.
Colorado
It's tough to say anything nice, given how I feel about CU Football right now, so I'll just say this: Going to Buffs games is one of my favorite things. I haven't been able to go to one since 2019, and I miss it. Hopefully this season.
Colorado State
Poaching Jay Norvell from Nevada was a major win. Maybe that doesn't translate to a bunch of wins in 2022, but I like CSU's long-term prospects with him guiding the program.
Connecticut
How the Jim Mora Jr. hire goes is going to be one of the best stories to track this season. All I ask from programs is "Don't be boring," so UConn at least has my attention here.
Duke
I don't know enough to argue whether Mike Elko was the right hire or not, but I think it was the right time for Duke to move on from the David Cutcliffe era, and give the program some new energy. Sometimes that all you can ask for.
East Carolina
ECU made a jump last year, and is going to be even better in 2022. They're also one of those programs I'll always root for, because I did some legendary shit with them on NCAA 07: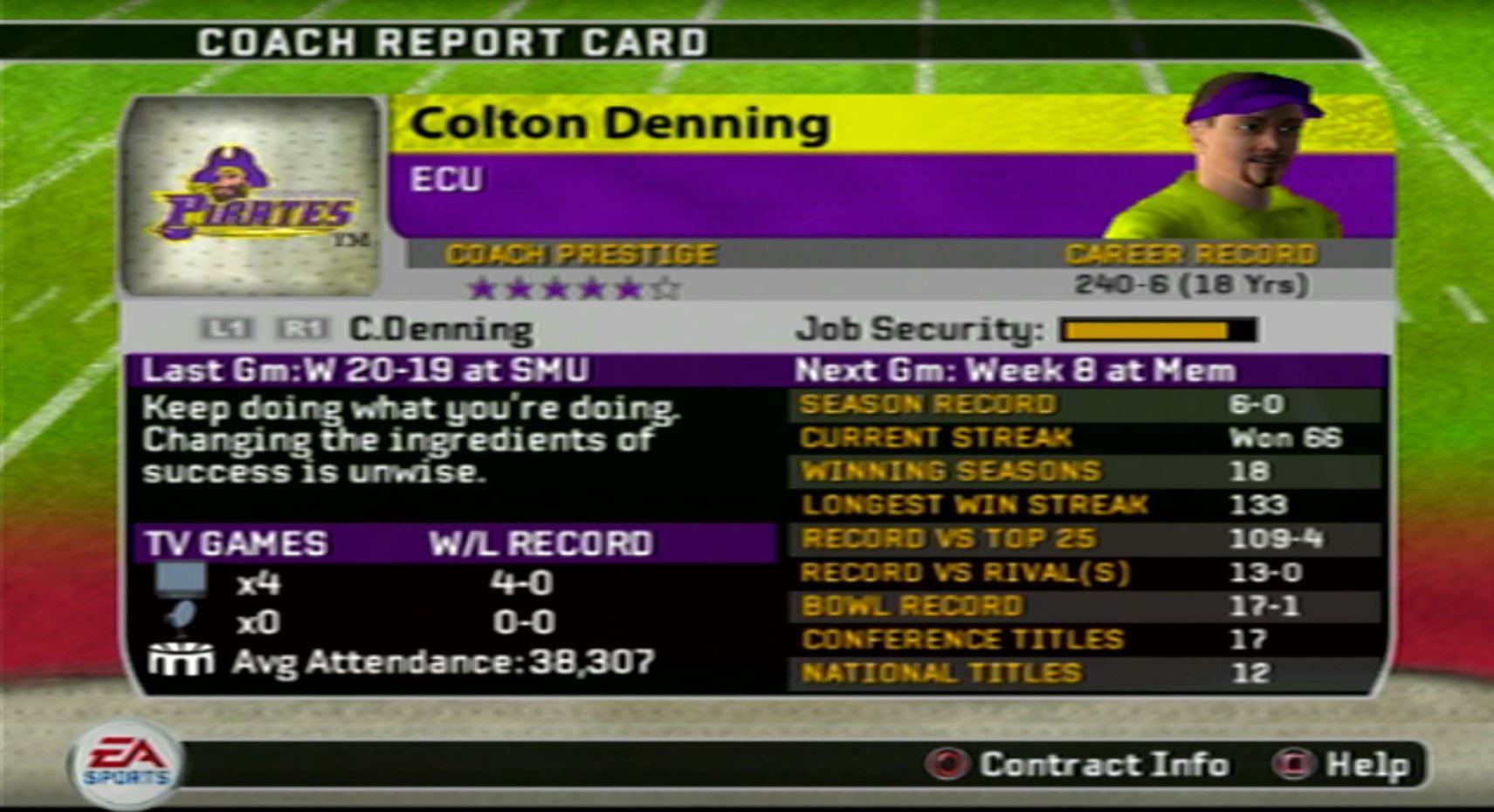 Eastern Michigan
I understand that you aren't going to get the average college football fan to care about Eastern Michigan, but consider the fact they went to one bowl game in their first 40 years, and Chris Creighton has gotten them to four in their last five full seasons. It's good for EMU fans, but how do athletic directors around the country not try and hire this dude???
Florida
Billy Napier is 1000x more likeable than Dan Mullen.
Florida Atlantic
Of the 12 national titles I've won in that NCAA 07 graphic from the ECU section, 6 were at Florida Atlantic. Go Owls: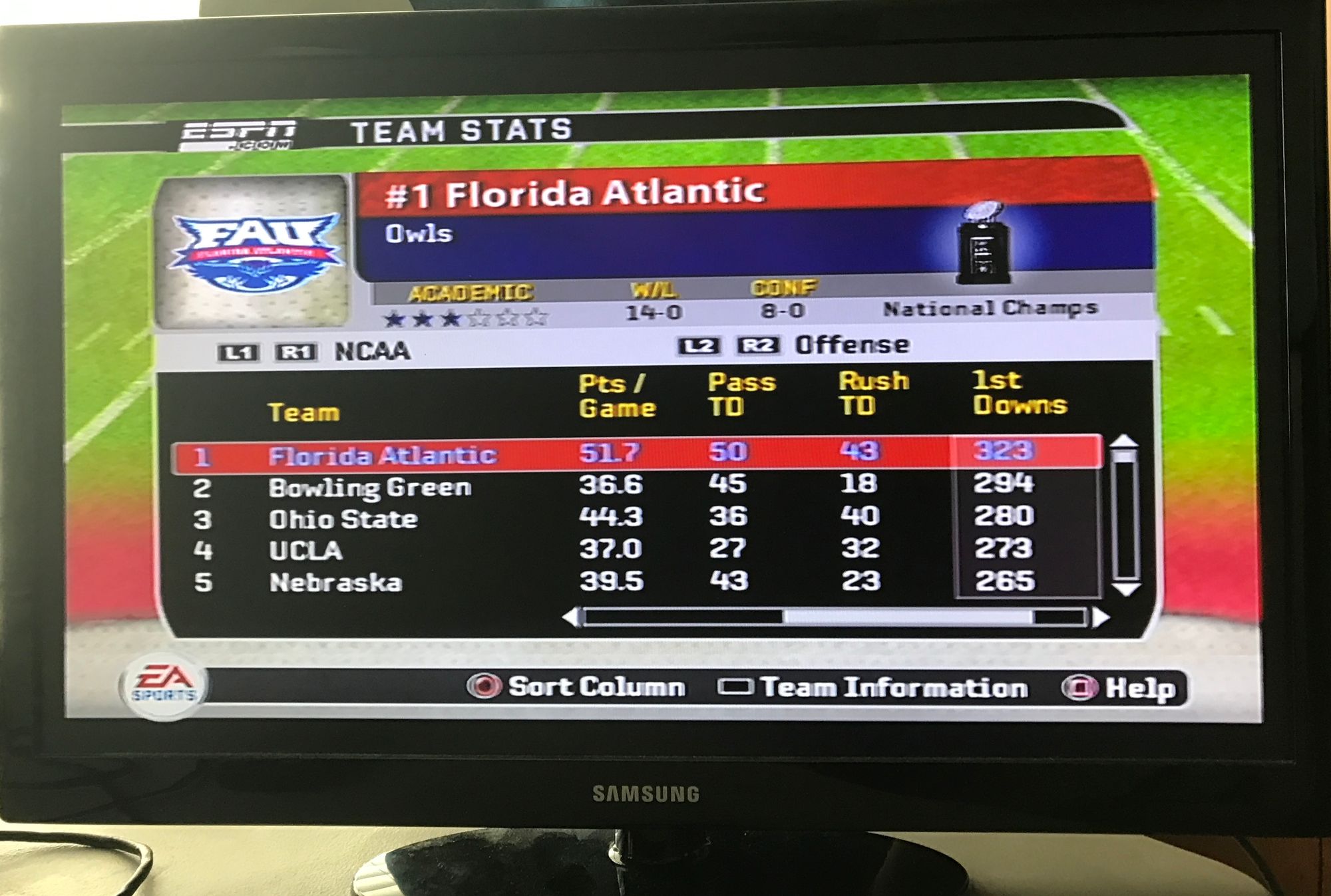 Florida International
Mike MacIntyre has a special place in my heart thanks to him leading Colorado to their only good season in the last 15 years, so I like seeing him get another shot. He has history making something out of nothing from San Jose State days, and he'll have to do the same here.
Florida State
FSU plays LSU week two in New Orleans, and it might be my favorite matchup of the season. Brian Kelly's one of the few people who could make the general public root for FSU in a primetime game.
Fresno State
Victor E Bulldog:
Georgia
As much as I didn't care for them winning the national championship, it's nice to know that there's a consistent, year-after-year threat to Alabama in the SEC now.
Georgia Southern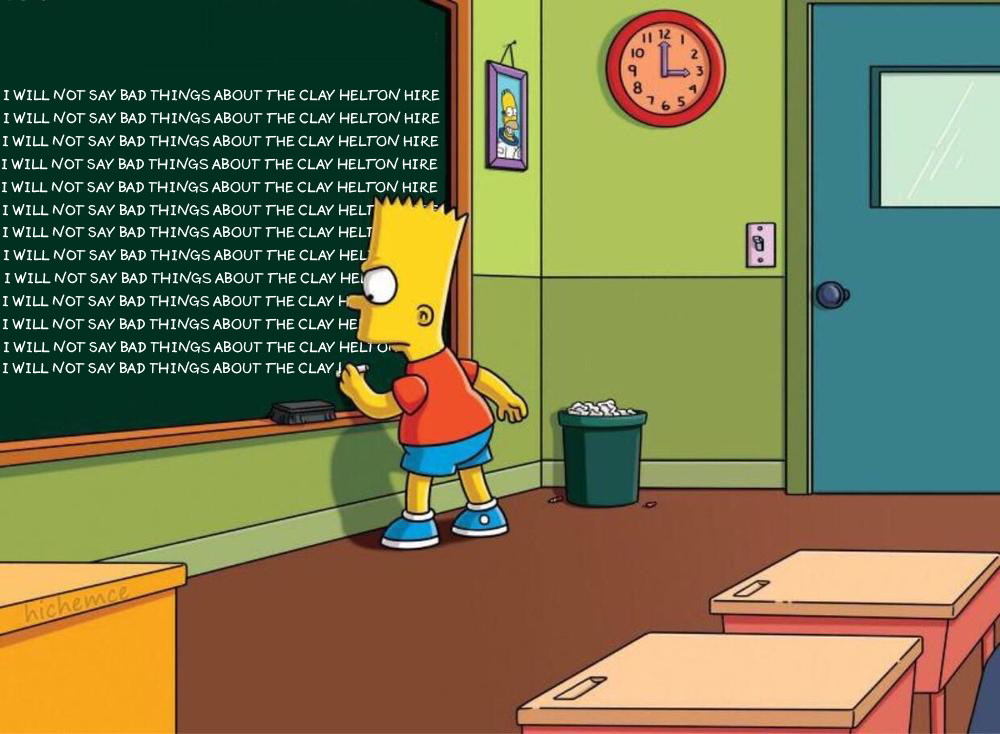 They hired Clay Helton, who has head coaching experience.
Georgia State
One of my favorite things in CFB is when G5 teams play Power Five teams at home, so I started doing backflips when I saw that GSU hosts North Carolina in week two. I'm still pissed that they got screwed against Auburn last year, so I want to see them make up for it here.
Georgia Tech
I tried to crowdsource this one, and the only non-"Atlanta is cool/Calvin Johnson went there" answer I got was for quarterback Jeff Sims:
Sims is fun; I just hope he stays healthy. Every time I've scrubbed through a GT game the last two seasons, I swear I see 4-5 plays a game where he gets detonated because his line can't protect. They've given up almost 60 combined sacks the last two years, so I'm praying for average pass protection this season. If they can do that, Sims might be in for a big year.
Hawai'i
How cool is it that Timmy Chang is their Head Coach now? Also: New stadium around the corner!
Houston
This is subject to change, but I'm talking myself into Houston going undefeated. The schedule is light, QB Clayton Tune is throwing to 1,300-yard WR Tank Dell again, and their top-20 defense from last year brings back a ton of experience.
Illinois
.....I like what Bret Bielema is doing. They're going to a bowl if they can steal two of the of Iowa/Minnesota/Nebraska/Purdue games.
Indiana
Last year was a disaster (the offseason hasn't gone much better) but I think Tom Allen does his best work as an underdog, and maybe that's what IU needs to get back on track.
Iowa
I respect and admire Iowa fans for what they have to put up with every single season.
Iowa State
I'm a noted Matt Campbell non-believer, but even I'll admit that it's great for Iowa State that he's back for at least another year. They lost some big-time talent, but maybe that means they can sneak up on a few teams this season?
Kansas
If you can't sell wins, you sell hope. Kansas finally has some of the latter. I'm not sure I see more than 2-3 wins on their schedule, but Lance Leipold is already doing one of the most impressive building jobs in the country in his second year. I'm legitimately looking forward to see what they can do this season.
Kansas State
I'm always down to watch Kansas State fuck up the rest of the Big 12's plans. 2022 feels like one of those years.
Kent State
My favorite non-conference schedule of 2022:
Also: The powder blue jerseys.
Kentucky
I'll admit it: I've secretly been cheering against Kentucky now for the last 3-4 years, and trying to convince myself that what Mark Stoops is doing there really isn't that impressive.
I was wrong. He's doing a hell of a job, and they aren't going to dip as long as he's there.
LSU
There's nothing worse than being boring, and LSU does 'not boring' greater than anyone else in the country. The Brian Kelly era is going to be a constant sideshow – regardless of how it goes– and I'm here for it.
Liberty
They're adding endzone cabanas to their stadium this year, which seems cool/potentially disastrous.
Louisiana Tech
That's right, another bulldog mascot - Tech XXII:
Louisiana-Lafayette
They still might be the best team in the Sun Belt, despite losing Billy Napier to Florida, and also one of my favorite QBs of the last 10 years in Levi Lewis.
Louisiana-Monroe
This graphic of Terry Bowden their football account sent out:
Louisville
Marshall
One of the best sub-stories in the Sun Belt-Conference USA drama: The yearly return of the Marshall-Appalachian State rivalry. Moving to the Sun Belt just feels right for Marshall.
Maryland
Maryland played four ranked teams last year and went 0-4 with an average loss of 54-17. That's not nice, but this is: Maryland's going to score lots of points again, and I think they'll find a way to beat a one of the ranked teams on their schedule.
UMass
Don Brown is back for his second stint as Head Coach in Amherst. I've made my fair share of jokes at his expense, but I hope he's ultimately able to have some success and find a way to get them back into a conference.
Memphis
Memphis wore five variations of their tiger stripe helmet last season, and I'm pretty sure they have at least two more they can break out if they want to. Cincinnati Bengals take notes: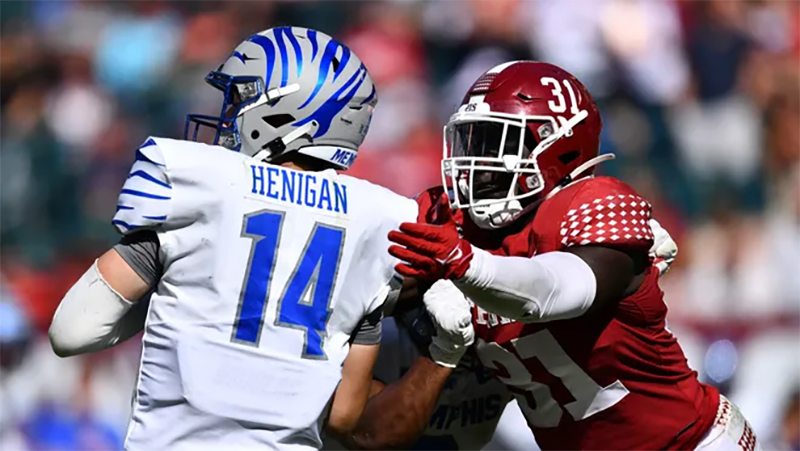 Miami
There isn't a better hire Miami could've made this cycle than poaching Mario Cristobal from Oregon. He understands what that job is, how it works, and if anyone is going to limit outsiders from taking away south Florida recruits, it's him.
Miami Ohio
Brett Gabbert might be the best QB in the MAC.
Michigan
You know what? The white over blue look is pretty nice: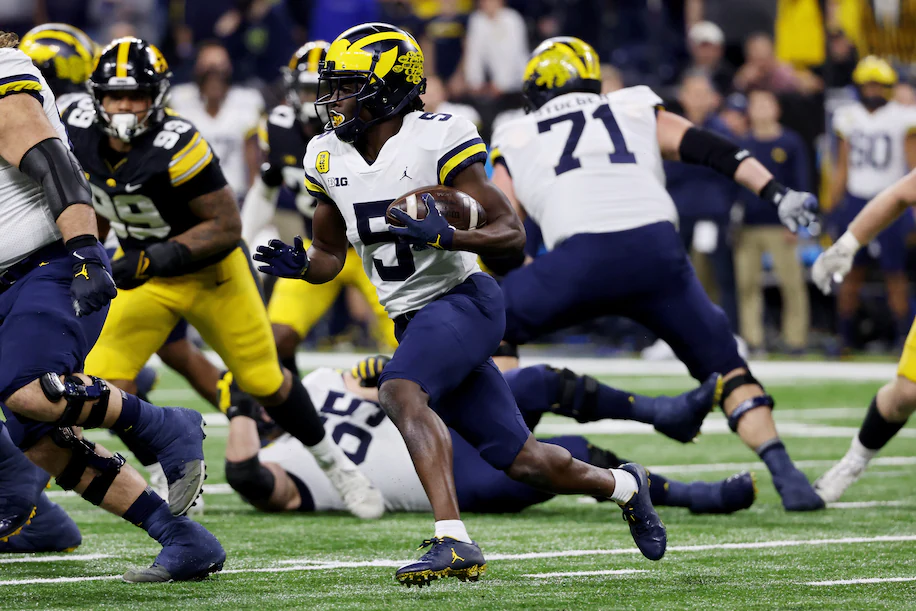 Michigan State
I don't know what Mel Tucker's ceiling is, but he's used the transfer portal as efficiently as any coach in the country, is already 2-0 against Michigan, has an 11-win season, and a New Years Six Bowl win in just two years. Sparty's going to be a threat as long as he's there.
Middle Tennessee
Defensive end Jordan Ferguson is back for his senior season after a 17.5 TFL, 9-sack season.
Minnesota
Hired an actual offensive coordinator after not having one for two seasons.
Ole Miss
Lane Kiffin having a QB named 'Jaxson Dart' feels necessary.
Mississippi State
The Mike Leach meme(s) stopped being funny eight years ago, but I appreciate that the SEC has a team who's going to sling the rock 55 times a game no matter what.
Missouri
The grass hill seating in their north endzone is delightful stadium: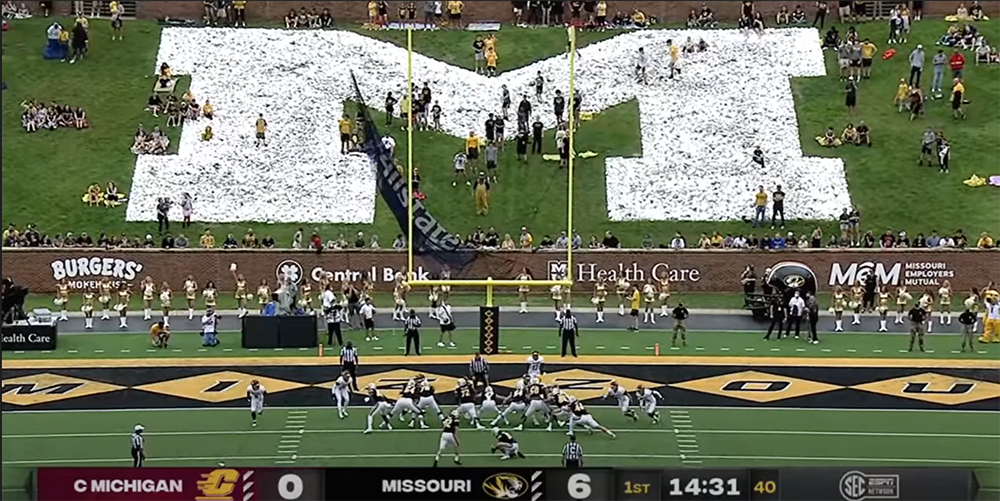 Navy
Three of their last four seasons have been pretty tough, but I refuse to bet against Ken Niumatalolo, and think this is the year he gets it back on track.
Nebraska
I'll go out on a limb: They won't lose eight one-score games again this season. But really, there's a realistic path to 10 wins on this schedule if Scott Frost can get out of his own way.
Nevada
Nevada fans throw (?) confetti in the air after every touchdown, and it makes their field look like this if the wind is blowing right. Just another random CFB thing I love: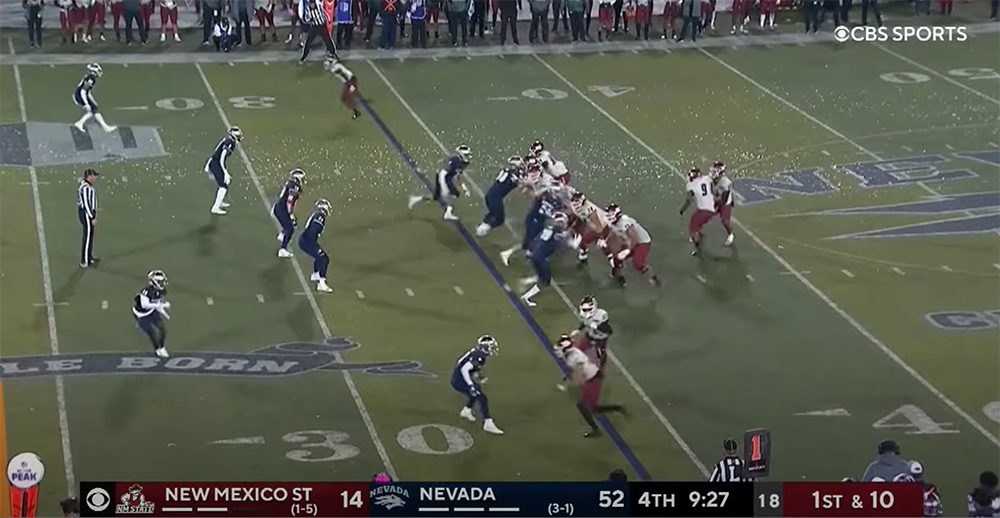 New Mexico
Turquoise numbers and accents: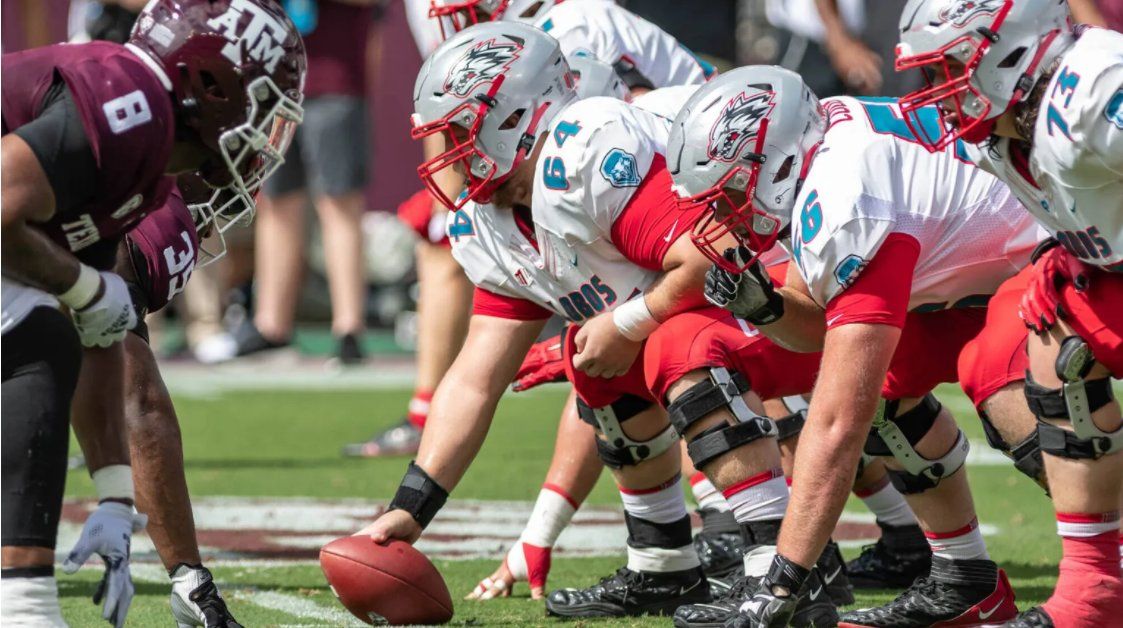 New Mexico State
Not many logos better than this: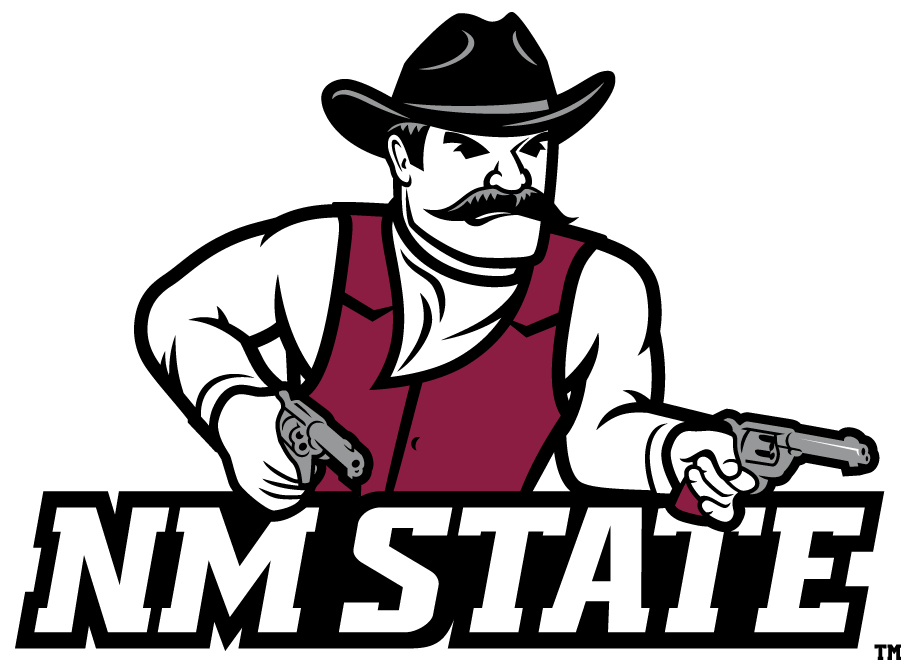 North Carolina
Let's get stupid: UNC's recruited pretty well the last few years, the defense will probably improve after 2021's disaster, and the offensive line can't get much worse. If they find an adequate QB replacement for Sam Howell, they'll probably be in the ACC Coastal race into mid-November.
NC State
If you're looking for a random team to root for this season, NC State might be the one. They're probably going to start in the top 15, QB Devin Leary is back after throwing for over 3,400 yards and 35 TDs, and they should have one of the most badass defenses in the country.
North Texas
The perfect throwback uniform: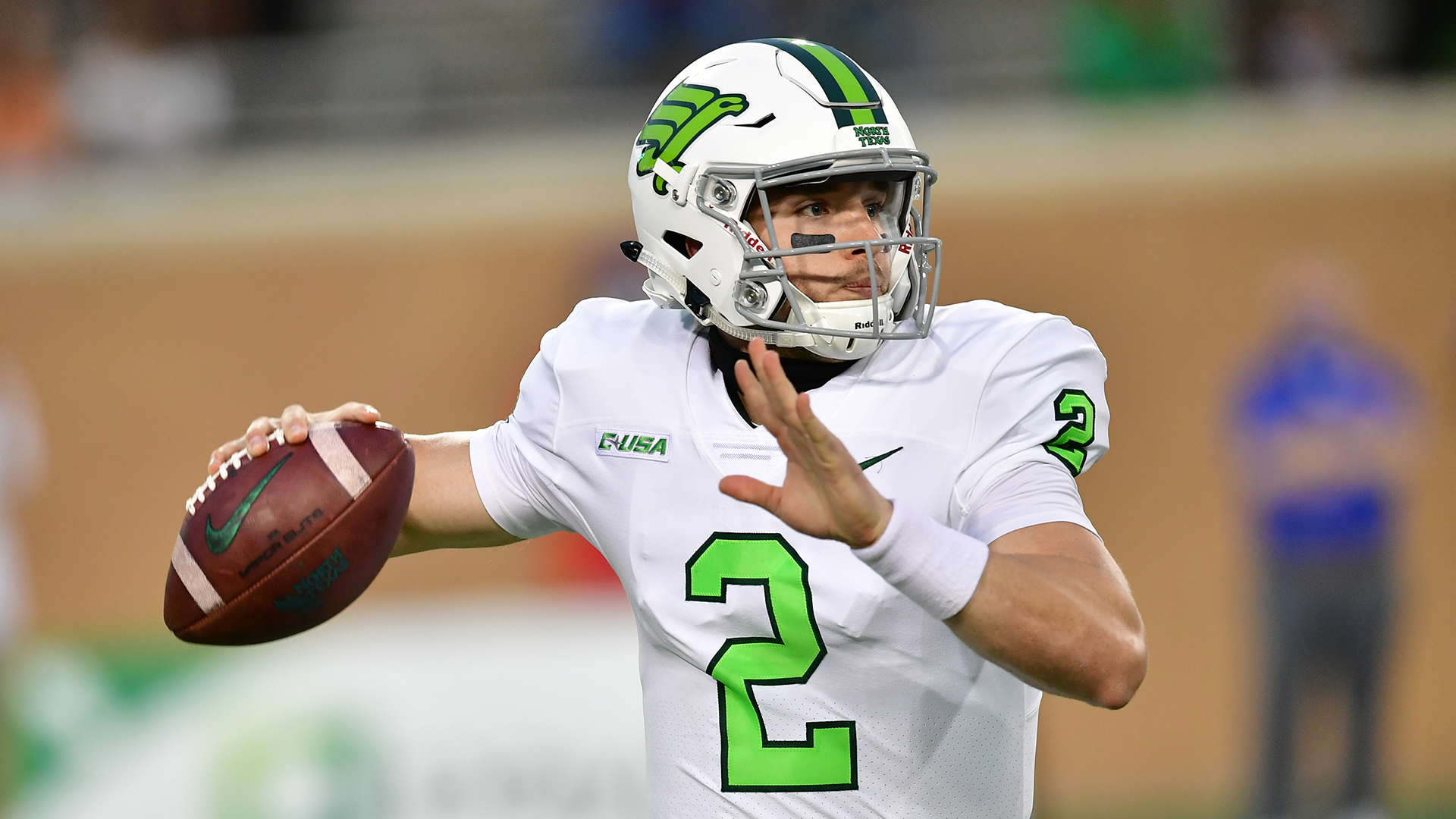 Northern Illinois
We're all blessed with the return of QB Rocky Lombardi: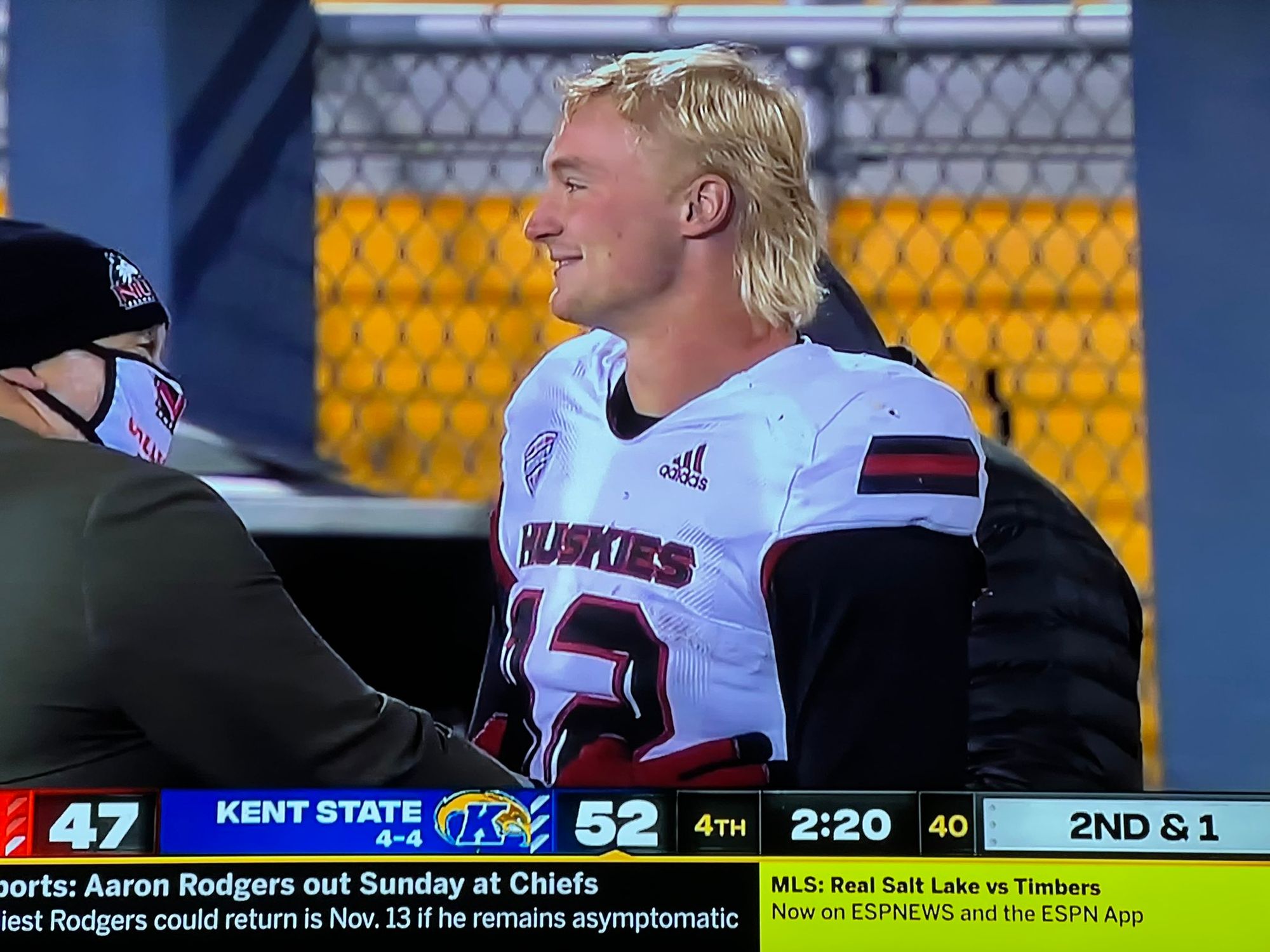 Northwestern
I love ridiculously-shaped stadiums, and Ryan Field is one of the more unique in the country: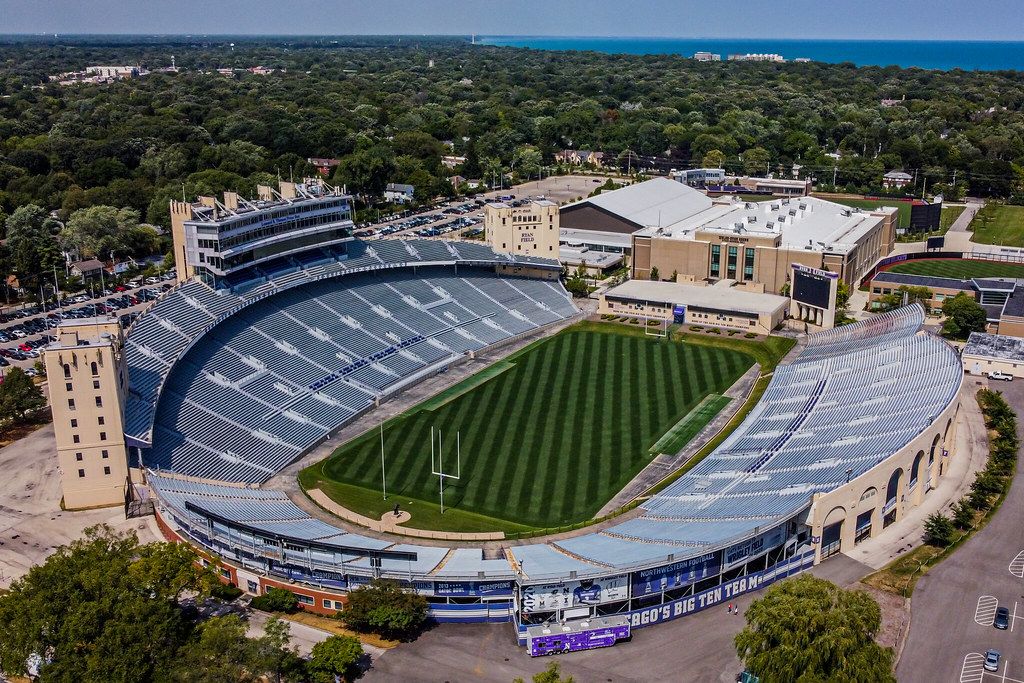 Notre Dame
Marcus Freeman is easily the most likeable Notre Dame coach ever, right?
Ohio
No more quarterback rotations; Which you can read more about in friend of the site Patrick Mayhorn's excellent G5 preview series.
Ohio State
Finally decided it was time to hire a real defensive coordinator.
Oklahoma
Brent Venables' Clemson defenses always played fast and aggressive as hell. I'm excited to see him forge that same identity at OU.
Oklahoma State
I never know what to think of Oklahoma State. They lost their defensive coordinator plus a lot of production, but QB Spencer Sanders is back, and they were literally a yard away from winning the Big 12. An easy non-con slate should give them the runway to figure out who they are in 2022, and whether they can do it again.
Old Dominion
Conference re-alignment win: ODU sneaking their way into the Sun Belt.
Oregon
Even with the success Mario Cristobal had, Oregon felt like it was missing something to truly get to the next level. Time will tell if Dan Lanning gets them there, but I think he has a better chance to do it than Cristobal did.
Oregon State
What they did last season turned me into a Jonathan Smith believer. The program's in the strongest state it's been in since the mid-2000s, and an eight-win season is on the table if things break right. (Nine, if they really break right.)
Penn State
Penn State still plays on natural grass, and I wish Ohio State, Michigan, Texas, etc. would stop pretending it's a budget issue and do the same: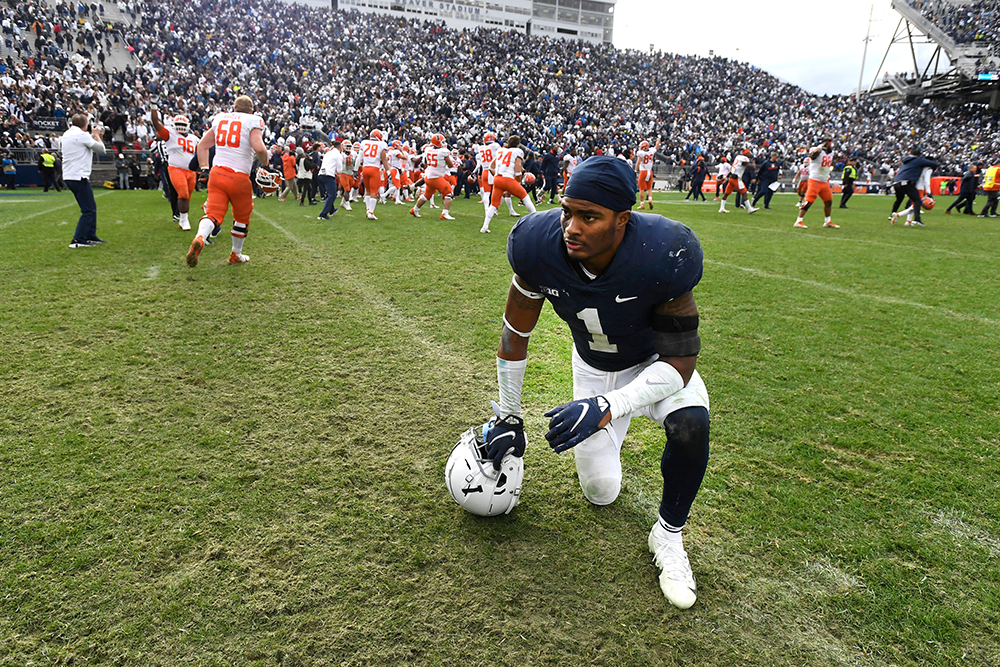 Pitt
It took most of seven years, but Pat Narduzzi finally decided fielding an offense would help his football team win games. They lose Kenny Pickett, plus their offensive coordinator, but add USC transfer Kedon Slovis, and have a ton of returning experience up front. I'm going to blindly say they're the Coastal favorite until we're sure Miami has their shit together.
Purdue
Do people truly realize how down bad this program was by the end of the Darrell Hazell era? Jeff Brohm's done a fantastic job, and their administration has done the same in fighting to keep him from other schools. They have to replace some key pieces, but don't have to play Ohio State, Michigan, or Michigan State, and get Penn State out of the way in the season opener. Back-to-back bowl appearances look likely.
Rice
Rice won four games for the first time since 2015 last season, so maybe that's a sign that Mike Bloomgren's lengthy rebuild is headed towards bowl contention?
Rutgers
I don't know if they're going back to a bowl with that schedule, but they're legitimately getting better. Greg Schiano's doing a good job!
SMU
Barring any other transfers, SMU should have another top-30 offense. If they can get anything close to that from the defense, they could be AAC contenders.
San Diego State
This program somehow keeps winning, despite completely not giving a shit about playing offense. For selfish reasons –AKA when I'm on Coors Light No. 15 and SDSU is the last game of the night– I'm manifesting that this is the year they score some points.
San Jose State
I went to the home opener last year against Southern Utah and sat a row behind "Billy Bob." I can't wait to go to the Spring Game on the 26th: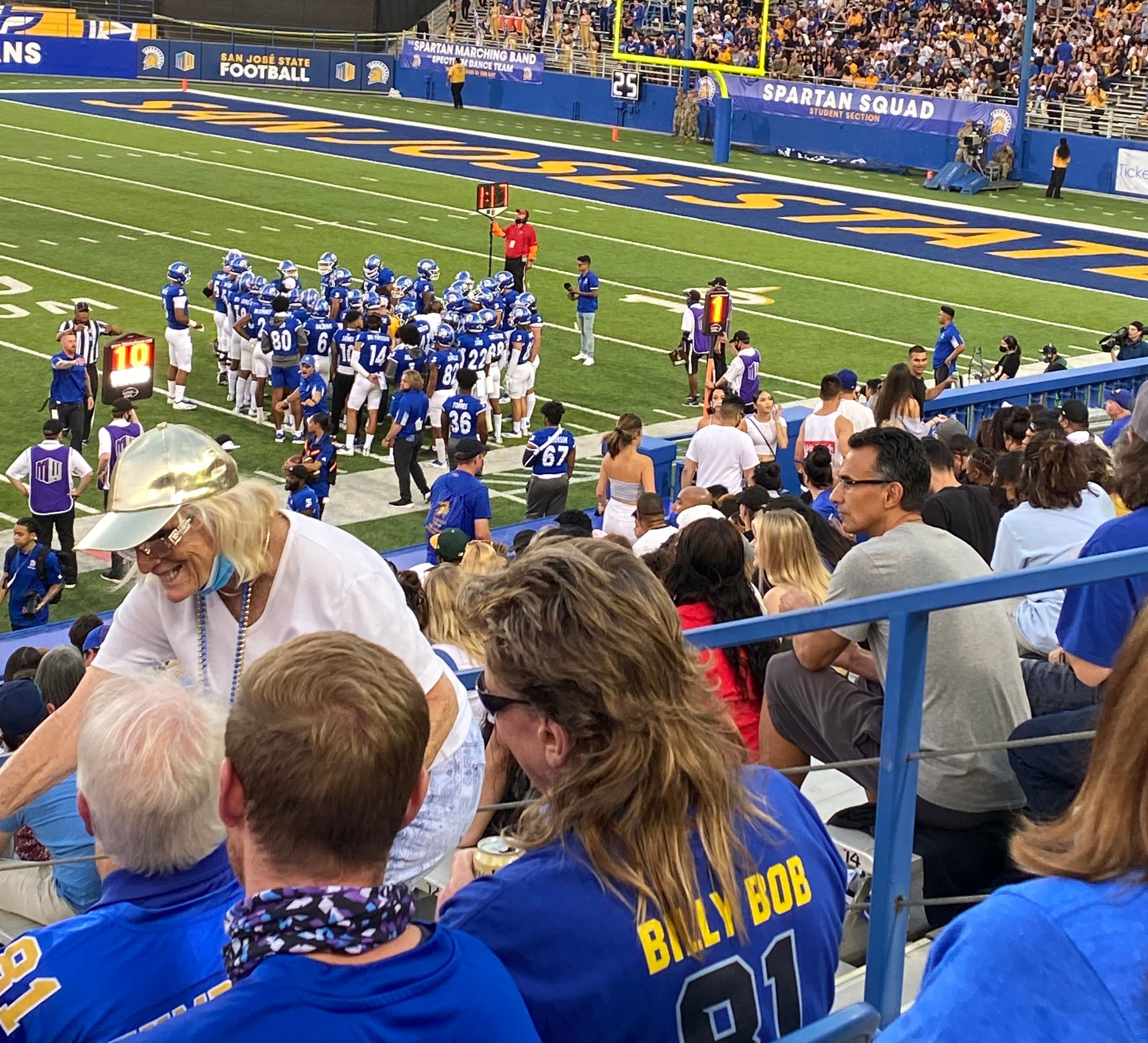 South Alabama
I'm really struggling here, so I just want to point out that the South Alabama logo reminds me of the art style for Batman's head in Batman: The Animated Series. I'm the only one? Ok, moving on then.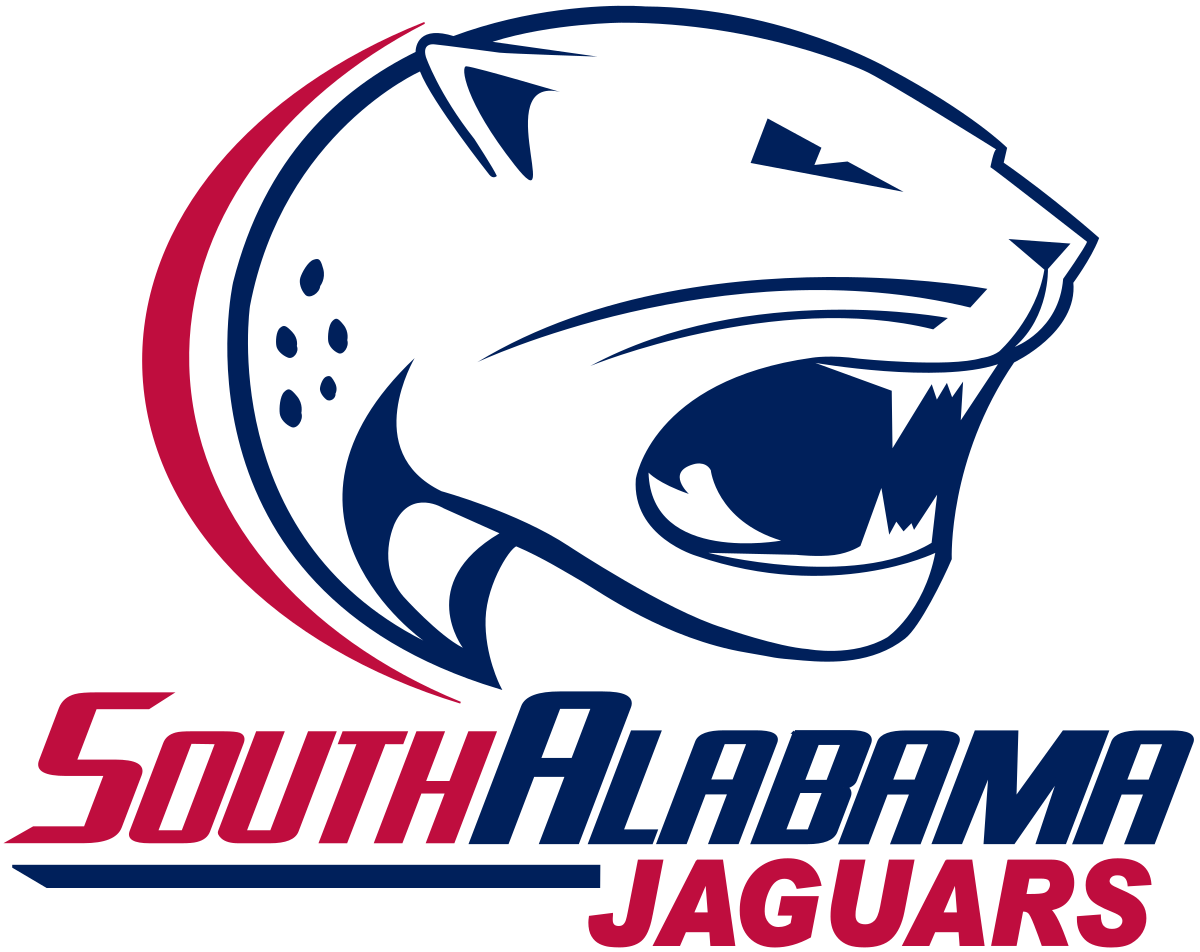 South Carolina
The Spencer Rattler discourse will be nauseating, but this looks like their best team in at least five years. Maybe this is the season they beat Clemson?
Southern Miss
The Rock: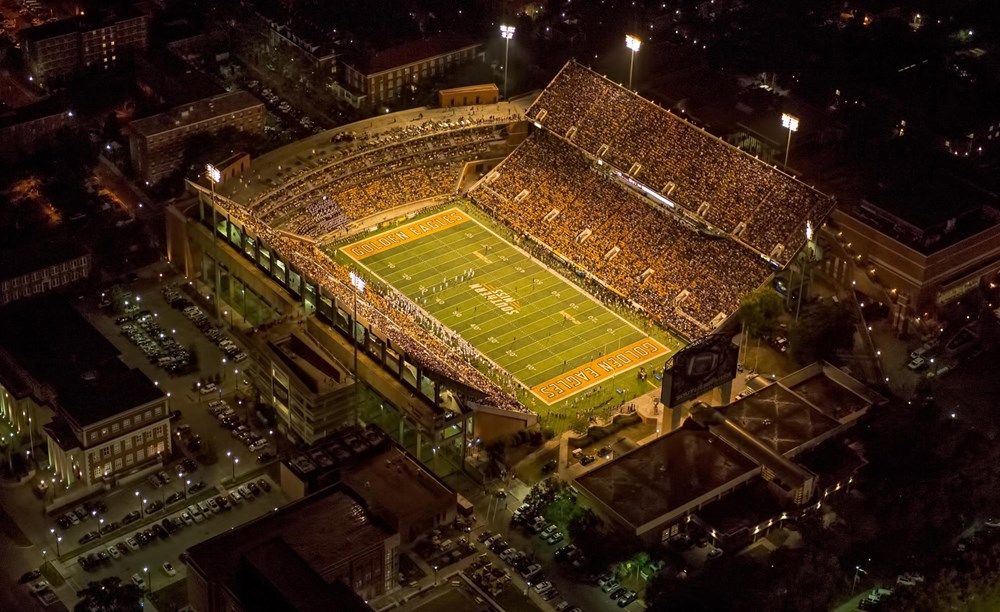 Stanford
I watched Utah run for 441 yards on Stanford in person last year, so the nicest thing I can say is that they can't possibly be worse defensively this season.
Syracuse
We're in year seven of the Dino Babers era, and it feels make or break. 10 of his 29 wins at Syracuse came in 2018, as well as his only bowl appearance. I'm rooting for them to break through this year and at least get back to a bowl game.
TCU
I've need to watch a game from the Moncrief South Endzone Club seats. Someone at TCU please see this and make it happen: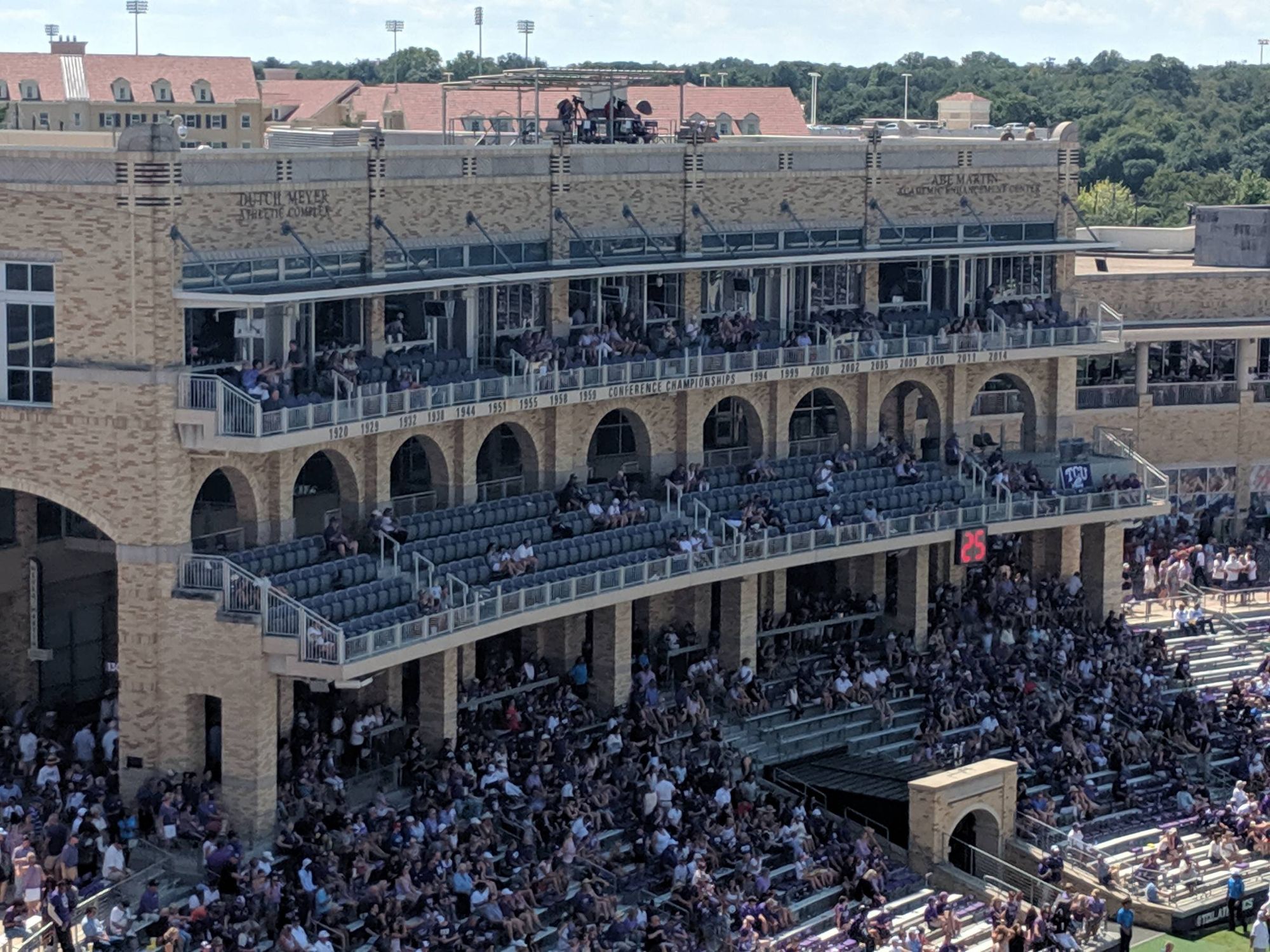 Temple
I don't care what Stan Drayton's record is in year one. The Rod Carey era is over, and I'm happy for you, Temple fans.
Tennessee
You're looking at the conductor of the 2022 Tennessee hype train. They're upsetting either Alabama, Georgia or both. Deleting this article when the season starts.
Texas
Texas A&M
Jimbo Fisher got mad at people talking about that NIL fund that led them to the No. 1 recruiting class, but I'd like to earnestly commend the Texas A&M boosters for taking care of business. Begging Ohio State bagmen to get with the god damn program.
Texas State
If you weren't aware, Texas State is in the midst of a fascinating experiment. Head Coach Jake Spavital is trying to build a roster almost solely through the transfer portal. Only 2 of the 13 members of their last recruiting class came from high schools, and all five of the dudes in the QB room started at other FBS schools.
Early returns are mixed, but they did jump from two wins in 2020 to four last year. There are definitely coaches around the country watching to see how it plays out, and I like the creativity from Spavital regardless of what the outcome is.
Texas Tech
I made peace with the fact that the majority of college coaches are guns for hire a long time ago. It is what it is. That's what makes someone like new Texas Tech Head Coach Joey McGuire special:
McGuire's going to be one of the best soundbites in the country, and if his early recruiting is any indication, he's going to to have a lot of positive things to talk about.
Toledo
Troy
It sounds like new Head Coach Jon Sumrall has a reputation for being a great recruiter, so hopefully that can translate to wins the next few years as they move away from the Chip Lindsey era.
Tulane
2021 was a rare down year for Willie Fritz's squad, but I'm betting that they get back on track this season.
Tulsa
How can you not love the Good Juju Hat?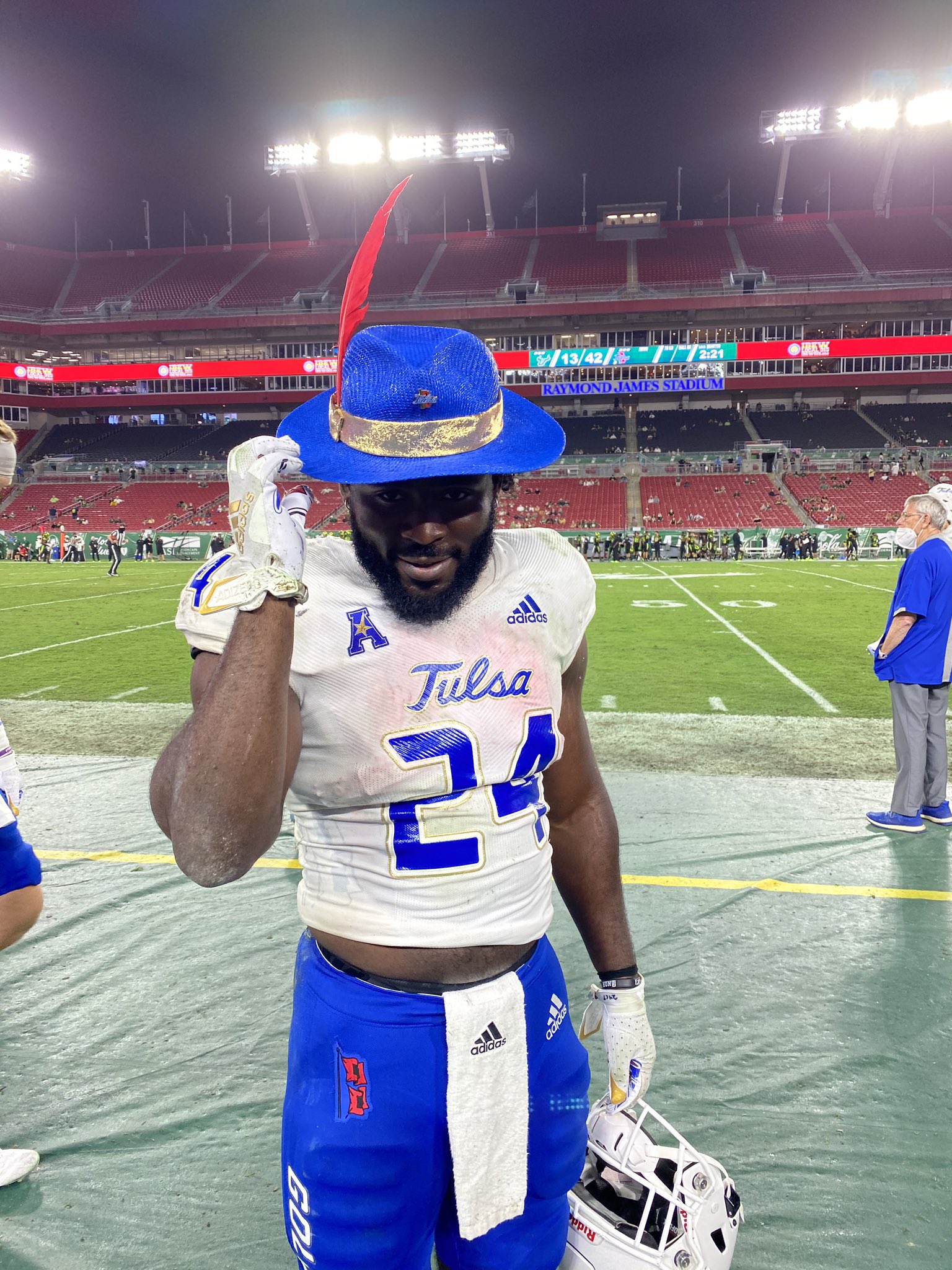 UAB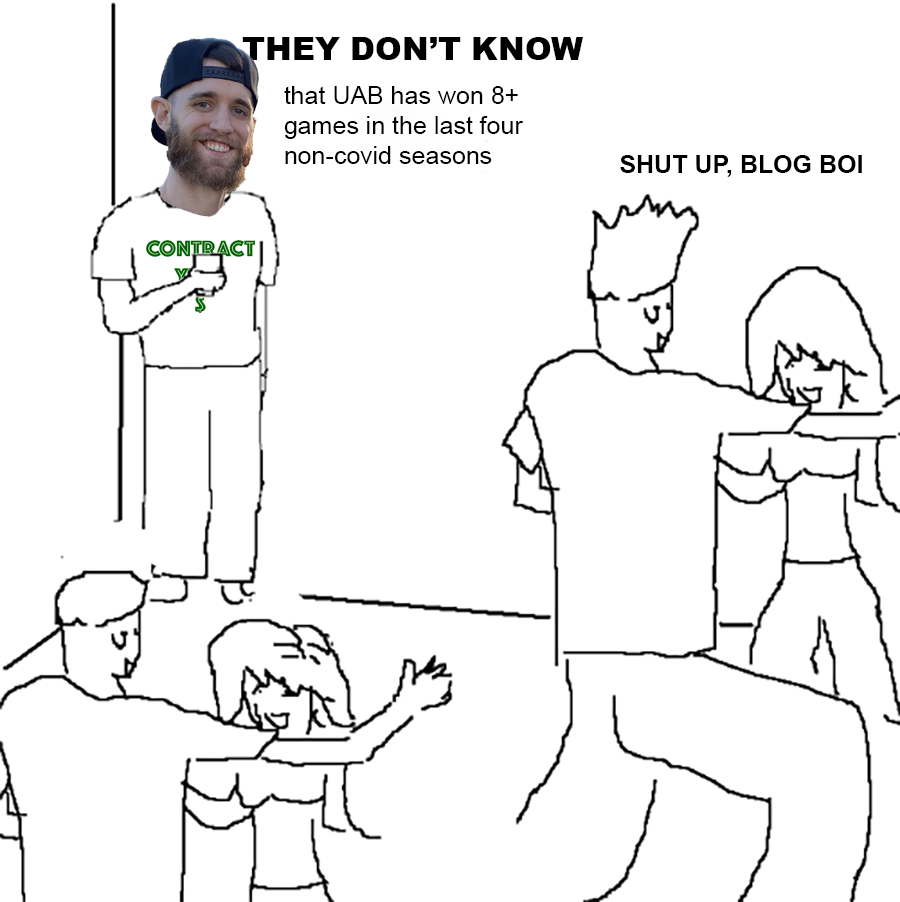 But really. Bill Clark is a magician.
UCF
Gus Malzahn's first season in Orlando was about as Gus Malzahn as it gets. Ridiculously high highs, stupidly low lows, nine wins. If they can find some mainstays offensively, the schedule sets up for them to be in the AAC title hunt with Houston and Cincinnati.
UCLA
UCLA's defensive line should be fun to watch with the addition of Grayson and Gabriel Murphy. The identical twins had monster freshman seasons at North Texas last year, combining for 26.5 TFLs and 15.5 sacks.
UNLV
The Raiders let UNLV use Allegiant Stadium on Saturdays, and I desperately want to see a college football team in Vegas succeed with a platform like this: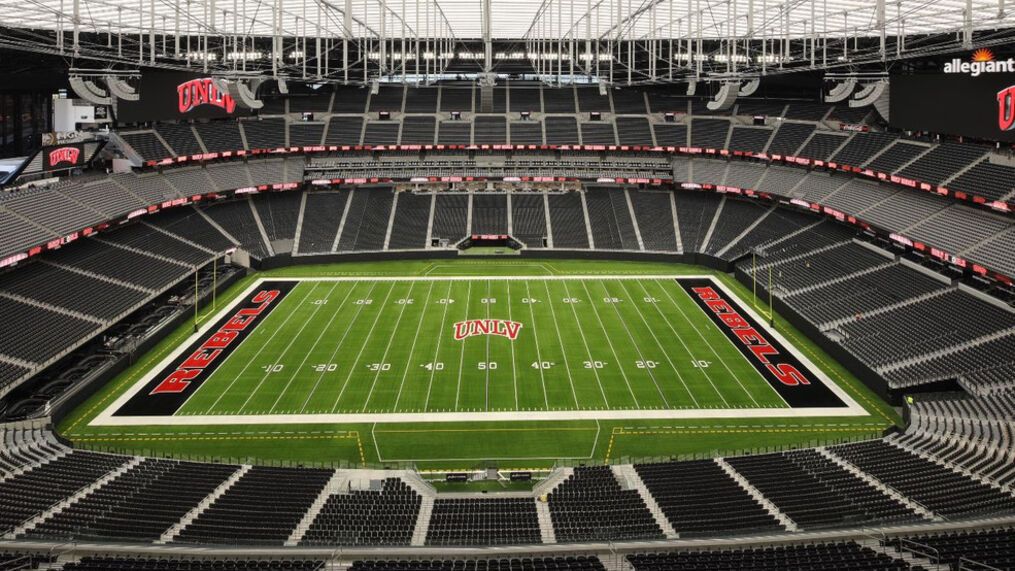 USC
USC's been boring for far too long. Putting aside my thought that Lincoln Riley's just a glorified offensive coordinator with a head coach title, their offense is gonna be explosive and full of star power - Just like USC always should be.
USF
Great news: Their new indoor practice facility should be ready to go by August, and it sounds (?) like progress is being made on an on-campus stadium:
UTEP
I watched more UTEP last year than I ever thought I would since I cut WR Jacob Cowing's highlights. I'm glad I did, because they were entertaining and made a bowl for the first time since 2014. Cowing transferred to Arizona, but QB Gavin Hardison can rip it, and they have enough returning to get back to the postseason. This is one of the toughest jobs in the country and Dana Dimel deserves props for what he's doing here.
UTSA
UTSA is 19-7 in the last two seasons, made it into the top-25 for the first time in program history last year, and just gave Head Coach Jeff Traylor a 10-year, $28 million extension. I love watching programs on the rise, and UTSA is at the top of the list.
Utah
It's understandable that USC's getting all the attention for the huge moves they made this offseason, but Utah's still the best team in the Pac-12 South. They also happen to play the same physical style that Lincoly Riley's teams struggle against.
Utah State
I honestly forgot that these guys won the Mountain West last year. I don't know how confident I am that they can make another run at it, but I've liked Blake Anderson since his Arkansas State days, so I want to see them in the mix again.
Vanderbilt
Vandy's probably going winless SEC play again, but I think they'll improve enough in Clark Lea's second season to have some optimism heading into 2023.
Virginia
There's nothing more this website loves than a left-handed quarterback. We're rolling with Brennan Armstrong in 2022.
Virginia Tech
Maybe Brent Pry is the coach to get them back on track. Maybe he isn't. But CFB is more fun when Virginia Tech is a threat, so I'm rooting for the former.
Wake Forest
All the talk about Wake Forest will probably be whether they can get back to the ACC Title/if they're a top-20 team, but I just want to take a minute to appreciate what's going on in Winston-Salem:
Six straight bowl appearances, including four wins.
Three eight-plus win seasons in Dave Clawson's eight years, including 11 in 2021.
Consistently fun offenses with innovative wrinkles that put their players in positions to succeed!
Wake Forest is the easiest Power 5 team to root for. I wish them nothing but continued prosperity.
Washington
Washington has sneaky buy-low potential. The Jimmy Lake era was a mess, and Kalen DeBoer should bring a level of stability back to the program. He'll also bring some life back to an offense that was one of the least watchable in the country. Indiana transfer QB Michael Penix is an intriguing addition. He struggled last year, but played well in 2020, and had his best season in 2019 with DeBoer as his OC. There's no way they come close to being as comically injured as they were last season, and the defense is solid.
Am I talking myself into 8-9 wins if things swing their way? Check back in August.
Washington State
Sincere congratulations to Washington State fans for not having to spend a full offseason worrying about a sideshow clown coaching their football team.
West Virginia
Doesn't seem like things are going great at WVU right now, so I'll just go with how happy I am that the Backyard Brawl is back:
Western Kentucky
WKU let it fly to an all-time degree in 2021, and I hope they do the same thing this year.
Western Michigan
Brown isn't the easiest color to work with, but these are pretty clean: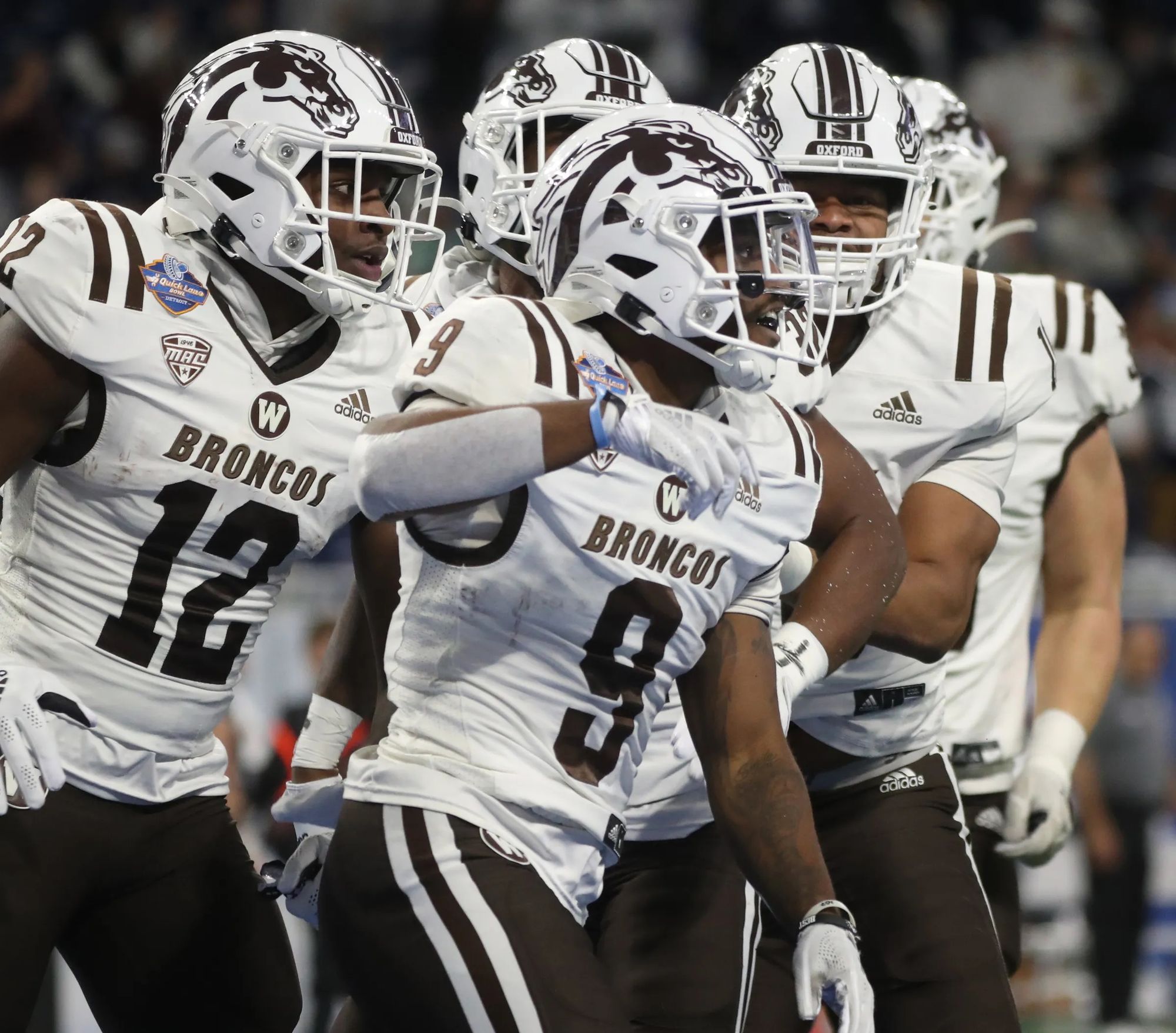 Wisconsin
I'm not a "cheer for other teams in your conference," guy. I can't stand the rest of the Big Ten, and actively root against the conference in most non-con scenarios/bowl games. That said, if there's one B1G school that doesn't bother me, it's Wisconsin.
Wyoming
Beautiful endzones: