2023 Season
The 2023 Preseason Top-25 New Uniform poll (3.0)
One last preseason look-through before teams hit the field tomorrow.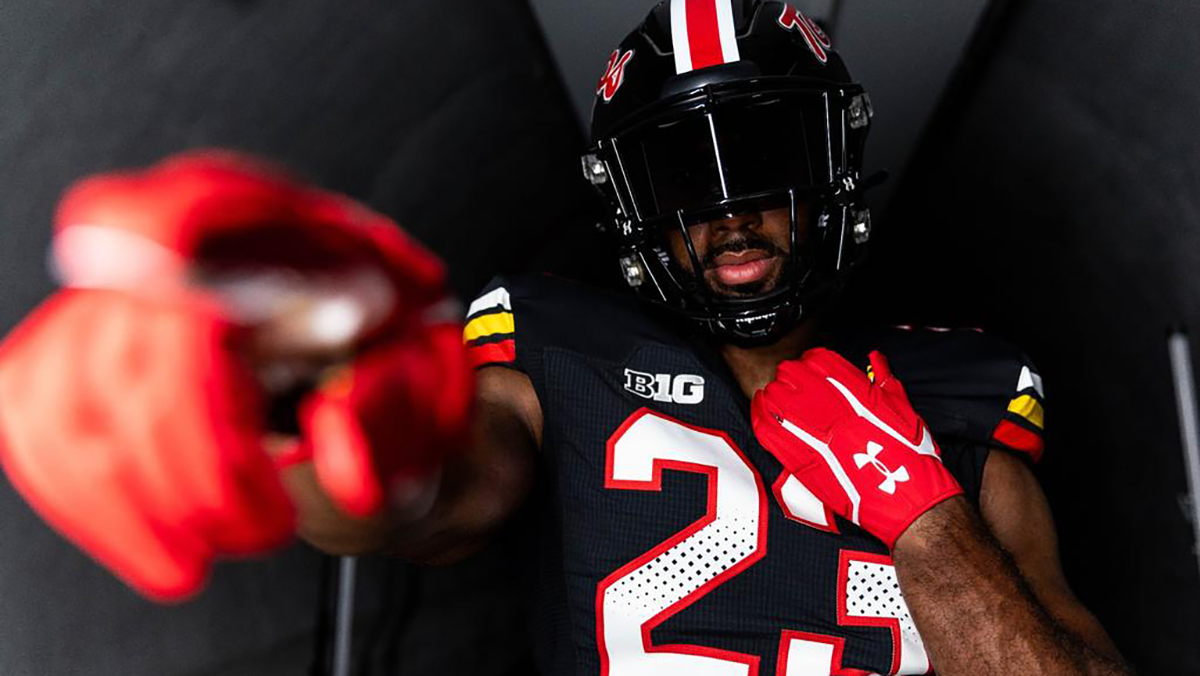 For those reading on e-mail: click 'view in browser' to see the full contents of today's post
---
Welcome to the final edition of the 2023 preseason top-25 new uniform poll! If you want to see how it looked last week, click here. Before we get to the top-25: If you enjoy the content of today's post, consider subscribing to the site. I'll have a ton of great content going up every day during the season!
The 2023 Preseason Top-25 New Uniform poll
Preseason Week 3
Teams kicked out of the top-25 this week: Tennessee Tech, Louisiana Tech
Only two new additions to the poll, but both are pretty slick. It's been quiet on the uniform front this week, as I suspect most teams who haven't released their new looks yet are just waiting for week one. (LOOKING AT YOU, COLORADO). As Jim Ross would say - "Business is about to pick up."
25. Utah State (Last week: 22)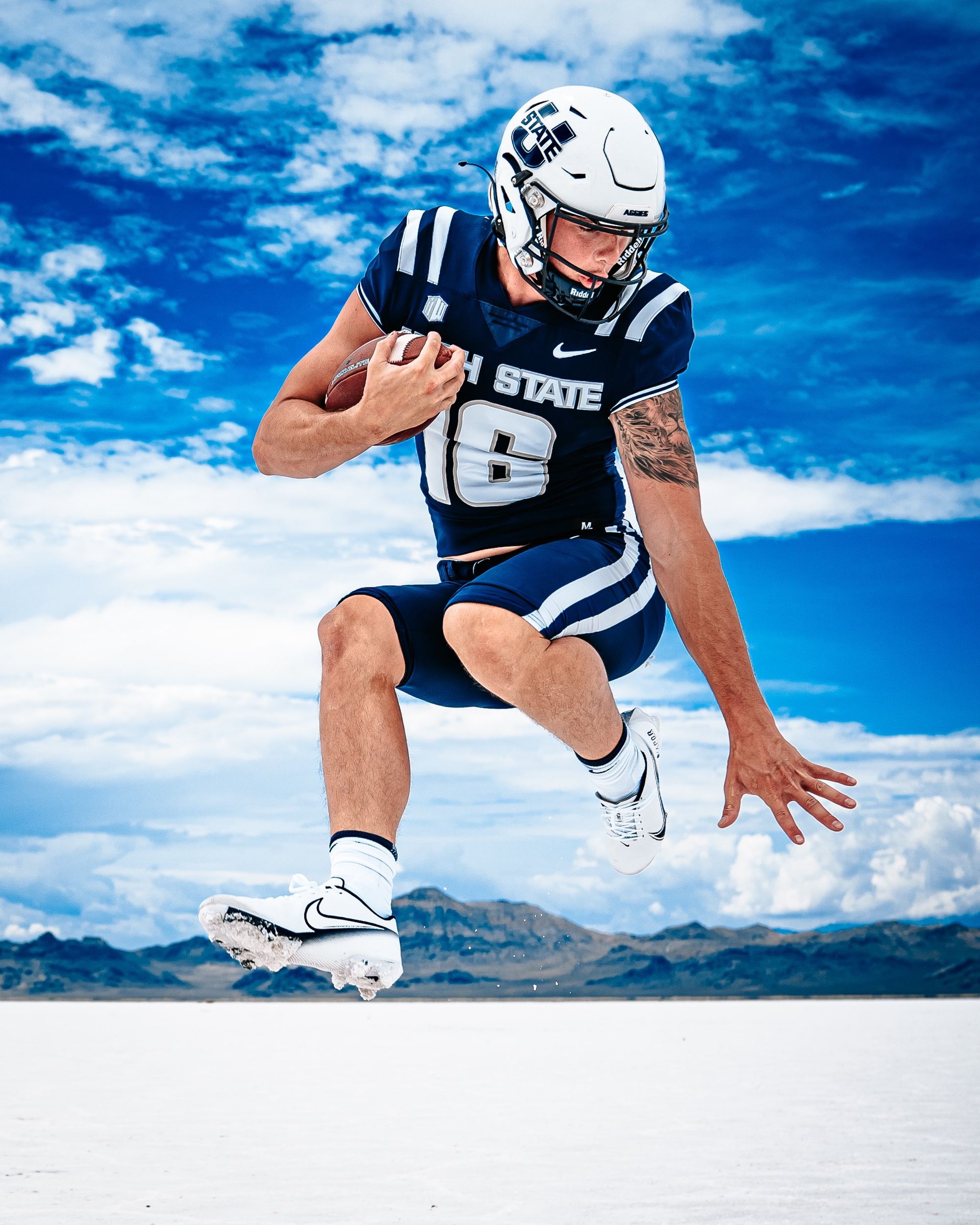 These are good, but they'll be out of the top-25 as soon as teams start unveiling their week one sets.
24. Nebraska - Memorial Stadium 100th Anniversary (Last week: 23)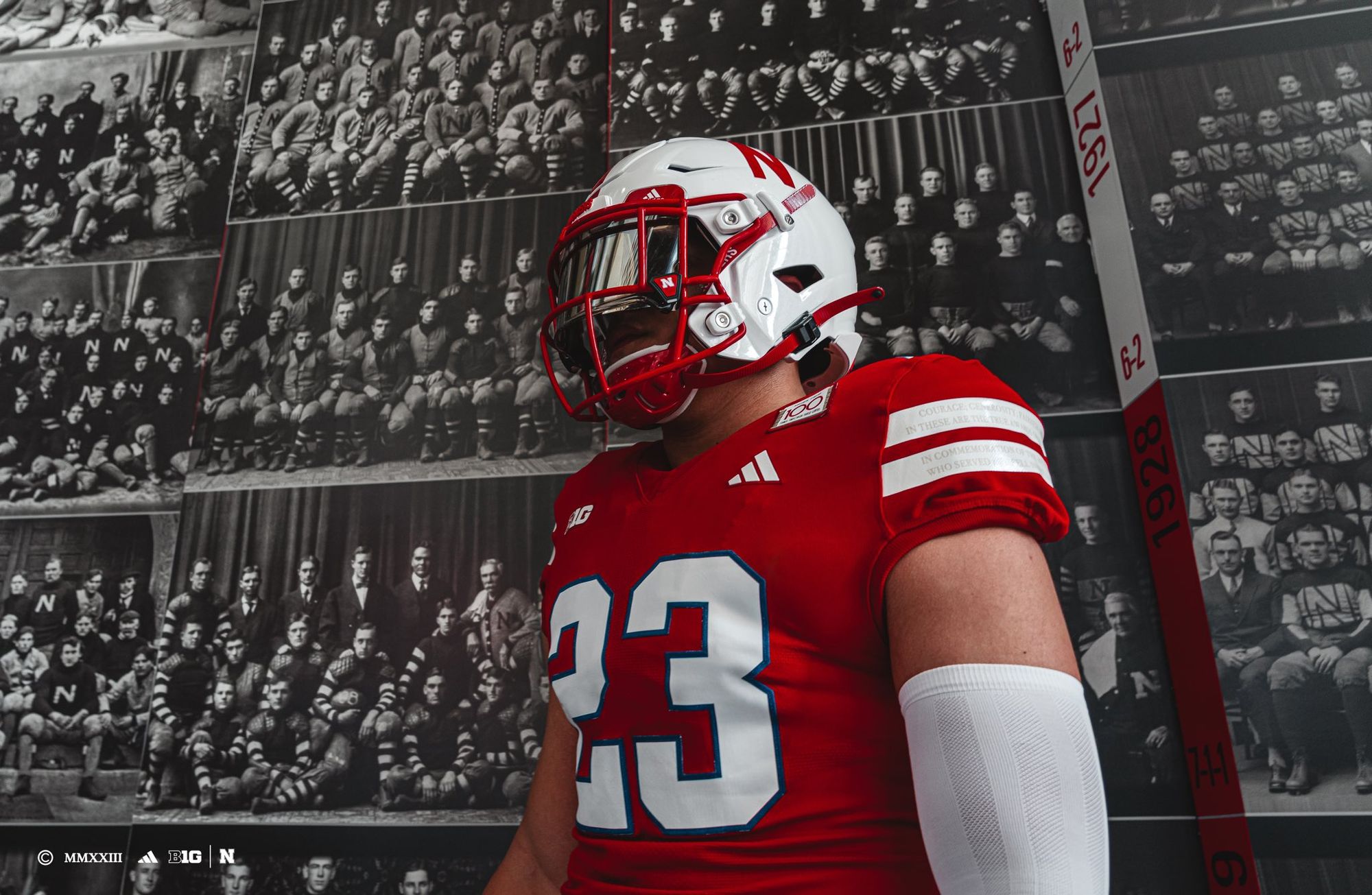 Nebraska's celebrating their 100th season in Memorial Stadium with these alternates against Northwestern on October 21. The numbers outlined in blue are a tribute to the Huskers' 1923 game vs. Oklahoma. Nebraska graciously wore blue uniforms to avoid confusion between the two teams, because OU only packed their crimson home uniforms. If you look close enough at the first picture, you'll notice four different quotes on the shoulder stripes, which you can learn more about here.
23. Florida - All-black alternate (Last week: 25)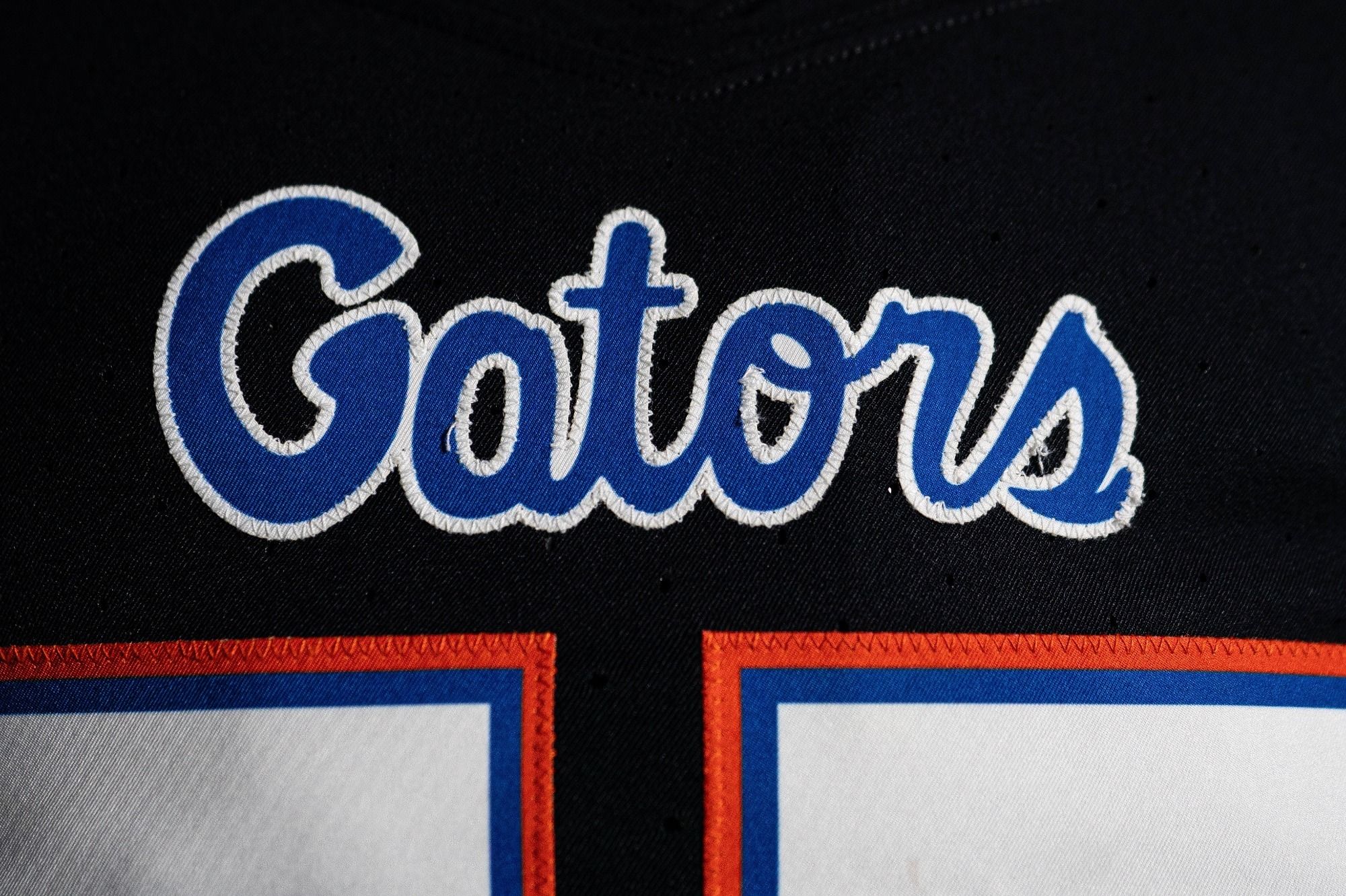 I'm still mostly out on teams without black in their color scheme wearing all-black uniforms, but I've warmed up to these a bit. They definitely won't be the worst alternate the Gators have worn, at least.
22. UTEP (Last week: 21)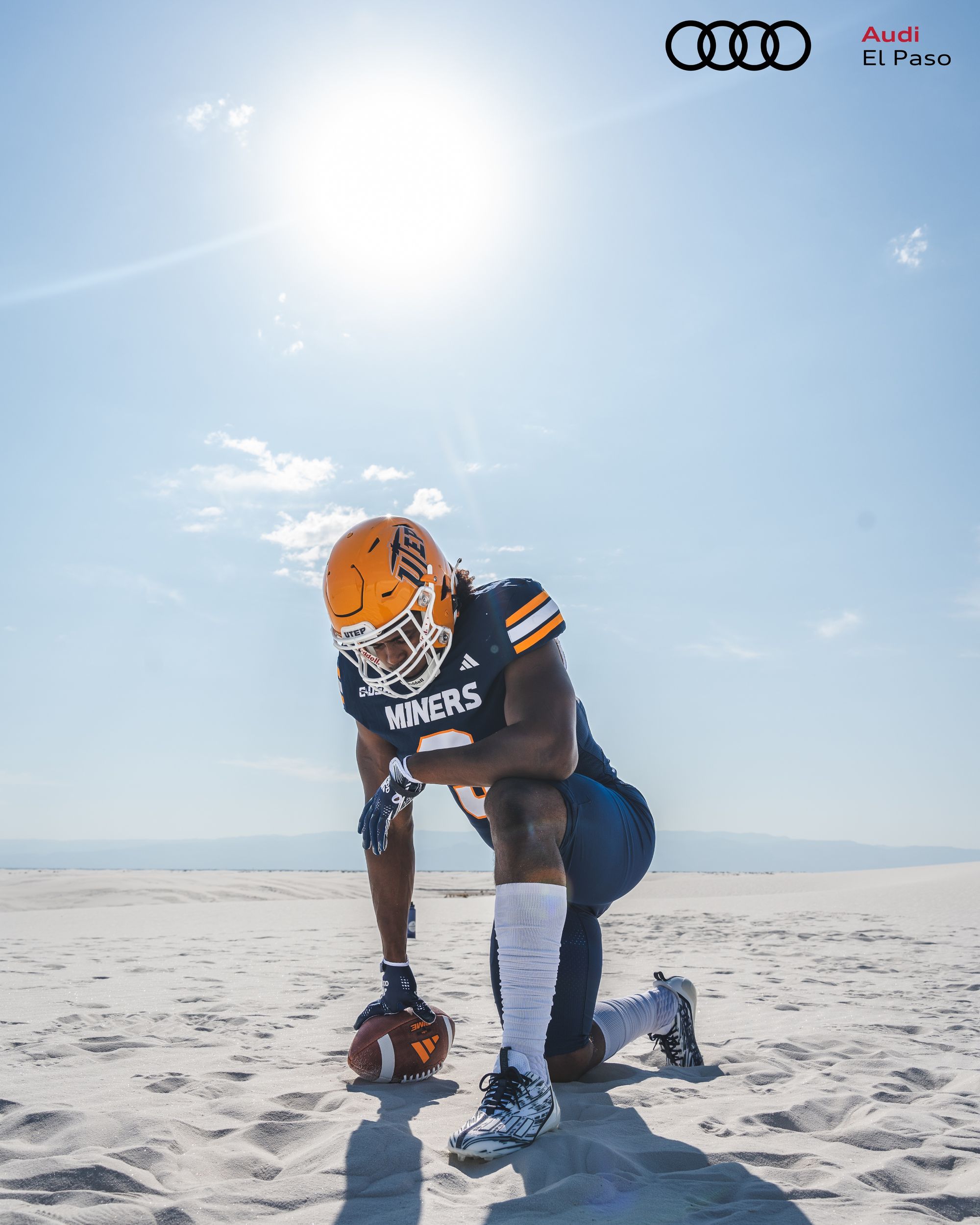 I want to put these higher, but there's something about the helmet being that shade of orange that bugs me. The rest of the uniform is sharp, and I have a feeling I'll like this set more when we see it on the field tomorrow vs. Jacksonville State.
21. Notre Dame - Green alternates vs. Ohio State (Last week: 19)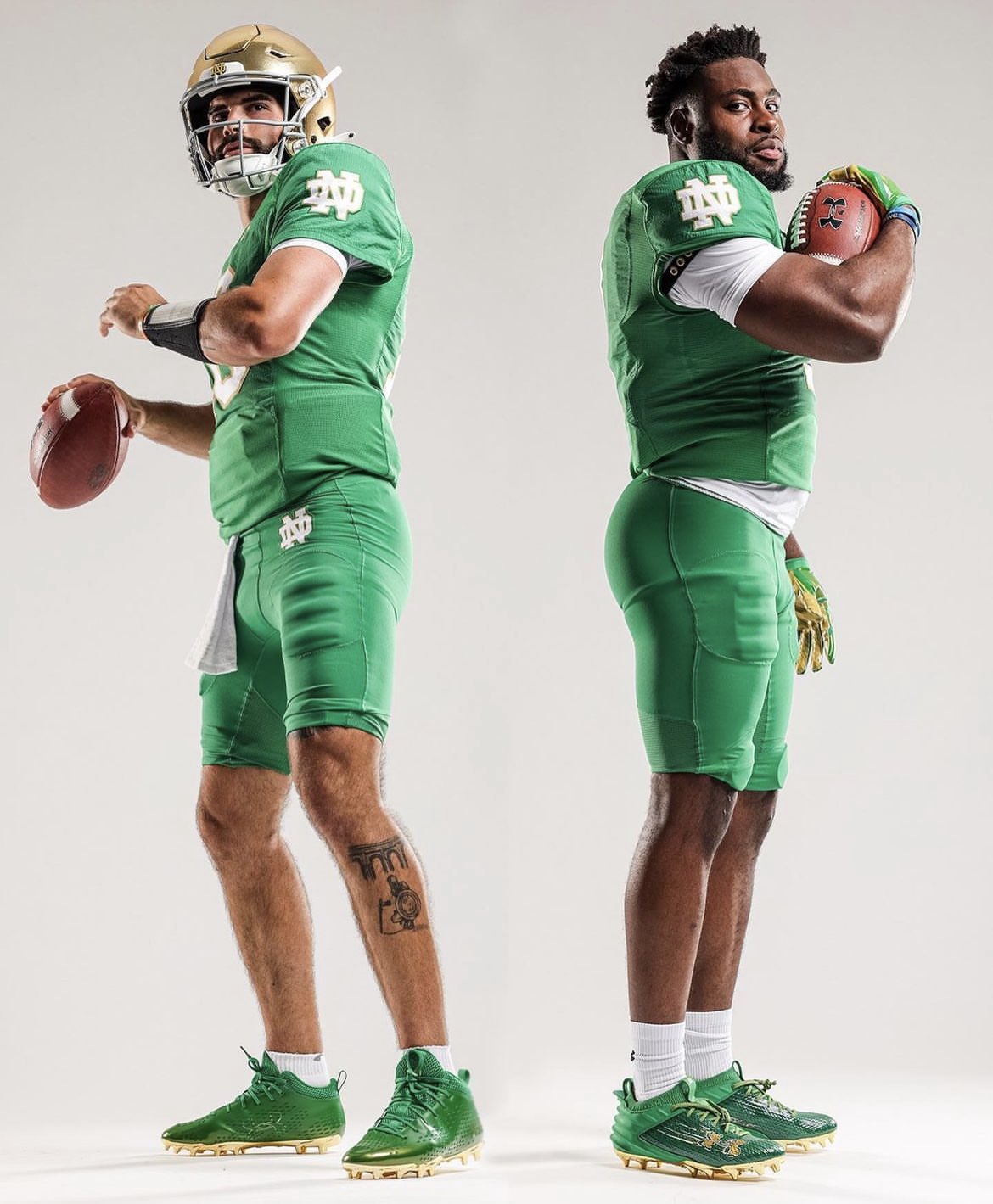 I'm sure I'm in the minority here, but Under Armour has quietly hit their stride with Notre Dame. According to my shoddy research, this will only be the second time that they've ever worn green pants. The first was a disaster, but these are a million times better. They also buck the trend of blue numbers on green Notre Dame jerseys, which is an added bonus. If only we could get Ohio State to wear gray sleeves opposite of them....
20. Notre Dame - Ireland alternates vs Navy (Last week: 18)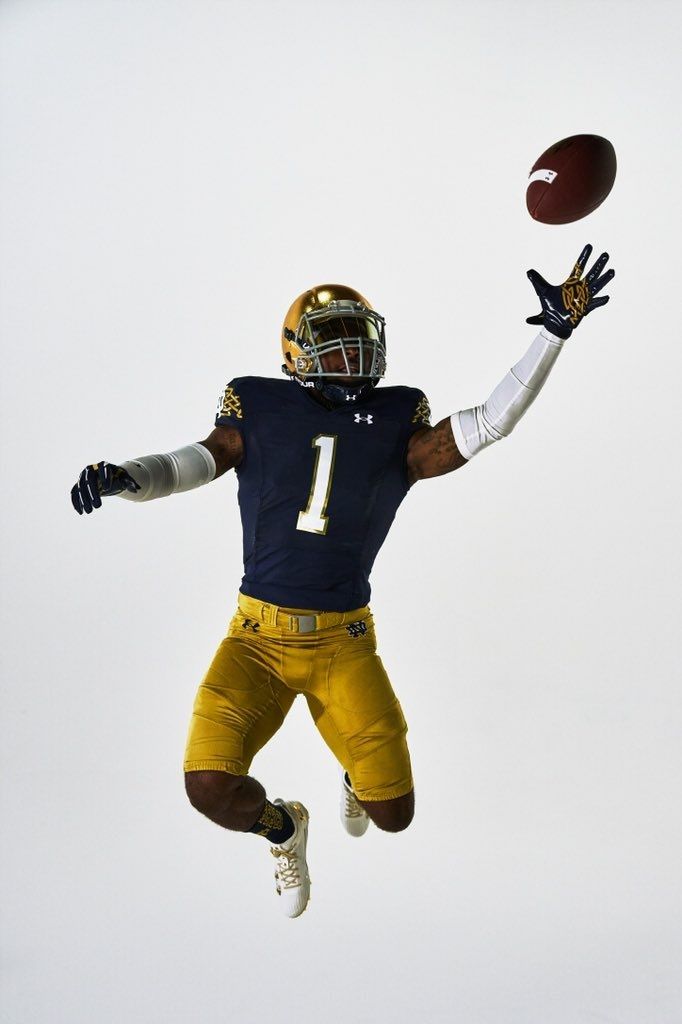 We get to see these in action tomorrow, and they'll probably make a big jump in next week's poll.
19. Western Kentucky (Last week: 17)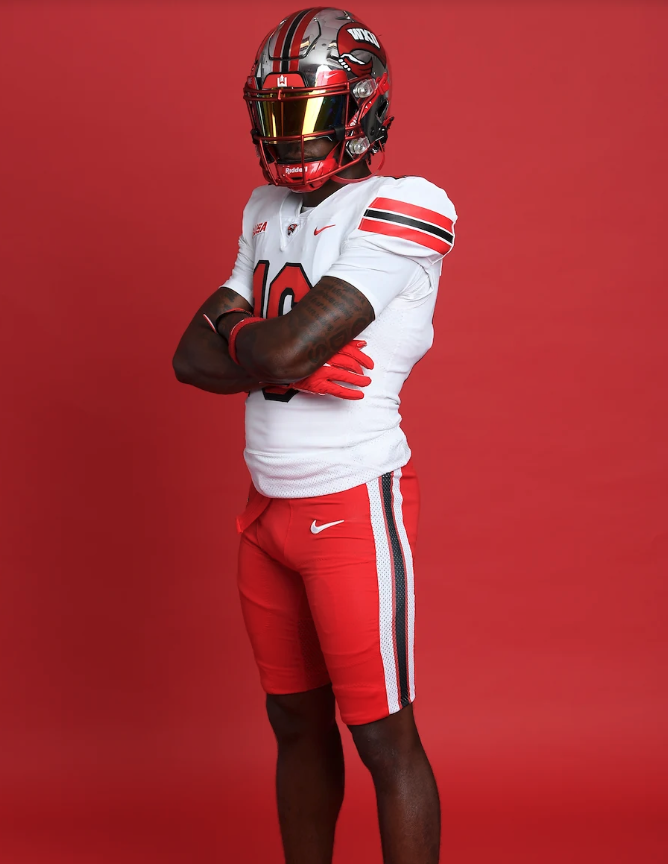 WKU was stuck in a stale, late-2000s uniform design and traded it in for something simple, yet super effective. The drop shadow numbers are sick, and I hope they wear the beautiful black and white 'Tops' helmets more often than the chrome one.
18. Navy - Ireland alternates vs Notre Dame (Last week: 16)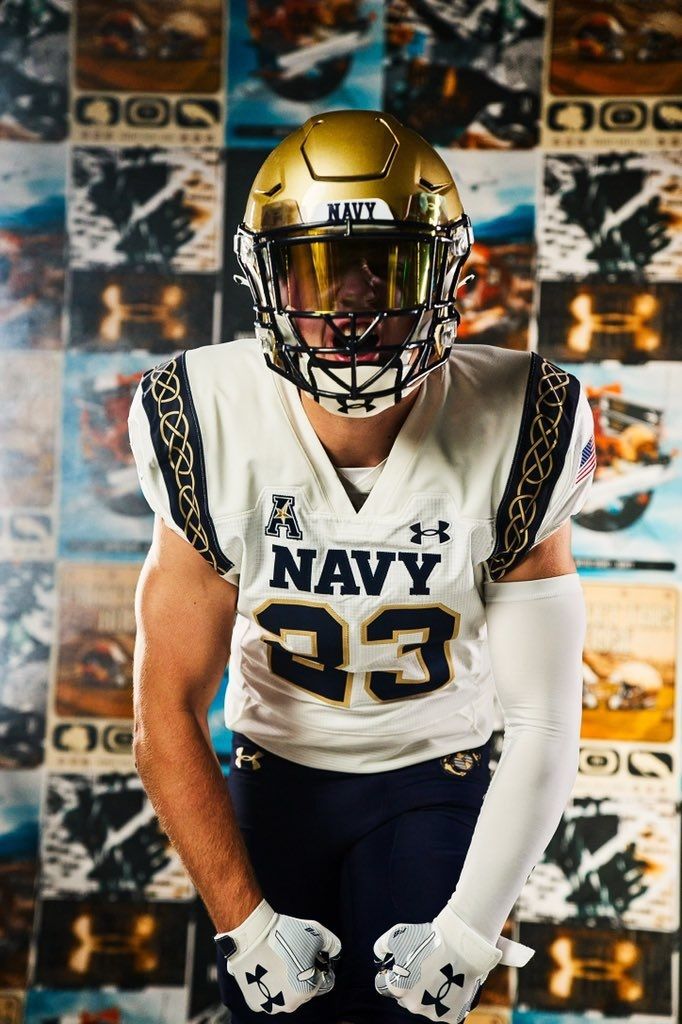 I don't know how long Navy will be competitive with Notre Dame tomorrow, but at least they'll look great!
17. Long Island (Last week: 15)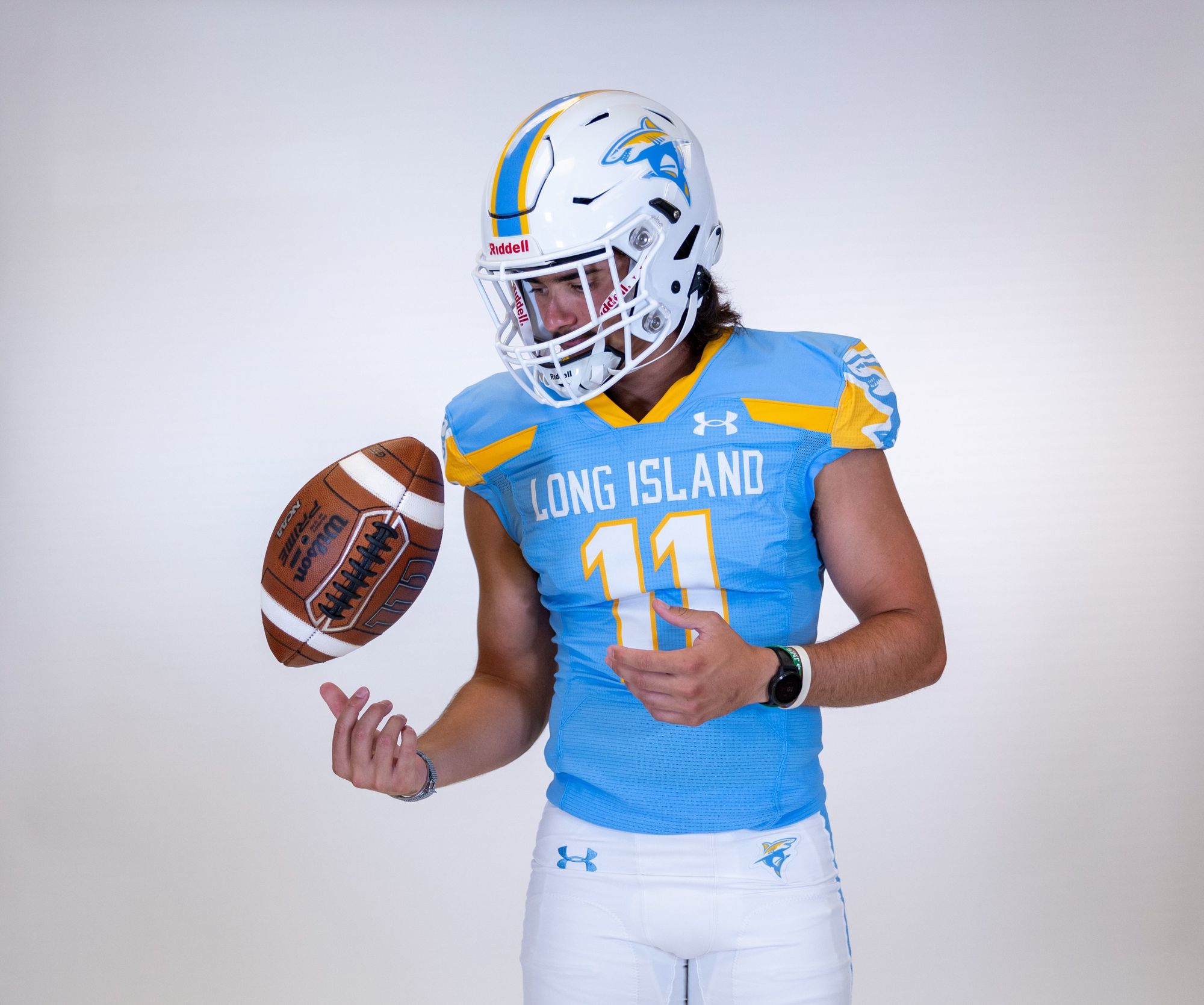 There's one universal truth about uniforms: You can't go wrong with powder blue, especially if you pair it with light yellow.
16. Navy (Last week: 14)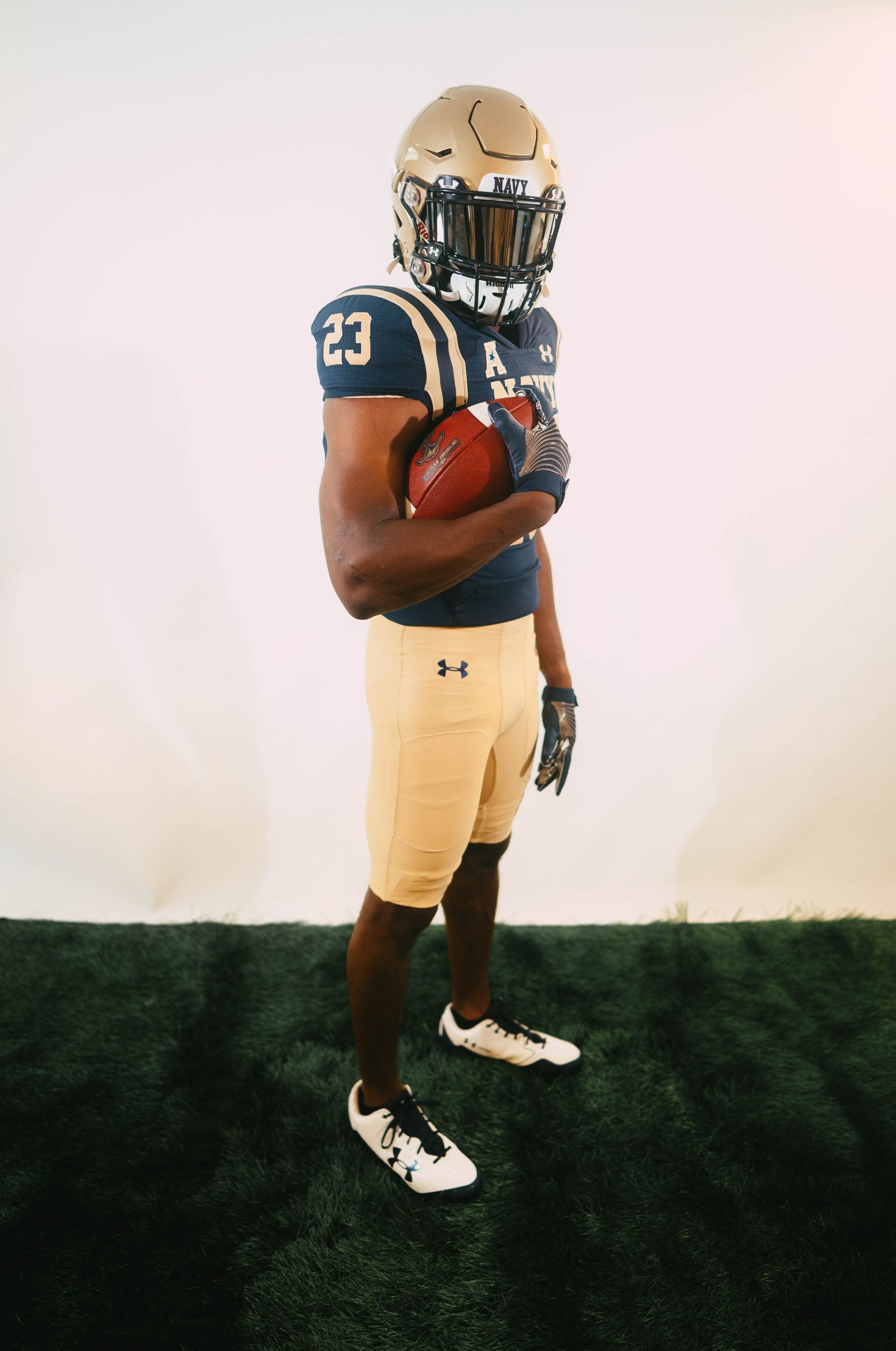 I'm warning you now that these and the road white version are going to be top-10 staples this season.
15. Florida International - Miami Vice alternates (Last week: 13)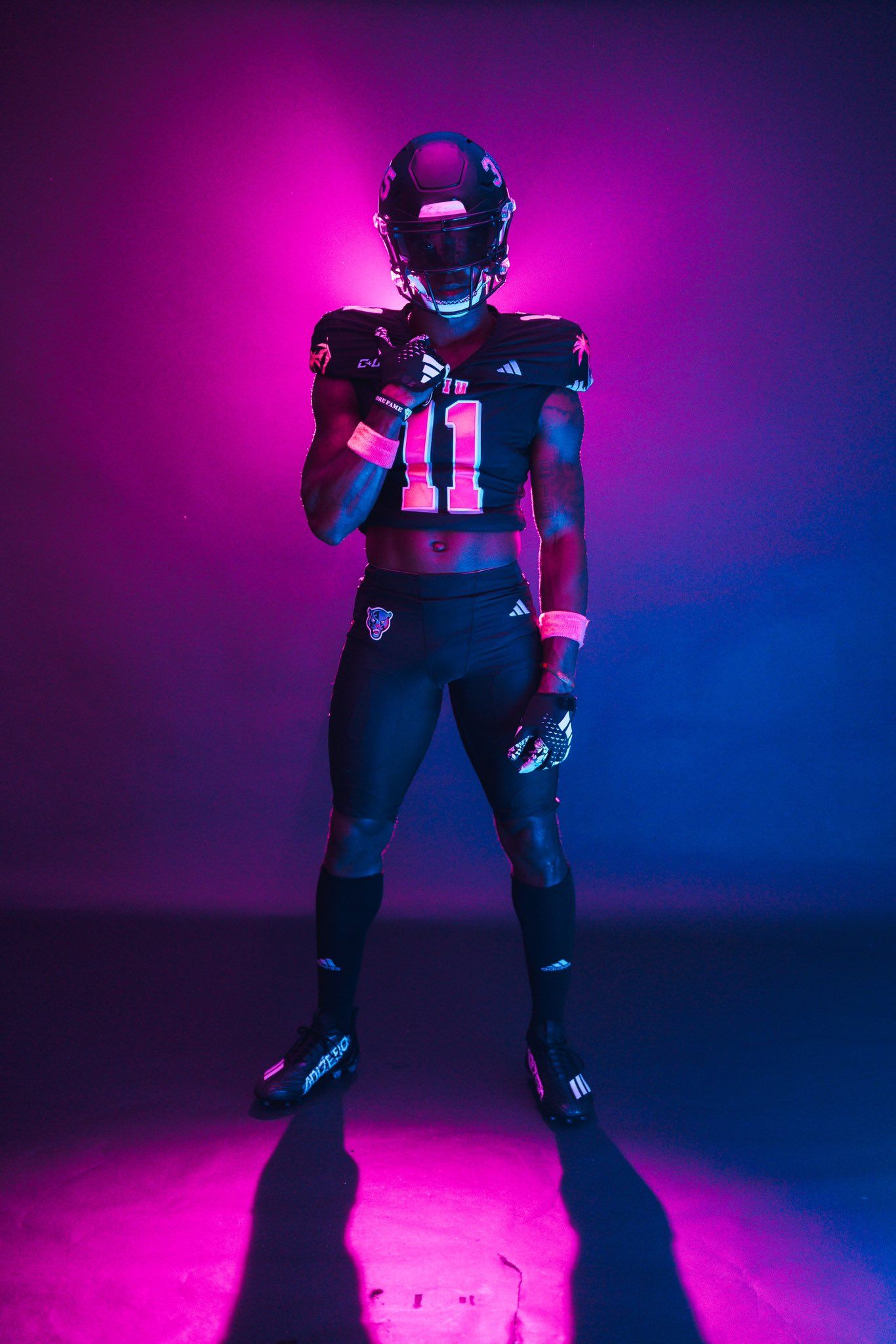 FIU's going full-Vice against UTEP on October 11, and I'm just waiting until then to put them in the top five.
14. Michigan State (Last week: 12)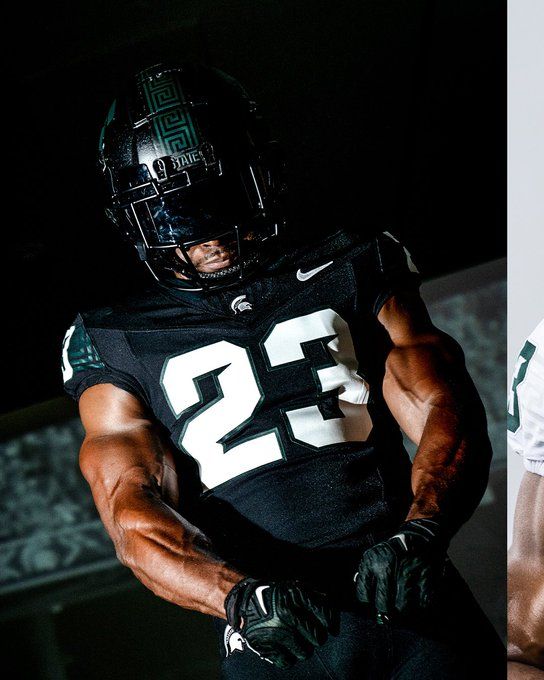 "If you look good, you feel good. If you feel good, you play good."
Michigan State will not play good this season - but they should feel good, because they're gonna look like a million bucks.
Bonus: All three of MSU's helmets feature a "Battered" texture, which no other team in country has (for now):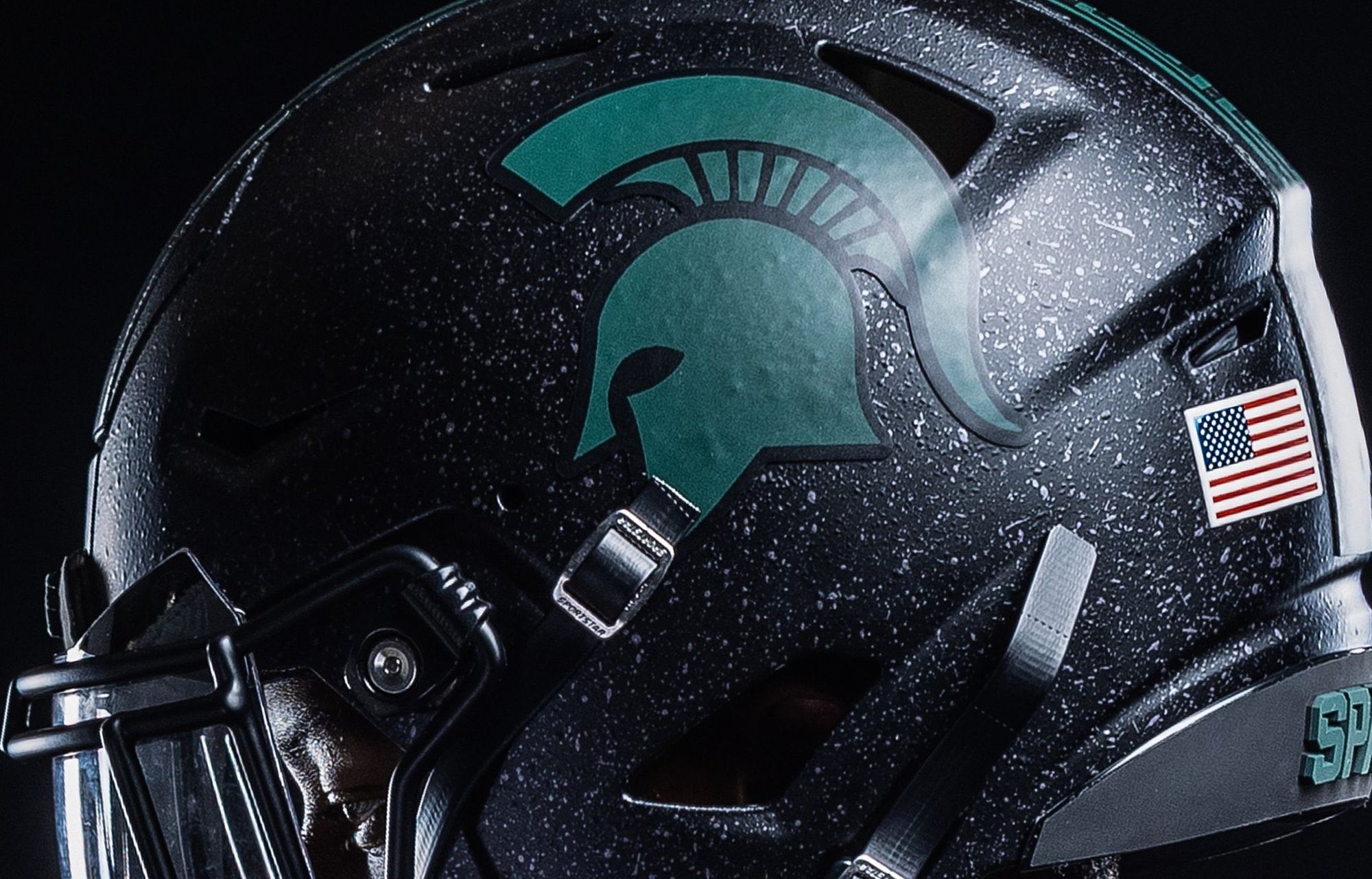 13. Texas Tech - 1960's Throwbacks vs Tarleton State (Last week: NR)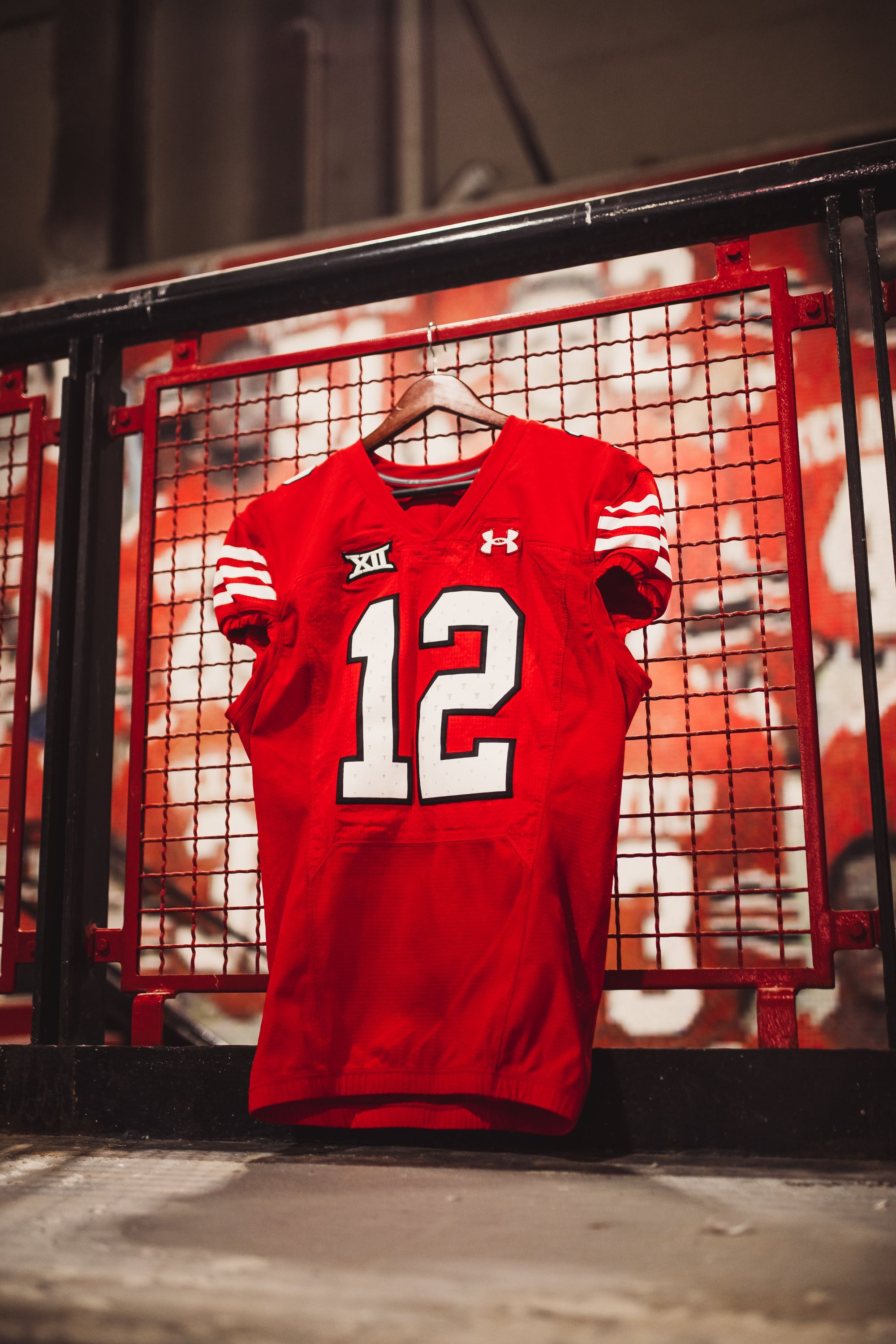 Our first new entry to this week's poll. The Under Armour/Texas Tech partnership is like the modern-day power hitter in baseball: You make peace with the fact that they're gonna strike out a shit ton. But it's going 500 feet when they barrel one up. Put these in the latter category.
They're slated for Tech's September 16 game vs. Tarleton State, and the only reason they're not higher is because we haven't seen the full look yet. What we do have is phenomenal, though. I love the throwback logo above the nameplate, and the black outline around the numbers is a subtle detail that makes the jersey pop. White pants seems like a reasonable guess, and a scroll through the 1960's section of Tech's page on helmet history probably gives us a good idea of what the final version will look like.
12. Ohio State (Last week: 11)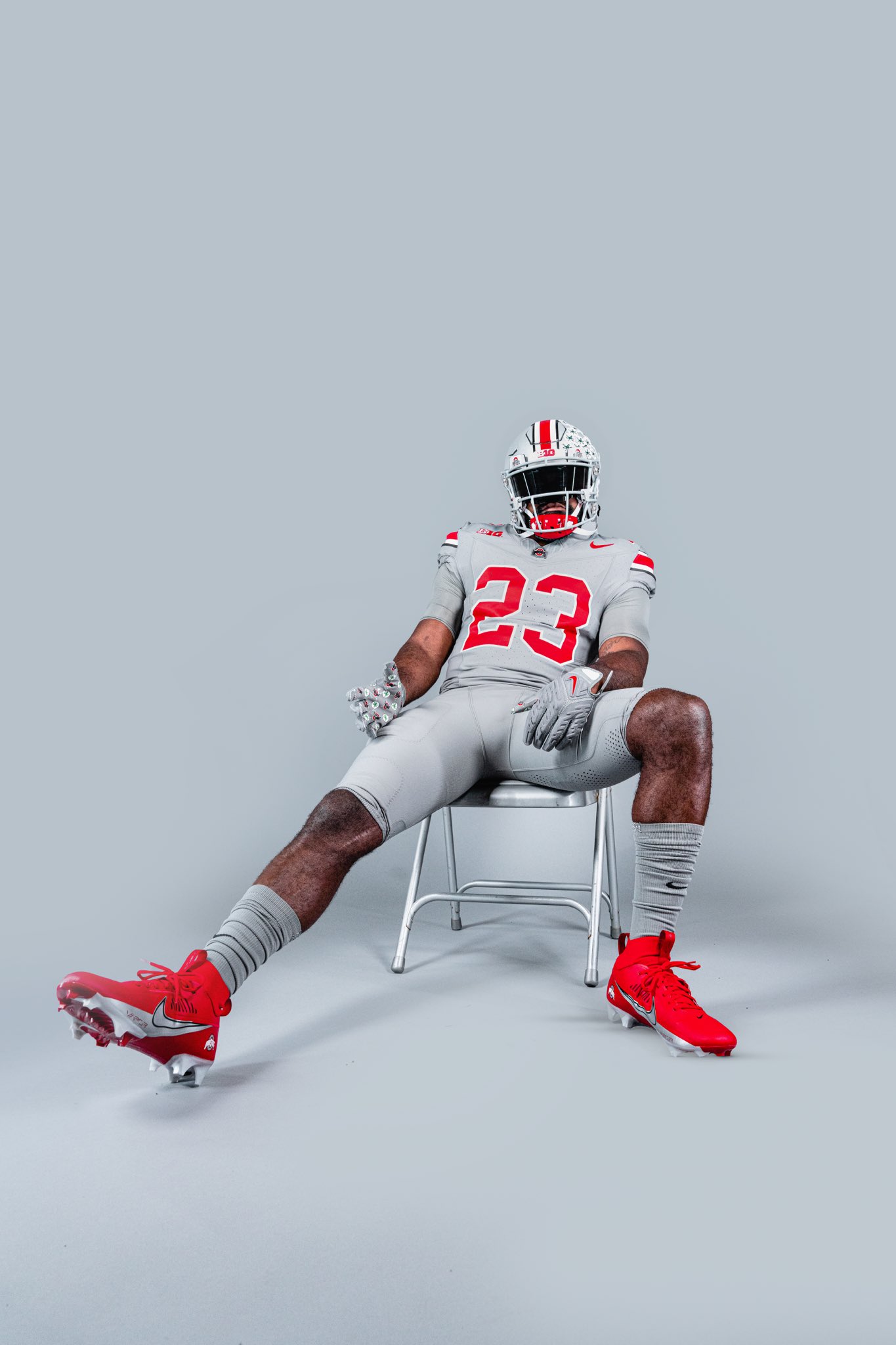 I'm still a big fan of these, but they'll keep floating towards the bottom of the top-25 each week until the Buckeyes actually wear them for their November 11 prime time game vs. Michigan State.
11. Nevada (Last week: 10)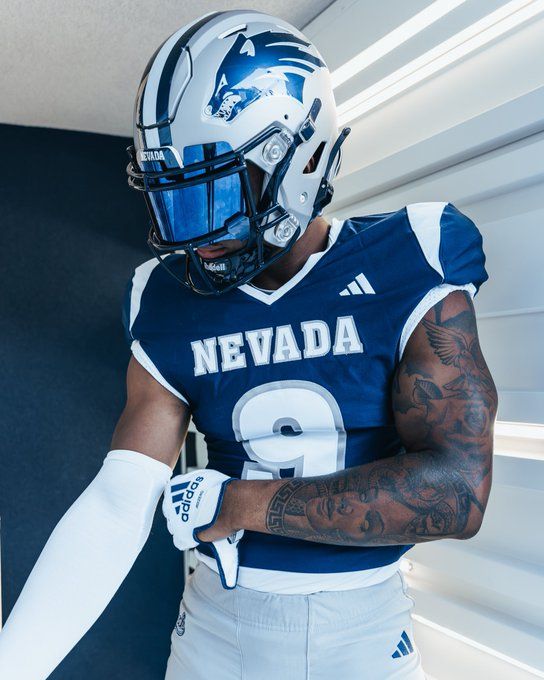 I have a feeling that the Wolfpack are in for a rough season, but throwing it back to the mid-2000s was still a great decision.
10. Vanderbilt (Last week: 7)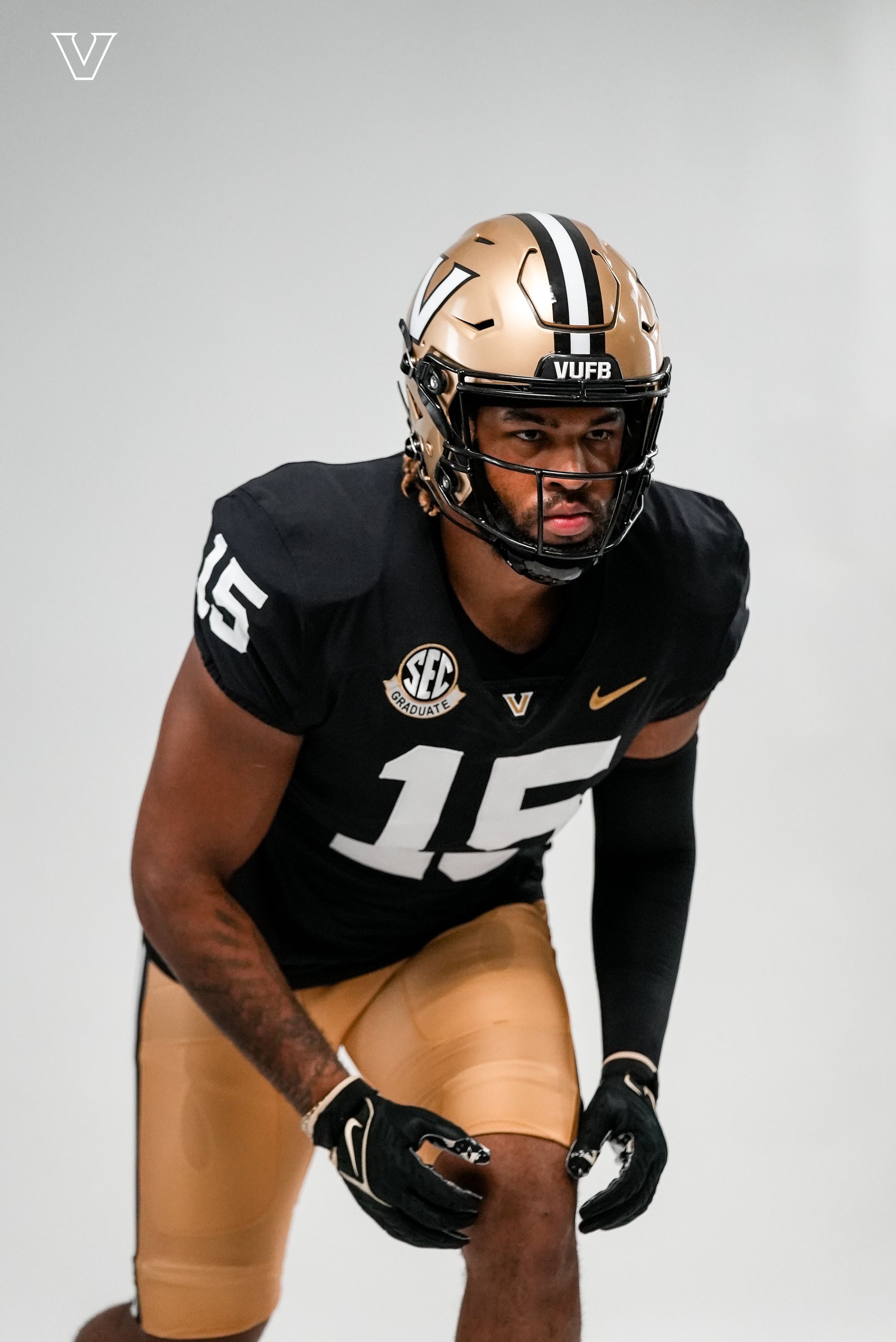 If you really want a Vanderbilt uniform deep-dive: @JerryLawless3 on Twitter put together an interesting thread on these + what else Vandy will do this year:
9. Iowa State - Jack Trice Legacy Game (Last week: 9)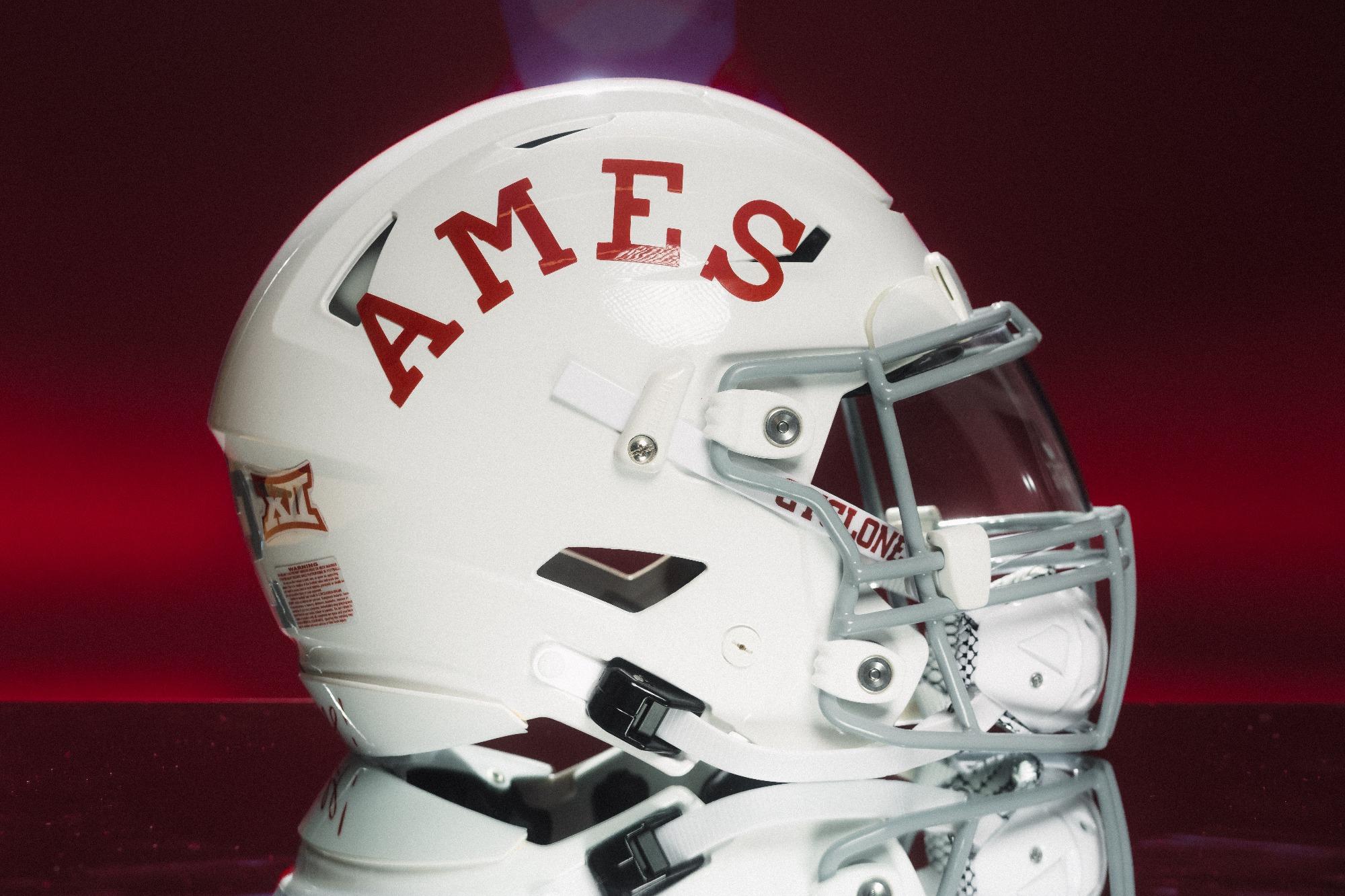 It's understandable that opinions on these are divided, but I'm a fan. Iowa State's breaking them out for their Jack Trice Legacy Game on October 7 vs TCU. The jerseys and pants pay homage to the uniform Trice wore at ISU in 1923, while the 'Ames' helmet script is a shoutout to what Cyclones sports teams were referred to as during the time. Again, I get why some people don't like them, but I love when teams do a one-off throwback/fauxback like this.
8. Mississippi State - 1998 throwbacks (Last week: 8)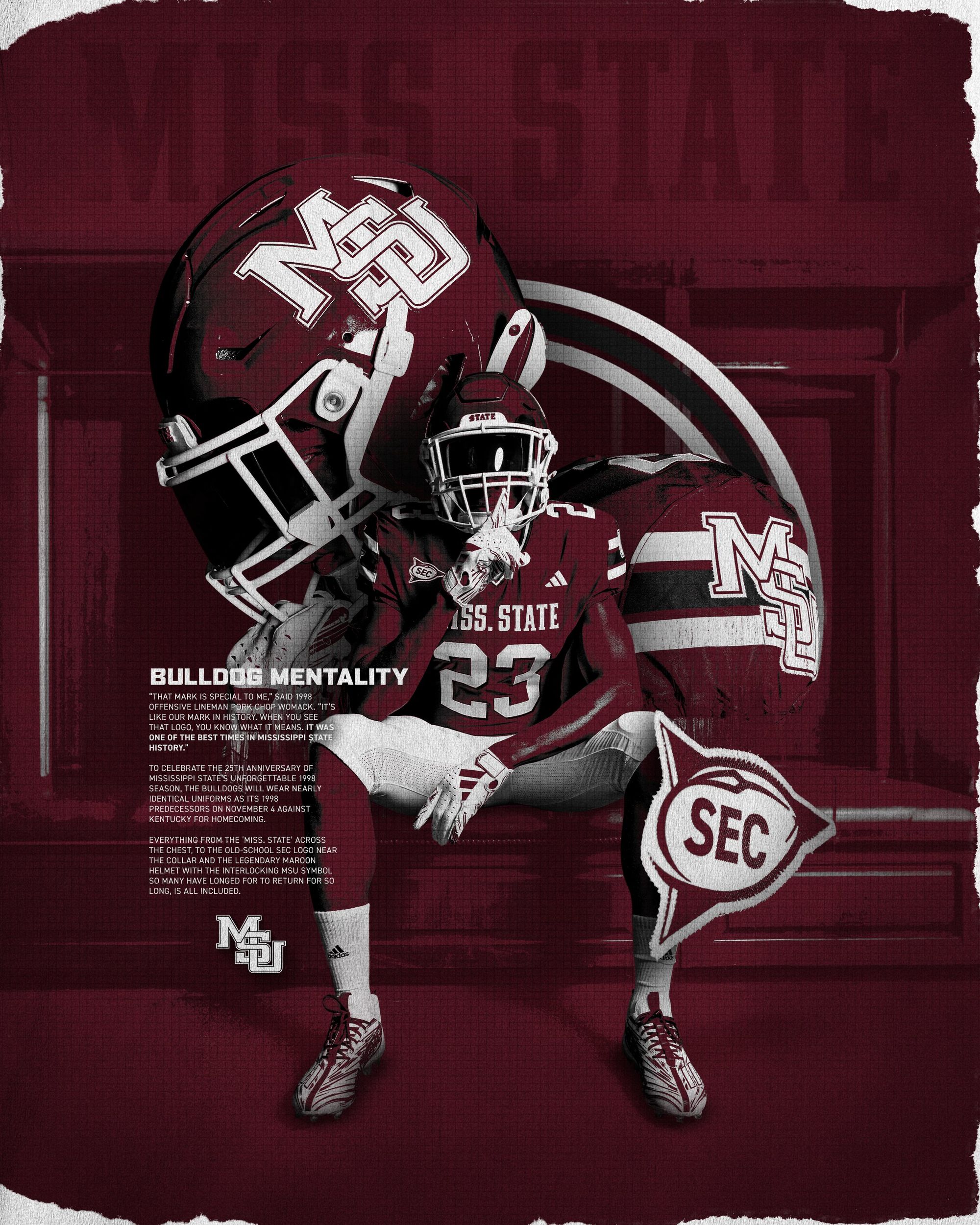 I could spend 400 words telling you how much I like these, or I could just point out how fucking sick that throwback SEC chest patch is and let the rest of the uniform speak for itself. I choose the latter. (Read more about them here.)
7. Maryland - Black script 'Terps' (Last week: NR)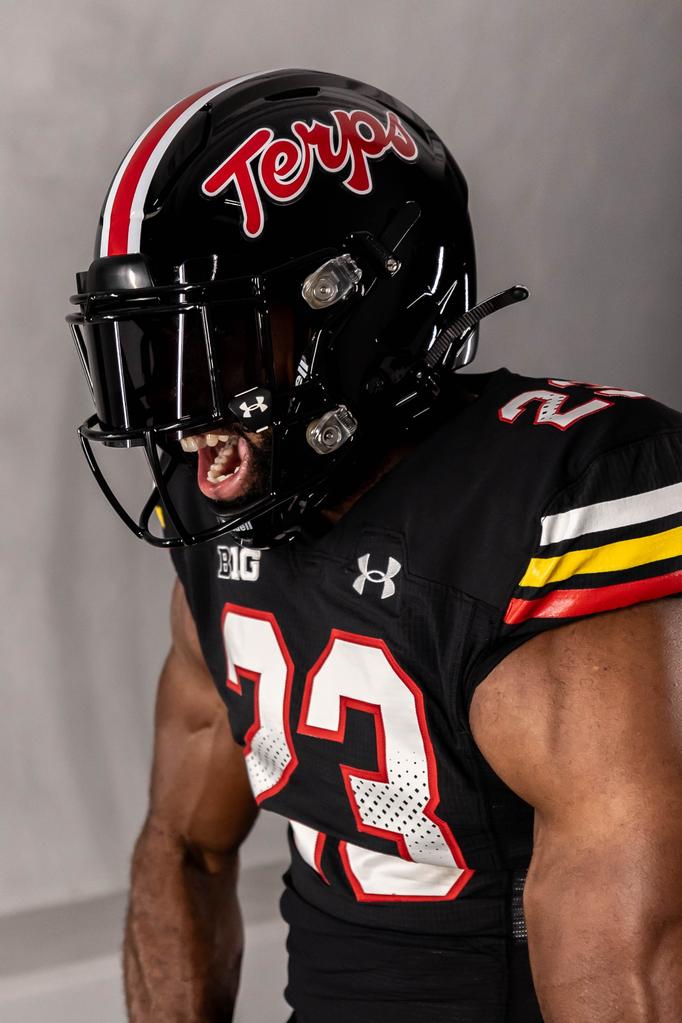 Our second new addition to the top-25. I said last week that these would be high on my list as soon as they dropped, and here we are! Maryland's rocking them for their September 15 game vs. Virginia, and there's still an unreleased gold version that they're wearing on November 4 vs. Penn State.
6. Kansas (Last week: 6)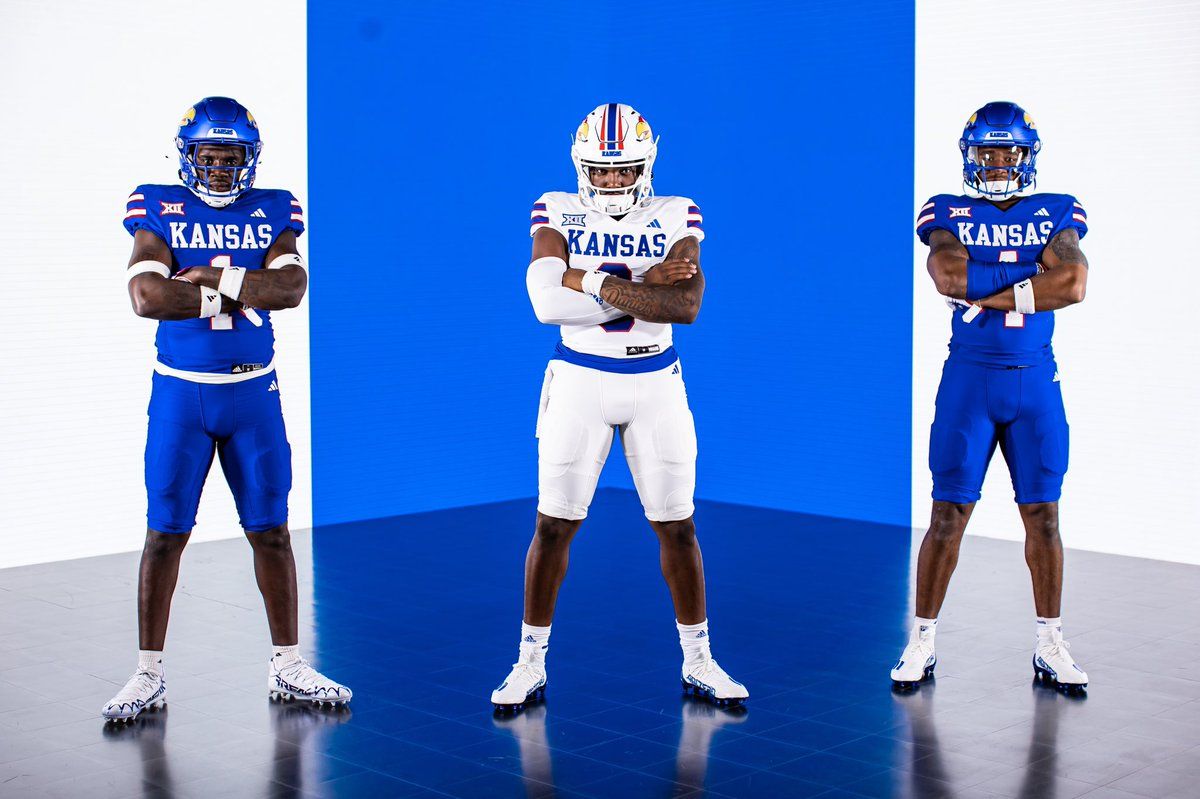 I don't know if these are "better" than Maryland's, but Kansas gets bonus points for doing a complete 180 from how awful their previous set was.
5. Colorado State (Last week: 5)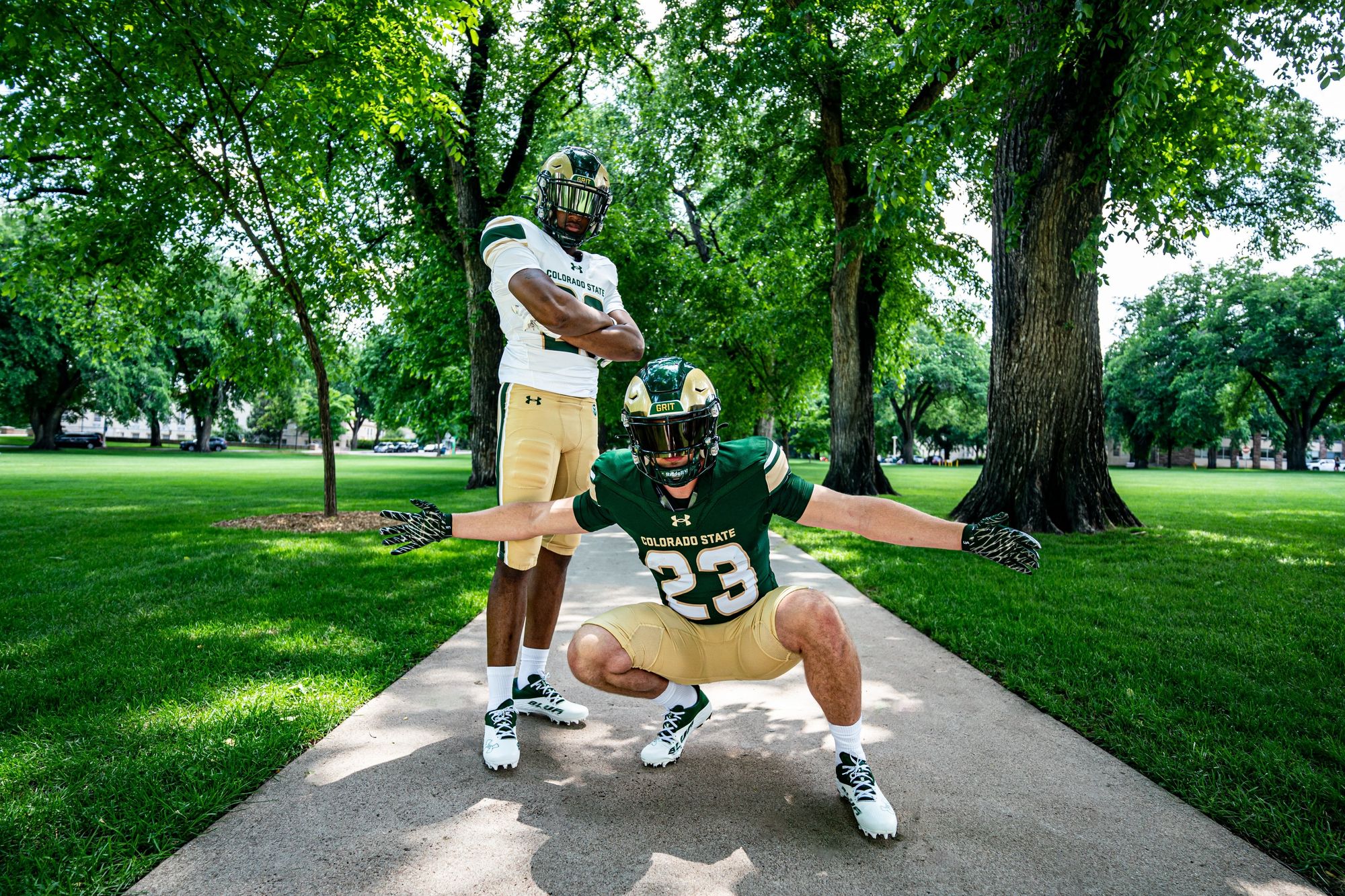 CSU's uniform identity has been in a weird place over the last decade-plus. The Colorado State Flag alternates and the orange and green Aggies throwback both kick ass, but the regular home and away uniforms have been lacking any sort of personality or distinguishing trait. Until now!
I can't get enough of those shoulder stripes, which I dare say look inspired by the Rams' biggest rival. Regardless, the thick stripe is beautiful in green and gold, and the pants stripes are great, too. Small changes can make a world of difference, and these are simply beautiful uniforms. How can Under Armour be responsible for both these and the UAB uniforms?!
4. Oklahoma State (Last week: 4)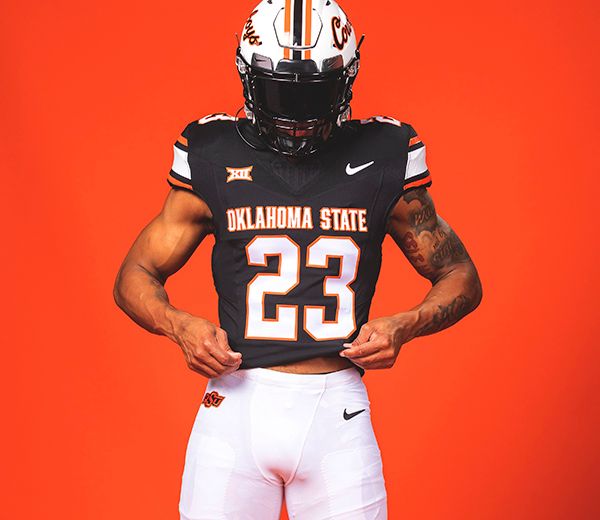 I have to figure out if I'm gonna let teams have multiple uniforms of the same base set in the top-25 when the season starts. Every single one of these is taking a spot if I do.
3. Florida State (Last week: 3)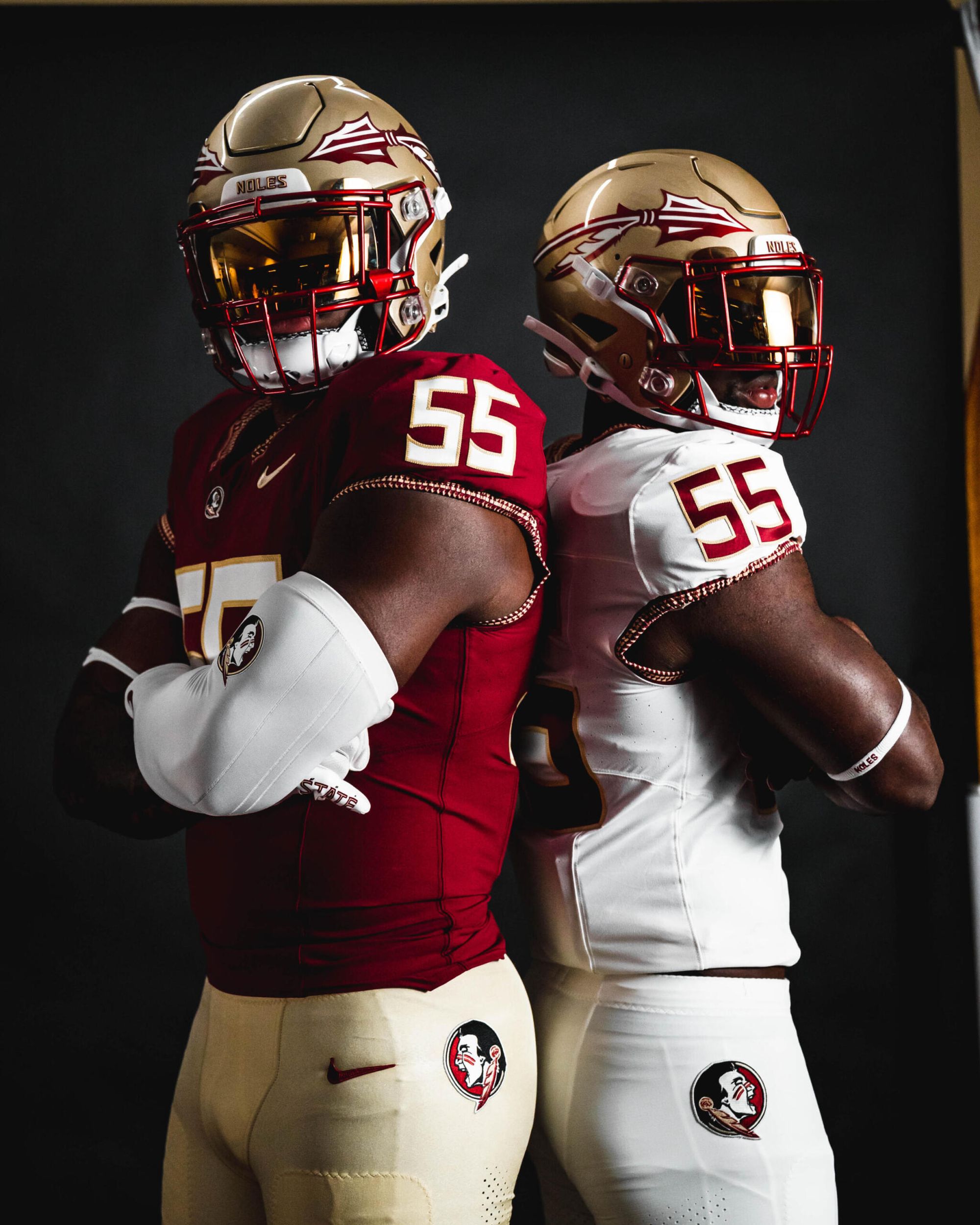 There's nothing else to say here other than this feels right. No more ridiculous pattern on the shoulders, and the size of the collar pattern has been reduced. The numbers on the front of the jersey look smaller, and I dig that they're also on the shoulder panels. They probably have some kind of alternate ready for mid-season as well, but this is exactly what Florida State should look like.
2. Air Force (Last week: 2)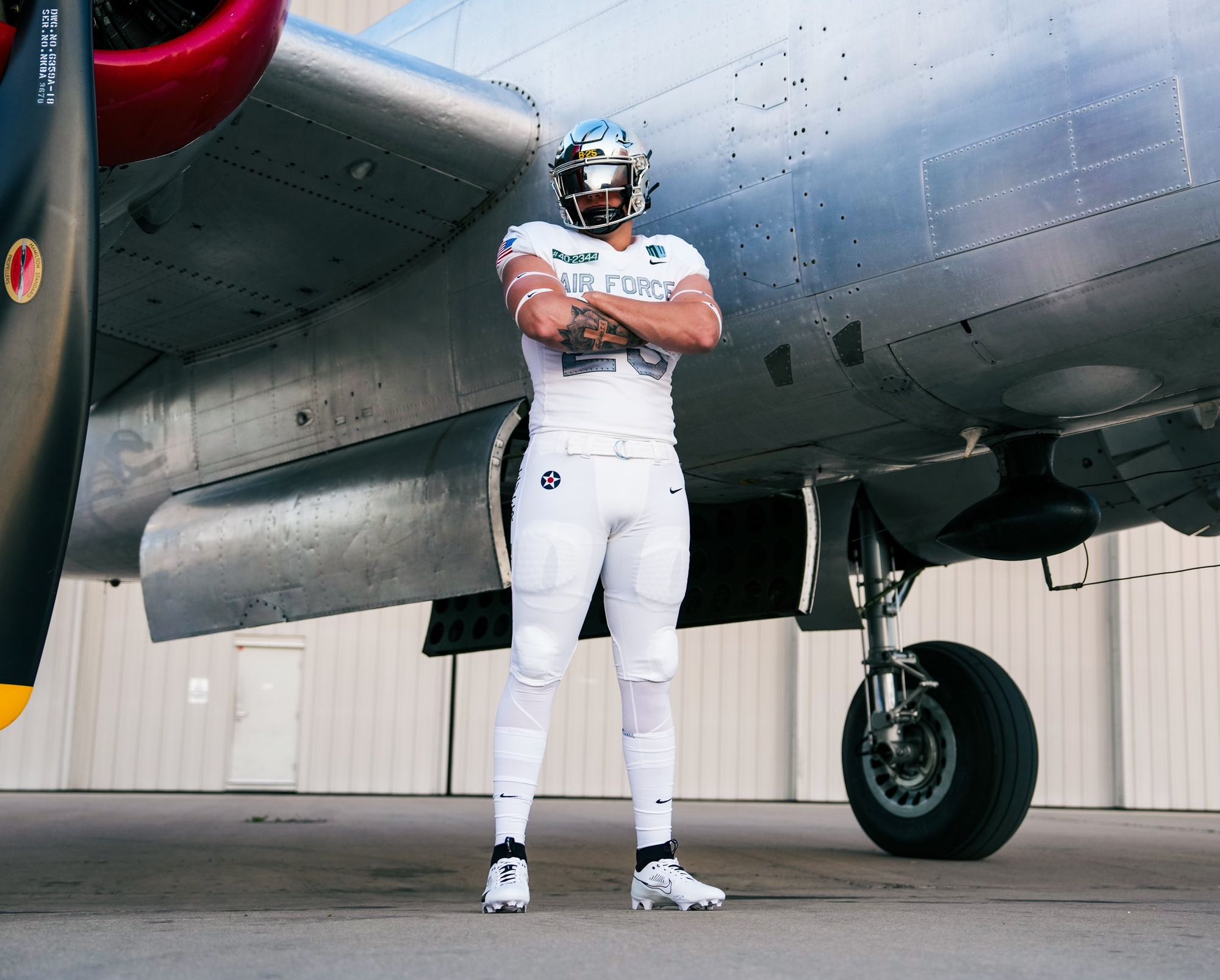 Still can't believe they tweeted this:
1. UTEP - 1988 Throwbacks (Last week: 1)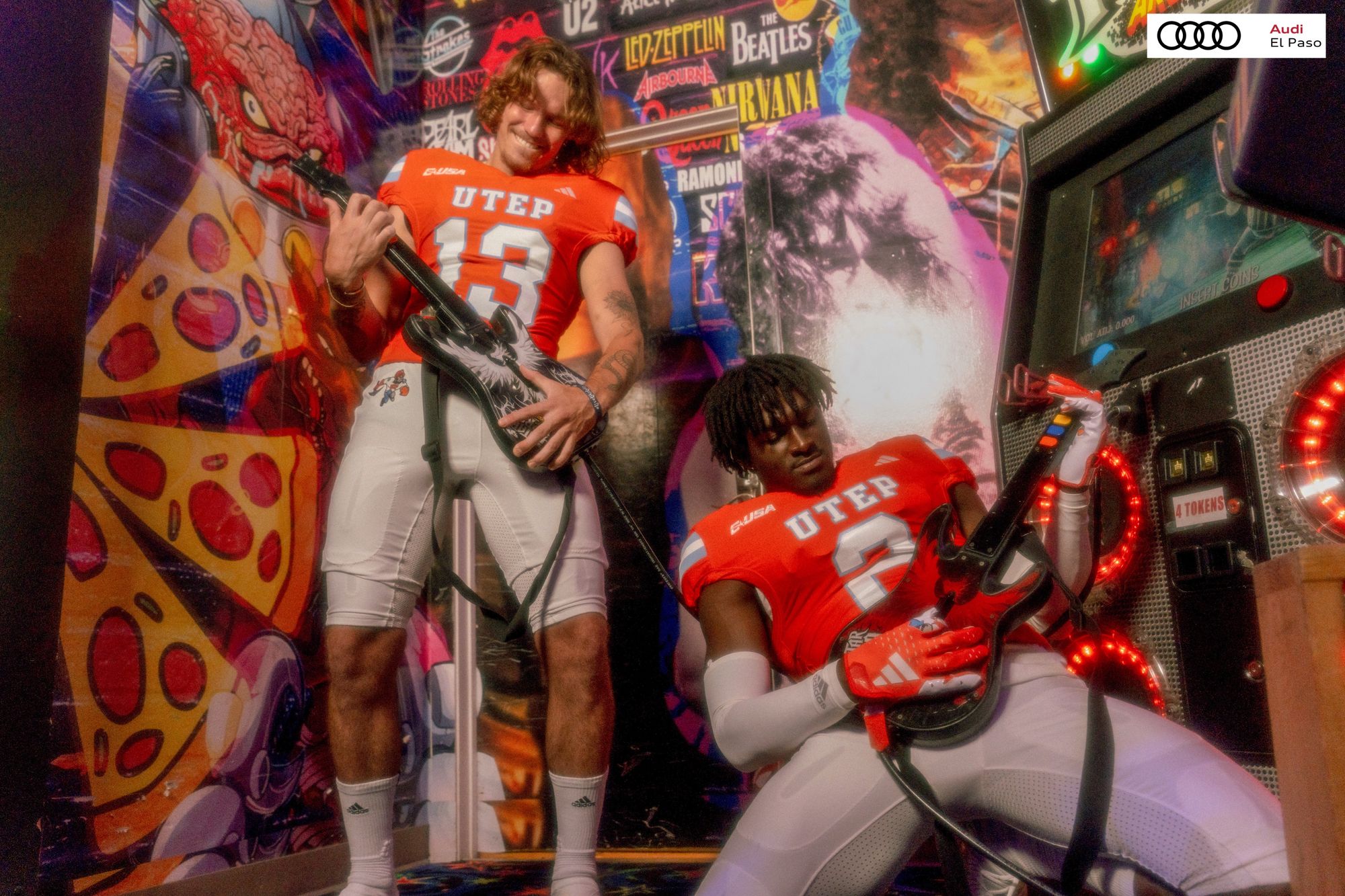 The undisputed king still reigns heading into the season. Get ready to see what these look like on the field next week vs. Incarnate Word.