2023 Season
10 Takeaways: Week Eleven
Spectacular individual performances headlined an exciting week.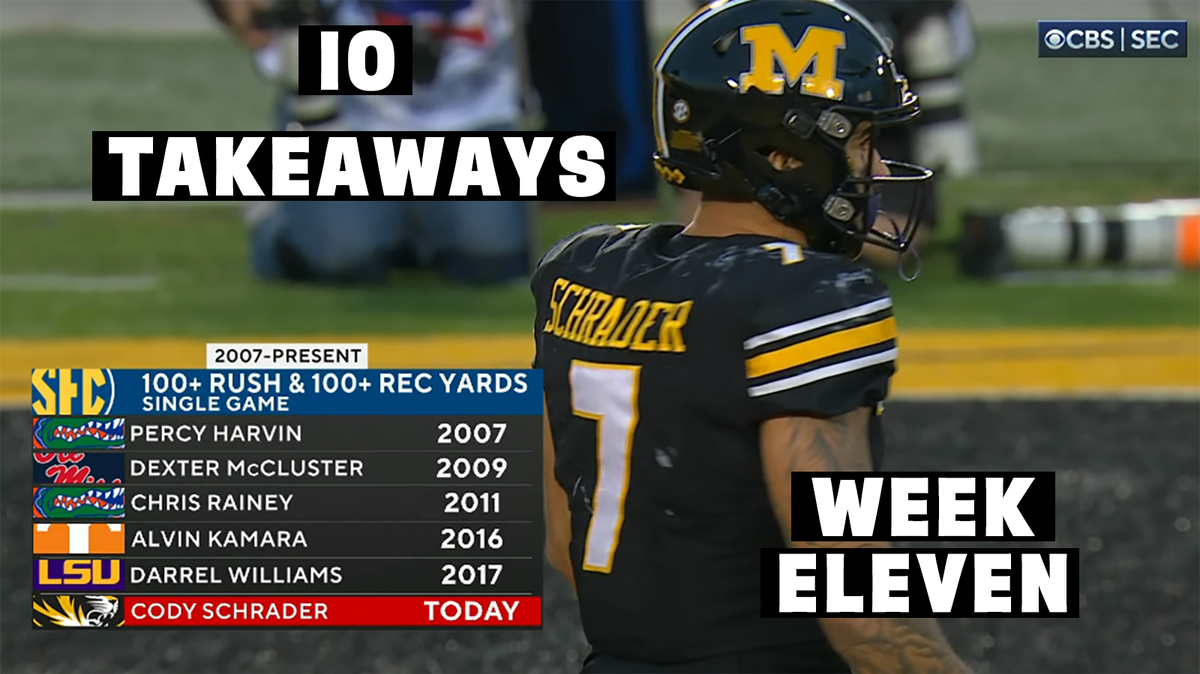 For those reading on e-mail: click 'view in browser' to see the full contents of today's post
---
10 Takeaways: Week Eleven
1. Penn State-Michigan was the perfect example of what good coaching vs bad coaching looks like
I really don't have a strong opinion on what's happening at Michigan right now outside of 1) They very obviously cheated, and 2) No matter what the outcome is, I've enjoyed watching their fanbase squirm for the last month. But whatever you or I think about that whole situation, the Wolverines are clearly one of the best teams in the country. Beating Penn State on the road with Jim Harbaugh on hotel arrest also showed just how much more well-coached they are than the Nittany Lions.
Michigan knew they had control of the game, and they were running the ball well - so what did they do in the second half? Nothing stupid:
On the other hand: Penn State's failed two-point conversion when they were down 14-9 late in the first half meant they were chasing points for the rest of the game. So what did James Franklin do when they scored to make it a nine-point game with under two minutes left in the fourth quarter? They went for two again, didn't get it (again), effectively killing any small chance they had of a comeback.
This was a classic Penn State disasterclass under Franklin. My favorite moment was this fourth and six where they tried to dummy Michigan into jumping offsides, but did it from a tight formation that was a dead giveaway they were going to just burn a timeout:
They converted after the timeout, but it was the perfect example of how hard Franklin and his staff try to galaxy brain their opponents in these big games and almost always come out of it looking stupid. Exhibit B:
It shouldn't shock you that this broke on Sunday morning:
Anyway, kudos to Michigan on avoiding the noise of the circus around them, playing their style of football, and generally being the anti-Penn State when it comes to how they coach. Weird how that leads to success!
2. What a day for Missouri's Cody Schrader
Missouri beat the breaks off Tennessee, and running back Cody Schrader joined some elite company in the process. His 205 yards rushing and 116 receiving made him just the sixth SEC player since 2007 to put up a 100-100 game. The other guys? Percy Harvin, Dexter McCluster, Chris Rainey, Alvin Kamara, and Darrell Williams.
3. Win big, get fired
It's gonna be a juicy week for the Hot Seat Rankings, as Jimbo Fisher and Andy Avalos are officially out at Texas A&M and Boise State. Both getting fired isn't totally out of left field, but it's a bit weird after they each crushed conference opponents the day before:

This year's coaching carousel is setting up to be more chaotic than people realize, and there will be a few other names that join them (and me) on the unemployment line this time next week.