CFB
Five Random Games you Should Watch This Week: Week Four
Plus, three players to keep your eyes on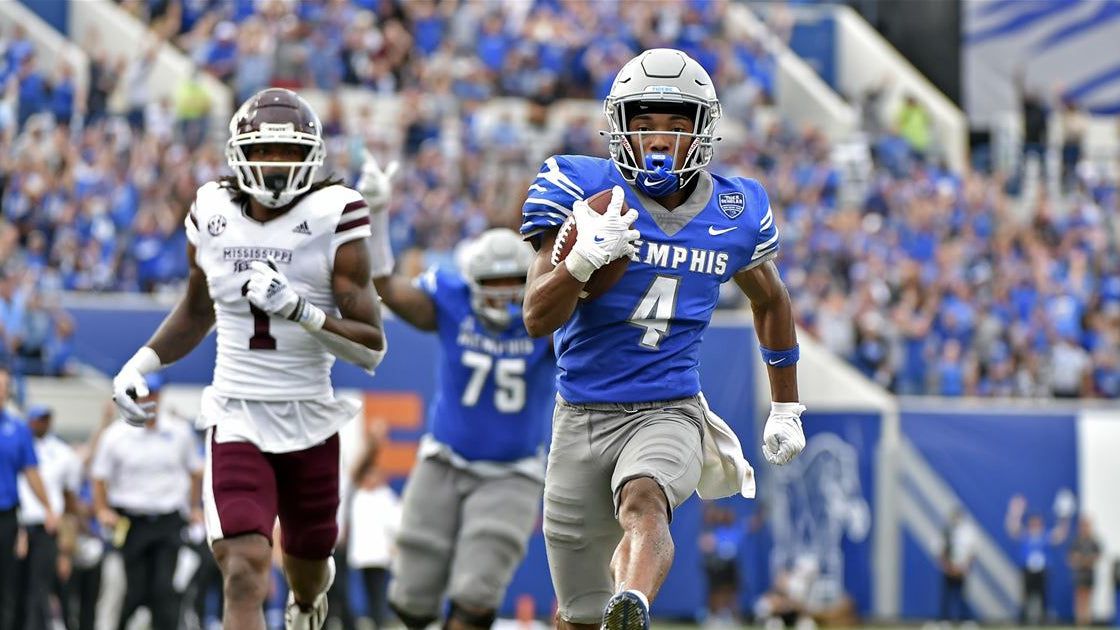 You, employed with a good job, and a strong family life that doesn't revolve around football each weekend: Man, I gotta make time to watch Wisconsin-Notre Dame and Texas A&M-Arkansas this week!  
Me, recently taken off pandemic unemployment benefits because our country's leaders are toothless, bottom-of-the-barrel scum, while also trying to avoid the existential dread of our god-awful planet by spending all my energy on this website because I love this shit: Actually, let me add five random games you don't care about at all to your plate.
Wake Forest (3-0) at Virginia (2-1) - Friday 7:oo PM ET, ESPN2
I might be thrown in jail for saying this, but: I love watching the ACC. Mostly because of Clemson's struggles and Florida State looking like they belong in Conference USA, but there are good things, too! Wake Forest-Virginia is one of them. UVA quarterback Brennan Armstrong is averaging 432 (!) yards passing per game, while Wake Forest just streamrolled FSU on the road. There's also this:
San Jose State (2-1) at Western Michigan (2-1) - 2:00 PM ET, ESPN+
Your G5 game of the week. My glorious Spartan sons have a nasty defense. WMU has one of my favorite quarterbacks in the country in Kaleb Eleby. Sign me up.
SMU (3-0) at TCU (2-0) - Noon ET, FS1
I'm here only for the 2024 Big 12 championship preview vibes.
LSU (2-1) at Mississippi State (2-1) - Noon ET, ESPN
The fact that one of these head coaches is guaranteed a loss is good enough for me to recommend this game to you.
UCLA (2-1) at Stanford (2-1) 6:00 PM ET, PAC12
Stanford might finally have a QB, and I'm ready to walk back my years of David Shaw slander. They've dumptrucked USC and Vanderbilt on the road the past two weeks, and I'm a believer. UCLA's fresh off of making my Rose Bowl column irrelevant in their loss to Fresno State, so why should you even watch this game? (Well, illegally stream because it's the Pac-12 Network).
Because of this:

Stanford hosts Oregon next week, and spoiler: They're going to beat them to a pulp. Come join me on the bandwagon while you can.
---
THREE BADASS PLAYERS TO START PAYING ATTENTION TO
Calvin Austin III - Wide Receiver, Memphis
You probably saw the crazy punt return last week, but Calvin Austin III's ability demands far more than one viral moment against an SEC team. He's legitimately been one of the most dangerous players in the country:

Austin is a do-everything piece for the Tigers, and one of those special players you should enjoy now before the online NFL Draft scouts say he can't play because he doesn't run enough hitch routes.
JL Skinner - Safety, Boise State
I confess to knowing nothing about JL Skinner before watching the replay of Boise State-Oklahoma State –please someone hire me, I can't continue to live this way– but I couldn't help but laugh out loud as I watched this dude almost singlehandedly destroy Boise's offensive gameplan. He made three of the most violent –and clean– hits you'll see in modern football, had what should've been a possible game-winning scoop-and-score, and he deserves your attention.
Kenneth Walker - Running back, Michigan State
Walker is a dude I've been watching since he was at Wake Forest, and it's not surprising that he's tearing it up at Michigan State. He runs like he's the train conductor of the Fuck You Express, and he's brought life to an offense that's been searching for it for almost six years.