10 Takeaways
10 Takeaways: Week 11
Kamryn Babb and Cadillac Williams are everything right about CFB, NC State's bad loss, and more.
(PSA: Click 'view online' if you're reading on e-mail to see all the content in this article.)
1. Iowa's going to win the Big Ten West (again)
The Hawkeyes' 24-10 win over Wisconsin was a perfect representation of their whole season, and I'm convinced that they're going to weasel their way to another Big Ten Championship appearance, odds be damned: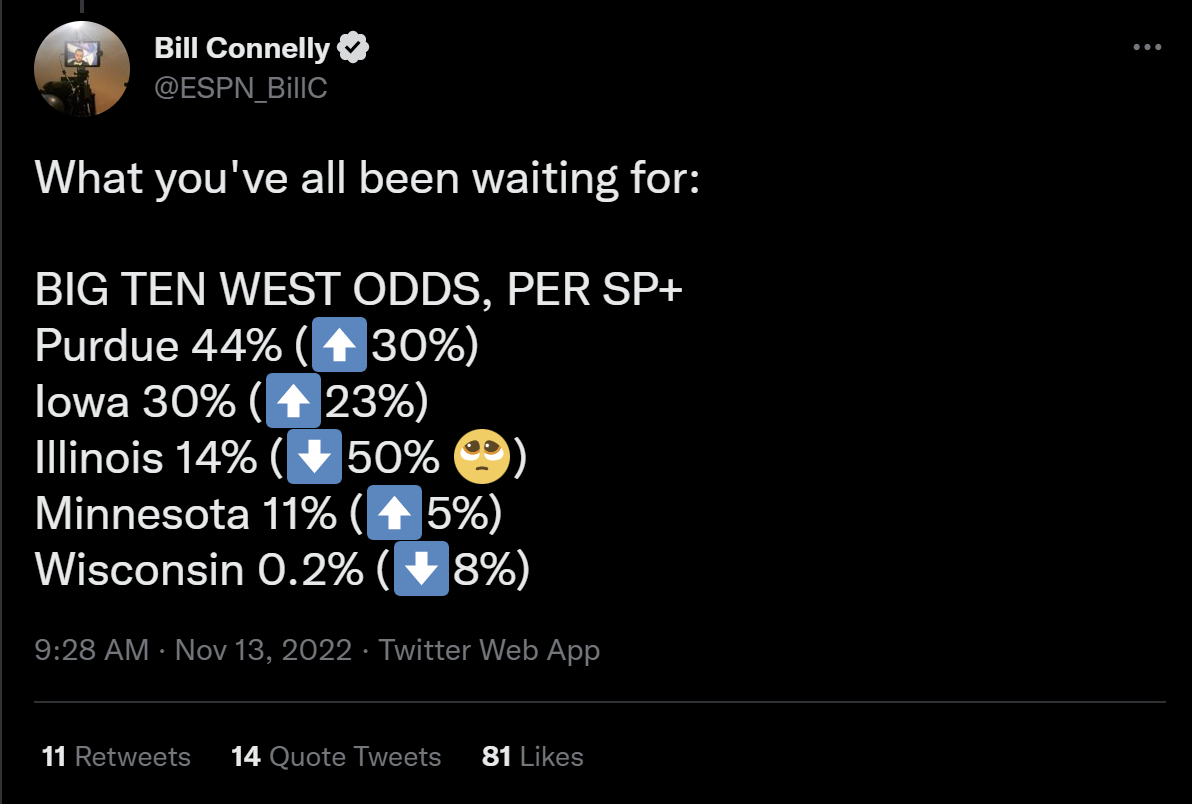 Despite being outgained 227-146, punting nine times, and averaging just 2.1 yards per play, they still beat the Badgers by two touchdowns because their defense and special teams were just that dominant. The defense forced three turnovers, scored a TD on a pick six, and held Wisconsin RB Braelon Allen to 40 yards on 17 carries. Meanwhile, the punt return unit basically handed the offense two touchdowns on a platter. A second quarter blocked punt gave Iowa's offense the ball at the Wisconsin 17, and a 41-yard return in the third set them up at the Wisconsin 18 for two easy scores. It's almost impossible to fuck that kind of field position up, even for an offense as bad as theirs.
Some things have to happen for them to take the west, but I'm convinced that this is the most likely scenario:
In case you were wondering, here's the full list of what's possible:
2. TCU-Texas was unexpectedly grimy
I think we all went into the TCU-Texas game with expectations of a 2008 Big 12 shootout, and we got a 2008 SEC slugfest instead. To be honest, I loved it. I'm so impressed with the way TCU's defense attacked Texas, and in particular how they defended Bijan Robinson. He only had 29 yards on 12 carries, and it felt like four TCU defenders were on him every time he touched the ball. They also harrassed Quinn Ewers all night –who admittedly missed some throws– and showed that they're at least capable of winning a rock fight if they need to. The offense did just enough, and the Max Duggin-Quentin Johntson combo is one of the best in the country with a game on the line. You can debate all you want about whether they'd beat Alabama/LSU/Tennessee on a neutral field, but they're undefeated and have done enough in my eyes to be in the top four until they lose.
3. Cadillac shows how it's done
There's nothing I can say to truly capture how special Cadillac Williams' postgame interview after Auburn's 13-10 win was. This is everything that makes college football the best sport in the world:
4. Play of the week: Kam Babb's perseverance pays off
In the same vein, the first catch of Ohio State senior WR Kamryn Babb's career led to one of the most special moments of the season:
5. Carson Steele for Heisman
Ball State lost 28-21 to Toledo, but it was through no fault of running back Carson Steele, who had 198 yards and three TDs on 28 carries:
Steele's 1,280 rushing yards are fourth nationally, and he's been on a tear lately, rushing for 398 yards the last two weeks. Steele's been one of my favorite players to watch this season, and runs with a type of reckless abandon that you don't see much anymore. I know most people aren't going to go out of their way to watch a Ball State game, but they play Ohio on Tuesday night, and it's worth your time to watch just to see Steele run like a madman.
6. Player of the Week: Central Michigan QB Bert Emanuel Jr.
7. Ranking the 5 worst losses of the season
NC State's horrendous home loss to Boston College got me wondering what the worst L's of the season are, so I complied an (un)official top five:
5. Northwestern 31, Nebraska 28 (Week 0)
Is Scott Frost still in Lincoln if Nebraska doesn't completely blow this game? Probably not! Nebraska isn't any good, but they still had no business losing to a Northwestern team who hasn't won since and looks primed to finish the year 1-11.
4.  Georgia Tech 26, Pitt 21 (Week 5)
Pitt's had a weird year. They're 6-4, which is actually not too bad given the talent they lost from last year's team. They won that crazy opener vs. West Virginia, took Tennessee to overtime the next week, and were sitting at 3-1 by the time they faced a Georgia Tech team fresh off firing Geoff Collins. What looked like an easy win on paper turned out to be a 26-21 loss at home that really wasn't even that close. The loss effectively killed any idea of Pitt winning the Coastal again, as well as a possible 10-win season. (As dumb as it sounds, that was on the table if they simply won this game!)
3. UTEP 27, Boise State 10 (Week 4)
I said that Boise was "toast" after this game, and in hindsight maybe it was just the kick in the ass they needed to get things in gear. They fired Offensive Coordinator Tim Plough the day after, and eleveating Dirk Koetter seems to have paid off big-time. They've won five of six games since, putting up 35-plus points in four of those. This loss still stinks because UTEP is 4-6 overall, but Boise at least turned it into a positive.
2. Indiana 23, Illinois 20 (Week 1)
I'm still not sure how Illinois lost this game. Maybe it was just a random week one thing, but it's Indiana's only conference win in the last two season, and it's probably going to be the game that costs Illinois the Big Ten West title in the long run.
1. Boston College 21, NC State 20 (Week 11)
NC State's been primed for a dumb loss all year, but that doesn't make what happened last night at home against Boston College any less shocking. BC came in on a four-game losing streak, with a QB making his second career start, and left Raleigh with maybe the most stunning win of the year:
8. What a bounce back year for Washington
I was bullish on Washington heading into the season, but even I'm a little bit surprised that they're actually 8-2 right now. The Jimmy Lake fiasco coupled with horrendous injury luck made last year's team much worse than they should've been, and 2022 has been a major course correction. Michael Penix Jr. has been fantastic at QB, the offense is explosive as hell, and Kalen DeBoer is just flat-out a stellar coach. They were the better team against Oregon, and they fought through a couple of nasty self-inflicted mistakes to got a much deserved win in a harsh environment. I don't know what their ceiling ultimately is under DeBoer, but I'm glad the Huskies are back making noise in the Pac 12.
9. Assorted other thoughts
Bryce Young is one of the best college quarterbacks I've ever seen. Every time that offense looks like they're dead in the water, he drags their ass out of it with some ridiculous play. He's willed that team all season, and I don't think it's crazy to say that he's even better now than he was last year when he won the Heisman.
The Virginia schools are awful. I know Tony Elliott and Brent Pry are in tough year-one situations, but both of these programs look like they're in for a brutal rebuild. Tech has lost seven straight, while Virginia's lost three straight, and six of their last seven. They play each other during the final week of the regular season, so at least one of them will end the year on a positive note.
I should've put Vanderbilt's win over Kentucky in the top-five worst losses of the season section, but I don't want to go back and edit it now, so it lives here. Will Levis had the type of game that's going to cause civil war on NFL Draft Twitter, but good for Clark Lea and the Vanderbilt program on getting that type of W. It does make me wonder if we're seeing the last couple games of the Mark Stoops Kentucky era, though.
Oklahoma's going to be one of the most fascinating programs in the country to watch in the offseason. Even the most staunch Brent Venables supporters in that fanbase have to at least be wavering a little. They've got some serious issues to figure out over the next 9 months.
Jimbo Fisher is cooked. A&M still has a solid defense, but that team looks like they have zero leadership from the top down, and it shows in their play.
10. Early week 12 thoughts
Illinois won't keep up offensively, but their defense vs. Michigan's offense is one of the best matchups of the week.
Minnesota isn't scoring more than 9 points against Iowa.
USC-UCLA and Oregon-Utah are two bangers. The Pac 12 might not have a top-five team, but this is as strong as the conference has looked in a long time from top to bottom. (Minus Colorado.)
South Carolina pulls a stunner and beats Tennessee.