10 Takeaways
10 Takeaways: Week One
Thoughts on Coach Prime, Travis Hunter's legendary performance, and an exciting week one.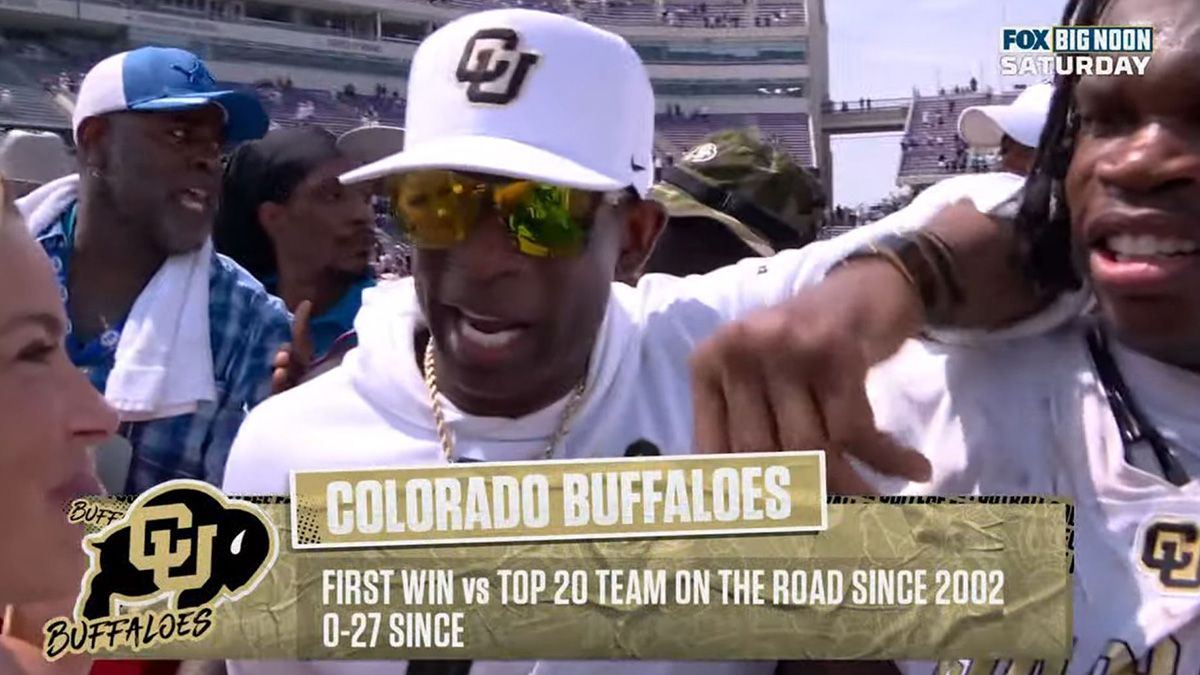 For those reading on e-mail: click 'view in browser' to see the full contents of today's post
---
What week one lacked in titanic showdowns, it made up for in pure excitement, fantastic individual performances, and great finishes. Here are my biggest takeaways from a very enjoyable week one:
1. Colorado and Coach Prime are here
I'm writing this on Sunday night, and I still can't quite process Colorado's 45-42 win over TCU. One year ago yesterday, the Buffs got smacked 38-13 by the Horned Frogs in Boulder, leaving team captains questioning the mentality of their teammates in Karl Dorrell's program:
A year later, the Buffs overcame three separate second half deficits to beat the national runners-up on the road in Deion Sanders' major college football debut. There were at least five separate times I thought Colorado was out of gas, and they managed to pick themselves up every time and produced the biggest win for the program since they clinched the 2016 Pac-12 South title vs Utah. More than anything else, the way they kept fighting back despite TCU's second half onslaught is a testament to the dramatic nature Sanders has already changed the Colorado program.
I said last week that the college football world would lose its collective mind at whatever happened in this game, and that, "Win or lose, Deion's almost guaranteed to say something that'll set the college football world on fire." Well:
It's clear that CU still has some major deficiencies. Teams like Oregon, USC, UCLA, Oregon State and Utah are going to bully the interior of their defense, and anyone with good front seven will give their offensive line issues. But what happened on Saturday is real. Coach Prime is here, and I want every Buffs fan to make sure you enjoy every second of this, because we deserve it.
2. Travis Hunter and Shedeur Sanders put on all-time performances
Sorry, but I've gotta stay with the Buffs a little longer. Let's move past the amazing diving interception, the multiple passes broken up, and the 11 catches for 119 yards. Travis Hunter played over 140 snaps in 95-plus degree weather, and did things that I've never seen a player wearing a Colorado uniform do. When CU faced a third and 16 with less than 10 minutes left, I thought to myself, "What if they just throw it up to Hunter?" Sure enough:
Can he keep this up every game? Very likely not, but the fact that he did it even once, and made that many big plays makes it one of the most incredible performances I've ever seen. But I can't talk about Hunter without mentioning the guy on the other side of those 11 catches...
It took Shedeur Sanders one game to re-write the Colorado record book. He's the first CU quarterback to throw for over 300 yards in a game since October 2019. He spread the ball out enough that four different players had over 100 yards receiving for the first time in program history, and he set the CU record for single-game passing yards (510). That total could've been closer to 600 if not for two drops on beautifully thrown passes down the sidelines, too. He faced constant pressure from TCU's front all day, took some hits, and delivered the best quarterback performance in Colorado history in his first game:
3. Wyoming's magical night
After an offseason filled with constant reminders that the power conferences are doing everything they can to distance themselves from the rest of the sport, it was awesome watching Wyoming remind everyone what makes college football special. Their 35-33 overtime win over Texas Tech had as much drama as any other week one game, culminating in a gutsy fourth-down TD, and the winning two-point conversion:
I'm sorry for being corny, but this is what college football is all about: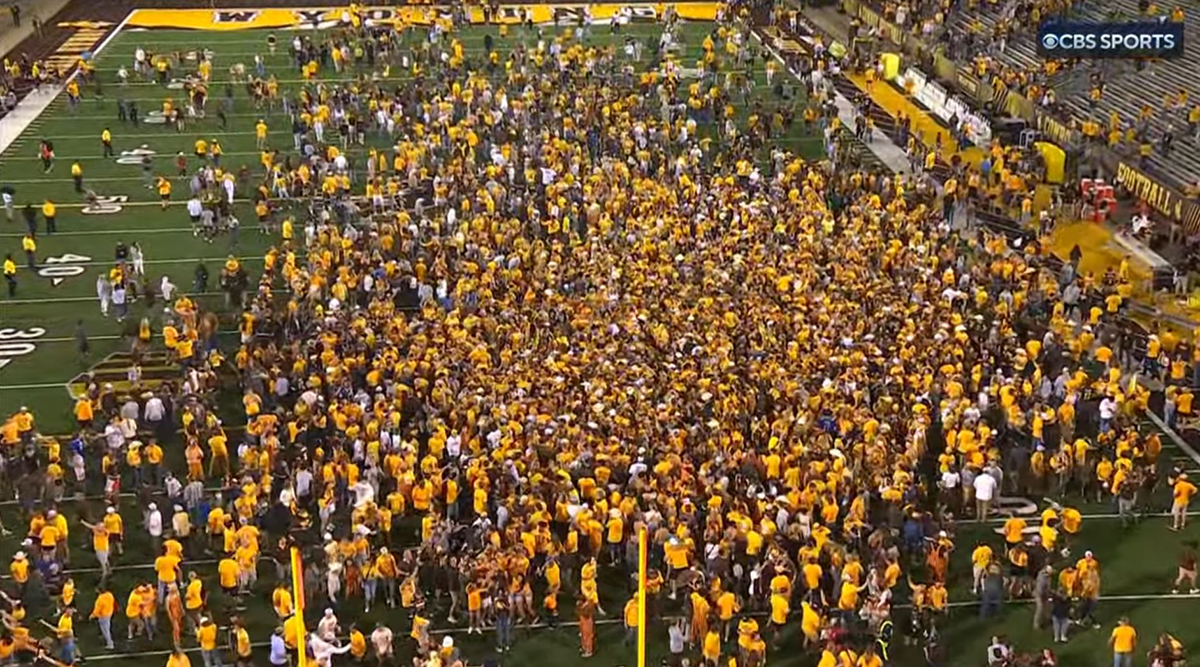 4. That looked familiar, Nebraska
It's gonna take some time for Matt Rhule to get the Scott Frost stench out of his program. Nebraska's 13-10 loss at Minnesota on Thursday night was a carbon copy of everything we've come to expect from the Huskers for most of the last decade, starting with the plethora of late-game miscues on both sides of the ball:
It's tough to say Nebraska deserved to win a game where they lost the turnover battle 4-1, but this one was on a silver platter for them. They had the ball inside the Minnesota five on two separate drives and scored three total points. The defense allowed 55 yards rushing and 3.6 yards per play. A conference road win over a program with back-to-back nine-win seasons would've been an amazing start to Matt Rhule's tenure, and they threw it away - literally. It's far too soon to make declarative statements about Rhule's new program, but that's a thunderous gut-punch to take in game one.
Bonus: I'd be remiss to not show some love to Minnesota receiver Daniel Jackson's phenomenal touchdown to tie the game:
5. The Pac 12-0
I'm not gonna to make a huge deal about the Pac-12 going undefeated this week given some of the teams they faced, but what a fantastic intro for the conference's final season. I already talked about CU, but Utah grinding down Florida, Washington smacking Boise State, and Oregon State slicing through San Jose State on the road were all solid wins. Between Caleb Williams, Bo Nix, Michael Penix, Shedeur Sanders, Cam Ward, DJ Uiagalelei, Dante Moore, and the eventual return of Cam Rising, the Pac-12 has the most exciting set of quarterbacks in the nation, and it's going to be a treat watching them all duke it out each week. We'll learn much more about the conference as a whole this week, with games against Wisconsin, Auburn, Mississippi State, San Diego State, Nebraska, Texas Tech, and Baylor.
6. My Favorite Play of the Week
7. Florida State bullies LSU
The first 30 minutes of Florida State-LSU was on track to be as crazy as last year's season opener. The half was highlighted by big hits, a comedy of errors, drops, and questionable coaching decisions. LSU led 17-14, and probably should've been up at least two scores - but redzone issues, and costly self-inflicted mistakes kept FSU within striking distance. Turns out they desperately needed those extra points, because the Noles hit the jets in the second half, outscoring the Tigers 31-0 until a garbage-time touchdown with less than two minutes to play.
FSU scored points on all five of their second half possessions, including four touchdowns, and made LSU look like they didn't belong on the same field. They controlled both lines of scrimmage, won individual matchups on the outside, and simply out-muscled the Tigers in a dominant, statement-type win. Are the Noles serious Playoff contenders? They certainly looked the part, and their trip to Clemson in three weeks is probably going to give us a definitive answer.
8. Showing some love to a couple of big performances from the G5
FIU rebounded from a brutal loss to Louisiana Tech with a 14-12 win over Maine, highlighted by receiver Kris Mitchell's 9-catch, 211-yard, 2 TD night:
Troy running back Kimani Vidal had 304 total yards against Stephen F. Austin, including a school-record 248 yards rushing:
9. Various thoughts from around the country
Tough weekend for the Big 12. TCU loses to CU, Texas Tech falls at Wyoming, West Virginia pansted by Penn State, and Baylor dropped at home by Texas State in the most baffling loss of week one. It might not get better in week two, either. Big 12 teams play Alabama, Oregon, Utah, Iowa, Troy, Pittsburgh, and Illinois. They're only favored in two of those games 😬.
I thought anything was possible in North Carolina-South Carolina, but UNC winning as thoroughly as they did, plus the fact that their defense played so well (16.5 tackles for loss!) was a pleasant surprise.
I'm not someone who really cares about teams running up the score, but UAB Head Coach Trent Dilfer blatantly gunning for TD up 22 points with under a minute left was foul:
We're officially on Jeff Hafley Hot Seat Watch.
Army's transition away from the triple option isn't off to a great start:
10. Five things I'm excited for next week
The 100th year of Folsom Field kicking off with the Colorado playing their most hated rival (Nebraska) in Deion's first home game. I'm already losing my shit at the thought of him running out with Ralphie.
Alabama running for 300-plus yards on Texas.
Ole Miss travelling to Tulane for what should be a banger. Tulane mashed a very good South Alabama team, and this has to be the Green Wave's biggest home game in a long time.
Troy-Kansas State. Noon on FS1. Hardest hitting game of the week. I'm pleading with you to have this on one of your main screens.
The reaction of losing team's fanbase in Texas A&M-Miami.