2023 Season
What's on the Menu: Week One
Are you ready to consume?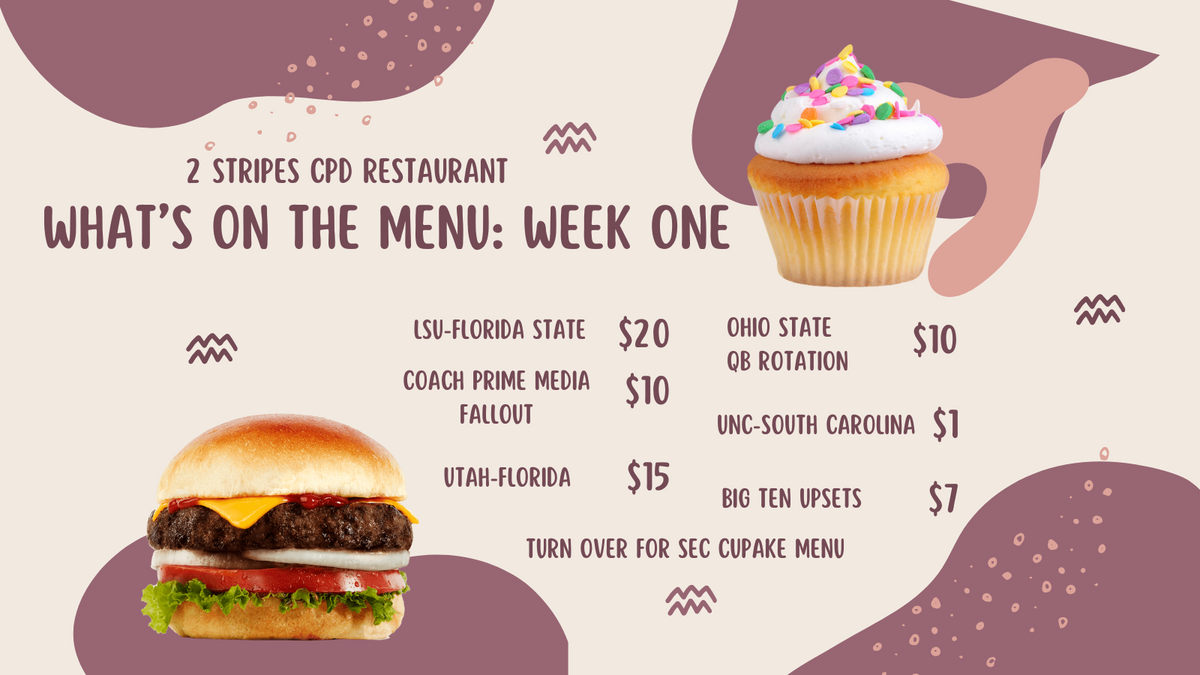 For those reading on e-mail: click 'view in browser' to see the full contents of today's post
---
Every college football website in existence has some kind of "Here's what you should watch," column each week during the season, so I suppose "What's on the Menu" is going to be mine. Here's everything I'm consuming during week one:
WHAT'S ON THE MENU: WEEK ONE
LOTS OF CUPCAKES
The media fallout from Deion Sanders' Colorado debut will be catastrophic
Here's what I said about Colorado-TCU in my '50 Predictions' article:
If CU gets smacked by TCU, the general public won't care that they were 1-11 last year, or that the program has been in the ditch for the better part of 15 seasons. The talk will be that Deion's in over his head, his roster turnover plan through the transfer portal was a bust, etc. etc. If they somehow win? Outside expectations go to the moon. Can Travis Hunter win the Heisman? Are the Buffs Pac-12 contenders? Is Deion primed (sorry) to take over for Nick Saban at Alabama?????? It'll all be out of control, and that's how the whole season will be.
Win or lose, Deion's almost guaranteed to say something that'll set the college football world on fire. Unless a top-five team suffers a monumental upset, the biggest story coming out of week one is likely going to be Colorado, which I don't think any of us could've predicted nine months ago.
I have no idea what's going to happen in LSU-Florida State
Last year's game was one of the wildest of the last decade, and it's hard to picture this one being any different. The winner gets an immediate blue-chip victory for their playoff resume, and sets a strong tone for the rest of their season. LSU's probably the better team, but they're also dealing with the NCAA-mandated suspension of defensive tackle Maason Smith. They still have an incredible defensive front without him, but it's the kind of absence that could be the difference in the game. It's a toss-up, and I can't wait to see how it shakes out.
How does Ohio State use their quarterbacks?
Ryan Day named Kyle McCord Ohio State's starter on Tuesday, but with the caveat that backup Devin Brown would not only play, but get significant run:
I've given Day hell for the better part of the last two years, but if there's one thing he's earned the benefit of the doubt on, it's quarterback play. Not only is it far-fetched to think a Day-produced QB will be bad, but just look at who they're throwing to! I'm not saying he'd be an All-American, but even Joe Bauserman could put up decent numbers throwing to Marvin Harrison Jr., Emeka Egbuka, and co.
I'm less worried that one (or both) of McCord/Brown won't be good than I am about how they'll be rotated. If McCord comes out and leads them on two straight strong touchdown drives, will Day still pull him because that's the plan, or will they go with the flow of the game? At the very least, it sounds like it won't be the J.T. Barrett/Cardale Jones hot-potato situation from 2015, so I guess we just have to wait and see.