2022 Season
10 Takeaways: Week Zero
Meet the new Scott Frost. Same as the old Scott Frost.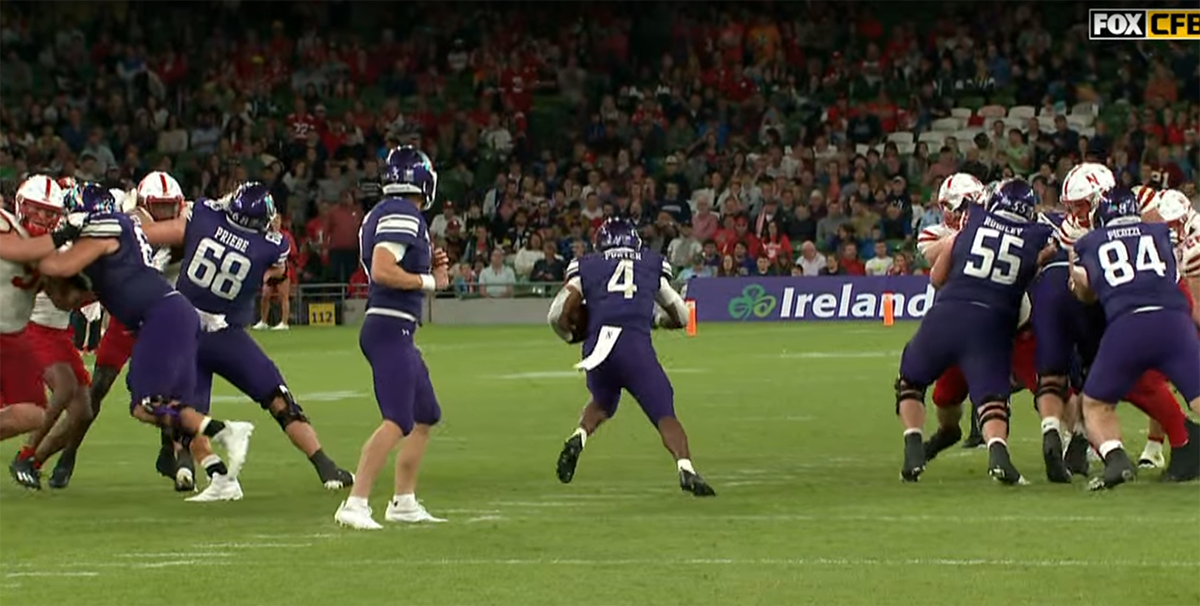 Welcome to 25 Takeaways: The "Week Zero, so it's actually '10 Takeaways' this time" edition. Here are 10 thoughts I have after what we saw go down in week zero.
---
1. Week zero is necessary
I used to not be a fan of how light the week zero schedule always is, but I've come around. It's nice to ease our way into the season with a full day of games that aren't central to the Playoff or Heisman races. Capping it off with games like Vanderbilt-Hawaii and Nevada-New Mexico State ending at 3:00 AM eastern was perfect. Yesterday's slate was a fun appetizer to next week's five-day week one meal.
2. Nebraska-Northwestern rocked
Not in an ironic way, either. The teams combined for 993 total yards, 48 first downs, 4 turnovers, and some legitimately exciting moments. Included in that was one of the most NCAA 07-ass plays I've ever seen:
Between all the excitement on the field, and the entertainment in the stands, it was a hell of a season opener.
3. Nebraska's close-game losses are a feature, not a bug
Nebraska is now 5-21 in one-score games under Scott Frost, –per Bill Connelly– and I think we're well past of point of blaming it on bad luck. The self-inflicted errors they made yesterday looked like the same ones they've been making for the last four seasons, and it starts with Frost.
His decision to onside kick with a 28-17 lead and Northwestern reeling was some of the biggest galaxy-brained shit you'll ever see, and it reeks of a head coach who wants everyone to know how smart he is, rather than just trusting his players to get the job done.
To be fair, they had a hand in the loss, too. Nebraska's defense got shredded for 528 yards, they fumbled in the redzone, threw an interception in plus-territory that led to Northwestern's winning touchdown, and the final turnover that ended the game should've been an easy pitch-and-catch. The execution was just as bad as the coaching, and it would've been an unbelievable way to lose if we hadn't already seen the same exact shit from them 20 times over the last four seasons.
4. Scott Frost still doesn't get it
In spite of all of this, Frost made sure to bury new offensive coordinator Mark Whipple in his postgame comments:
He's made a habit of doing this –mostly to his players– so it's not a surprise, but that's what makes it so funny. On one hand, I respect that the guy doesn't give a fuck. On the other: He realizes his record at Nebraska is 15-30, right? He had to fire almost all of his assistants, give up play-calling duties, and also take a pay cut just to keep his job, and he's still letting it fly like he's got the green light in year one. This is a dude who's willing to die on his own sword no matter what, and I have a feeling that he's going to give us some wild quotes before Nebraska ultimately pulls the plug.
5. This is a real stat
6. Jim Harbaugh operates in his own universe
I don't have a strong take on Michigan starting Cade McNamara in their opener, then starting JJ McCarthy in week two, but to drop the news on Twitter in the middle of week zero had some minor "A-Rod decides to opt-out during the World Series" vibes to it. Say what you want about Harbaugh, but dude operates on his own time no matter what's happening around him.
7. Gene Chizik is going to be back on the SEC Network next year
Mack Brown decided to fix one of the worst defenses in the country by re-hiring his old pal Gene Chizik to run the North Carolina defense. Early returns on that decision: Not great!
Despite having 25 ineligible players and only seven available offensive lineman, Florida A&M scored 24 points on the UNC defense, gaining 335 yards at over five yards per play. UNC led 35-24 going into the fourth quarter before pulling away, but it was a respectable performance from FAMU given the circumstances. It's only one game, but Chizik has some serious issues to figure out if the Tarheels are going to rebound from a disappointing 2021 season.
Speaking of UNC....
8. App State is beating North Carolina next week

9. Big wins for Littrell, Taggart
Seth Littrell and Willie Taggart are on two of the hottest seats in Conference USA, and both managed to snag crucial conference wins in week zero. Taggart's FAU squad beat the brakes off Charlotte, gaining 482 yards at 6.5 yards per play offensively, while the defense recorded a pick-six, held Charlotte to 279 yards, and basically gave up nothing until garbage time, other than an opening drive touchdown.
Littrell's North Texas group went on the road and beat UTEP 31-13, which puts them in decent position to get to October with a 3-2 record, and probably keeps the heat off his ass for at least a few more weeks. We've got a full season to go, but I bet both those dudes are breathing a bit easier today than Scott Frost or Charlotte coach Will Healy are.
10. Talkin' 'bout the 'Noles
I'm not gonna gas up a win over Duquesne too much, but given Florida State's recent history in this department, a 47-7 win is at least a sign of good progress. They had three running backs go over 100 yards rushing for the first time in program history, QB Jordan Travis looked confident, and the defense did what you expect a Florida State defense to do to Duquesne. I'm in on the Noles turning it around this season, and I liked what I saw yesterday. They've got a great chance to show where they're really at next week in the Superdome against LSU.