2023 Season
10 Takeaways: Week Eight
USC meets their fate in the exact way we all thought they would.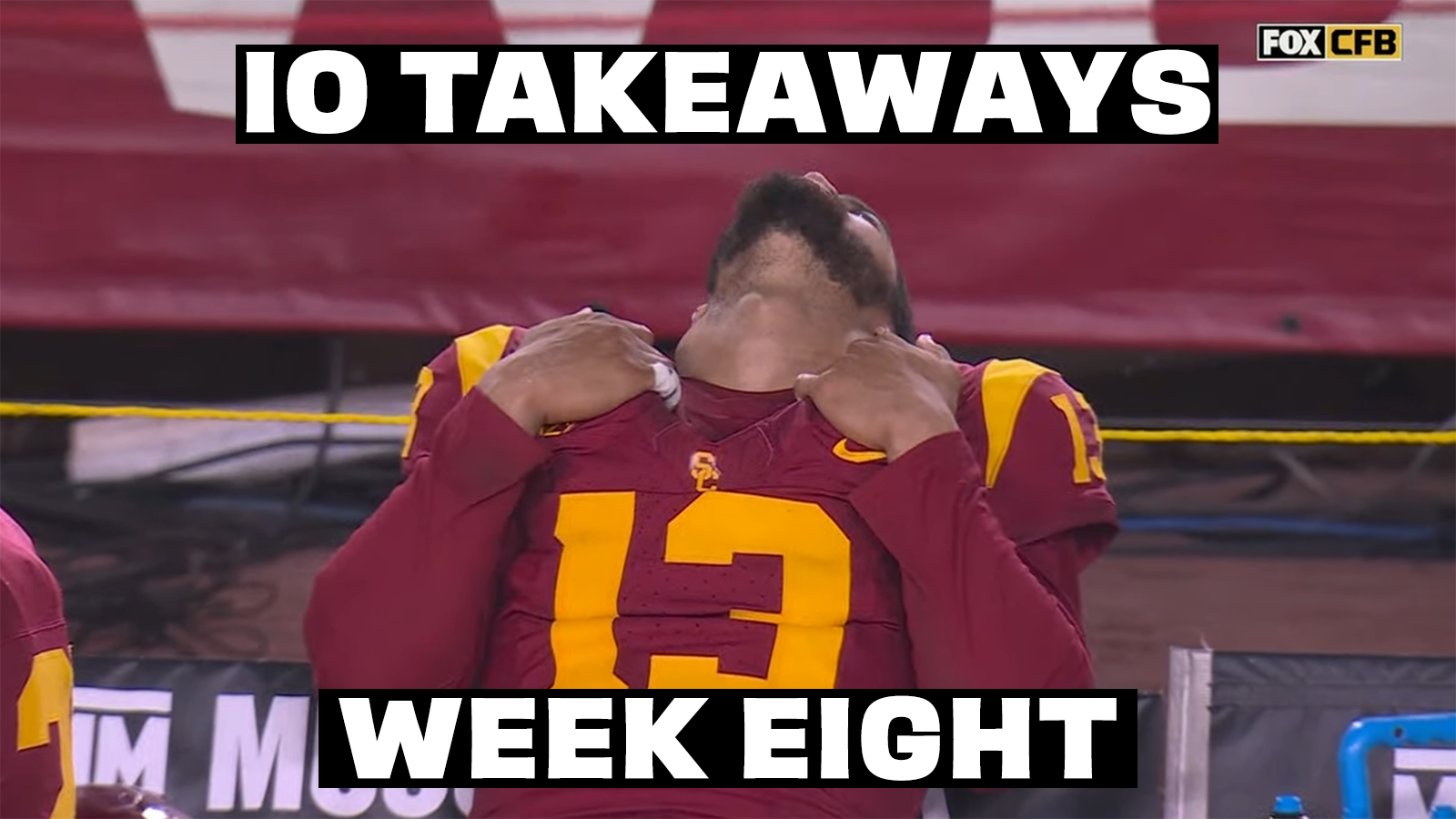 For those reading on e-mail: click 'view in browser' to see the full contents of today's post
---
1. Survive and Advance (Or don't!)
Just like you can tell the holidays are around the corner by the commercials you see, you can tell we're about to hit November football when conference games that you think have no business being close come down to the wire. We've officially entered the "Just win," portion of the season, and there were a few top teams who narrowly avoided getting their heads knocked off yesterday:
SURVIVED (Washington, Texas, Oklahoma, Florida State)
Everyone always jokes that 95% of the country is asleep during Pac-12 After Dark, and Washington looked like they were also tucked snugly under their covers for most of a bizarre game against Arizona State. The Huskies trailed 7-6 midway through the fourth quarter, before scoring their only touchdown via an 89-yard interception return on a fourth-down playcall that had some (me) arguing that the Sun Devils should've just taken the points:
It's understandable that Washington would have a bit of a letdown after their emotional win over Oregon, but only generating nine offensive points against Arizona State is alarming. Winning ugly beats the alternative, though, and the Huskies are still top dog in the Pac-12. (I have more to say about a particular play/officiating in this game in a little.)
I never planned on paying much attention to Texas-Houston, but any interest I might've had in it vanished when the Longhorns went up 21-0 early in the second quarter. And then out of nowhere, the Cougs scored 21 unanswered points, UT quarterback Quinn Ewers left the game with a shoulder injury, and it was tied 24-24 with under seven minutes play. A quick touchdown drive gave Texas a 31-24 lead, and their defense stood tall with this stop on fourth and inches inside their own 10:
Just like Washington, it's concerning for a team who still has real playoff/conference title aspirations to struggle this much against a Houston team who's been a mess all season. It sounds like Ewers might be out for a bit, but I think the Horns are in a decent spot to survive for a week if Maalik Murphy has to play against BYU. (I also have something to say about officiating in this game later, too.)
Oklahoma was in a similar fight at home with UCF. They actually trailed 23-17 heading into the fourth quarter, before scoring back-to-back touchdowns to take a 31-23 lead with three minutes to play. Then all hell broke loose:
As great a season as OU's had so far, I'm not completely shocked to see them play a game like this. They were 6-7 last year, and it takes time to develop the consistency needed to play dominant week-to-week against teams you're better than. I wouldn't be surprised at all if they dropped one of these: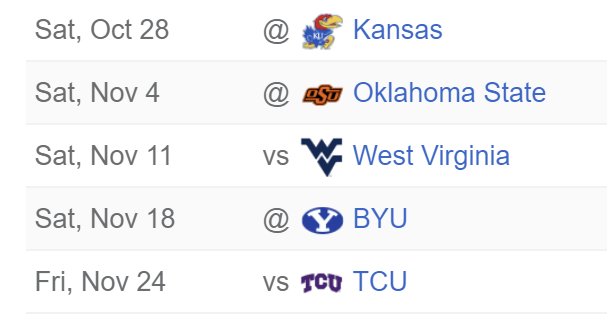 Florida State went back and forth with Duke for three quarters, before hitting the gas with 21 straight points in the fourth for a 38-20 win. The Blue Devils are obviously much better than Arizona State/Houston/UCF, but you could tell how limited their offense was with star quarterback Riley Leonard still clearly not even close to 100%. The Noles have taken care of business in almost every game, and they'll do the same on the road the next two weeks against Wake Forest and Pitt if they're truly playoff contenders.
DIDN'T SURVIVE (North Carolina)
I'll talk more in-depth about North Carolina's loss to Virginia in point four below, but it reminded me of what I'm going to miss most about the four-team playoff when it's gone:
2. USC-Utah had the same finish it always does
If you know me, you know that I watch a lot of wrestling. As a wrestling fan, there are times where you pretty much know the finish of certain matches before they start. Then the match happens, and it ends exactly the way you pictured it in your head. That was USC-Utah.
Like any good heel on the road, Utah established full control. They dominated the game physically, and were up 28-14 in the third quarter. Then USC mounted a heroic comeback, –with everyone online booing them like they were 2009 John Cena hitting the 5 moves of doom– punctuated by Caleb Williams scoring a touchdown with 1:32 left to give the Trojans a 32-31 lead.
Do you think there was ever any doubt in my mind that Utah would score?
The Utes marched down the field –behind the benefit of a 15-yard targeting penalty, and the absolute stones of quarterback Bryson Barnes– and kicker Cole Becker nailed a 38-yard field goal for the Utes' fourth-straight win over the Trojans - their third in the last two seasons. It was cold, calculated, and the exact ending I thought it would be.
3. More of the same
Speaking of games that always have the same finish: Ohio State did what it does to Penn State every year, except this time it was all about defense. The Silver Bullets overwhelmed the Penn State offense, holding them to 1/16 on third downs, and only 3.5 yards per play in a 20-12 win. They sacked Drew Allar four times, and only gave up 35 yards on 26 second half plays before the Nittany Lions' lone touchdown drive with 29 seconds left in the game. It wasn't pretty, but it was the Buckeyes' most dominant defensive performance in at least two years. For my Ohio State subscribers, you can read my full thoughts on it here: