2023 Season
50 predictions for the 2023 College Football Season
Jimbo Fisher and Bobby Petrino together. What could go wrong?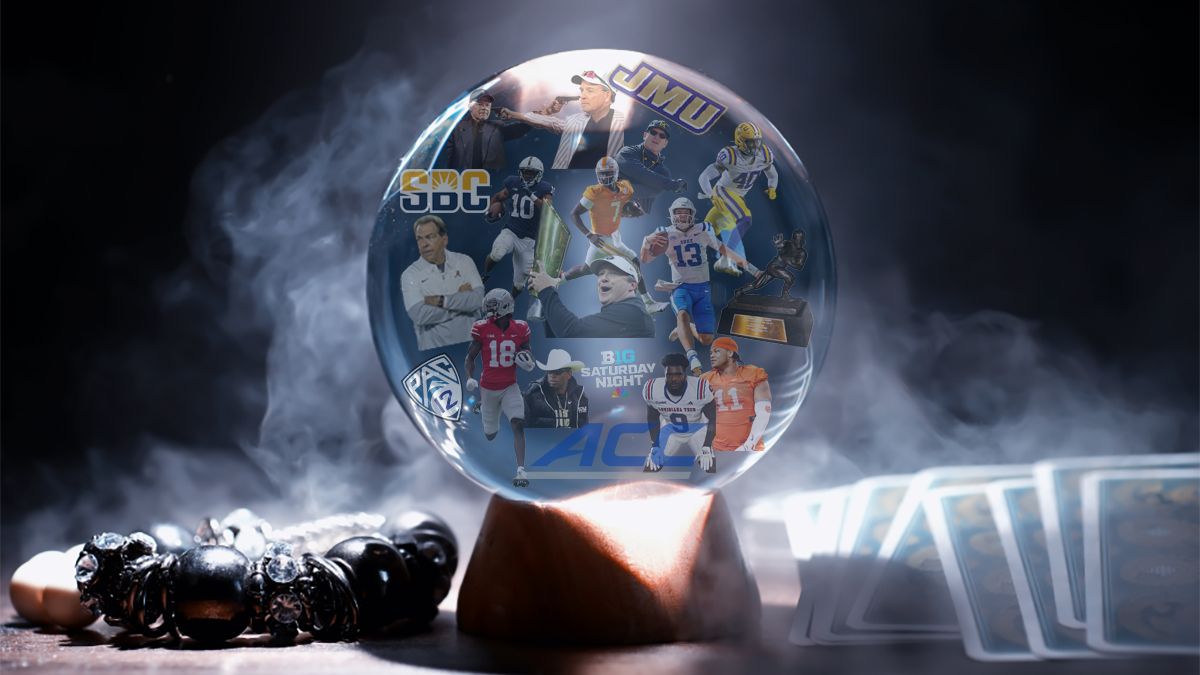 For those reading on e-mail: click 'view in browser' to see the full contents of today's post
---
50 predictions for the 2023 CFB Season
It's time for me to look stupid
We're two days away from the start of the 2023 college football season, and it's time for me to say some things that age poorly before the end of September. Last year I gave you 25 predictions, and this year I'm giving you 50. So here they are - 50 predictions for the 2023 college football season.
1. Tennessee beats Georgia
Look at last year's box score and you'll see a 27-13 Georgia win that was only even that close because of a garbage-time Vols touchdown. Go back and actually watch the game, though, and you'll see how many opportunities Tennessee missed to possibly pull an upset.
Tennessee receivers had Georgia defensive backs beat deep all game, but Hendon Hooker and co. just couldn't connect. Josh Heupel knows how to attack this defense, and with the game in Knoxville this time, I'm calling for the Vols to pull it off.
2. Georgia still wins the SEC East
Please don't yell at me, Georgia fans. I still think your team is better than Tennessee, plus they have the schedule advantage. Tennessee plays Texas A&M and Alabama from the west, and they'll probably drop another game along the way. Georgia's biggest threats are Ole Miss and possibly the road game at Auburn, just because you never know what could happen in Jordan-Hare. I just can't see the Dawgs dropping more than one game. And with that said...
3. Georgia three-peats
It hasn't been done since Minnesota (!) from 1934-36, but until I actually see the season end without Kirby Smart raising that ugly-ass CFP trophy, I'm rolling with the Dawgs.
4. People overreact to everything that happens at Colorado, starting with the season opener at TCU
There's no middle ground when it comes to Deion Sanders. He's someone you either love or hate. Because of that, Colorado will be the most dramatic story of the year, and the takes will be nuclear.
If CU gets smacked by TCU, the general public won't care that they were 1-11 last year, or that the program has been in the ditch for the better part of 15 seasons. The talk will be that Deion's in over his head, his roster turnover plan through the transfer portal was a bust, etc. etc.
If they somehow win? Outside expectations go to the moon. Can Travis Hunter win the Heisman? Are the Buffs Pac-12 contenders? Is Deion primed (sorry) to take over for Nick Saban at Alabama?????? It'll all be out of control, and that's how the whole season will be.
As a Buffs fan, I know Colorado has a long way to go, and all I want to see this year is progress. The outside noise that comes with people's opinions on Deion is part of the territory now, and the CU fanbase might as well embrace it - because it's about to get real loud for the next four months.
5. Jim Harbaugh coaches his last game at Michigan
The self-imposed three-game suspension is what it is, but how much longer can Jim Harbaugh and Michigan Athletic Director Warde Manuel co-exist? These guys clearly hate each other, and I think this is Harbaugh's Last Dance in Ann Arbor, no matter how successful they are on the field. He's slayed the Ohio State dragon emphatically the past two years, and everything else at this point is icing on the cake. He can deny it all he wants, but Harbaugh is dying to get back on an NFL sideline, and that's where he'll be in 2024.
6. The Sun Belt is the nation's most entertaining conference
If you've been neglecting Sun Belt Football, this is the season that needs to change. Between Troy, South Alabama, James Madison, Marshall, and Appalachian State, the SBC has five phenomenal teams that are worth your attention every week. All five have an identity they stick to, and everyone outside of App State has a defense that'll knock that shit out of opposing offenses. Whoever comes out on top will be one of the most deserving conference champions in the country.
The conference has a golden opportunity to make noise in non-conference play, with matchups like Troy-Kansas State, South Alabama-Tulane, Marshall-NC State, James Madison-Virginia and App State-North Carolina all winnable, statement-type games. I know that finding G5 games on ESPN3 –and the broadcasts themselves– can be a pain in the ass, but carve out time each week to watch these teams. You won't be disappointed.
7. Everyone falls in love with James Madison
Let's stay in the Sun Belt and talk about my favorite under-the-radar team to watch last season. James Madison jumped from the FCS ranks and wasted no time bullying the rest of the conference. They went 8-3 and technically won the Sun Belt East, but were ineligible to play in the conference championship game or a bowl game due to their transition rules from FCS to FBS. It unfortunately looks like the same rules are in place this season, but that shouldn't stop you from watching them.
It felt like their defense popped up in almost all of my 'hits of the week' videos last year, and they should be just as nasty again. Offensively, they have one of my favorite transfer portal additions in former Stony Brook RB Ty Son Lawton, and continuity on the offensive line that should make for physical attack. I think they beat Virginia on September 9, and their matchup with Troy the next week is one of my top-10 games I'm most excited for this season. Ten wins is a possibility, and I'm begging you to jump on the bandwagon with me right now before it gets too crowded.
8. Big 12 officiating screws Texas or Oklahoma in a crucial moment
I had a variation of this on last year's list, but now that we're actually in the final season of Texas and OU in the Big 12, it needs to happen. Preferably to one of the OG conference members. (Texas Tech, Baylor, Kansas, Kansas State, Iowa State, or Oklahoma State.)
Update: Big 12 Commissioner Brett Yormark is with me:
9. Northwestern goes almost two full years without winning a game on American soil
Outside of last year's season opener against Nebraska, Northwestern's last win was October 16, 2021 against Rutgers. The Nebraska game was in Ireland, so that means the Wildcats have lost 17 straight games on American soil. I think they lose their first two this year against Rutgers and UTEP, and don't sniff even a chance at another win until they play Howard on October 7: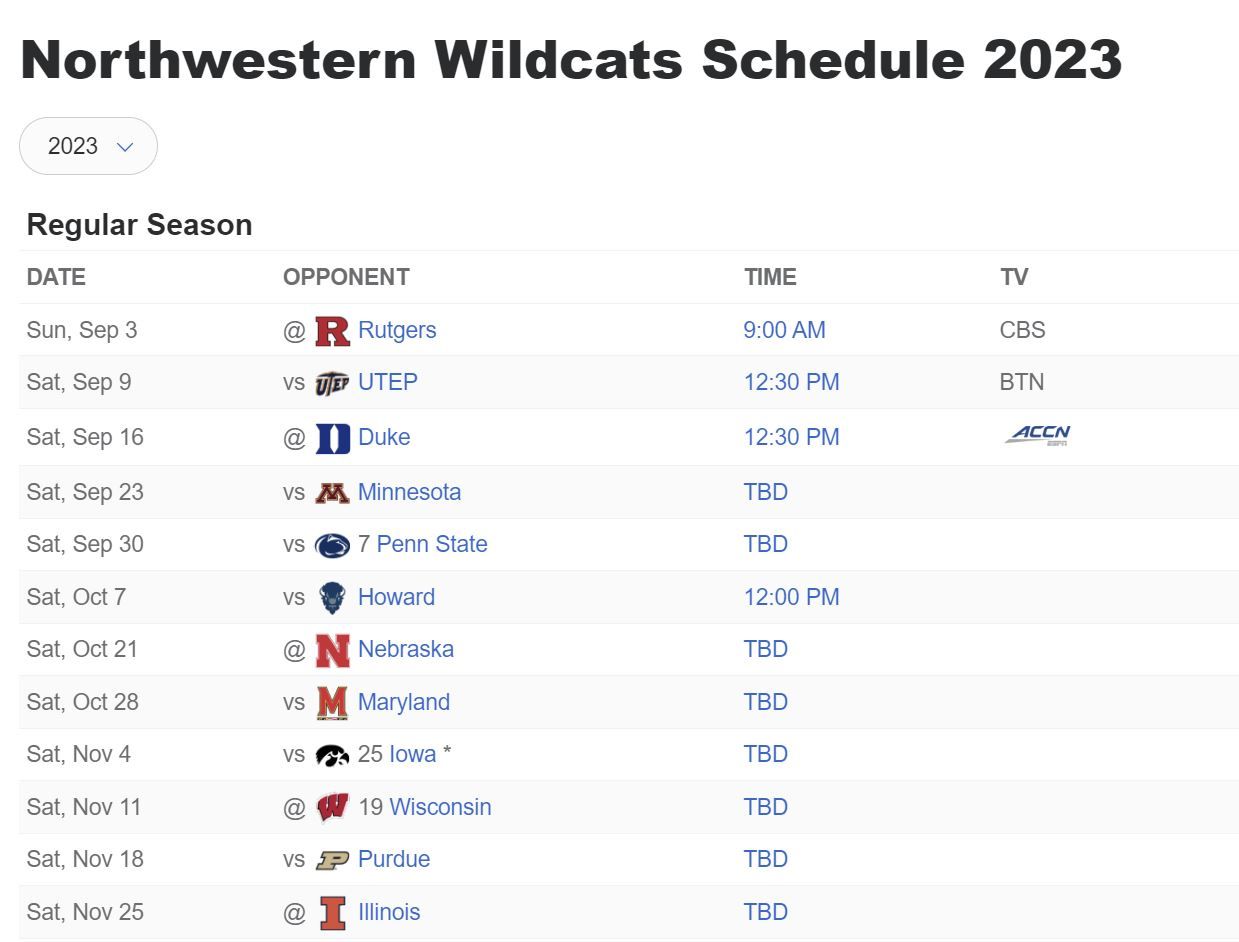 10. The Heisman race is infinitely better than last year's
All due respect to Caleb Williams, but last year's Heisman race sucked. No player –including Williams– had a true "Heisman Moment," and the ballot was over-bloated with quarterbacks, even by Heisman standards. It'll probably end up as another all-QB top-five, but here are some obvious early storylines that'll make this year's race more interesting:
Every sick catch Marvin Harrison Jr. makes
Brock Bowers being recognized as the best player in the country
How much Colorado decides to use Travis Hunter on offense and defense
Blake Corum's return to Michigan
How many sacks Harold Perkins accumulates for LSU
Whether Williams can be the second repeat winner ever
Add in other top players around the country who are bound to be in the mix and we're in for a much more enjoyable race for the sport's most prestigious award.
11. Texas A&M's season makes or breaks vs Auburn on September 23
I'm conflicted on Texas A&M. Logically, I think they're in for a pretty nice rebound from last year's disaster. The defense is unquestionably one of the best in the country, so I have no worries there. Offensively, Jimbo Fisher handing the keys to Bobby Petrino (allegedly) is a step in the right direction, regardless of what you think about Petrino. It's also the thing that could cause their biggest issues.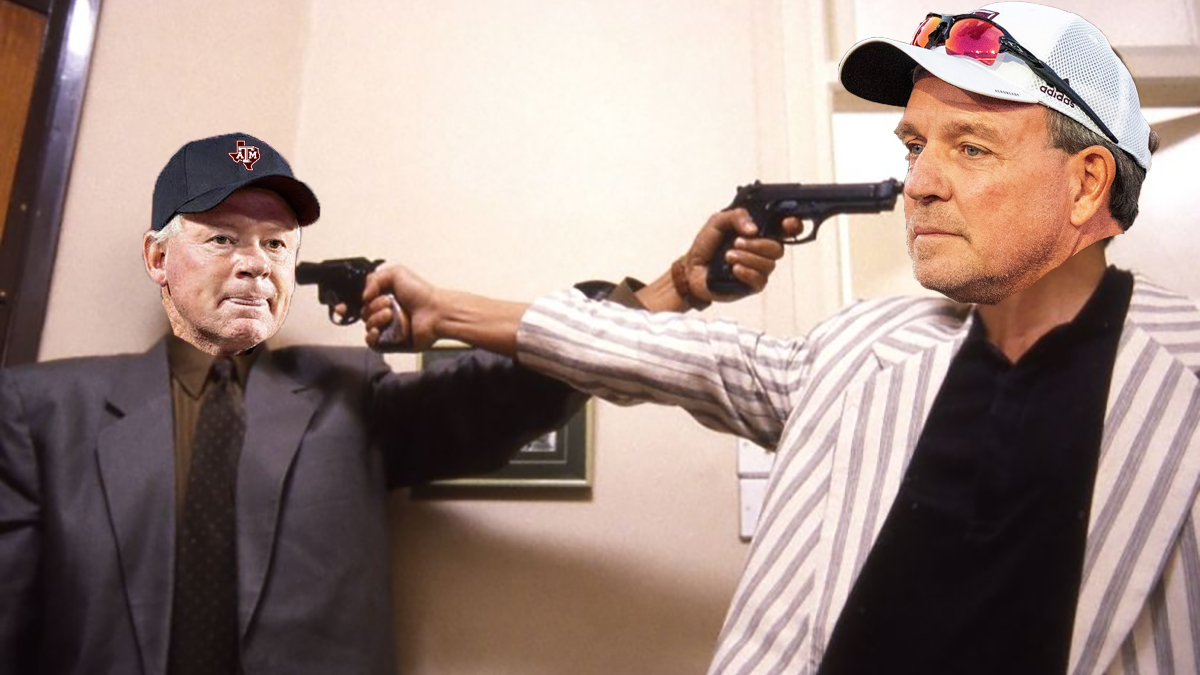 A&M should be 3-0 by the time they play Auburn at home, and that's where I think we find out whether this unholy alliance can actually work. Will Fisher have the patience to stay with Petrino when things get tough? Or will he meddle and throw himself back into the offense and start firestorm of controversy within his coaching staff? If it's the latter, Auburn has a great shot at winning the first big game of Hugh Freeze's tenure, and sending A&M reeling into a nightmare stretch of games they might not recover from:

12. Northwestern-Iowa at Wrigley Field is the worst game of the year
Praying for 2-degree weather and 50-MPH winds. Plan accordingly.
13. Troy-James Madison is one of the best games of the year
I know I already talked about this in the JMU section, but it deserves its own spot on the list, and many of you need another reminder to watch the Sun Belt.
September 16, 7 PM eastern. Lock in, because it's going to be a classic.
14. Penn State underwhelms
Penn State is a popular sleeper Big Ten/Playoff pick, and I get it. They went 10-2 last year, won the Rose Bowl, Drew Allar is a QB prospect people love, and Nick Singleton is already one of the most dynamic players in the country. There's a lot to be excited about! But I just refuse to believe James Franklin won't find a way to fumble it, and that they're actually a serious threat to Michigan and Ohio State.
Penn State's a combined 4-14 vs. the Buckeyes and Wolverines under Franklin, and he still hasn't beaten both in the same season. They get Michigan at home, but play Ohio State in Columbus, where Franklin's never won. If they lose both again, what do you take away from a season where the rest of the schedule looks like this?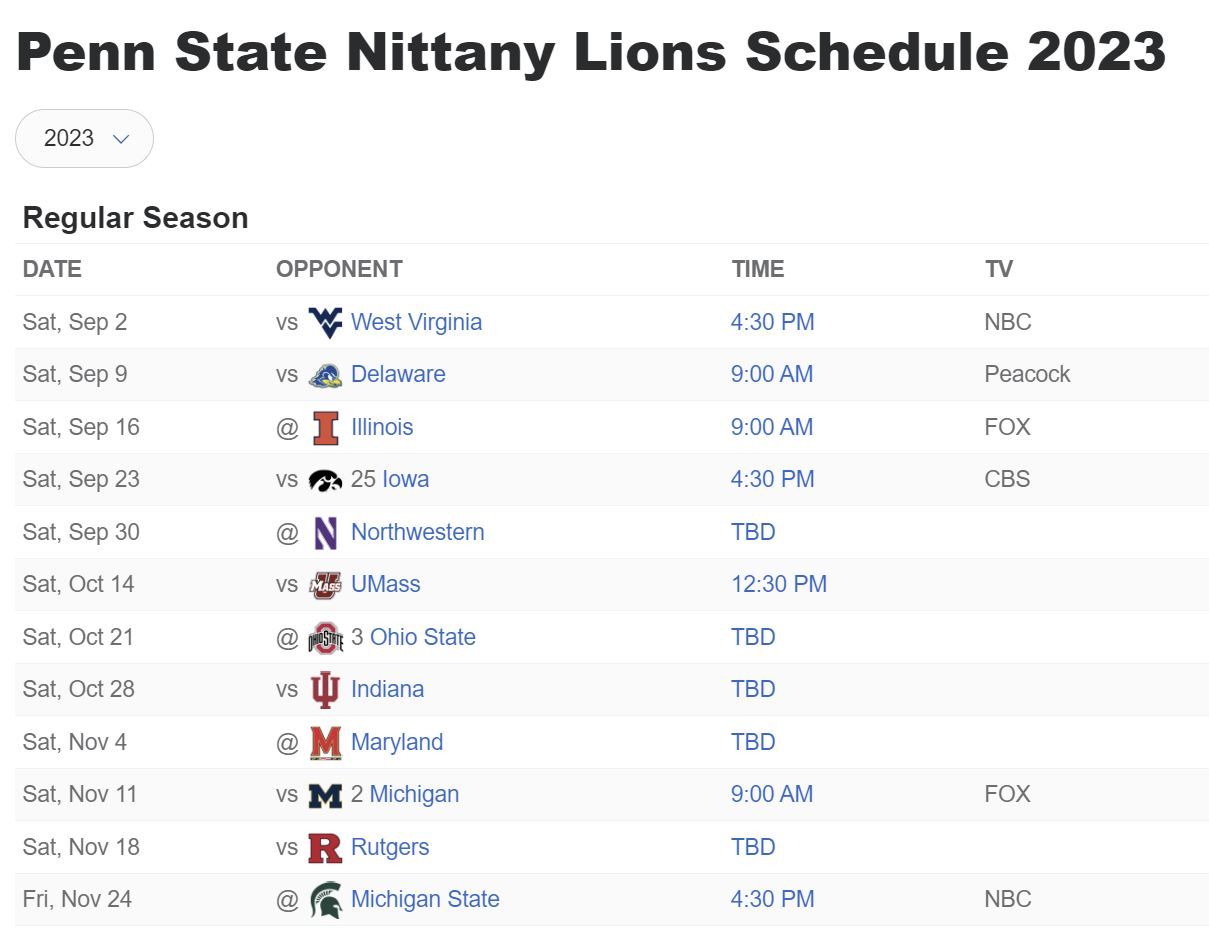 Add in Franklin teams almost always finding a way to trip themselves up and you're looking at 9-3 with the best win being Maryland or Iowa. That's great for 90% of programs, but would be a severe disappointment for Penn State, given the talent on their roster.
15. Neal Brown is the first head coach fired
Brown's already on arguably the hottest seat in the country. If he starts the season by losing to two of his program's biggest rivals in the first three weeks? That's a recipe for WVU's administration hitting 'eject' before the end of September: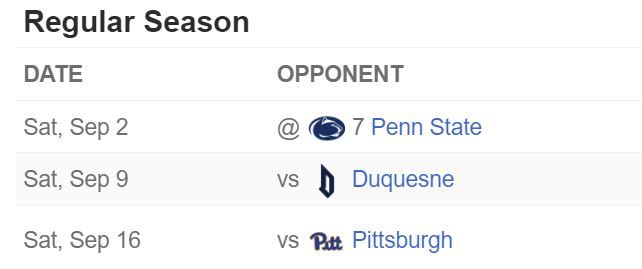 16. Texas misses the Big 12 Title
Steve Sarkisian has never won ten games in a season and won't do it this year. BE GONE TO TUSCALOOSA WITH 'YE.
17. Kansas State is a threat again
I'm high on the Wildcats pushing for a Big 12 repeat, even with no Deuce Vaughn and the loss of some talented defenders. Treshaun Ward is in from Florida State to help replace Vaughn's lost production, and the offensive line is stacked. I also trust Chris Klieman to field another tough defense, even if it isn't the same quality as 2022's. It might be a stretch to think they can actually win the conference again, but I'm not betting against them being in the mix.
18. Iowa fittingly wins the final Big Ten West Title
My heart and brain say Wisconsin is the clear best team in the Big Ten West, and that they'll run over everyone else in Luke Fickell's first year. My gut says Kirk Ferentz fucks it all up for everyone again and gets to Indianapolis at 8-4.
19. Duke wins nine games
Riley Leonard is for real. Count it up: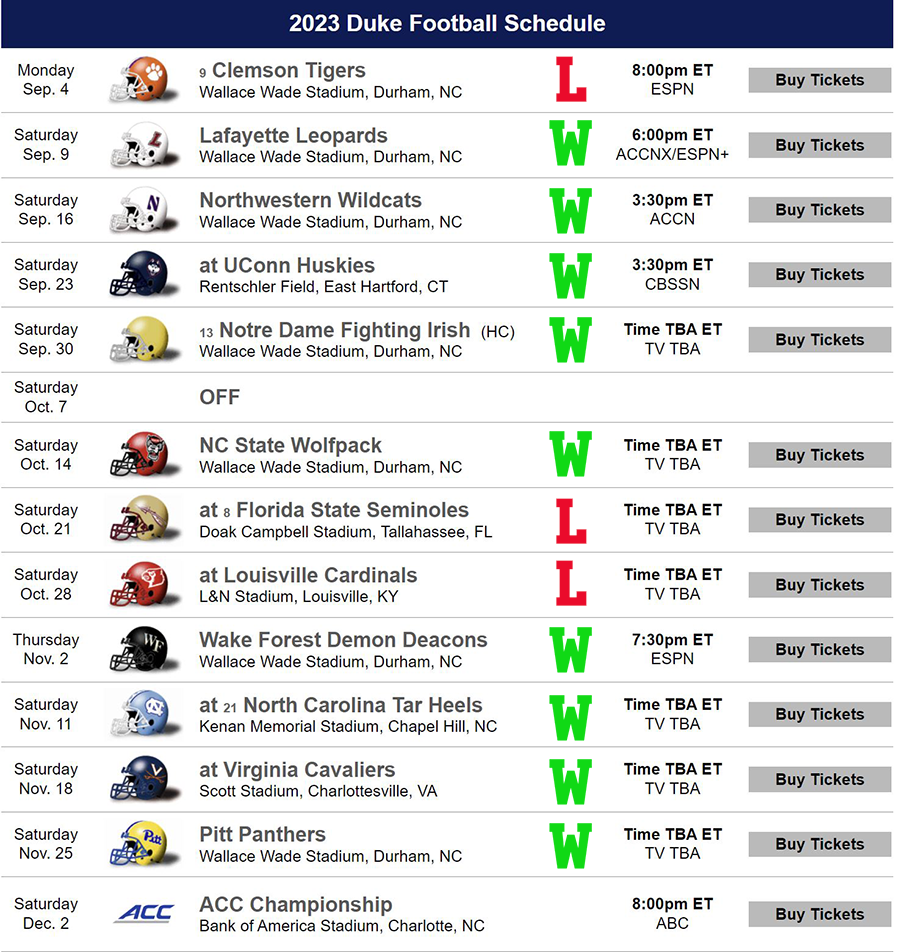 20. Florida State-LSU is the most out of control game of the year (Part II)
Here's what I wrote about LSU-Florida State in last year's predictions article:

Even I couldn't envision what actually went down. Let's run it back.
21. Florida State isn't playoff-caliber, but continues improving
Speaking of the Noles: They're getting a lot of preseason hype, with some people even picking them to win the ACC and make the College Football Playoff. There's a lot to like about what Mike Norvell is doing. Recruiting has picked up, they've made smart additions in the portal, and the offense should be exciting again with Jordan Travis back. Optimism in Tallahassee is as high as it's been in almost a decade, and for good reason. But playoffs? I don't see it, at least not this year.
They hit the portal to address some of the issues they had last season against the run, but I still don't think it'll be enough to match up with Clemson, especially on the road. The schedule is tailor-made for a rematch with the Tigers in the ACC Championship game, and anything less than that should probably be considered a disappointment. Ten regular season wins and a NY6 bowl would be a fantastic year, setting the Noles up for even greater things in 2024.
22. Michigan State goes 4-8, keeps Mel Tucker
I said it in the hot seat article, and I'll repeat it here. There aren't more than four wins on this schedule, and that's if everything goes right: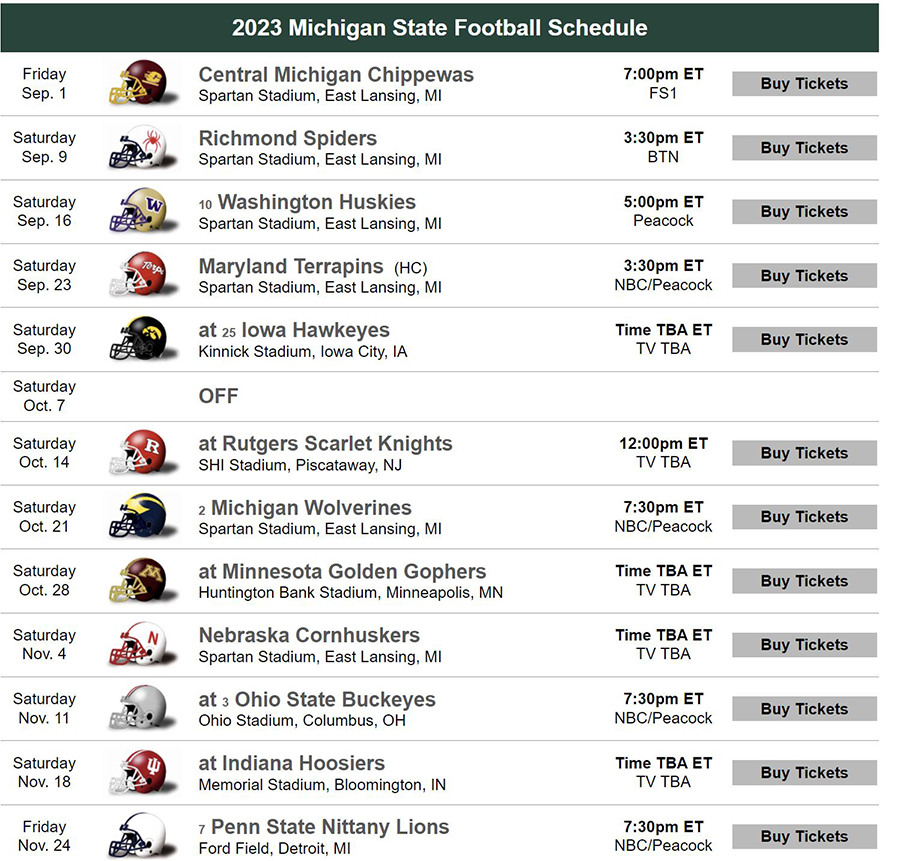 23. Florida misses a bowl game, keeps Billy Napier
I think Billy Napier's finally hitting his stride with everything that being the head coach at Florida entails. Namely: He's starting to recruit his ass off. But you simply can't have Graham Mertz as your starting QB in the best conference in the country and think you're winning more than five games against this schedule: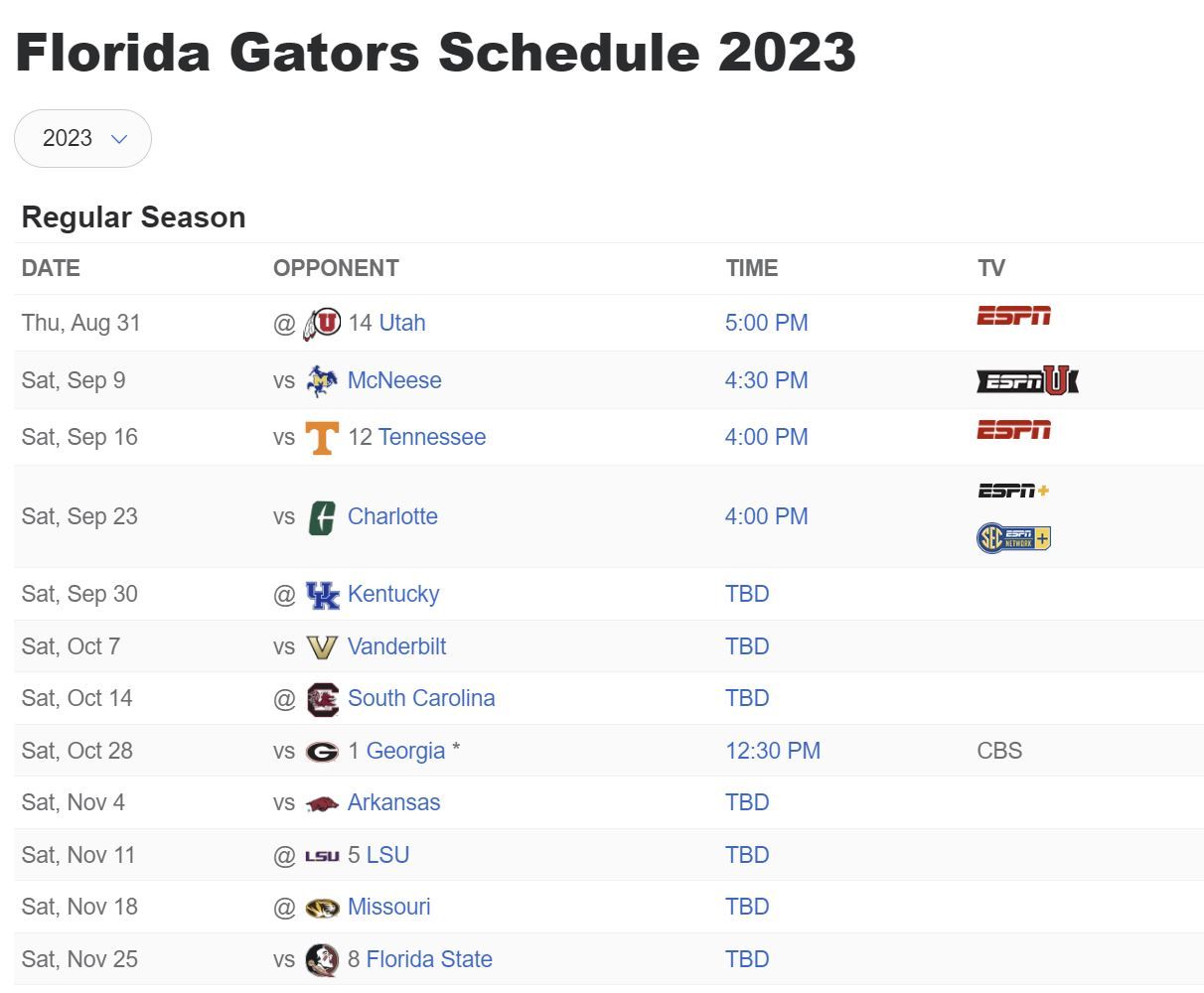 That said, they'll steal a game they shouldn't (LSU, Florida State, Tennessee), the recruiting continues to roll, and they'll show just enough on the field to get Napier to 2024.
24. Miami goes 5-7 and keeps Mario Cristobal
The bad teams on Miami's schedule are so heinous that it's hard for me to justify them not making a bowl, but I can't go against my gut. They have no juice right now, and there are way too many what-ifs on both sides of the ball for me to believe they're that much different from the team that got their teeth kicked-in during five of their seven losses last year. They'll keep Cristobal, but I don't see the long-term vision.
25. Clemson stomps through the ACC
On the flipside in the ACC, I'm all-in on Clemson. I like the Garrett Riley OC hire, and he has enough weapons to work with for Cade Klubnik to make a big jump in year two. Pair that with a run game that can lean on Will Shipley, and this will be Clemson's best offense since 2020. The defense took a step back last year, but I expect them to be a top-five unit again. The front seven has the ability to be the best in the country, and true freshman DT Peter Woods has scary potential to make a huge impact right away. Count on Dabo back in the College Football Playoff.
26. Trent Dilfer does something dumb that gets the whole country talking about him
This is the 'free space' of the 50 predictions article.
27. Oklahoma bounces back
As fun as it was watching OU struggle, I can't help but think they'll be much better in Brent Venables' second season. They lost four of their last five games, but they were by a combined 12 points, and I trust Venables to make the defense at least semi-respectable again. The offense should be explosive, their non-con schedule is a cakewalk, and they're likely 5-0 for the Texas game. Even if they lose that, I think you're looking at a nine-win team ready to take another step in 2024.
28. Utah three-peats to close out the Pac-12
Same thing I said about Georgia at the top: Until someone knocks them off the mountain, I'm not picking against Kyle Whittingham.
29. We have a 2,000 yard rusher for the first time since 2019
This one feels like a wish more than a prediction, but with all the running back slander in the sport right now, we need someone to step up and break the magical 2,000 yard barrier to put some respect back on the position. Chuba Hubbard, Malcolm Perry, JK Dobbins, and Jonathan Taylor all did it in 2019, and no one has come within 100 yards since.
Most of last year's top rushers nationally are in the NFL now, but Penn State's Nick Singleton, Ole Miss' Quinshon Judkins, Southern Mississippi's Frank Gore Jr., and Wisconsin's Braelon Allen are the first names who come to mind for me as guys who could do it.
30. The Pac-12's last hurrah is one to remember
It's a shame that re-alignment's dominated Pac-12 discourse this summer, because the on-field product will be stellar. The upper crust of the conference is the strongest it's been in years. Utah's looking for the first Pac-12 three-peat since Pete Carroll's USC juggernaut. The current Trojans have the reigning Heisman winner, are a legit playoff contender, with arguably the most exciting offense in the country. Oregon and Washington are conference and playoff threats, and both have Heisman-contending QBs. UCLA's found their footing under Chip Kelly, and brought in a handful of exciting players in the portal. Oregon State has a decent chance at their first back-to-back 10-win seasons in school history! Even though the rest of the conference falls off dramatically after that, there's something exciting about almost every team.
Washington State has a delightfully chaotic QB in Cam Ward. Deion Sanders and Colorado will be the most discussed and over-analyzed team in the country. Arizona can't stop anyone, but they'll also have every defense they play in hell. Cal will field another salty defense, and Arizona State is all-in on true freshman QB Jaden Rashada. Stanford's the only team truly dead in the water, but the rest of the conference is going out with a bang.
31. Jeff Brohm has a great year one at Louisville
Of all the coaching hires this offseason, this one might pay off big the quickest. Purdue was in the gutter when Brohm took over in 2017, and he took them bowling in his first year. After a two season stumble in 2019-2020 (6-12 overall) the Boilermakers went 17-9 in 2021-2022, including a Big Ten Championship appearance last year. Brohm knows how to build a program, and he excels at making the lives of opposing defense coordinators miserable.
He has a nice group of talent to work with at Louisville, scoured the portal to help fill some holes on each side of the ball, and the Cardinals are in a much better spot for him to build off than what he started with at Purdue. The more I think about it, the more I'm convinced that Louisville is the biggest surprise of the season. They don't play Clemson, Florida State, or North Carolina, and this schedule sets them up for a real run at 10 wins: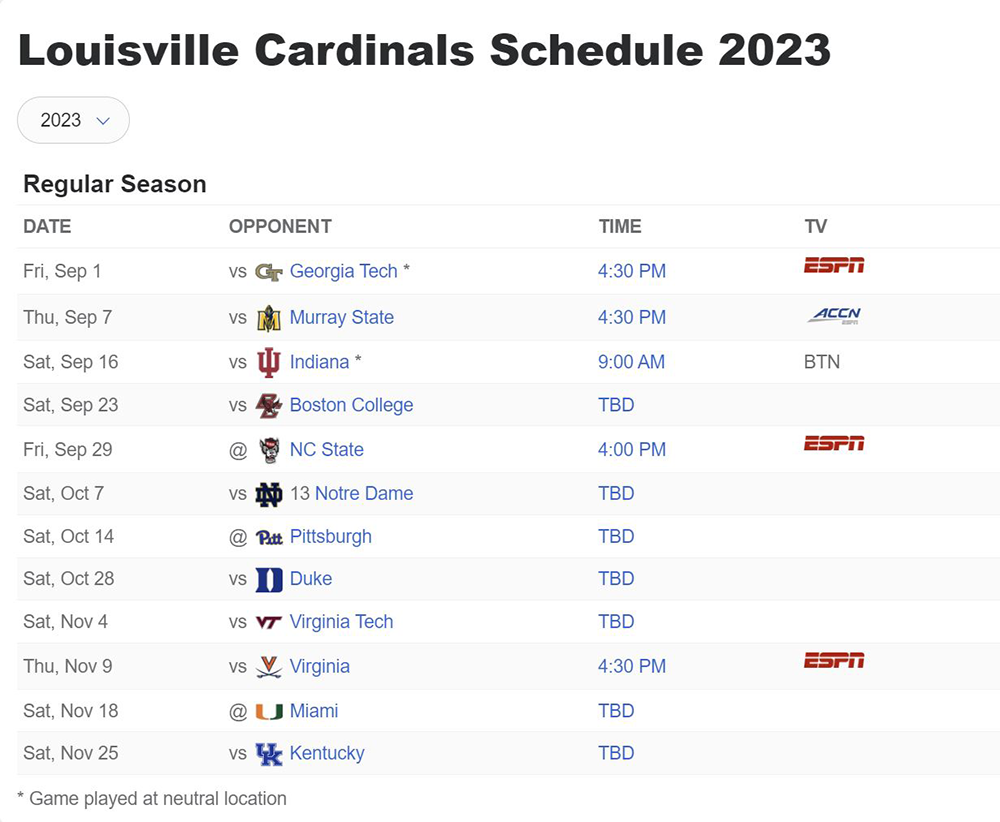 32. USC loses three games (including bowl)
✅ USC will have a top-three offense nationally
✅ Caleb Williams will at the very least get himself back to New York for the Heisman ceremony
✅ They'll be 6-0, and probably ranked in the top-four by the time they play Notre Dame on October 14.
✅ They'll have to score 40 points every game because Alex Grinch is their defensive coordinator
✅ At least two of Notre Dame, Utah, Washington, Oregon, or UCLA will punch them in the mouth and keep them out of the College Football Playoff.
A classic Lincoln Riley team. Rinse and repeat.
33. San Jose State wins the Mountain West
I don't know what to make of the Mountain West. A repeat of last year's title game (Boise State-Fresno State) feels like the obvious conclusion, but I'm not with it. I'm out on Boise –more on that at No. 36– and I think Fresno takes a sharp dip thanks to all their offensive losses. Outside of them, every other contender has major questions.
Air Force has an awesome defense, but loses almost 3,000 total rushing yards from last year's offense. San Diego State and Wyoming both hate offense, but play a rugged style that'll keep them in almost every game. Utah State fell off a cliff last season after winning the conference in 2021. That leaves me with only one option: San Jose State.
After a 3-22 start to his tenure, Brent Brennan has a 24-20 record over the last four seasons –with a Mountain West Championship in 2020– at one of the hardest jobs in the country. The Spartans are coming off a 7-5 season, with three of those losses by a single possession - including a winnable game at Auburn where the officiating was questionable at best. They return QB Chevan Cordeiro, some intriguing talent in the secondary, and young playmakers on both sides of the ball. To be fair, they also lose three of their best players in receiver Elijah Cooks, and defensive linemen Cade Hall and Viliami Fehoko. But I have an agenda to push, so I'm glossing over that.
SJSU gets Air Force, Fresno State, and San Diego State at home, while their trip to Boise State is late enough that I trust any issues with inexperience will be solved by then. If they can just escape their brutal season-opening duo of USC/Oregon State in good health, the Spartans are poised to compete for their second conference title in four years.
34. More gambling suspensions
I'm not gonna deep-dive this, because I can't stand how pervasive gambling culture has become in sports. But you're out of your mind if you think suspensions for players betting on their own teams isn't about to become an even bigger deal going forward.
35. Alabama misses the playoff again
I predicted the same thing last year and might as well keep it going for good luck. Do you trust Tommy Rees to navigate an SEC schedule without two losses?
36. Boise State Head Coach Bryan Harsin
Boise State was in a bad place on September 24, 2022. The Broncos were 2-2 and just suffered an ugly loss at UTEP the night before. Through four games, the offense was averaging 4.4 yards per play, and my dumb ass was ready to ask some serious questions about Andy Avalos. Then, they averaged 32 points per game and 6.2 yards per play over the next ten games and finished 10-4!
The rebound coincided with Avalos firing Offensive Coordinator Tim Plough on September 24, replacing him with Tampa Bay Buccaneers legend Dirk Koetter. Koetter got them back on track, and a lot of those offensive pieces return. That's the good news. The bad news is that Koetter is gone (retired?), and I don't buy that new OC Bush Hamdan keeps them heading in the right direction. To make things even more dicey, the defense is replacing a large chunk of production, including most of a strong secondary.
All this is to say that I think Boise is closer to the team that started 2-2 last year than the one that finished 8-2 over their final ten. If that's the case, I'm going back to how I felt after the UTEP game. I don't think Avalos is long for this job, and Bryan Harsin will be back on Boise's sideline ASAP.
37. Houston Head Coach Tom Herman
While we're on the subject of head coaches returning to old jobs, how ridiculous is the thought of Tom Herman back at Houston in the new Big 12? Not ridiculous enough for me to not put it here.
38. ESPN cameras cut to Arch Manning on the sideline the second Alabama goes up two scores on Texas
The real question here is whether they cut to his family in the stands first?
39. Colorado throws for 300 yards in a game for the first time since October 2019
The last time Colorado threw for 300-plus yards was October 25, 2019 against USC. I was actually at that game, and putting aside how crushing it was watching CU piss away a 10-point fourth quarter lead, I expect that streak to end immediately. Regardless of what you think of the Buffs' overall prospects under Deion Sanders, the Sean Lewis/Shedeur Sanders OC/QB combo is exciting, and should provide the most explosive passing game CU's had in quite some time.
Bonus: Iowa last threw for 300 yards in a game on November 23, 2019 vs. Illinois, so even they've done it more recently than the Buffs.
40. Auburn beats one of Georgia, LSU, or Alabama
The one thing you can guarantee about Auburn is that you can never guarantee anything about Auburn. That's especially true heading into their first season under Hugh Freeze, where it's tough to get a grip on what they can be until we actually see them on the field.
We know that Payton Thorne is the starting QB (for now), and the position rooms at wide receiver, linebacker, and both lines are populated by new faces from the transfer portal. We know Hugh Freeze can craft offenses that score in bunches, and the secondary might be elite. Other than that? No idea.
Auburn could go 4-8 or 8-4 this year and I wouldn't be shocked either way. They almost always do something crazy, and adding Freeze to the equation feels like it'll only turn up the volatility. He's proven to be a pain in Nick Saban's ass, and I'm sure the rest of the coaches in the SEC aren't thrilled to deal with his offenses again.
The best part about Auburn is that you don't have to apply any logic to them. They just do stuff because they're Auburn. For that reason, I think they find a way to clip either Alabama, Georgia or LSU. They get the Tide and Dawgs at home, but travel to Baton Rouge for a game that almost always gets decided by some bullshit, regardless of each team's record. The more I think about it, the more I feel like Freeze and Auburn are the perfect match. We're going to see the upside of that hire pay off in a big way against one of the SEC's title contenders.
41. Ryan Day gets off the mat, Ohio State beats Michigan
For everyone who always whines that I'm too harsh on my favorite team, here you go:
The Bucks get the job done in Ann Arbor this year.
42. Maryland wins nine regular season games and has a chance at 10 in their bowl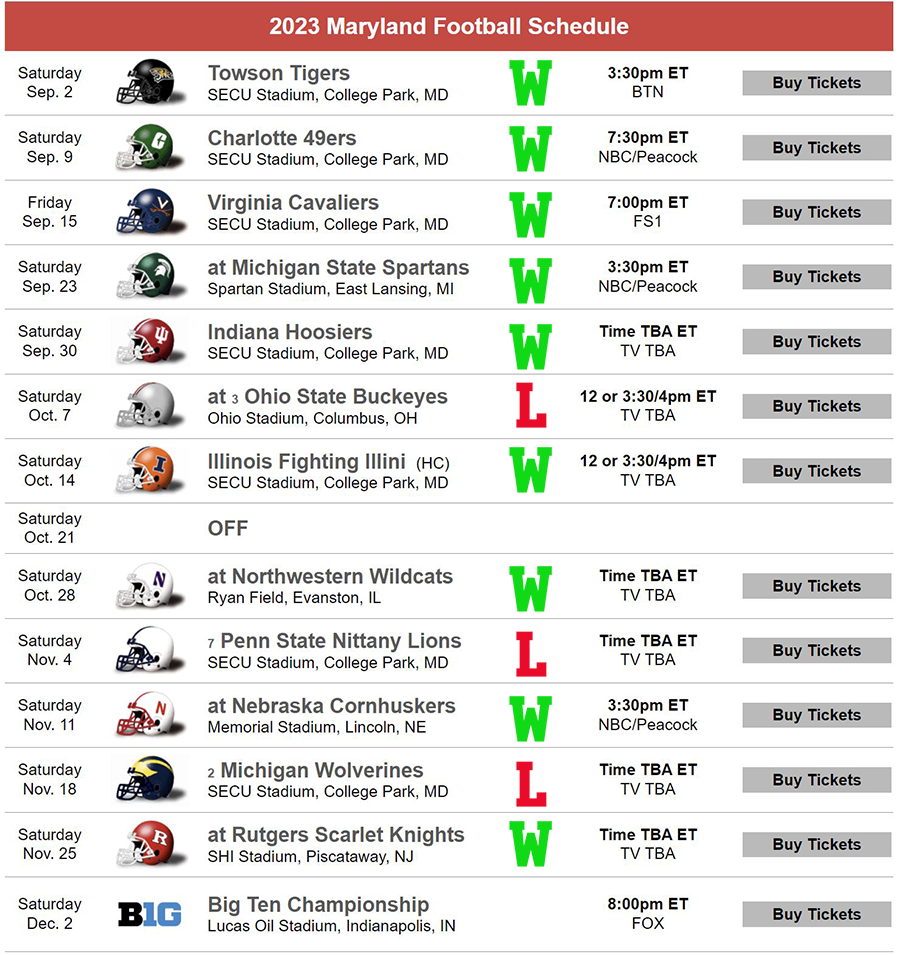 You could look at this and say, "They're going 0-3 against the only real teams they play." Or you could say, "Maryland hasn't won 9 games in a season since 2010. Schedule be damned, great work by Mike Locksley!" You're correct either way.
43. HUGH DAVIS shuts down all Conference USA run games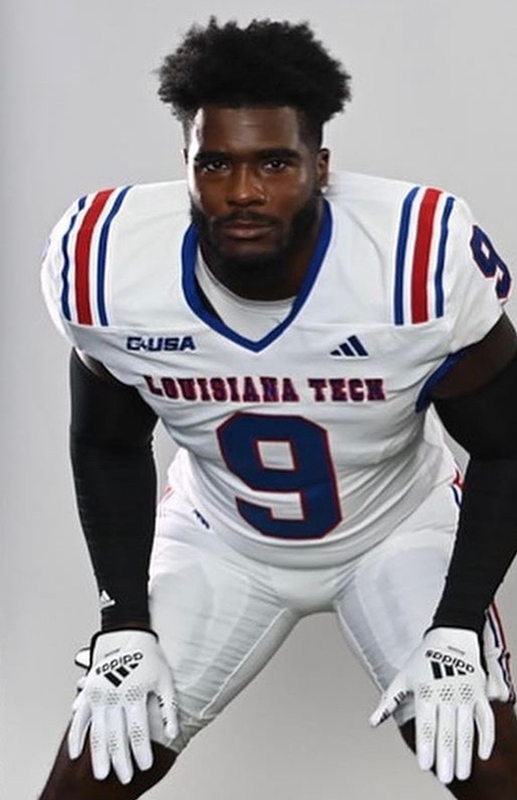 He is ready.
44. Nebraska remains an unknown in Matt Rhule's first season
I've read every Nebraska preview front-to-back three times over, and I've been staring at their schedule for 30 minutes: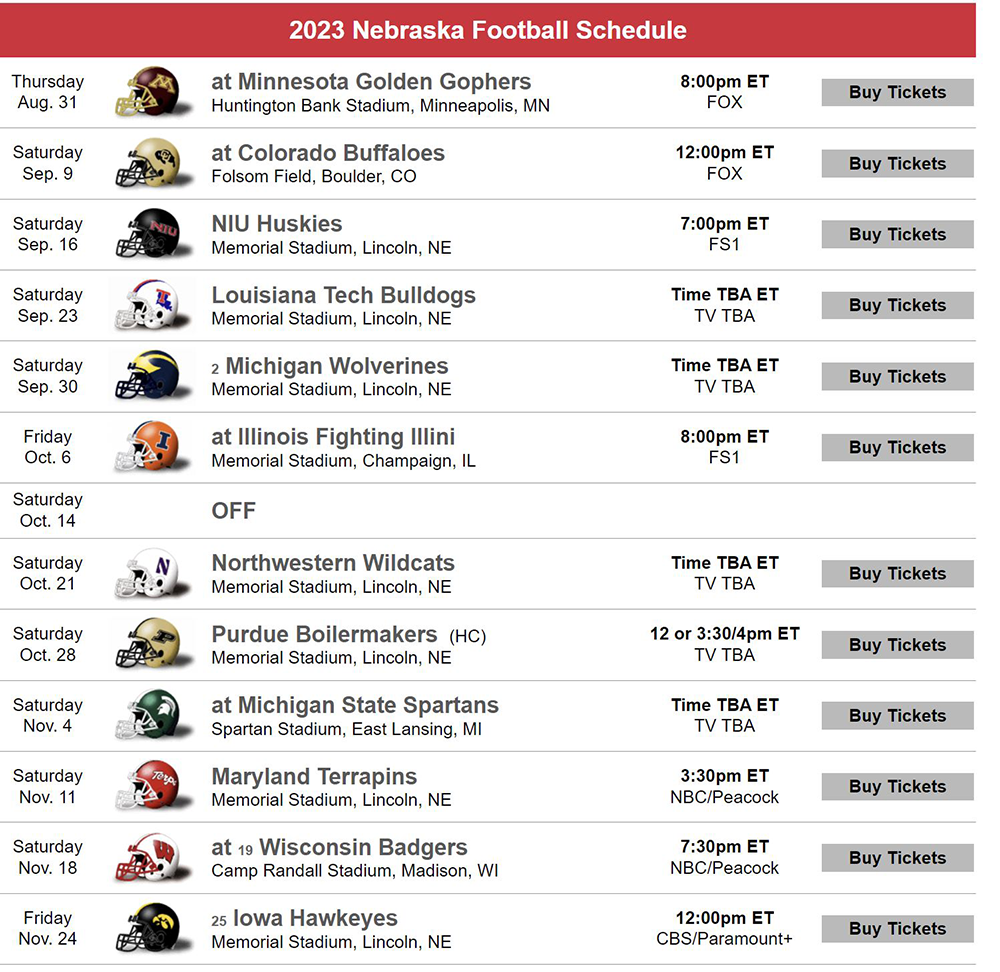 I have no idea what to make of this team. I don't see them going 3-9, but I also don't think anything beyond six wins is possible. Matt Rhule will eventually provide the stability they've been looking for, but it won't start to truly come into focus how that'll shake out until 2024.
45. DJ Uiagalelei is the comeback player of the year
DJ Uiagalelei is this year's Adrian Martinez. Leaving the glare of Clemson –and the pressure of being Trevor Lawrence's successor– for Oregon State will have the same effect on him as it did Martinez going from Nebraska to Kansas State.
Uiagalelei fits Jonathan Smith's offense, and doesn't need to be a superstar for it to run smoothly. He has plenty to work with out wide, and running back Damien Martinez should be even better after his sensational freshman season. The defense probably won't be as stingy, but I think Martinez, Uiagalelei and the offense make up for it, giving the Beavers a great shot at their first back-to-back 10-win seasons in program history.
46. Big Ten games on NBC (and CBS) are fun
I might be the only person in the world who thinks the Big Ten-NBC partnership will be great. I'm excited to see what non-Notre Dame broadcasts on NBC feel, look, and sound like. Having a different –albeit equally as evil– network giant that isn't ESPN broadcasting games is unquestionably good for the sport, and I'm choosing to take the optimistic approach towards it (for now).
Big Ten coaches and administrators cried all offseason about the new "Big Ten Saturday Night" slot, and that's how you know it'll kick ass. The conference is stuck in the mud when it comes to primetime broadcasting, and this slot has real potential if they do it right. Sprinkle that with a little Brad Nessler and Gary Danielson on CBS each week, and you've got a formula for something different than what ESPN provides, which is a positive. (And that's because I think variety is good, not because I'm one of those guys who hates ESPN.)
47. This is the bowl season where players sitting out finally isn't a national talking point
It's been happening for almost a decade, and I promise that we can all get through bowl season together without having to fake argue about it again. I believe in you all!
48. ESPN and FOX analysts spend all year talking about how sad conference re-alignment is without acknowledging the elephant in the room regarding their employers
I don't watch and never will watch "I Think you Should Leave," but you can attach the "We're all looking for the guy who did this" meme to every re-alignment discussion on FOX and ESPN broadcasts this season.
49. The ACC does something incredibly stupid that leads to the conference dissolving
I don't know what it's gonna be, or who's doing it, but it's happening.
50. Despite all the upheaval in the sport, this season is still magical
It's easy to get into a doom-and-gloom state when it comes to the direction of college football, and I'm as guilty of it as anyone. I hate re-alignment, and I can't stand the 12-team playoff that's on the horizon. I think a lot of the things that make this sport the best in the world are being stripped down and made worse for the benefit of a few people who don't actually care about the sport, the people who play in it, work in it, or support it. (Sound familiar in American society?)
All that said: It's still college football, and there's a hell of a lot to be excited for. We've got Deion Sanders showing out each week at a Power Five. Georgia's attempting to do something no team has done in over 80 years. Programs like TCU, Kansas, Kansas State, Utah, Oregon State, Wake Forest, and Duke are all operating at a high level, and giving you an easy story to cheer for. Group of Five football is arguably stronger and better than ever, despite people wrongly telling you that the transfer portal is killing it. The MAC is a beautiful crapshoot, and the Sun Belt will be a warzone every week. Caleb Williams is hunting for his second Heisman, Marvin Harrison Jr. is looking to break the laws of physics with every contorted catch he makes, and new names and faces will create new legends across the country.
We've got non-conference games like Texas-Alabama, Ohio State-Notre Dame, Florida-Utah, Florida State-LSU, Ole Miss-Tulane, South Carolina-North Carolina, West Virginia-Pitt, and the return of Colorado-Nebraska. There will be upsets, unexpected twists and turns, instant classics, and an ungodly amount of Coors Light consumed in the Denning household.
We made it through another long offseason. Let's all enjoy the next four and a half months, and remember not to take this one for granted.