CFB
PrimeTime has come to Boulder
This is what swinging for the fences looks like.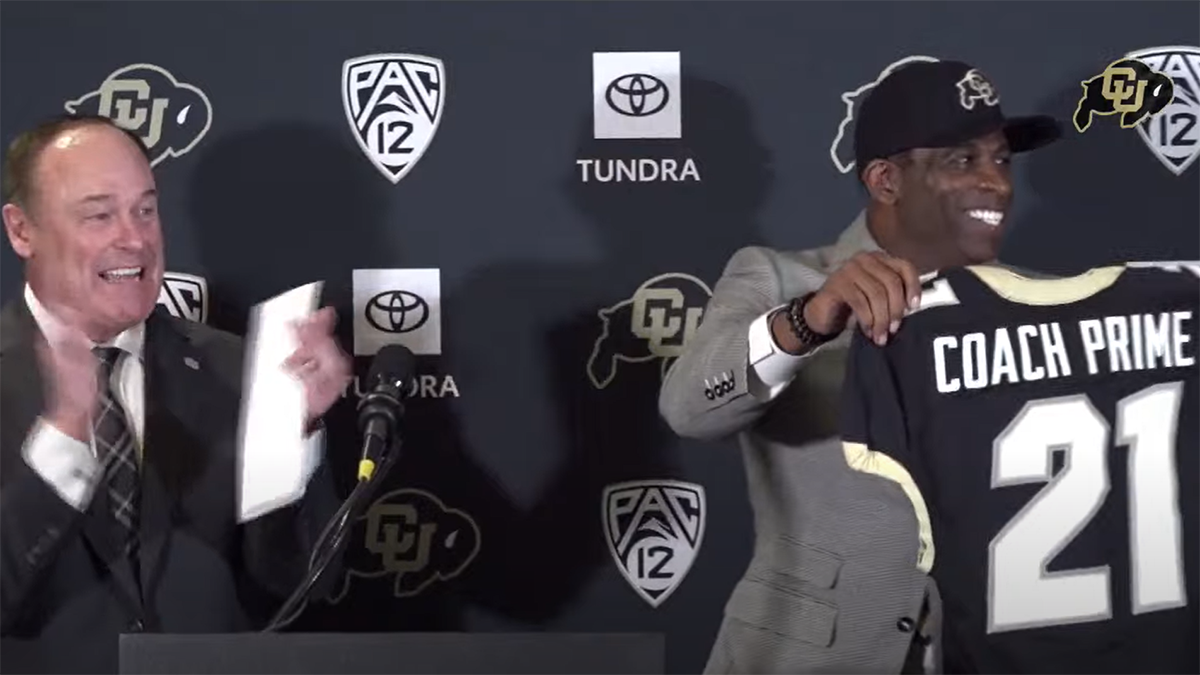 (For those viewing on e-mail: click 'view online' to see the full contents of today's post)
---
I still can't believe that photo –or any of what's happened this week– is real. Deion Sanders is actually Colorado's Head Football Coach.
At this time two months ago, CU was 0-5. They had just fired Karl Dorrell after losing 43-20 to Arizona, and I –along with every other CU fan– was just relieved that we could begin the process of moving on from two of the worst seasons in program history.  
Two months later, Deion Sanders is actually Colorado's Head Football Coach.
I spent the last two months wondering if maybe they could talk Bronco Mendenhall out of retirement, what Willie Fritz's offense would look like in Boulder, or if Illinois Defensive Coordinator –and former Buff– Ryan Walters would be willing to take the risk of his first head coaching job being such a massive rebuild. No matter who it was, they were going to step into arguably the biggest mess in power five football. In the end, I expected CU to make a hire that generated some small talk on Twitter, got a quick grade from everyone, and then the CFB news cycle would move on like it always does: Without Colorado as a factor. Instead, they're the most talked about entity in the sport right now.
Do you mind if I say it again? Deion Sanders is actually Colorado's Head Football Coach. (And if you want to hear me say it for 40 minutes, here's the podcast I recorded about his hire, and what it means to CU fans) ⬇️
(For those reading on e-mail: click 'view online' to listen to the podcast)
The Colorado fanbase has been dying to see the program generate a buzz like this for most of the last two decades. Sure, there was getting to the Pac-12 Championship in 2016, and there have been smaller moments within those years, but we've been chasing the feeling of 62-36 since 2001. Hiring Deion is the closest thing we've seen to that level. I know that social media reaction is far from the most important thing here, but look at how crazy this is:
CU went from a program no one outside the fanbase paid any mind, to the talk of the sport in the span of three days! That means something, especially in an era where nearly every kid you're recruiting has a strong social media presence. For the first time in a long time, Colorado Football is not only relevant, but cool.
Of course, the most important thing is that it has to work on the field to matter. The roster's going to look entirely different from last year's, but it'll also be better, with an expected influx of high-level talent from the transfer portal. There's also going to be an adjustment period between those new –and returning– players and whoever ends up on the coaching staff. Two things we know for sure are that Shedeur Sanders is the quarterback, and that they're going to play fast and high-octane as hell under Offensive Coordinator Sean Lewis.
As for how that all translates to on-field wins and losses? We'll just have to wait until next September. There's always the possibility that it doesn't work! No coaching hire is a guaranteed home run, regardless of how much it might look like one on the surface. (Unless it's Alabama hiring Nick Saban or Ohio State hiring Urban Meyer). Coach Prime has a lot of work to do in Boulder, but even if he doesn't knock it out of the park, he's always shown us that he's good for at least a triple.
PS: The Aflac commercials are gonna kick ass, and I need my royalties if they do this: