Ohio State
My 10 Favorite Ohio State-Michigan State moments
An alarming number of these happened in East Lansing.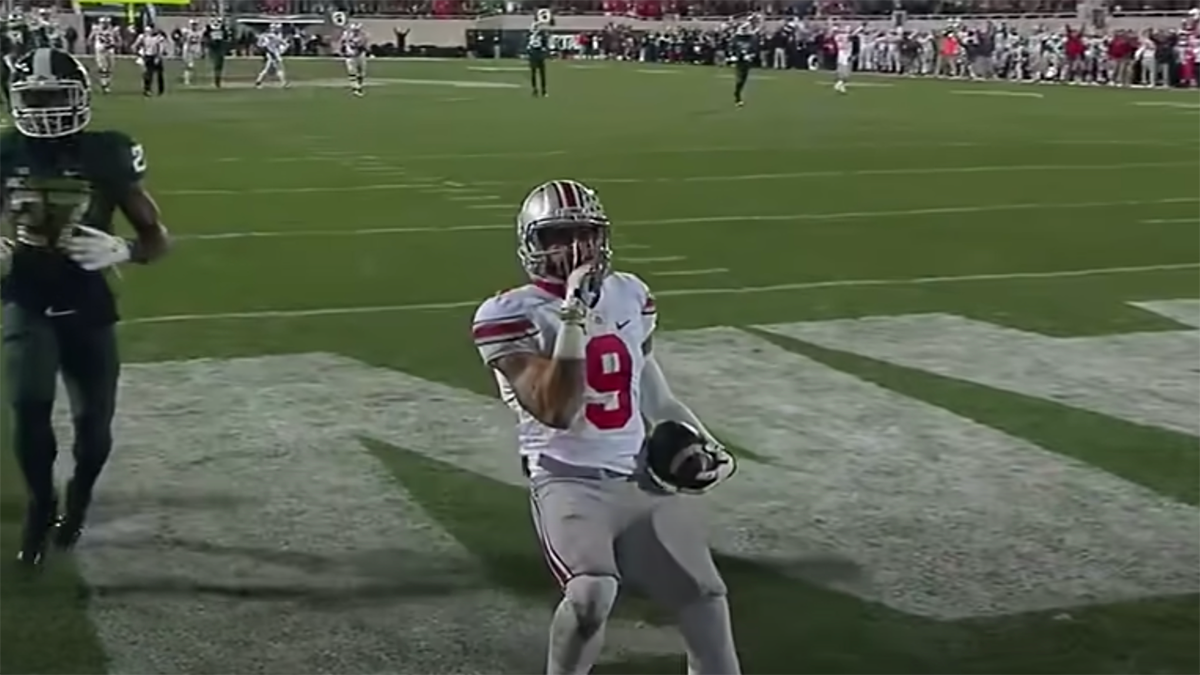 (PSA: Click 'view online' if you're reading on e-mail to see all the content in this article.)
I don't think I need a long intro here. These are my 10 favorite Ohio State-Michigan State moments ever. For the MSU fans who somehow found this –Hello, please subscribe– and are asking "bUt WheRe ArE 2013 aNd 2015???" I wrote about every Ohio State loss since 2002 if you want to gloat and read about the three times your team has won this game in the last 20 years.
---
10. CJ Stroud's touchdown run (2020)
I should've known better.
My mentions turned into a disaster the second I tweeted this, and I can't say I'm surprised. My replies became an EMBRACE DEBATE™️ battlefield about whether CJ Stroud runs enough, instead of just laughing that our first real memory of him is a 48-yard touchdown run. When I said, "This play is extremely funny in retrospect," I meant "Haha, this is actually funny to think about with what we know now about CJ Stroud as a passer," not, "Haha, let me get this passive-aggressive 'CJ Stroud doesn't run enough' take off."
9. Terrelle Pryor shows his potential (2008)
Jim Tressel kept things simple for a young Terrelle Pryor during the 2008 season. Pryor attempted more than 20 passes in a game just once, and a good chunk of his throws that year were either screens or something safe and quick to avoid putting too much on his plate. Despite how sheltered the playbook was, Pryor still found ways to break through and show just how special he was. This game was just his fifth career start, and his numbers weren't jaw-dropping –7-11, 116 yards, 1 TD passing; 12 carries, 72 yards and another TD rushing – but his sheer play-making was:
8. Not watching the 2016 game
Everything about 2016 Ohio State-Michigan State was an abomination. The weather sucked, the offenses couldn't do shit, and the game itself was full of mistakes by both teams. Thankfully, I saw none of it live because I was tailgating for Colorado-Washington State. You're probably thinking, "Colton! Colorado-Washington State?! That's just as bad!" but then I tell you that both teams were 8-2 and in the top-25. The Buffs won a banger of a game that put them a win away from becoming Pac-12 South Champions. (A lot can change in six years.)
Anyway, I'm eternally grateful I had something else to do that day besides watch Ohio State struggle with a team whose only conference win that year was against Rutgers.
7. Troy Smith's wears the Michigan State defense, throws laser (2006)
Confession: I've always thought this play is as good as Troy's Heisman Moment™️ touchdown to Robiskie against Penn State. He had a freaking cannon.
6. Beanie Wells goes for 221 (2007)
Beanie Wells was the ideal blend of size, speed, and "get the fuck out of my way," to make for one of the best running backs of the 2000s. His 221-yard game against MSU in 2007 was a masterpiece, and a reminder of just how devastating he was to defenses when he was at his healthiest.
5. Ted Ginn does it all (2004)
Just find a way to get the ball in Ted Ginn's hands and everything else will take care of itself.
4. Braxton Miller to Devin Smith (2012)
This was the win that jumped-started the Urban Meyer era. The offense only scored 17 points, but they did just enough to beat a ranked Michigan State team on the road in Meyer's first Big Ten game. Braxton Miller's beautiful TD throw to Devin Smith provided the winning points, and showed just how much he'd grown as a passer in one year.
3. Drue Chrisman is the best player on the field (2018)
This game was just as bad as 2016, and its only saving grace was Drue Chrisman's punting. Yes, that's a real sentence you just read and I spent actual time writing. After his first punt went just four yards, Chrisman went god mode for the rest of the day, punting nine times for 340 yards. All five of his second half punts pinned Michigan State inside their own six yard line, including one that lead directly to Ohio State's defense scoring on of the worst plays you'll ever see:  
This was a game only Jim Tressel or Kirk Ferentz could love, and one where Chrisman was legitimately Ohio State's best offensive weapon. Sadly, this wasn't even the worst game Michigan State played in 2018. That honor goes to their 2018 Red Box Bowl matchup with Oregon, which horrified me so much that I made a 15-minute video about it:
2. John L. Smith's meltdown (2005)
The kids are playin' their tail off, and the coaches are screwin' it up:
1. The Whole 2014 Game
My favorite Ohio State win ever next to the Sugar Bowl against Alabama, and quite possibly the drunkest I've been for an OSU game. I sat in my friend's basement alone hammering Busch Lights and screaming at the TV for four hours, while the 10 people I was with were all upstairs watching LSU-Alabama, staying as far away from me as possible. This is the most important win of the Urban Meyer era (in my opinion) and a game that would've been devastating to lose after what happened the prior year against MSU in the Big 10 Championship.
Zeke Elliott ran for 154 and two TDs, while JT Barrett had the best game of his career, torching MSU for 386 total yards and five touchdowns. Pre-injury/Pre-Tim Beck/Ed Warinner JT was a monster, and I have zero time for anyone who tries to pretend otherwise.
This game was the first time I truly thought the 2014 team had what it took to win a national championship. That's why it's not just my No. 1 here, but one of my favorite Ohio State moments ever.