MY COLUMN
Ranking every Ohio State loss since 2002 by how mad it still makes me
You're going to be upset about a few of these.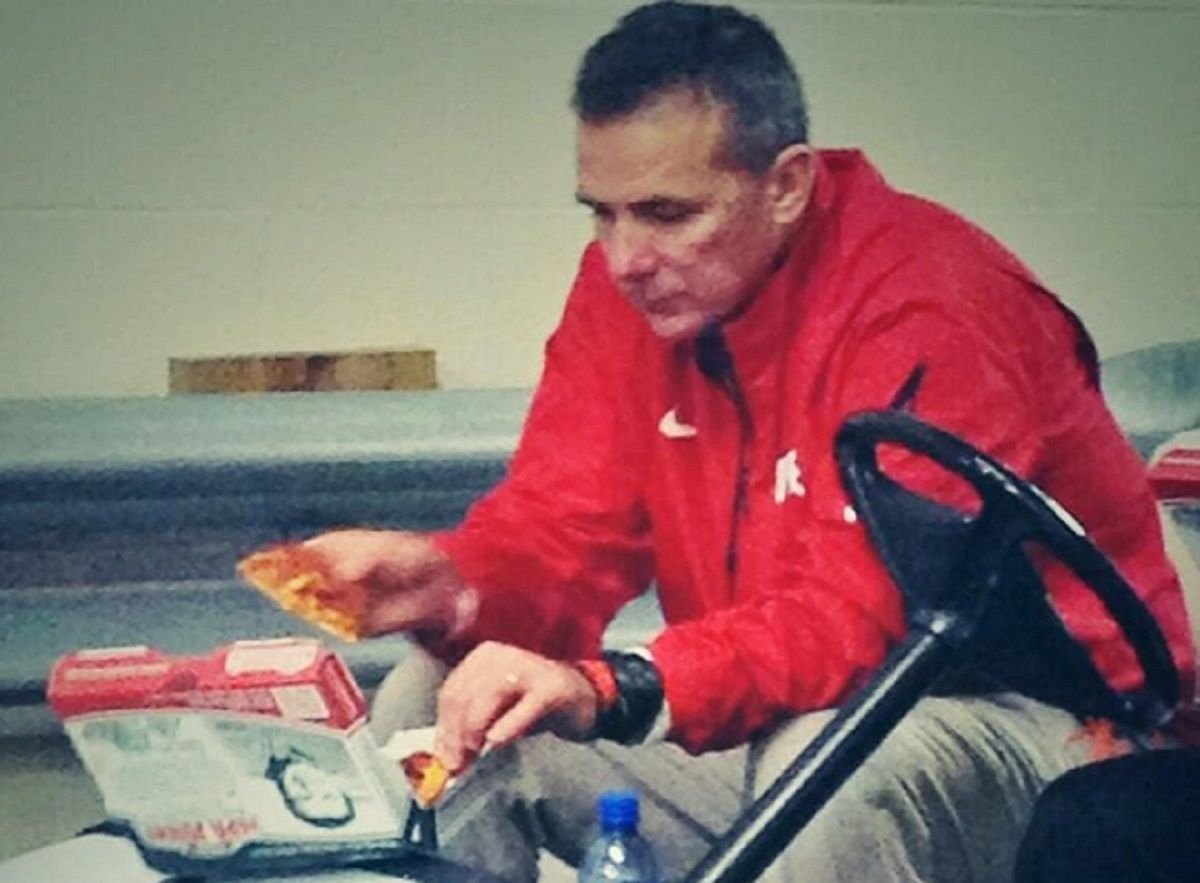 (I always have to put this at the top: For the best reading experience, you should click "view online" if you're reading this on email.)
Ohio State has lost 37 games since 2002, which is an average of 1.85 losses per season. Since I've already spent like 30 hours writing this and don't want to do any more digging, I'm guessing that 1.85 is one of the lowest totals in the country over that timeframe, if not the lowest. If you watch college football, you don't need me to expound on how good the Buckeyes have been in that time frame.
Losing that infrequently is obviously a good thing. Less losses means more wins, more chances for conference and national titles, etc. It also means that every loss is catastrophic and possibly grounds to change the entire structure of the program. Does that sound like the Ohio State fanbase after a loss to you?
For whatever reason, I got the sick idea to go through all 37 losses over the last twenty years, and rank them by how mad they still make me. I chose 2002 as the starting point, because that was the first season I really started watching and rooting for Ohio State in-depth. Also, I shouldn't have to say this, but I will anyway: This is my own list. It's great if you disagree with it, but it's literally about what makes ME mad, not what should make YOU mad. Thanks for reading, please subscribe, and I hope you enjoy this trip down an extremely painful memory lane.
---
37. Virginia Tech 35, Ohio State 21 (2014)
The most necessary and important Ohio State loss of the last twenty years.* The 2014 run to the national championship doesn't happen without this, and who knows what that alternate timeline looks like.
Shoutout to former Hokies Defensive Coordinator Bud Foster, and his infamous bear defense. I hope someone in Ohio State Football Operations sent him a championship ring, because he deserves one for his brilliant gameplan that night. His defensive strategy completely shifted the dynamic of Ohio State's offense that season. I celebrate this game like it's a win.
*We'll come back to this idea later.
36. Alabama 52, Ohio State 24 (2020 National Championship)
As far as I'm concerned, this game isn't official Ohio State Football canon. It's Alabama fan-fiction more than anything else.
Ohio State had like 13 dudes out with COVID –Alabama somehow had none– then lost Trey Sermon on their first series. Justin Fields was playing with one functional side of ribs, and the defensive staff crafted the brilliant strategy of putting Tuf Borland in man coverage against a Heisman Trophy-winning wide receiver. I'm not taking anything away from Bama; they were amazing that year and deserved to be champs, but this loss wasn't worth a second thought while it was happening, and it isn't worth one now. Go watch the Sugar Bowl Skycam highlights if you're still upset about it.
35. Florida 24, Ohio State 17 (2012 Gator Bowl)
I watched this with my buddy who's a Florida fan, and I don't think he's ever talked shit to me about it even once. That should tell you how meaningless it is. The angriest I can get is at the people who decided these two horrendous teams should play each other.
34. Northwestern 33, Ohio State 27 (OT) (2004)
Putting aside the 2011 season that was blown up by the NCAA, 2004 is the last time Ohio State had a "bad" record. They went 8-4 after starting 3-3, and finished fifth in the Big Ten. The first of those losses was in overtime at Northwestern, and the only play I remember is Mike Nugent missing this kick:
33. Wisconsin 24, Ohio State 13 (2004)
The second loss from 2004. This one ended an 18-game home winning streak, and was the first time Jim Tressel lost back-to-back games at Ohio State.* I remember two things about this game:
Ted Ginn's punt return touchdown:
2. Brent Musburger talking about the 2004 election:
*They lost again the next week, but Tressel never lost two in a row again at Ohio State.
32. Iowa 33, Ohio State 7 (2004)
Sensing a trend? This loss closed out the three-game losing streak, and it was a certified ass-kicking. Iowa outgained Ohio State 448-177, were up 30-0 at the start of the fourth quarter, and probably could've put up 50-plus if Kirk Ferentz had really wanted to. The offense was in a rough place in the middle part of that season: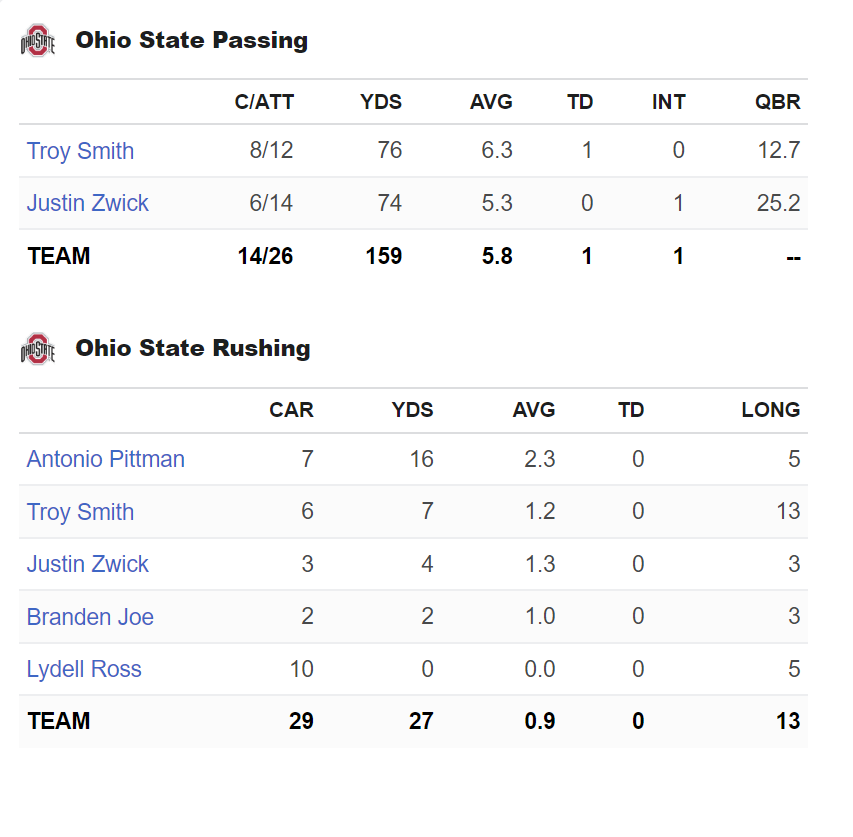 31. Purdue 24, Ohio State 17 (2004)
The final 2004 loss. I'm not even sure I watched this game, and this is basically the only public footage of it available:
Ohio State turned the ball over four times and lost to a Purdue team who was on a four-game losing streak. How the hell did they smack Michigan –who was 9-1 and undefeated in Big Ten play to that point– by 16 points the next week?
Maybe I was just disconnected from following the team in 2004, but none of these losses get to me. My point in grouping them together isn't that they didn't matter; but looking back, what did anyone expect that season? They basically had to replace everyone of note from the stacked 2002-03 teams, and Tressel couldn't decide between two inexperienced quarterbacks in Troy Smith and Justin Zwick. Stars like Nugent, AJ Hawk, Bobby Carpenter, and Nick Mangold made sure things didn't go off the rails, but this was a team that was built to have growing pains in 2004, then make championship runs in 2005 and beyond.
30. Iowa 55, Ohio State 24 (2017)
This one is much lower for me than it is for probably 98% of you, so hear me out: I'm not sure any team in college football was beating Iowa that day. They played one of the most flawless games I can remember, and the atmosphere in that stadium just made it one of those days. In hindsight, it really wasn't that surprising. Ohio State was coming off the high from the ridiculous Penn State win, and it was a prime let-down spot against a team hungry for an upset.
I remember watching the replay of Josh Jackson picking off JT Barrett with one hand and just laughing out loud. Not in anger or disgust. Just pure amusement at how poorly everything was going: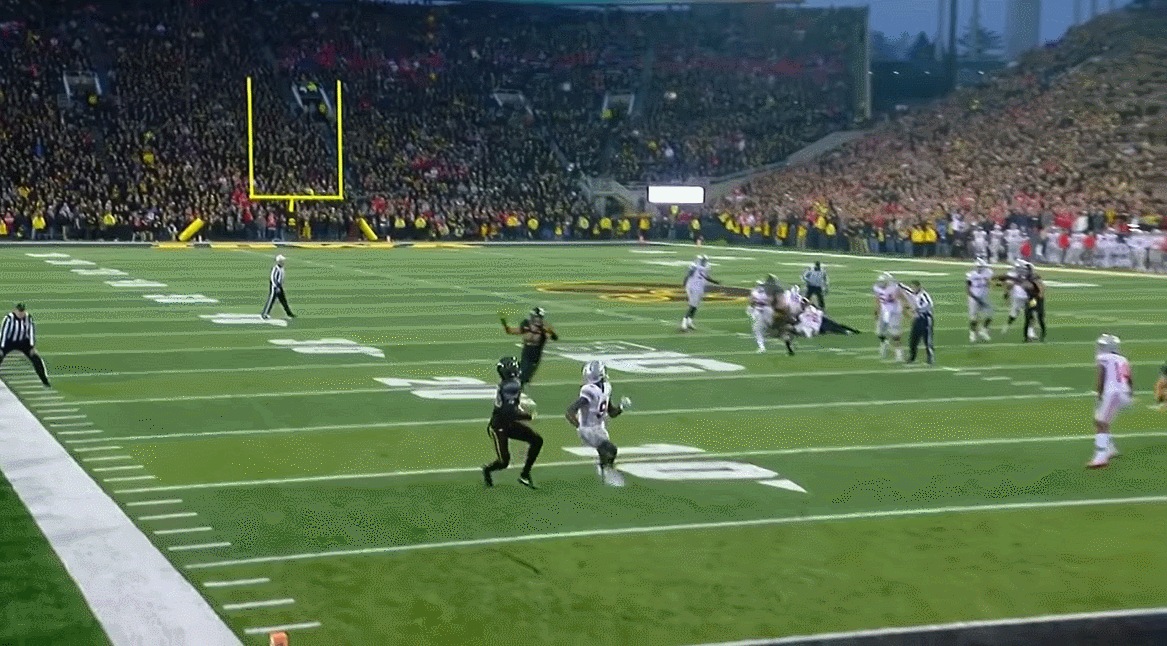 Sometimes a team plays damn near perfect and there's nothing you can do about it. This was was one of those times. I'm convinced that there's no scenario or alternate universe where Ohio State could've won this game, so I'm not that mad at it.
29. Miami (FL) 24, Ohio State 6 (2011)
The only reason it's this high is because I won't ever forget the feeling of reality truly setting in that 2011 was going to be ugly. Not a single receiver caught a pass that day: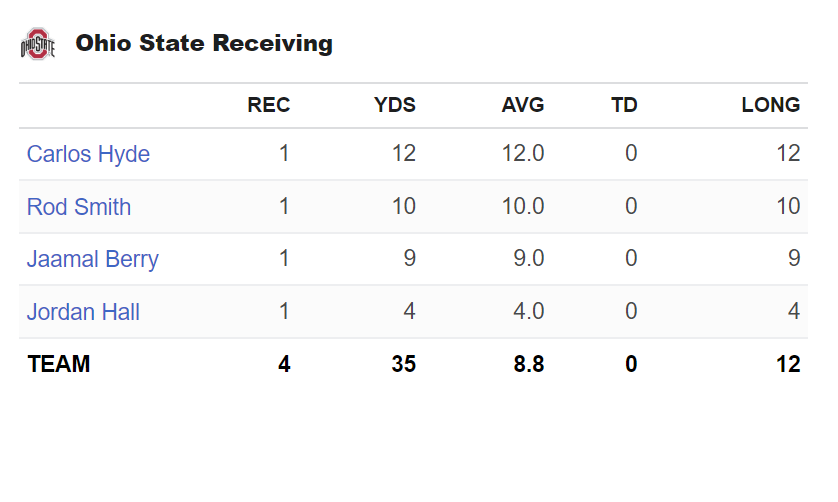 28. Illinois 28, Ohio State 21 (2007)
My take here is simple: Stupid game, didn't matter in the long run. This loss felt like the end of the world as it happened, but two weeks later Ohio State was still headed to the national championship. The one thing that still gets me heated is watching Illinois eat the last 8 minutes of clock:
Never forget that Ron Zook Tresselball'd Jim Tressel.
27. Penn State 24, Ohio State 21 (2016)
The same rationale as 2007 Illinois. Was blowing a 21-7 fourth quarter lead awful? Yes! Did losing on a blocked field goal return where Urban Meyer could've just called timeout to reset things make it extra shitty? Also yes! In reality: it didn't mean anything for Ohio State's season. They still made the playoff, getting in over Penn State despite losing to them, and Penn State winning the Big Ten Championship. That's still pretty funny to think about, and it's why this loss doesn't bother me.
26. Wisconsin 17, Ohio State 10 (2003)
The 2003 team was going to drop a game eventually, and it's hard for me to be that pissed about a 19-game win streak ending at the hands of a top-25 Wisconsin team in Camp Randall at night. It's just that losing to that particular Wisconsin team didn't age well. The Badgers went 1-5 afterwards, and finished with a 7-6 record. On the flipside Ohio State deserved to lose after the bullshit Robert Reynolds pulled on Jim Sorgi, so this game belongs low. I don't blame you if you still have nightmares about Lee Evans, though:
25. Penn State 20, Ohio State 14 (2011)
This loss doesn't bother me as much as the talk surrounding everything that was happening off the field at that time does. This was Penn State's first win after firing Joe Paterno, and it was pretty nasty watching people around the sport put what happened with Tressel at Ohio State in the same sentence as what happened at Penn State.
24. Penn State 17, Ohio State 10 (2005)
Everyone talks about Ryan Hamby dropping the pass against Texas, but here's a reminder that he also blew the block that got Troy Smith crushed by Tamba Hali, effectively ending this game:
This one stung –and still does– because of how close it was, but it also belongs in the same category as 2014 Virginia Tech: A loss the team needed in order to grow into the best version of itself. Smith and the offense hit their stride after this, winning their final seven games of the season. They didn't lose again until the 2006 National Championship vs. Florida.
23. Clemson 40, Ohio State 35 (2013 Orange Bowl)
I'm still peeved that the 2013 team didn't get a shot at the BCS title, mostly because of how bad the defense was. I'm even more peeved that Vonn Bell did this after the defensive staff invented new excuses each week to not give him a bigger role. This loss compounded with the Big Ten Championship loss to Michigan State was a tough way to head into the offseason, especially given that just a month earlier it looked like they'd play for the national championship.
22. Florida 41, Ohio State 14 (2006 National Championship)
If you went back to 2007 and asked 16-year old me where this game ranks, it'd be No. 1. 15 years later, it lives here. Too low for you? That's fine, but the 2006 team was overrated and this game proved it. They could've played 100 games against Florida, and I'm convinced they'd get blasted in 80. That said, it's a national title loss, so there's still a lot that bugs me:
Whose plan was it to not run the ball? It was clear early on that Florida's pass rush was going to whip the offensive line's ass all night, but Ohio State actually ran the ball well before the score got out of hand. Antonio Pittman was gashing their defense, and it looked like they had some life when his 18-yard touchdown run in the second quarter cut the lead to 21-14. Things were looking even better when Florida punted on their next drive. Here's what the offense did in response: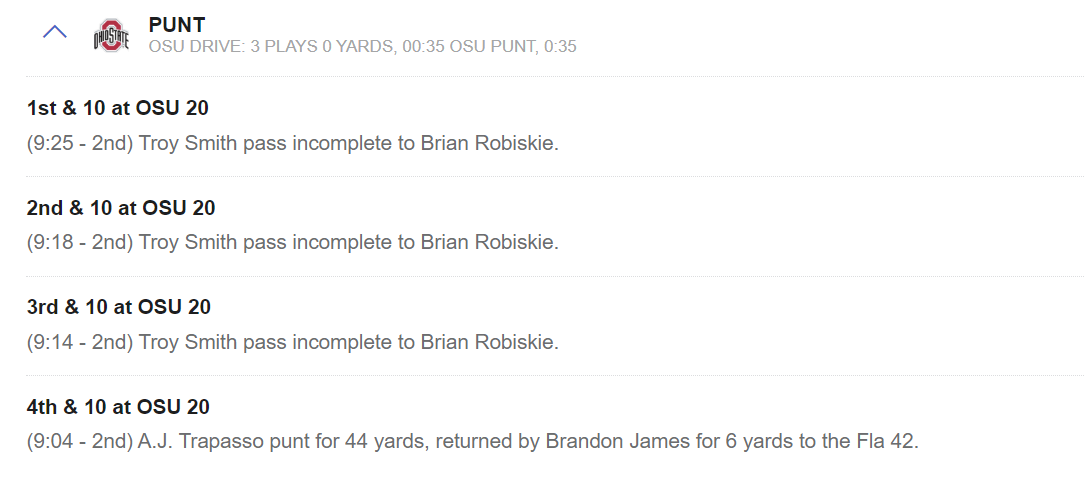 This might've been the worst offensive gameplan of the Tressel era, and that's saying something.
Has there ever been an Ohio State team in the last 20 years less prepared for a game? I can take losing –even getting your ass kicked by a better team is understandable– but this was something entirely different. We've all heard the stories of how unserious they took Florida and the type of debauchery the team was getting into (allegedly) in the long break after the Michigan game, but this was an all-time no-show.
To my earlier point about thinking the 2006 team was overrated: I hate that they got a title shot over the 2005 team. 2005 Ohio State beats 2006 Ohio State as bad as Florida did.
We can't even enjoy the one awesome moment from this game, because it was instantly ruined by a guy jumping on his teammate's back and injuring him.
21. Wisconsin 31, Ohio State 18 (2010)
Speaking of game-opening kickoff returns for touchdowns.
I'm not going tell you a loss that wrecked Ohio State's national title hopes while they were ranked No. 1 doesn't make me mad, but it's not the first emotion I felt when it happened, and it isn't now.
I've gone back and watched this game a few times since, and the first thing that comes to my mind is how Ohio State clawed back into the game. Those dudes never quit, despite the opening kickoff TD and then falling behind 21-0. I've always admired their resolve to keep chipping away more than I get angry about the result. The 19-play, 94-yard touchdown drive ending in Boom Herron's touchdown –and then the two-point conversion– to make it 21-18 is one of my favorite 'fuck you, and your defense,' drives in Ohio State history. They gave everything they had to get back into that game; it just wasn't enough.
It's a shame the 2010 team didn't get the chance to take on Auburn for the national title. They were the most complete team of the Tressel-era, with a dominant defense finally complemented by a dynamic offense who didn't feel like they were just there to score 17 points and play for field position. Matching that up against Cam Newton and his special season would've been epic. Unfortunately for them, Wisconsin –and to a large extent JJ Watt– had other ideas.
20. Michigan State 10, Ohio State 7 (2011)
Arguably the worst 60 minutes of football I've ever watched. I'm not even sure how to describe this game if you didn't see it live. Ohio State had 178 total yards, and 62 came on the final garbage-time drive where Evan Spencer scored a touchdown with 10 seconds left to avoid the shutout.
The only reason it's this high is because I'm pissed that I can't find the broadcast version of it anywhere. I've been looking high and low for like seven years, and it just doesn't exist. I want (need) to go back and truly experience how putrid this game was again, but the CFB gods won't let me. If you or anyone you know has a copy of this game, please send it to me.
19. Michigan 35, Ohio State 21 (2003)
I could copy/paste what I wrote about 2010 Wisconsin and it'd apply here. Ohio State fell too far behind against a damn good team on the road, and a strong comeback effort wasn't enough.
What makes my blood boil more about this game is 1) Losing to Michigan, obviously and 2) What happens if Craig Krenzel was healthy enough to come back with 13 minutes left in the fourth quarter? The 2003 team was so much closer to possibly playing for back-to-back national titles than we ever really talk about.
18. Clemson 31, Ohio State 0 (2016 CFB Playoff)
I'd have this in the 30s if the offense hanging the defense out to dry didn't piss me off as much as it still does. The defense held their own against a dynamite Clemson offense, and forced two more turnovers than the offense had points. I'll never forgive Urban Meyer, Tim Beck, the rest of the offensive staff, and the offense itself for the massive dump they took in this game, or the other 75% of the 2016 season.
17. Purdue 26, Ohio State 18 (2009)
The OG Purdue Harbor is the most shocking Ohio State loss of the last 20 years, but it's also one I've mellowed on a bit as the years have gone by. It's still mind-boggling how bad they played against a team who was 1-5 at the time, but it also might've been the wakeup call they needed to close out the season en route to the Rose Bowl win over Oregon.
But ff you're looking for things that are still pretty infuriating to watch, here you go:
16. Michigan State 17, Ohio State 14 (2015)
Before you angrily tweet me some bullshit that I'm definitely gonna mute you for: Are you still mad about this game, or are you just mad about the 2015 season?
How could you be that mad they lost this when the whole year was a mess from the start? Meyer completely botched the quarterback competition, and hiring Tim Beck to coach them made it even worse. The Beck/Ed Warinner co-offensive coordinator arrangement was a disaster. They had no idea how to use Braxton Miller outside of the Virginia Tech opener, which multiple big-time players were suspended for. Even the team slogan was terrible. Outside of the great defense and Zeke Elliott/Michael Thomas thriving, that whole season was a shit show.
I'm supposed to be mad that Ohio State lost to a 10-1 Michigan State team when they could barely move the ball on 3-10 Hawaii? They might've lost to Northern Illinois if it wasn't for Darron Lee's pick six! It took everything they had to beat teams like Indiana –we'll come back to them– Maryland, and Minnesota. Even the complaints about not using Zeke enough in that game are flawed, given that he was in the hospital for three days that week. That team was a ticking time bomb, and the Michigan State game is when it exploded.
I've mentioned the idea of certain Ohio State teams needing a loss to reach the best version of themselves, and no team needed a loss more than this one. Do you think it's a coincidence they blasted Michigan the next week? That doesn't happen without this loss. My biggest beef is that it didn't happen sooner. I'm convinced that if they would've lost the Indiana game, it not only would've been the wake up call they needed, but it would've given them enough time to get closer to becoming the team they had the potential to be. (And losing to IU wouldn't have cost them the Big Ten East.)
Here are actual things from this game that still fire me up:
Joey Bosa jumping offside
Losing to Michigan State's backup QB
Letting said backup QB engineer this drive
Arguably the most incredible group of players in school history losing their last game in The Shoe
So no, I'm not as mad as you are about this game. Not even close. What happened that day was just a product of the 10 months that led up to it. A brutal loss, but a loss that Ohio State brought on itself.
15. Michigan State 34, Ohio State 24 (2013 Big Ten Championship)
One thing we as sports fans don't do enough is give the other team "some fuckin' credit." I'm here to give Michigan State their credit. They were better than Ohio State in 2013, and they proved it that night in Indy. That's one of the best defenses I've ever seen, and their offense was just good enough to hold up their end of the bargain. Michigan State deserved that game, and the props that come with it. That said, I'm not just gonna type "Sparty better" and easily brush off a loss as big as this one.
The Braxton Miller sweep call on fourth down. The leaky defense from all season that finally bit them in the ass. The fact that they had a 24-17 second half lead after trailing 17-0. It all sucked, but it's still more of a gut punch than something that makes me angry. We all wanted to believe Ohio State would win the national championship that season, but this game was confirmation that they were too flawed to do it. Miller and his receivers weren't consistent enough to compliment a legendary run game, and even though the defense had some serious young talent, it was talent lacking direction.
I think about the 2013 team a lot. They were young and flawed, but fun as hell. Games like Northwestern, Iowa, and (especially) Michigan were exhausting and agonizing, but also exhilarating. The run game is still my favorite group to watch in Ohio State history. They were a beautiful disaster, and they were so close to playing for a national championship. In the Big Ten title, they ran into a team who was just flat-out better. When it was time to make a play to win the game, the better team made it.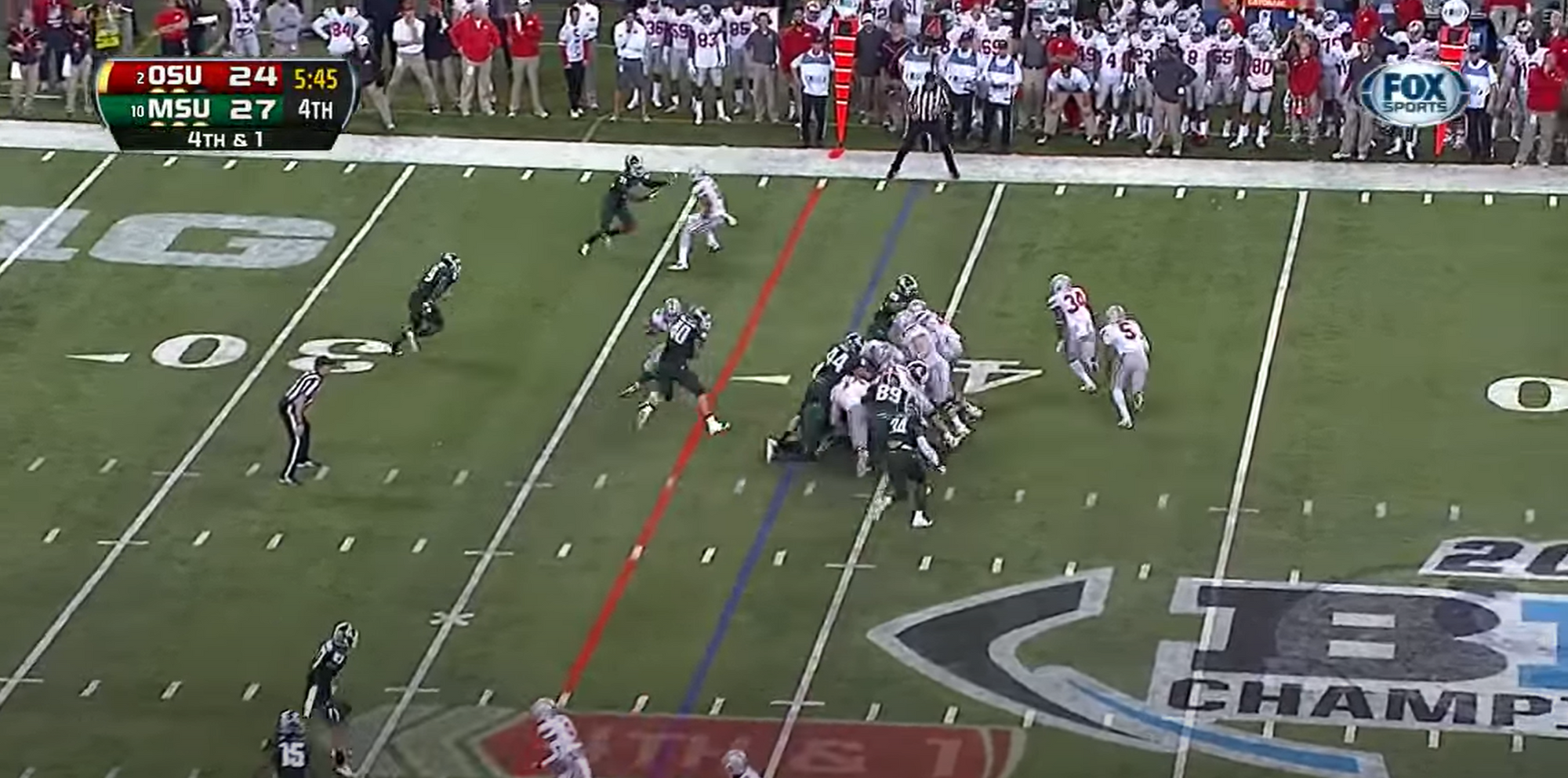 If I were ranking the most painful Ohio State losses for me, this would be No. 2.
14. Purdue 26, Ohio State 23 (OT) (2011)
Dumb game in a lost year. So why is it this high? Because one play was a microcosm of the whole season. Braxton Miller had a lot of great moments, but him scrambling around on fourth down with the game on the line, jumping over his own lineman, then finding Jordan Hall on the other side of the field for what should've been the game-winning touchdown is one of my favorites:
Unfortunately, it's forever tainted in my mind because they couldn't make a fucking extra point:
13. Texas 24, Ohio State 21 (2008 Fiesta Bowl)
I'm going to reference this a few times over the rest of the article, but this game came at a time when Ohio State really needed a win against a good non-conference opponent, just to shut everyone up. I thought they outplayed a Texas team that was basically a play away from making the national title. I'm still upset about the final drive. This game was less important than some of the others it's above, but a missed opportunity at a huge statement win is why it's here. Also, I've got some extra hate in my heart for Texas because my brother went there.
12. Clemson 29, Ohio State 23 (2019 CFB Playoff)
I know this is everyone's No. 1, but I don't know what to tell you. It makes me more heartbroken than mad. I love that 2019 team so much, and to see them lose the way they did hurt. There were the missed opportunities in the redzone. The defense being one stop away. Justin Fields and Chris Olave not being on the same page at the end. I said the 2013 Michigan State loss would be No. 2 if I were ranking the most painful Ohio State losses for me; This would obviously be No. 1.
Here's why the two moments from this game that piss everyone off don't piss me off enough for it to be higher:
The Shaun Wade targeting: Bad rule, right call. I hate it as much as you do, but they're calling that 10 times out of 10. It shouldn't have been an ejection, but unfortunately the rules don't leave any wiggle room for intent. The thing that makes me most mad about this play is Trevor Lawrence not even having to go through some sort of concussion protocol after he was lying on the turf like this.
The reversed fumble: One of the worst calls I've ever seen. I can't believe they overturned it, and it's still awful. So awful that at one point in 2020 I said something about it and got a phone call from a certain television network telling me to delete it. (That's a story for another day.) As shitty as it was, that call alone didn't cost them the game. Clemson punted the next play, and Ohio State couldn't take advantage of great field position when their drive ended with Fields throwing a bad interception. If the call happened in the fourth quarter, I'd be more upset. Maybe that's just my dumb logic, but ¯\_(ツ)_/¯
Ohio State had too many self-inflicted wounds for me to be angry at the officiating. That's something I said right after the game, not just with the hindsight we have now. Because of those mistakes, we'll always have to wonder what would've happened if the best team in Ohio State history got a shot to cement their legacy in the national championship. That makes me sad more than anything else.
11. Michigan 42, Ohio State 27 (2021)
I said at the start that the 2014 Virginia Tech loss was, "The most necessary and important Ohio State loss of the last twenty years.*" The asterisk and accompanying, "We'll come back to this idea later" was for this game.
Depending how the 2022 season goes, this could either move into the top-two, or replace Virginia Tech at No. 37. Let me explain:
If Ohio State wins the 2022-23 national championship, I'm going to credit this game. I think losing to Michigan the way they did was the only thing that was going force the program to refocus, and get to the next level. Getting wrecked by Alabama in 2020 clearly wasn't enough to do it, and neither was what happened against Oregon. Do you think we see the degree of overhaul and change that Ryan Day's made the past 5 months if they beat Michigan, but then lose to Georgia in the playoff?
Is it dumb to say that losing to Michigan might've been the best thing to happen to the program going forward? Maybe, but I think it was necessary. If they go all the way, I'll remember this game the same way I do 2014 Virginia Tech. How's that for a galaxy brain take?
On the flipside: If they go 9-3 then this baby shoots right to the top of the rankings and I burn everything down. Guess we'll find out in a few months!
10. USC 35, Ohio State 3 (2008)
I said in the 2006 Florida writeup that I can understand getting your ass kicked by a better team and I won't necessarily fly off the wall about it. Ohio State got their asses kicked here, and I'm still off the wall about it.
The program's on-field reputation was already on thin ice after the back-to-back national title losses, but this game was irrefutable evidence that they didn't belong with the big boys anymore. It's the most embarrassing game on this list, and it's highlighted by Marcus Freeman getting toasted by a fullback:
9. Michigan 40, Ohio State 34 (2011)
The worst Ohio State team of the last half century –with an interim, first-time head coach and an offense whose leading receiver had 14 catches on the season– was thisclose to going into Michigan Stadium, putting up 40-plus points, and beating a 9-2 UM team for the 8th straight year:
Imagine how well this win would've aged. It bugs the shit out of me to think about.
8. Texas 25, Ohio State 22 (2005)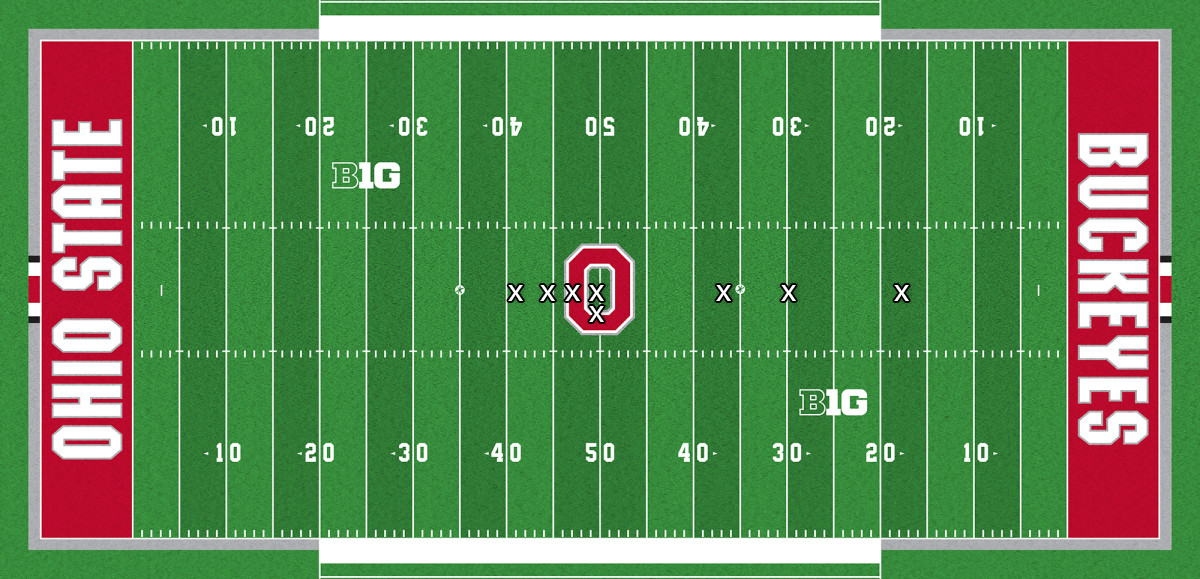 The X's on the above graphic represent the EIGHT POSSESSIONS Ohio State had that started at their 40 yard line or better. They scored zero touchdowns on those eight drives. The three possessions that started inside Texas' 40 all ended in field goals. We can yell all we want about Tressel flip-flopping QB's, or the Ryan Hamby drop, but neither would've mattered if they just scored a touchdown on even one of those drives. I've never seen a team consistently waste great field position the way they did that night. Credit to an awesome Texas team and Vince Young for finding a way, but Tressel and the offense threw away an incredible performance by AJ Hawk and the defense in what what would've been an all-time win.
7. Purdue 49, Ohio State 20 (2018)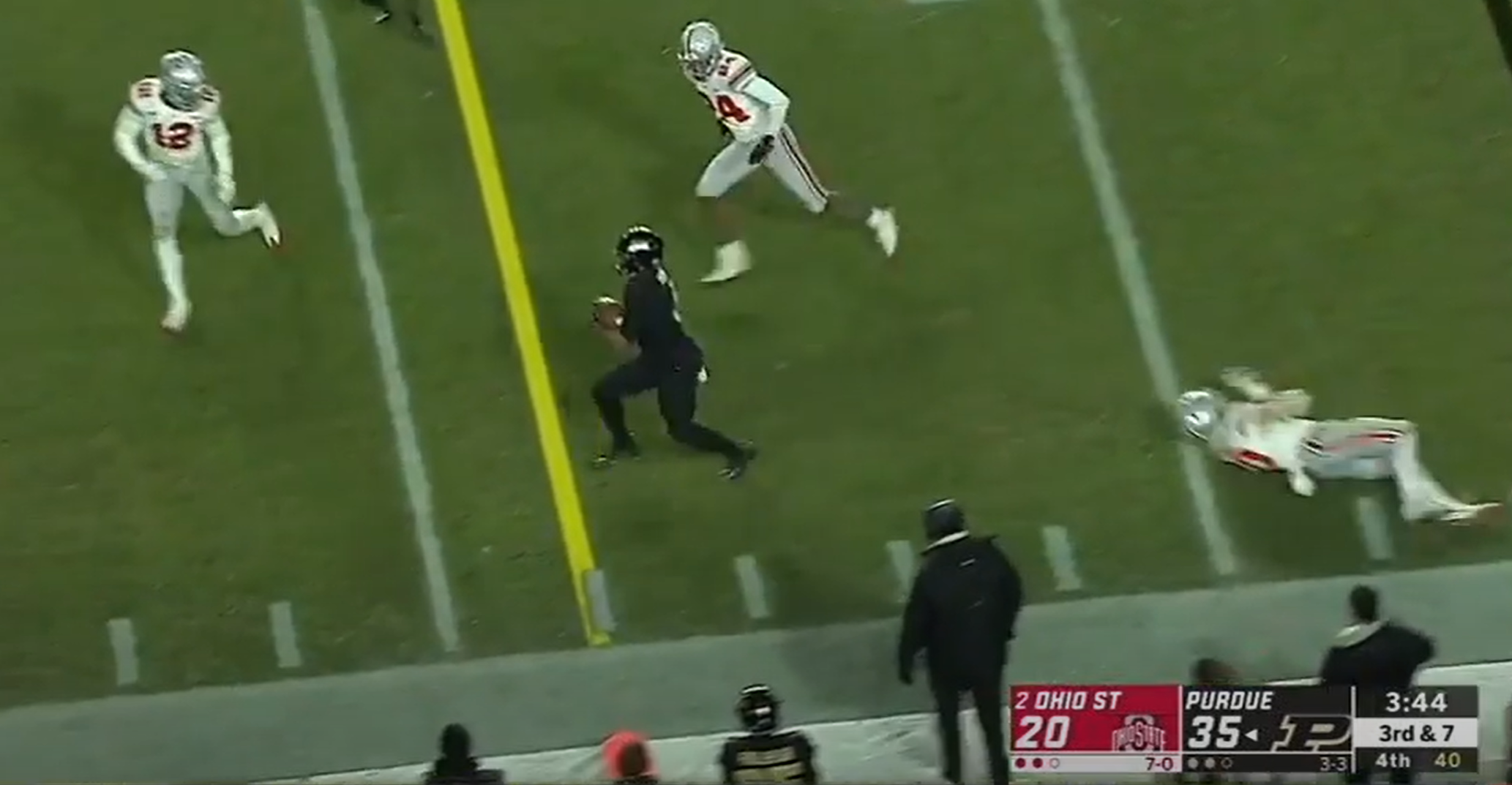 6. Oregon 35, Ohio State 28 (2021)
It's five spots above 2021 Michigan only because it was confirmation that the defense was going to cost them a chance at a title. (Again.) I was cautiously optimistic heading into the year that they would improve at least enough to not be a complete disaster....Then they gave 31 points and 5.5 yards per play to Minnesota in the opener, despite PJ Fleck actively trying to kill the clock from the very first play. It was a warning sign in retrospect. The next week vs. Oregon was a full-on catastrophe.
The Ducks didn't even do anything that outside the box, and they still ate Kerry Coombs alive. They scored on essentially the same weakside run three times, while Ohio State's back seven continuously looked out of position on the most basic of looks. It was dreadful, but it wasn't just limited to the defense.
The offense shredded Oregon through the air, but couldn't convert in two key short yardage/red zone situations. This was glaring problem last year, and one that Ryan Day's offenses have had almost every season he's been in Columbus. They couldn't find a way to consistently generate a push, despite the fact that Oregon didn't even have Kayvon Thibodeaux in the lineup. We're all focused on the defense, but this is a huge issue that Day needs to address heading into 2022.
Lastly: Does the Ohio Stadium crowd ever make noise? The atmosphere for this game –outside of Oregon's last drive– was pathetic, as it usually is for any non Michigan/primetime Penn State game. I get that noon kicks suck, and the lower bowl is full of people who were in the student section during Woody Hayes' first season, but we can't possibly get a bit more juice in there? If the NCAA '23 video game brings back the crowd noise meter like they had in the mid 2000's versions, Ohio Stadium's needs to constantly sit around 45 decibels. That's how mad I am about this game; I'm writing about the fucking crowd noise!
5. Nebraska 34, Ohio State 27 (2011)
I grew up going to Colorado games in the Big 12-era, so I've got as much hate for Nebraska as I do for Michigan. When they bolted for the Big Ten, I was looking forward to watching Ohio State stomp them in a way that CU rarely did, and that's pretty much what's happened since. It looked like their first matchup as conference opponents was heading that way when Ohio State had a 27-6 third quarter lead. Then Braxton Miller got hurt. You know what happened next:
This game means nothing 11 years later, but it still makes me so mad that the main reason Ohio State isn't undefeated against Nebraska is Joe Bauserman.
4. Penn State 13, Ohio State 6 (2008)
3. LSU 38, Ohio State 24 (2007 National Championship)
Every time I think about this game I come back to what a missed opportunity it was. 2007 was such a stupid season, and there was no way Ohio State should've been in the BCS Title Game. Yet there they were, up 10-0 early on LSU in New Orleans, looking like they might sneak away with the crystal football. Three quarters later, we were talking about another double-digit title loss to an SEC team.
LSU was better, but this loss was defined by mental mistakes, and Ohio State not making plays in big moments. Brian Robiskie's endzone drop and Austin Spitler mindlessly roughing the punter on a 4th and 23 stand out the most. 2007 Ohio State probably would've been the worst national champion of the last 30 years, and it makes me so mad that we aren't able to brag about that.
2. Oklahoma 31, Ohio State 16 (2017)
What I'm not mad about: Baker Mayfield planting the OU flag at mid-field after the game. I love when players do that type of stuff, and I had no problem with him doing it after he and Oklahoma stunted on Ohio State in their own building.
What I'm mad about: Everything else. This was an absolute tour de force of awful coaching from Urban Meyer/the coaching staff, highlighted by JK Dobbins getting 13 carries to JT Barrett's 18. Dobbins roasted and toasted OU's defense in the third quarter, but for some reason they just stopped giving him the ball. It's at the top of my shit list for all-time in-game Ohio State complaints. Elsewhere on offense:
The defense had no clue how slow down Mayfield, and the secondary committed at least two egregious, game-changingly bad pass interference penalties. I can't stand this game, because it embodies almost everything that was frustrating about Ohio State's 2015-2018 seasons.
1. USC 18, Ohio State 15 (2009)
The one loss I've never gotten over, and I'm not sure I ever will. By far the maddest I've been after a game. It lives in a class by itself, and it would take a monumental fuck-up for anything to surpass it.
I mentioned it earlier, but this was a time when the program really needed a marquee win. The blowout title game losses to Florida and LSU put the "Ohio State slow" meme on the map –and it was true, they were slow– and started the SEC's run of dominance over the sport. It got even worse when the 2008 season began with USC running them out of the Coliseum, and ended with another high-profile bowl game loss, albeit a close one to Texas. By 2009, the big game mystique around the program and Tressel had worn off, and Ohio State was a punching bag nationally. A primetime week two rematch at home versus No. 3 USC presented the perfect opportunity to shift the conversation.
Instead, we got one of the most conservative, play-not-to-lose games in program history. After kicking an 18-yard field goal to go up 10-7 with 14:56 left in the second quarter, Ohio State gained 85 total yards on 7 possessions the rest of the game. The offense that we all thought would open up in Terrelle Pryor's first full year as the starter looked like the same one from the Penn State debacle the year before. Luckily, the defense –with help from a safety by the punt unit– came to play, and Ohio State led 15-10 with 7:15 left. Then a true freshman QB drove 86 yards on them:
I've never been as stunned as I was after that game. I was done with Tressel. Sure, I had thought that in frustration before, but this was the first time I actually meant it. I remember reading this article on repeat, and agreeing with every word. I ripped the Ohio Stadium crowd earlier, but they were electric that night. Instead of playing into that advantage, Tressel managed the game like it was a September noon kick vs. Akron. Ohio State had an amazing opportunity to quiet all the negative talk about them, and I thought he single-handedly punted that chance away.
That all seems pretty dramatic in hindsight, right? They won 10 of their next 11 games, then beat Oregon in the Rose Bowl. It was a great season, and it set the table for an even better 2010. (On the field, at least.) I ended up loving the 2009 team, but I still feel the same way about this game almost 13 years later. They had no business losing to USC, and it was the final sign (to me) that Tressel had to adapt for Ohio State to stay relevant nationally. What happened in 2011 prevented us from ever seeing what that would've looked like long-term. Regardless, I still despise this game with all of my soul.
---
That's the list. Even if you hated every one of these games, I hope you enjoyed this article. If you did, please consider subscribing to the site and donating a few dollars your boy's way for more content about Ohio State, and college football in general. You can also subscribe for free and get access to all the content as well. No matter what, just subscribe. Lastly, I'd like you to notice how four of the top eight games on this list are non-conference home games. Get ready for September 3. Ohio State looks like they have a real good shot this season, and I have no interest in adding a 38th game –or more– to this list next year.