Ohio State
UPDATED: Ranking every Ohio State loss since 2002 by how mad it still makes me
MMMMMMM, FRESH PAIN!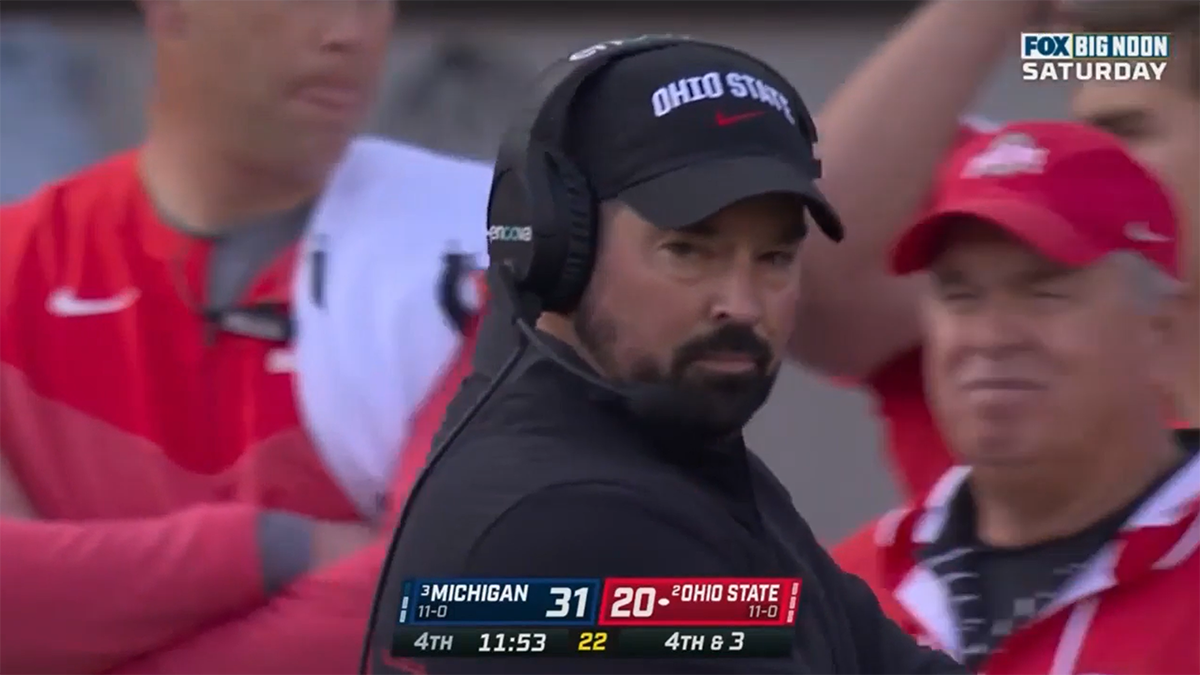 (I always have to put this at the top: For the best reading experience, you should click "view online" if you're reading this on email.)
---
According to Google Analytics, here are the top five Google searches that lead people to this site:
Back in June, I wrote this article ranking all 37 Ohio State losses since 2002 by how mad they still make me, and it's by far the most popular thing I've ever posted. It even got to the point where other fanbases put together their own rankings! Since I have no shame in exploiting my own pain for extra clicks, I thought now would be a good time to update the rankings, given the two fresh Ohio State losses from 2022 we have to reflect on.
Also - people are stupid, so I have to point this out before we begin: This isn't ranking the worst Ohio State losses of the last 20 years. It's my own personal ranking of how these losses make me feel. There isn't a right or wrong, and there's nothing to argue about. If you have 2015 Michigan State or 2019 Clemson as your No. 1, great! The whole point of the article is to make you think about what your rankings would look like.
---
39. Virginia Tech 35, Ohio State 21 (2014)
The most necessary and important Ohio State loss of the last twenty years.* Winning the national championship doesn't happen without this, and who knows what that alternate timeline looks like.
Shoutout to former Hokies Defensive Coordinator Bud Foster, and his infamous bear defense. I hope someone in Ohio State Football Operations sent him a ring, because he deserves one for his brilliant gameplan that night. His defensive strategy completely shifted the dynamic of Ohio State's offense that season. I celebrate this game like it's a win.
*We'll come back to this idea later.
38. Alabama 52, Ohio State 24 (2020 National Championship)
As far as I'm concerned, this isn't official Ohio State Football canon. It's Alabama fan-fiction more than anything else.
Ohio State had like 13 dudes out with COVID –Alabama somehow had none– then lost Trey Sermon on their first series. Justin Fields was playing with one functional side of ribs, and the defensive staff crafted the brilliant strategy of putting Tuf Borland in man coverage against a Heisman Trophy-winning wide receiver. I'm not taking anything away from Bama; they were amazing that year and deserved to be champs, but this loss wasn't worth a second thought while it was happening, and it isn't worth one now.
37. Florida 24, Ohio State 17 (2012 Gator Bowl)
I watched this with my buddy who's a Florida fan, and I don't think he's ever talked shit to me about it even once. That should tell you how meaningless it is.
36. Northwestern 33, Ohio State 27 (OT) (2004)
Putting aside the 2011 season that was blown up by the NCAA, 2004 is the last time Ohio State had a "bad" record. They went 8-4 after starting 3-3, and finished fifth in the Big Ten. The first of those losses was in overtime at Northwestern, and the only play I remember is Mike Nugent missing this kick:
35. Wisconsin 24, Ohio State 13 (2004)
The second loss from 2004. This one ended an 18-game home winning streak, and was the first time Jim Tressel lost back-to-back games at Ohio State.* I remember two things about this game:
Ted Ginn's punt return touchdown:
2. Brent Musburger talking about the 2004 election:
*They lost again the next week, but Tressel never lost two in a row again.
34. Iowa 33, Ohio State 7 (2004)
Sensing a trend? This closed out the three-game losing streak, and it was a certified ass-kicking. Iowa outgained Ohio State 448-177, were up 30-0 at the start of the fourth quarter, and probably could've put up 50 if Kirk Ferentz wanted to. The offense was in a rough place in the middle part of 2004: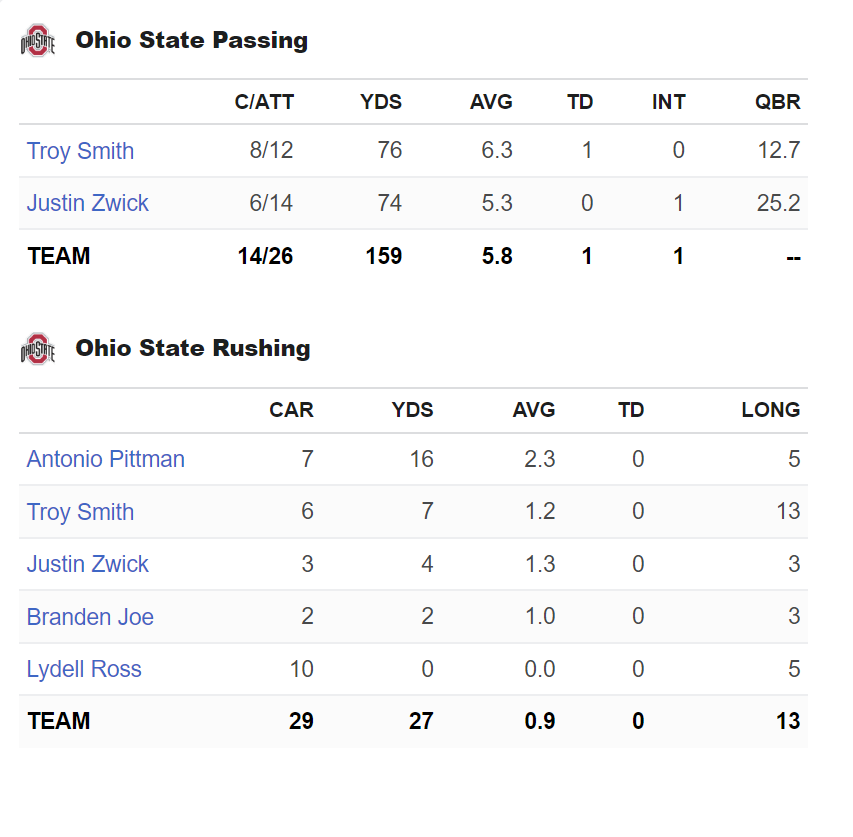 33. Purdue 24, Ohio State 17 (2004)
The final 2004 loss. I'm not even sure I watched this game, and this is basically the only available video:
Ohio State turned the ball over four times and lost to a Purdue team who was on a four-game losing streak. How the hell did they smack Michigan –who was 9-1 and undefeated in Big Ten play– by 16 points the next week?
Maybe I was just disconnected from following the team in 2004, but none of these losses get to me. My point in grouping them together isn't that they didn't matter; it's just that looking back, what did anyone expect that season? They basically had to replace everyone of note from the stacked 2002-03 teams, and Tressel couldn't decide between two inexperienced QBs in Troy Smith and Justin Zwick. Stars like Nugent, AJ Hawk, Bobby Carpenter, and Nick Mangold made sure things didn't go off the rails, but this was a team built to have growing pains, then make championship runs in 2005 and beyond.
32. Iowa 55, Ohio State 24 (2017)
This one is much lower for me than it is for 98% of you, and I don't give a shit. I'm not sure any team in college football beats Iowa that day. They played a flawless game, and the atmosphere in Kinnick made it one of those days. In hindsight, it wasn't that surprising. Ohio State was coming off the high of the ridiculous Penn State win, and it was a prime let-down spot against a team hungry for an upset.
I remember watching the replay of Josh Jackson picking off JT Barrett with one hand and just laughing out loud. Not in anger or disgust; Just pure amusement at how poorly everything was going: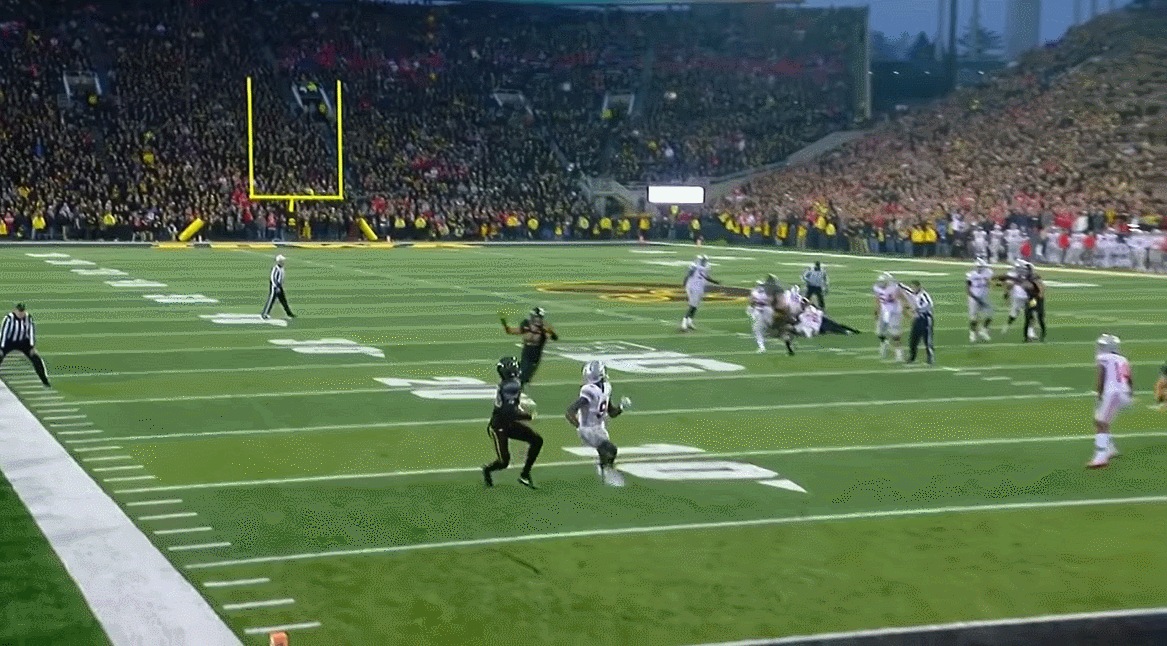 Sometimes a team plays damn near perfect and there's nothing you can do about it. This was was one of those times. I'm convinced that there's no scenario or alternate universe where Ohio State wins, and that's why it lives so low on my rankings.