Ohio State
My 10 Favorite Ohio State-Iowa Moments
Drew Tate makes an appearance.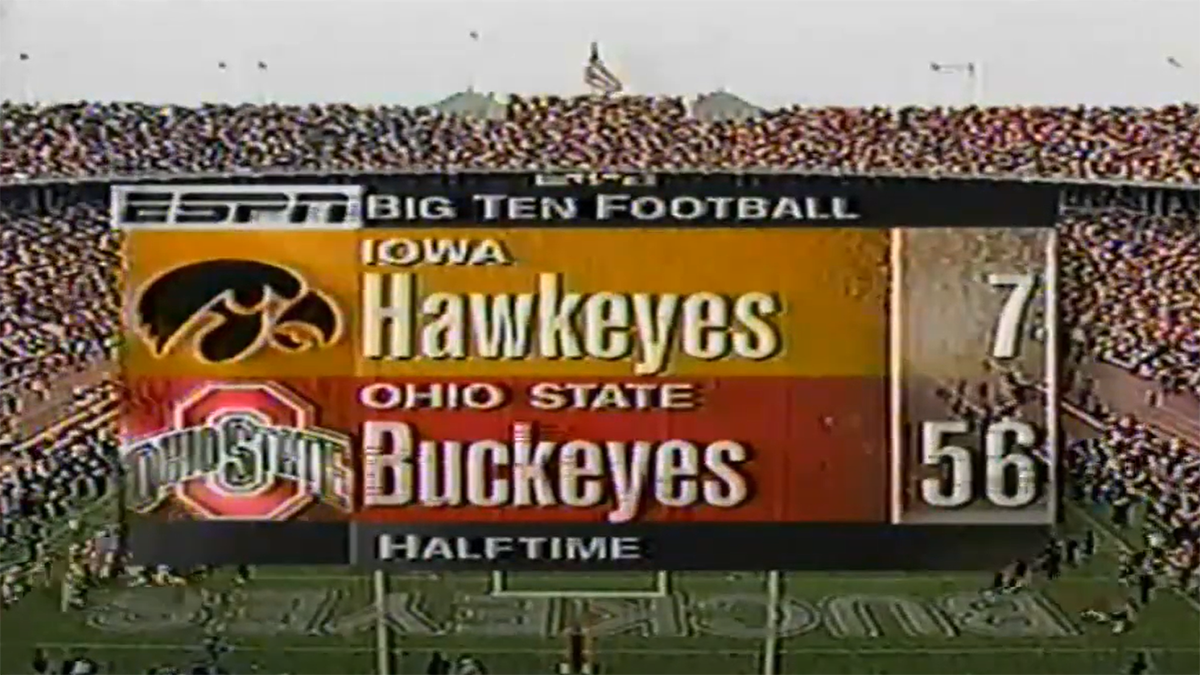 (PSA: Click 'view online' if you're reading on e-mail to see all the content in this article.)
Here's a list of schools Ohio State's played as many or more times than Iowa in the last decade:
Clemson (4)
Miami (Ohio) (2)
Cal (2)
Alabama (2)
Virginia Tech (2)
Cincinnati (2)
Oregon (2)
Notre Dame (2)
Tulsa (2)
Oklahoma (2)
Northwestern in the Big Ten Championship (2)
For both being in the Big Ten, Ohio State-Iowa games have a distinct non-conference flavor, given how rarely they play each other. Saturday's game will be just the third time they've squared up since 2012, and the first time since the 2017 game that pisses all of you off still, but mostly just makes me laugh. Hopefully this one is better than that was! Anyway, here are my 10 favorite Ohio State-Iowa moments!
---
Honorable mention: Vernon Gholston, FREAK (2006)
Iowa RB Albert Young ran for over 3100 yards and 23 TDs in his career. He also got one-arm bench-pressed like he was a small child by Vernon Gholston:
10. Kirk Ferentz says 'no thanks' to the Rose Bowl (2009)
This doesn't get enough credit for being one of the dumbest Ohio State games ever. It was essentially for the Big Ten title and a spot in the Rose Bowl, and both teams acted like they wanted the other to have it. Fun fact: Iowa was actually 9-0 and legitimately in the national title race the week before this game. Then they lost at home to Northwestern, with starting QB Ricky Stanzi suffering an ankle injury in the process. That meant redshirt freshman James Vandenburg's first start was with the conference title on the line in Ohio Stadium.
Vandenberg threw two interceptions (in regulation), but actually played pretty well given the circumstances. He threw for 233 yards and two touchdowns, and led two impressive second half touchdown drives, including one to tie the game with less than three minutes to go:
Ohio State did nothing with their ensuing drive, and you could feel the fear of god in that stadium through the TV after Jon Thoma shanked a 36-yard punt. It was Iowa's ball at their own 32, with 52 seconds and a timeout left, and the Rose Bowl on the line. Enter Kirk Ferentz:
We'll get to how this game ended later.
9. Terry Glenn gets off work early (1995)
If the 1995 Ohio State offense was an artist, the Iowa game was their masterpiece. They had 396 yards on just 33 plays in the first half alone (12 yards per play!) and were up 56-0 at halftime. It was such an ass kicking that legendary Hawkeyes coach Hayden Fry actually thanked John Cooper for showing mercy in his postgame comments:
Eddie George scored four touchdowns, but the real star of the day was Terry Glenn, who did all his damage in the first quarter:
One of the things I love about digging through these old games is catching random camera shots, and the look Stanley Jackson gives Glenn on the sideline after his second touchdown says everything you need to know about how bad a dude Glenn was: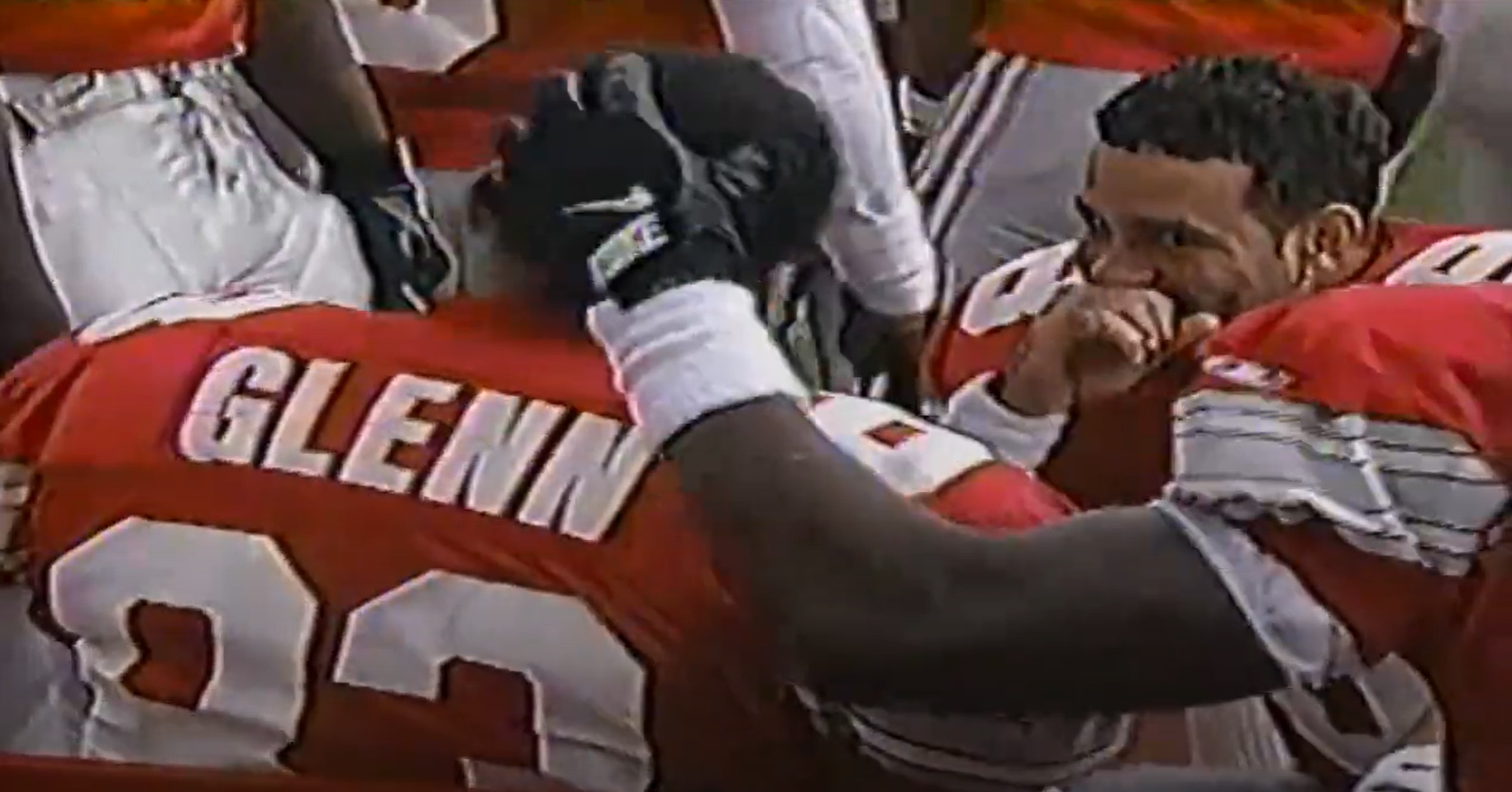 8. Anthony Gonzalez uses the whole field (2006)
Speaking of receivers doing ridiculous things, here's Anthony Gonzalez vs. the whole Iowa defense (with help from Brian Hartline):
7. Worst game ever (2003)
It's 21 years later, and ESPN.com's blurb about the 2003 game could absolutely be written after a 2022 Iowa game:

This game had:
Zero offensive touchdowns
A blocked punt touchdown
A punt return touchdown
A fake field goal touchdown
A safety from a botched snap
16 total punts
These offensive numbers: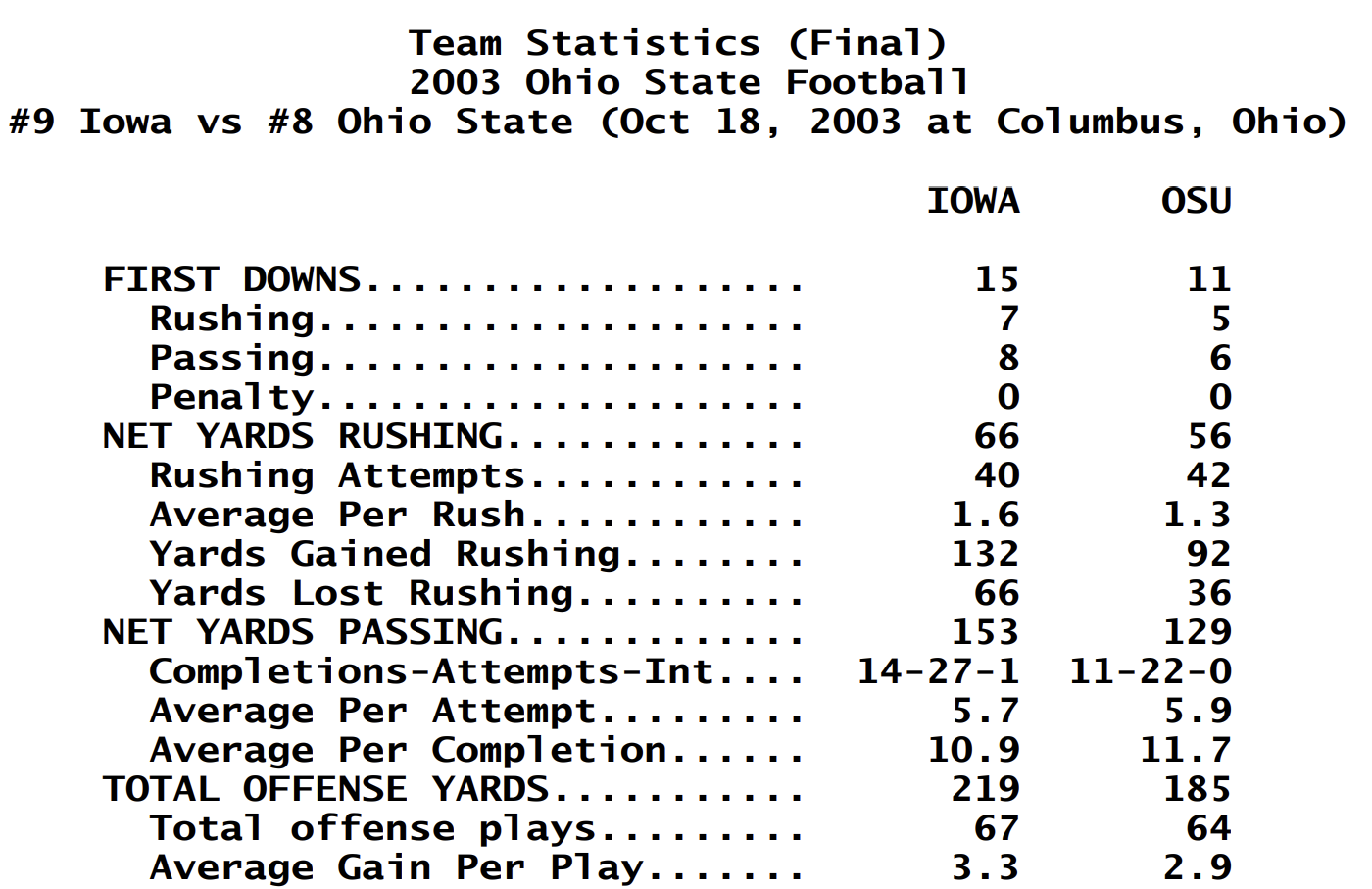 Here's what it all looked like:
Watch the full game here if you're sick.
6. Breakfast at Orlando Pace's house (1996)
Do you realize how dominant you have to be as an offensive lineman to get the iso cam replay treatment, and can we please bring that back for the big boys up front? Please enjoy Orlando Pace bulldozing Iowa's whole defense for two minutes:
5. Troy Smith's four-TD night (2006)
Troy Smith was a machine in 2006, and his performance at Iowa in primetime showcased a fully-realized Jim Tressel offense operating at peak efficiency. Smith threw darts all night, going 16/25 for 186 yards (lmao), and four touchdowns:
This game also had arguably his best throw ever:
4. Carlos Hyde goes bowling ball mode (2013)
Despite how the season ended, there's still a special place in my heart for the 2013 Ohio State running game. Whether it was Braxton Miller, Carlos Hyde, or anyone else touching the ball, they basically ran at will on every single defense they played. That included 273 yards against Iowa's defense, and one of the most punishing and entertaining runs in school history, courtesy of Carols Hyde:
3. Devin Barclay ends it (2009)
Imagine being a backup, walk-on kicker and just casually sending your team to the Rose Bowl on Senior Day:
2. Drew Tate loses it (2005)
College football needs QBs like Drew Tate. I miss that guy:
1. Terrelle Pryor's fourth down scramble (2010)
The most underrated Ohio State win of the last 20 years, and my favorite OSU game that people rarely talk about. I was at an SMU-Marshall (!) game that day drinking Four Loko's, so I thankfully missed how agonizing the first three quarters were. I got back in front of a TV just in time to catch the fourth quarter, which was highlighted by one of the biggest rollercoaster sequences in Ohio State history:
Dane Sanzenbacher's catch a few plays later was also pretty awesome, but Pryor making a play literally right after DeVier Posey's drop is something I'll never forget. Pryor had a tough day, but fought through it, and came through for Ohio State when it mattered the most. An Antonio Pittman one-yard TD gave Ohio State the lead shortly after Sanzenbacher's catch, then Cam Heyward ended the game: