Throwback
Video: Every Touchdown Texas scored in 2005
Can a team a great as this one somehow be underrated?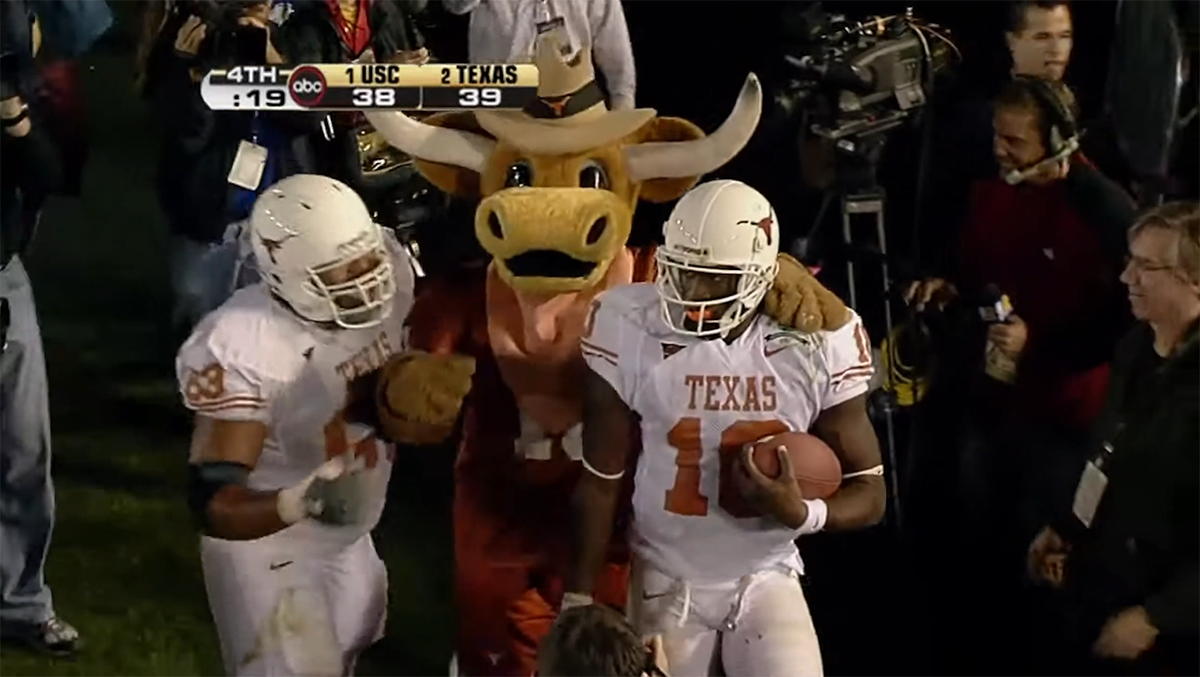 (IF YOU'RE READING THIS ON E-MAIL CLICK 'VIEW ONLINE' TO SEE THE VIDEO)
---
After I cut the 2002 Ohio State touchdown video, I figured I'd step it up a notch and do the same for different National Champions of the past 20 years. The first team that came to mind –mostly because I knew there'd be video of every game they played that season– was 2005 Texas. There are two things everyone remembers and always talks about with that team:
1) That they beat USC for the BCS Title in arguably the greatest college football game ever.
2) In a game full of legends, Vince Young stood above everyone else, putting on arguably the greatest single-game performance in college football history.
What they usually don't mention is just how dominant that team was. The roster was stacked with talent, including a freshman Jamaal Charles, Cedric and Michael Griffin, Michael Huff, Henry Melton –who played running back and scored 10 touchdowns before SWITCHING TO DEFENSIVE TACKLE– Brian Robison, Brian Orakpo, and David Thomas, among others. They outscored opponents by an average of 50-16, taking their foot off the gas in almost every game they played, including when they beat Colorado 70-3 in the Big 12 Championship. This was a team whose only two close games were:
On the road in primetime against eventual co-Big Ten Champion and Fiesta Bowl Champion Ohio State who finished fourth in the final AP Poll. (Read more about how much that one pissed me off here)
A 41-38 National Championship win against a USC team playing 30 minutes from home, with the last two Heisman winners and nearly 30 future NFLers on their roster, who also happened to be back-to-back National Champions on a 34-game win streak.
I don't care to get into an argument about where 2005 Texas actually places on everyone's 'greatest teams of all-time' lists, but they're right near the top for me after cutting this video. Enjoy!
(Click 'View Online' at the top to see the video if you're reading this on your e-mail)
---
As a bonus, here's how the list of Texas touchdown scorers that year break down:
Ramonce Taylor: 15
Jamaal Charles: 13
Vince Young: 12
Henry Melton: 10
Selvin Young: 8
Limas Sweed: 5
Billy Pittman: 5
David Thomas: 5
Aaron Ross: 2
Quan Cosby: 2
Nate Jones: 1
Ahmard Hall:1
Rodrique Wright: 1
Brandon Foster: 1
Peter Ullman: 1
Neale Tweedie: 1
Michael Huff: 1
Matt Nordgren: 1
Cedric Griffin: 1
Chris Ogbonnaya: 1
Frank Okam: 1