(I always have to put this at the top: For the best viewing experience, you should click "view online" if you're reading this on email.)
Welcome to "Throwback Player of the Week," where I drop a retrospective (sometimes), and highlights (always) on some of my favorite players in CFB history. This week: Former Tennessee Safety Eric Berry.
Last TPOW: Ohio State RB Maurice Clarett
---
Making judgements off one play is a poor way to evaluate players, but I'm going to make an exception for Eric Berry, because one play is really all you need to see.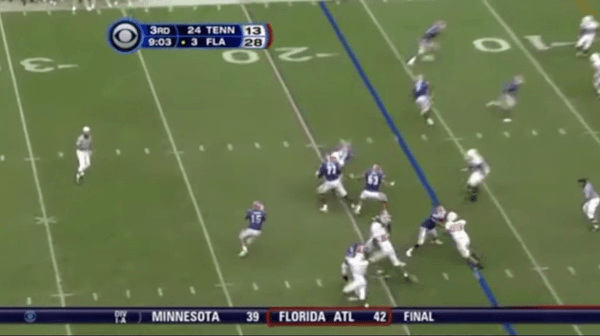 In one play, Berry demonstrated almost every trait that made him one of the greatest players in college football history:
The intellect to know what was coming pre-snap.
The anticipation to jump the route in front of him in such a dangerous part of the field.
The sheer speed and athleticism to take the ball 96 yards the other way, paired with the ridiculous cut he makes at mid-field.
The flair for the dramatic. He was a true freshman playing in his third game, and it just happened to come against the defending national champs on the road, and the eventual Heisman Trophy-winning QB that season. Eric Berry knew where to find the ball, and he usually did it in the biggest moments of a game.
One play can't tell you everything, but sometimes it tells you all you need to know.
---
(Here's the link to his highlights for those viewing on email)
Calling Berry "one of the best safeties" or "defensive players" ever doesn't do his career at Tennessee justice. There was nothing defensive about the way he played. He was so multi-faceted, aggressively smart, and dangerous that he was essentially an offensive weapon who happened to play in the secondary. The numbers back that up, given that he's still second all-time nationally in career interception return yards, and first in SEC history: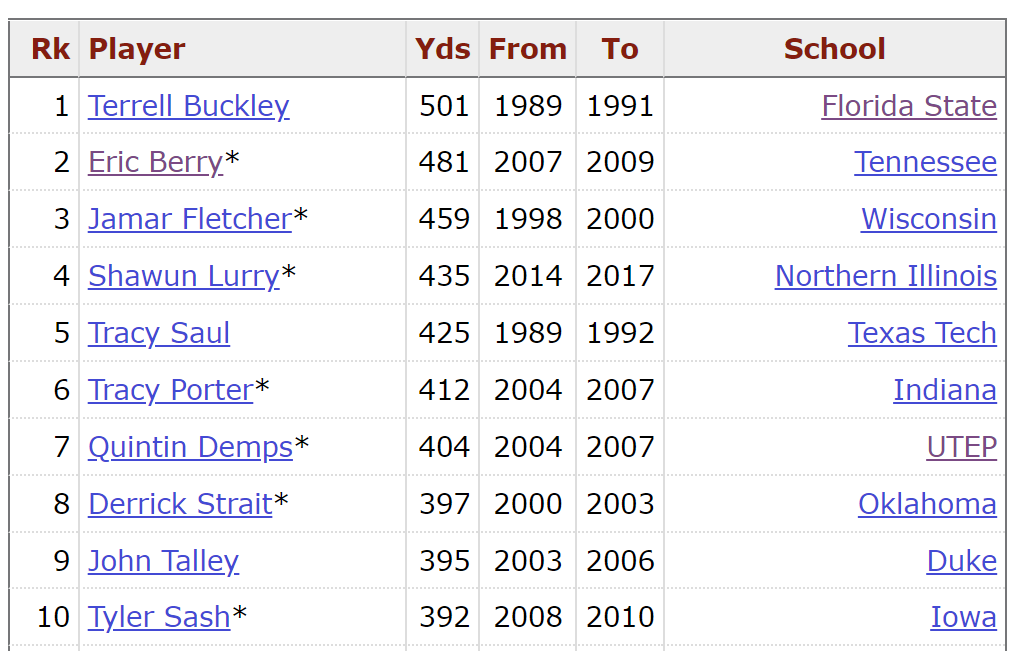 This is despite the fact that he only had two interceptions in 2009, because Monte Kiffin basically turned him into a box safety, and QBs finally learned to stay the hell away from him:

I've never seen a player in the right place at the right time more than Berry. He was so smart and knew exactly where to be on almost every play that when it was time for his athletic ability to kick in, the play was already made: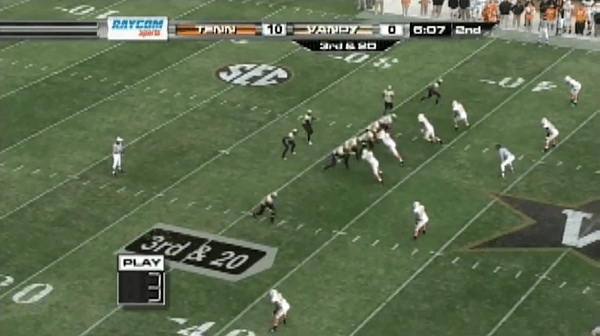 Seriously, try to explain how he always ended up with the football: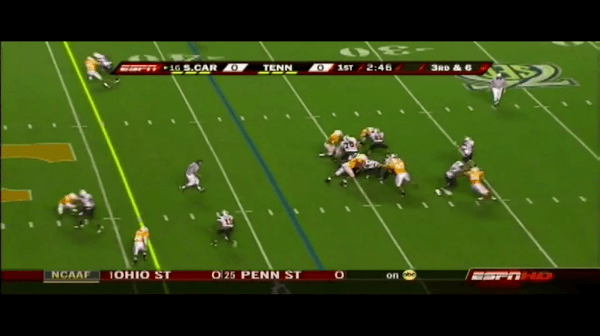 Fumble luck is real, but Eric Berry was the realest.
It's not like he was just a cover safety, either. I mentioned earlier that Monte Kiffin moved him into the box more in 2009, and it's because he was also an incredible run defender, hitter, and playmaker at the line of scrimmage. He could do everything, and wasn't scared to take on anyone, including his memorable confrontation with Tebow again in 2009: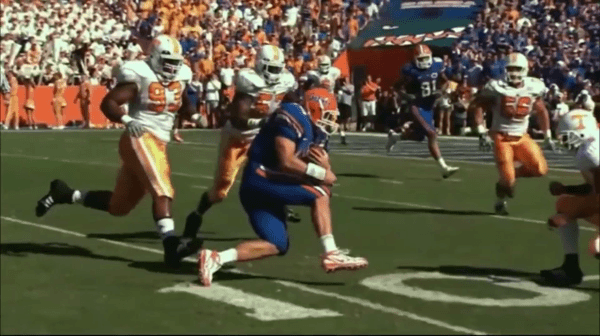 Berry was about as complete a player as you could be, and he did it all while being tasked with trying to stop guys like Tebow, Percy Harvin, Matt Stafford, Knowshon Moreno, AJ Green, and Julio Jones each week. That era of the SEC was beyond absurd, and Berry was arguably the conference's best player. I've cut and watched more highlight reels than I care to admit, and Berry's is up there with any of the best of all-time, regardless of position.
---
Berry went on to have a stellar nine-year NFL career with the Chiefs that included three First-Team All-Pro selections, five Pro Bowls, and making the NFL 2010s All-Decade Team. More importantly, he beat cancer in 2015, and now runs the Eric Berry Foundation, which hosts various youth camps, plus food and backpack initiatives in Kansas City and his home of Fairburn, GA. He's been pretty quiet since stepping away from the game in 2018, but his football legacy is already cemented.
For whatever my opinion is worth, Eric Berry is one of the best pure football players ever. He was the smartest player on the field, and physically there wasn't really anything he couldn't do. (Unless you wanted him to play defensive tackle, I guess.) He was the rare defender who was just as dangerous as anyone on offense, and I'd imagine there were more than a few SEC offensive coordinators who spent as much time scheming ways for him to not touch the ball as they did for their own offensive players to get it. Unfortunately for them, it usually only took one play for Eric Berry to ruin those plans and make his mark on the game.