Welcome to "Throwback Player of the Week," where I drop a retrospective (sometimes), and highlights (always) on some of my favorite players in CFB history. This week: Former Miami receiver/returner Santana Moss.
Last TPOW: Oklahoma safety Roy Williams
---
Football is a game of structure. Players are coached to do specific things, and be in specific places at specific times. In theory, if a player does those things the way they're coached, they'll be successful. If not, they're probably getting yelled at. And if they do something entirely off script? God help them.
Football doesn't have a great history of welcoming on-field creativity from its players –although that's shifted a bit recently– but that's where the coolest stuff usually happens. For example: Do you think Santana Moss was ever coached to run a route like this?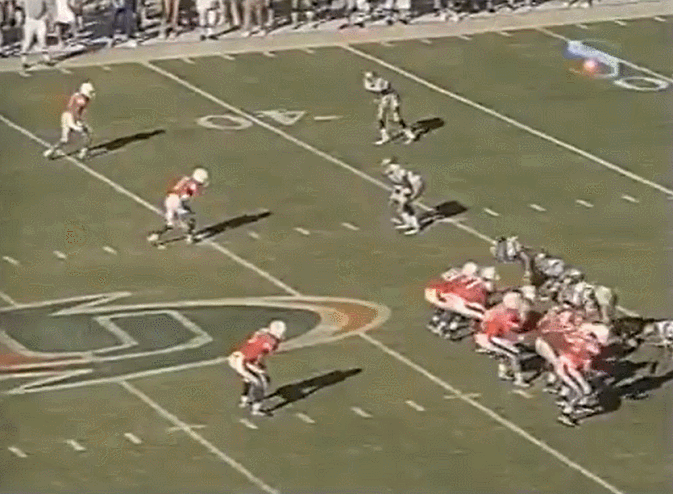 Since I can't say for sure that he wasn't actually coached to do a spin move out of his release, let's just assume he wasn't. It's only a 12 yard gain, so it's not like it's the craziest play ever, but I can't get enough of it. Who thinks to spin in the middle of their route? Maybe Miami's coaches were cool with it, but you know 98% of coaches throughout football history would lose their shit, despite the result. But here's the thing: I don't watch football to enjoy how smart and cool a scheme is, or talk about how the coach who runs it is a genius. I watch football because of players like Santana Moss.
[Here's the link to his highlights for those viewing on email]
Moss made some of the most explosive plays you'll ever see when he was at Miami. On the field, he was less of a football player, and more of an artist: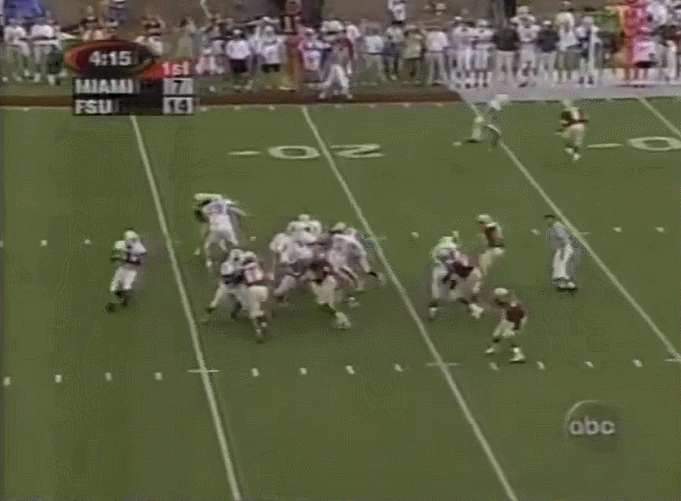 Even though he was listed was at 5'10, 193, Moss played like he was 6'2, 220: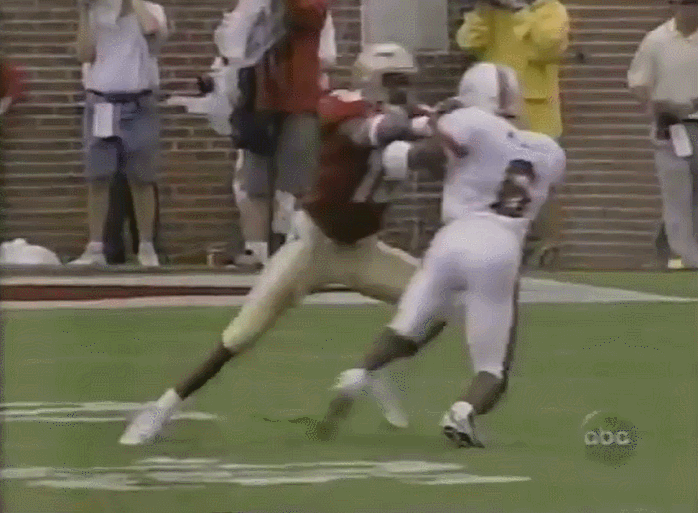 I don't need to give you a history lesson on all the great players who've come through The U. In just the receivers room, you have legends like Michael Irvin, Andre Johnson, and Reggie Wayne. Not only is Santana Moss right there with all of those guys, he arguably eclipses them.
Moss is Miami's career leader in receiving yards, and all-purpose yards. He finished seventh in Heisman voting in 2000 while sharing an offense with guys like Wayne, Clinton Portis, and Jeremy Shockey. He's also the all-time school leader in punt return yards (1,196), and punt return touchdowns (6), ahead of the guy widely considered the best returner of all-time.
By any measure, Santana Moss was an absolute menace.


I'd be remiss to not mention how much I couldn't stand him in the NFL, though. Much like Champ Bailey, Moss absolutely destroyed the Cowboys throughout his career. In fact, he was the main culprit for one of the first Cowboys losses that truly traumatized me. But god damnit, I'm gonna give him his flowers anyway.
My favorite Moss moment happened against Boston College in 2000. It was Senior Day, and he needed one more punt return touchdown to set the Big East record. Miami was up 38-6 with just over two minutes left in the third quarter, but UM Head Coach Butch Davis left him in, presumably to give him a shot at the record. Thanks to some great blocking –and that classic South Florida speed– Moss ran all the way across the field, hit the jets down the sideline, and took it 85 yards to the house, untouched. As he crossed the goal line, he unstrapped his helmet, threw it off and started talking his shit to the endzone cameraman: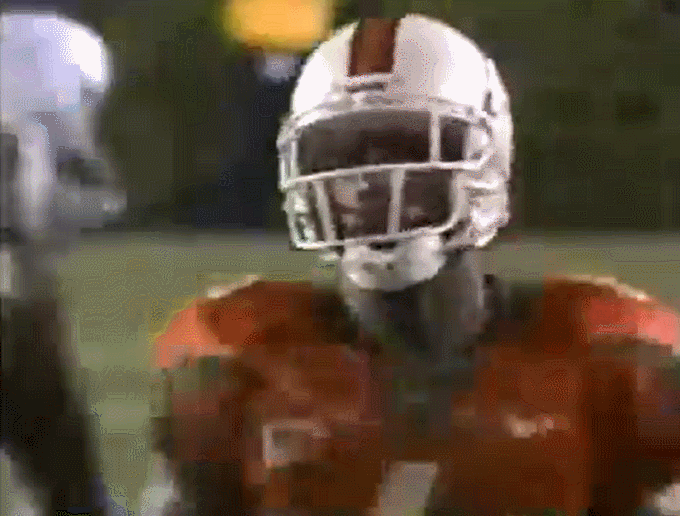 The celebration earned Miami two separate 15-yard personal foul penalties, and a third penalty made it a 50-yard extra point try for kicker Todd Sievers. He put it right down the middle. Does it get any more Miami at their peak than that?
Santana Moss personified The U, and was the type of player you pay to see. Someone who could do something amazing every time he touched the ball, regardless of whether it was inside the structure of the play or not. Someone who knew how good he was, and wasn't afraid to show it. The type of player that reminds you that this is why we love the game of football.