2022 Season
Previewing the 2022 college football season with haikus for every team
Spot your favorite team in the photo.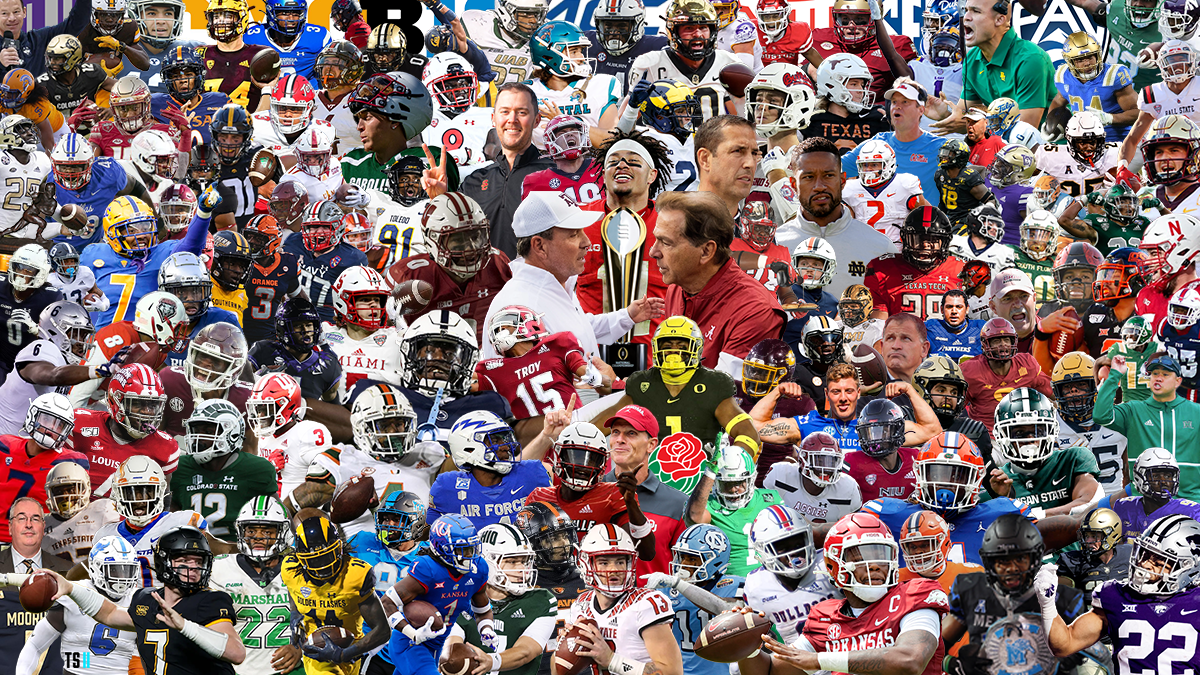 (I always have to put this at the top: For the best viewing experience, you should click "view online" if you're reading this on email.)
Welcome to the official Two Stripes 2022 College Football Season Preview. We're less than 90 days away from Week Zero, and that means it's time for all your favorite sites, publications, and blog bois to release their takes on what they think is gonna go down during the upcoming season. That's exactly what this article is, but with a twist.
Instead of pretending that I can give you a serious rundown of all 131 FBS teams and their strengths and weaknesses, I wrote a haiku for each team. Hopefully those three lines are coherent enough to give you a feel for my brief thoughts on the 2022 season. I've tripled checked that they're all 5-7-5, but if I missed on a few –or said something mean about your team– please forgive me. To kick things off, it's only right to start with a haiku of my College Football Playoff prediction:
Buckeye title win
Haters and losers angry
The way it should be
---
Air Force
Big season ahead
Kicking the Buffs' ass week two
Top team in the state
Akron
Homerun head coach hire
New brand logos still ugly
Bring back 'flying A'
Alabama
Raiding your roster
Smashing Texas by thirty
Someone slap Saban
Appalachian State
Program is stable
Gonna beat you up each week
They could scare Aggies
Arizona
Can Jedd Fisch win there?
Only one person thinks so
Loyal to sources
Arizona State
Portal kicking them
Alphabet boys at the door
Hey, Emory Jones!
Arkansas
Can they run it back?
Hell of a week one matchup
A fun quarterback
Arkansas State
Waterfalls are cool
Butch back with Saban real soon
Hard to see progress
Army
Monken is for real
Why won't anyone hire him
Another nine wins
Auburn
A LOUD OFFSEASON
Why can't program be normal?
Harsin first coach fired
Ball State
Players gone en masse
A sacrifice to the Vols
The helmets are fire
Baylor
Best team in big twelve
Aranda is the real deal
Big bowl game again
Boise State
Mountain West top dog?
Big plays on offense wanted
Skinner brings the boom
Boston College
Jurkovec is back
Disappointing last season
Hafley needs results
Bowling Green
Uniforms are bad
How is this man still head coach
Program reset, please
Buffalo
Things are looking bleak
Maybe some transfers do well
"Don't watch this team play"
BYU
Will be a problem
Most fun schedule in country
Dreams of New Years Six
Cal
Can count on defense
When did they get Jack Plummer?
Offense? I don't know
Central Michigan
Replacing a bunch
Offense thriving once again
Short quarterback king
Charlotte
Marvelous colors
Healy has to win this year
Don't see it, sadly
Cincinnati
Got to the playoff
Probably take a step back
Fickell's still the man
Clemson
Rinky dink offense
Schedule saves them this season
Fantastic defense
Coastal Carolina
Chadwell is genius
The offense is a machine
McCall pisses teal
Colorado
Retire, Karl Dorrell
I can see two wins at best
I can't stand this guy
Colorado State
Jay Norvell: great hire
Whole roster is Nevada
Rams are on the rise
Duke
How will Elko do?
Can't lie, I don't care at all
Might lose to Kansas
East Carolina
LEFTY QUARTERBACK
Best logo in the country
The GOAT number font
Eastern Michigan
Three bowls in four years
Need Chris Creighton in Boulder
He's a magician
FIU
Mike Mac builds programs
"Program sabotage" issue?
Lots of work to do
Florida
Hired actual coach
I'll miss wild Mullen pressers
Utah will mash them
Florida Atlantic
Taggart is still there?
Need way more from the offense
Don't have strong thoughts here
Florida State
Sometimes maybe good
Honestly, no idea
Sometimes maybe shit
Fresno State
Offense explosive
The return of Jeff Tedford
Eleven and one?
Georgia
Back to the playoff
Quarterback still hungover
They are a freight train
Georgia Southern
Sigh, hired clay helton
Moved away from the triple
That shit gonna fail
Georgia State
Sleeper contender?
Elliott underrated
Chance for some upsets
Georgia Tech
Big year for Collins
Hard to see much improvement
Writing on the wall
Hawai'i
Welcome home, Timmy
Wishing program much success
Piss off, Todd Graham
Houston
Won twelve games last year
Softest schedule in country?
Should make New Years Six
Illinois
I believe in Bret
Predicting a bowl game trip
Get to know Chase Brown
Indiana
Fanbase is Reddit
Try winning a Big Ten game
Smells like three and nine
Iowa
Unserious team
Keeps getting away with it
Adult son can't coach
Iowa State
Experience lost
Matt Campbell is fraudulent
Back to the mid-tier
James Madison
Welcome to the show
Team to watch in the future
Can't play in bowl game
Kansas
Slow build is working
Still have a long way to go
Better than the Buffs
Kansas State
Got my eye on them
Martinez in the right place
Surprise team this year
Kent State
Many uniforms
Big payday games on schedule
Gonna be bloody
Kentucky
Was wrong about them
They like to run the damn ball
Double digit wins
Liberty
Bible thumpin' team
"Do you have any vices"
Still will score a ton
Louisiana
Starting new era
Should still be tough as all hell
Levi Lewis gone 😔
Louisiana-Monroe
Yikes, Terry Bowden
Impossible to win here
Beautiful helmets
Louisiana Tech
What is this program?
Yet another air raid guy
I'm saying four wins
Louisville
How much will he run?
Team is a walking coin flip
Uniforms, I hate
LSU
Bayou Kelly rules
"I swear this is my accent"
"Please forgive me, sir"
Marshall
Making power moves
Get ready for a fist fight
This game might be close
Maryland
They break through this year
But please don't quote me on that
Build off easy start
Memphis
Good luck with Matt Barnes
I do like this program, though
So many helmets
Miami (FL)
Cristobal in charge
If they're back, we'll find out here
My verdict? NOT BACK
Miami (OH)
Yes, that's their brother
In need of style refreshment
Count on six losses
Michigan
Can they follow up?
Does not have that dog in him
Cake walk non-con slate
Michigan State
Mastered the portal
They are due for regression
Mel Tucker owns Jim?
Middle Tennessee
Rick Stockstill, still here
Lots of takeaways last year
Middle of the pack
Minnesota
Expecting big year
Fired the bad offensive coach
Can they win the west?
Mississippi State
Every play a pass
Will beat a team they shouldn't
Last eight games violent
Missouri
Recruiting real good
Oh my god that run defense
They are a wildcard
Navy
Been down last two years
I think the run is over
Ken needs to jump ship
NC State
Conference title?
Tim Beck, offensive genius
Nasty defense back
Nebraska
Frost blaming his guys
Need to win a one score game
Who has this job next?
Nevada
New coach, work to do
Lost everyone to the Rams
Packfetti kicks ass
New Mexico
Twelve points per game! Gross!
Love the turquoise uniform
Twelve points per game! Twelve!
New Mexico State
Pray for this program
The worst team in the country
There are two of them?
North Carolina
Calling bounce back year
Sneaky team to watch out for
Can't get much worse here
North Texas
Last year for Littrell?
Best look in college football
Dude loves to tackle
Northern Illinois
Mullet quarterback
Will probably beat Vandy
My pick to win MAC
Northwestern
That looks like three wins
Tough year for union buster
Maybe next season
Notre Dame
Made the correct hire
The defense will be top notch
Who is quarterback?
Ohio
A strong running game
No more two-QB system
Man, I miss Solich
Ohio State
Please play some defense
Bring the god damn gray stripes back
Time for a title
Oklahoma
Getting dumped is sad
Venables will scream all game
No more playoff runs?
Oklahoma State
Look at that schedule
Spencer Sanders eighth season
I think Gundy leaves
Old Dominion
I'm blind on this one
Bowl game would be a success
Snuck into the club
Ole Miss
The head coach is loud
The offense even louder
Easy first four games
Oregon
Mystery to me
Better QB play a must
Brutal opener
Oregon State
Rev up the chainsaw
Sensing another bowl game
Solid foundation
Penn State
James Franklin got paid
I think that he's worth the dough
Still can't manage clock
Pitt
Taking a step back
Portal punched them in the face
Is Slovis the guy?
Purdue
Was wrong about Brohm
Which team will they upset next?
What's with those shoulders?
Rice
Fullback respecters
I think Bloomgren is done here
Can't see how they win
Rutgers
Upset of the year
Are you a Schiano man?
I confess: I am
San Diego State
Great defense, again
They refuse to throw the ball
Same thing as always
San Jose State
Thank you, Mullet man
I went to their spring scrimmage
This is a hard job
SMU
I pledge allegiance
Contenders or pretenders?
High flying offense
South Alabama
Offense needs a jolt
Defense will be fierce, again
Logo makes me laugh
South Carolina
New year, new Rattler?
Week three upset potential
Watch out for Rucker
South Florida
New QB will help
Jeff Scott needs proof of concept
Unsure he'll get it
Southern Miss
Welcome to Sun Belt
Inconvenient Truth junior
Rebuild starts this year
Stanford
Saw them get bulldozed
Roster too thin to contend
I think Shaw is cooked
Syracuse
Need to go bowling
Dino's been here eight seasons!
Might be his last one
TCU
Lateral move king
What the hell was this defense?
Gonna cook the Buffs
Temple
Got rid of bad coach
I believe in the new guy
It will take some time
Tennessee
Buying in this year
Beating Bama or Georgia
Deleting this soon
Texas
I'm not buying in
Nothing but media hype
At least four losses
Texas A&M
Recruits worth millions
The head coach worth more millions
Ends in Outback Bowl
Texas State
Refuse to recruit
I do not have a take here
This job is brutal
Texas Tech
New head coach is HYPE
That even has me fired up
GUNS UP, I am in
Toledo
MAC title or bust
If not now, then when will they?
Top twenty defense
Troy
Time for some new threads
Sometimes I bring up unis
When I have nothing
Tulane
Angry ass green wave
I ask you for a good year
New voice on offense
Tulsa
Tough non-con matchups
The juju hat is goated
Just find way to bowl
UAB
A big play machine
My conference champion
Ten wins on table
UCF
Season two of Gus
Stupid losses incoming
Eight and four, I guess
UCLA
I love the unis
But I can't stand Chip Kelly
The duality
UConn
Oh no, Jim Mora
Hilarious way to hire
Two years, at the most
UMass
Welcome back, Don Brown
Thank you for the memories
Tough place to win games
UNLV
Is there progress here?
I don't see how it happens
Stadium's cool, though
USC
High flying offense!
Great seven on seven team!
Riley teams are soft
UTEP
Easy to root for
Might not be a tougher job
Hardison can THROW
UTSA
The bull does not care
Jeff Traylor full bank account
LEFTY QUARTERBACK
Utah
Rock solid program
Will punch Trojans in the mouth
Back to back Rose Bowls?
Utah State
Nothing but big plays
Mayhorn takeover begins
Just get out healthy
Vanderbilt
Shitty new logo
"Graphic design my passion"
Deserve oh and twelve
Virginia
Bold choice for head coach
LEFTY QUARTERBACK ALERT
Long season ahead
Virginia Tech
New coach, thankfully
Rooting for them to improve
Make these primary
Wake Forest
Love delayed handoffs
Conference title hopeful
Need better defense
Washington
Schedule is a breeze
Vibes will be better this year
Cautiously on board
Washington State
No clue what to say
What a loser that dude was
I'll guess four and eight
West Virginia
This seems like a mess
Oh brother, they made this hire
Last year for Neal Brown
Western Kentucky
Tough to replace this
Coordinator gone too
That's a lot to lose
Western Michigan
Lost their QB, too
Logo looks like fast food joint
Pencil in six wins
Wisconsin
Allen is a beast
Get easy path one more year?
Ten and two is there
Wyoming
Offense is the key
But can they improve enough?
History says no