MY COLUMN
Support your local Spring Game
College football Spring games make no sense, and that's why they're perfect.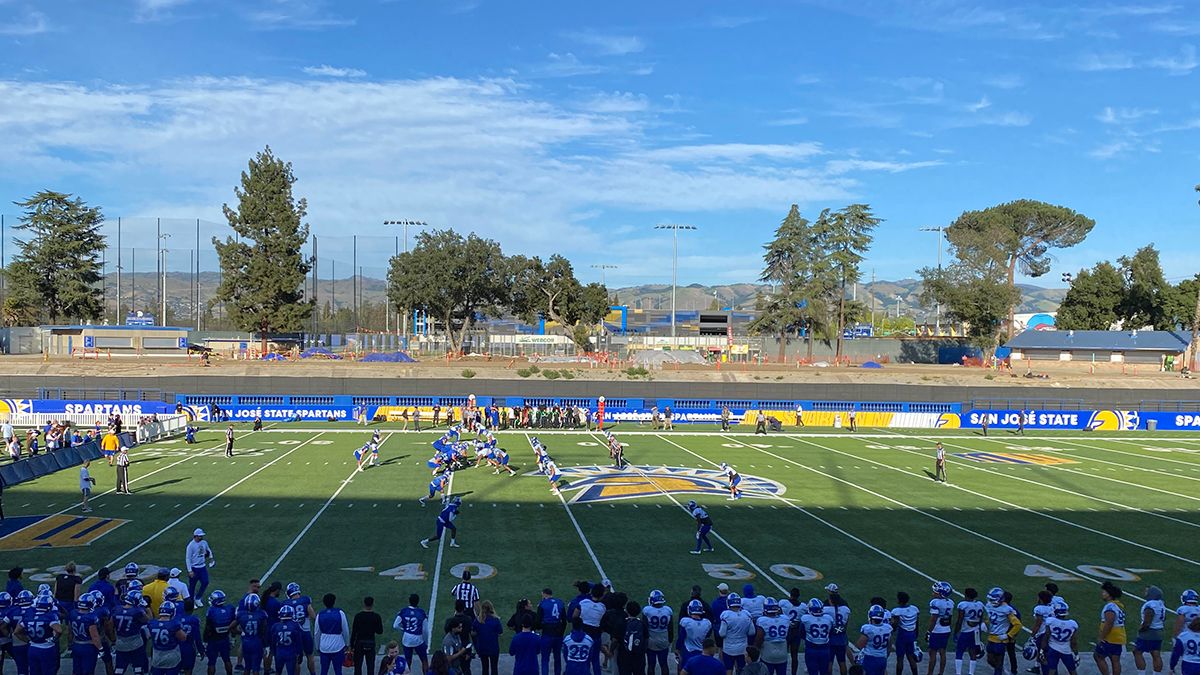 Spring practice is in full effect around the country, which means a couple things:
We're getting closer to being halfway through the offseason.
This is the most optimistic some of y'all are going to be able to get about your team all year.
It also means the return of the Spring game, which every program does a little bit differently now. What used to be a "real" game, has mostly shifted to a glorified practice/7-on-7/wrap-up the ballcarrier scrimmage, with the exception of a few teams still going old-school:
No matter the style, Spring games usually serve as a platform for the football-starved masses on the outside to see next year's team up close, and then make bold and unrealistic claims about the upcoming season based off two hours of a practice. And you know what? I'm good with it. Spring games rule, and you shouldn't apologize for watching them. In fact, I'm encouraging you to go to one if you're close enough, especially if it isn't your own team's. This past weekend I went to San José State's, and got a nice reminder about why I love this so much.
I'm an Ohio State/CU fan from Colorado. I have no emotional connection to any program out here. But when I moved to Oakland four years ago, I made it a point to go to a few Cal games, buy some merch, and support the home team from time to time. I wanted to do the same for SJSU –and to a much lesser extent, Stanford– when I moved to San José last year, especially since they were coming off a Mountain West Championship. My girlfriend and I ended up going to the 2021 season opener, had a great time, and got to sit behind this dude. It rocked. I'm not gonna act like I'm a diehard or anything, but I'm actively rooting for the success of the program now that I've seen it up close. Fast forward to last Saturday when we went to their Spring game, and it was all I could've asked for.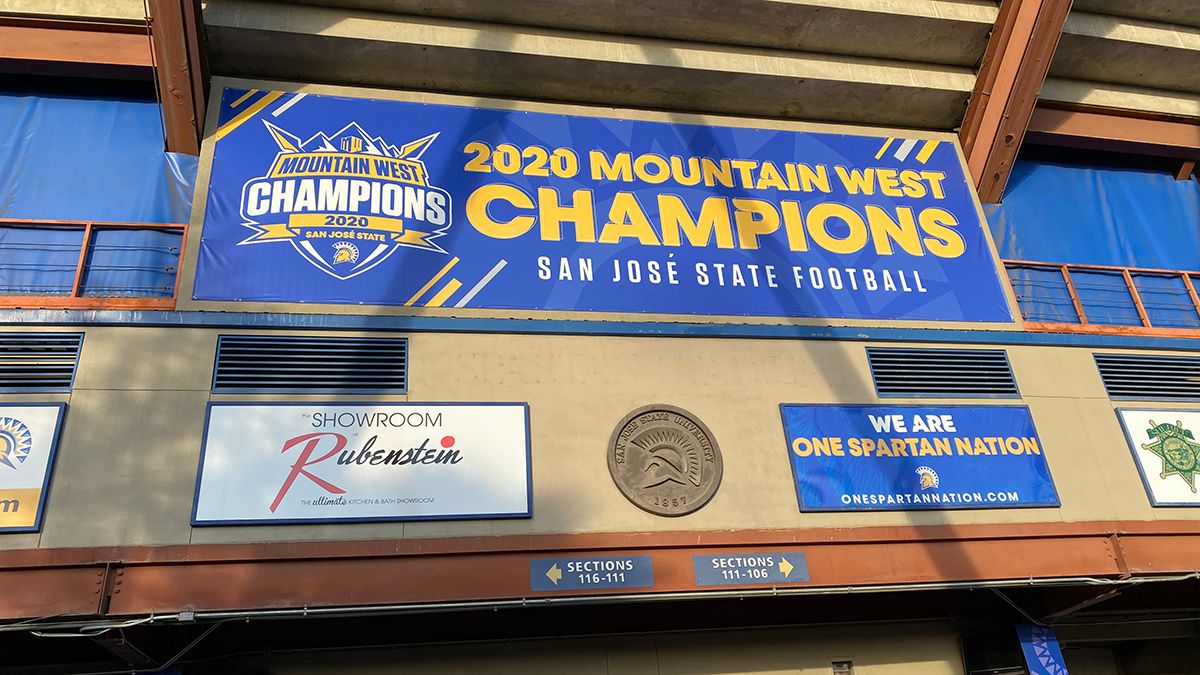 It was a full-day event, and everything about it was straight up get-it-out-the-mud, G5-program-building-type business. It all started with my favorite part: A pre-game equipment sale, which included game-worn helmets, cleats, gloves, game-worn baseball and softball jerseys, performance gear, and most importantly, game-worn football jerseys: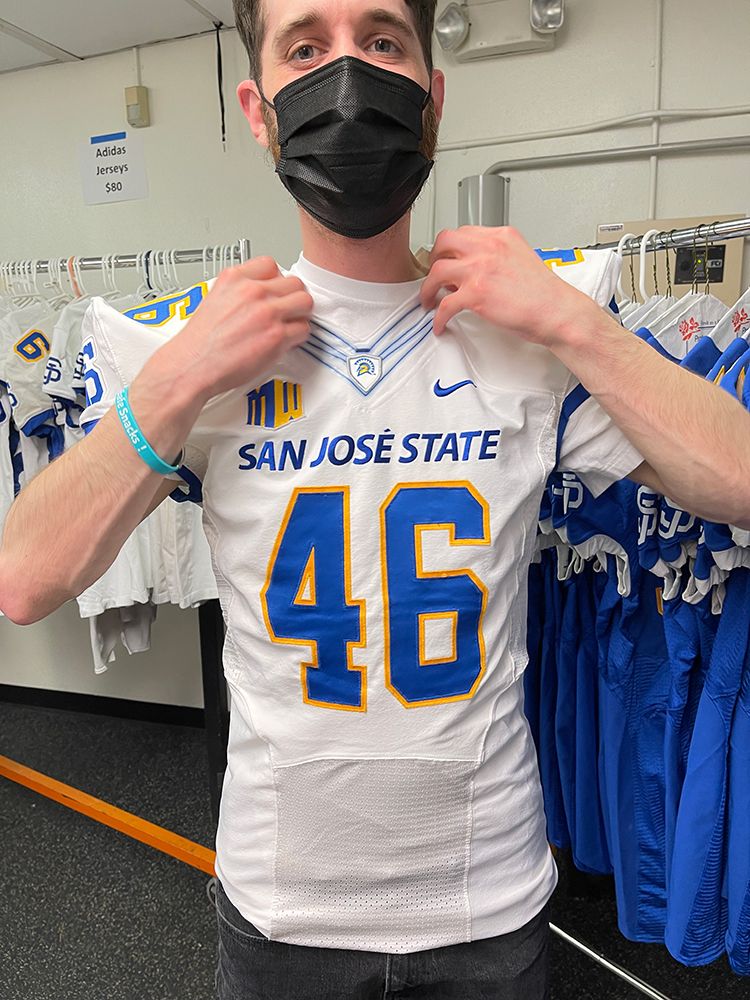 Y'all know how much I love uniforms, so I was like a pig in shit –and looked like one with my hat off– when I saw that they were not only selling their current Adidas jerseys, but also jerseys from when they were still with Nike. (That deal ended after the 2016 season.) I even found a couple with WAC patches from before they joined the Mountain West! With respect to everything else, this was the highlight of my day. I couldn't pass up such a rare opportunity, so I bought the yellow jersey, plus the 2019 one on the right, and I'll absolutely be wearing them this fall. All of this took place in what I'm guessing was the visitors locker room, and there wasn't much space to move around. It had all the marks of a program who's just working with what they've got on hand, and making the most of it. I loved it.
(If anyone from SJSU reads this and wants to slide me some of those blank Nike jerseys they had –or any other gear– it's @Dubsco on Twitter.)
In addition to the equipment sale, there was also a pre-game brewfest, and a fan Q&A session with Head Coach Brent Brennan. We didn't do either of those, but it's great seeing fans have that level of access to the program. It also made made me appreciate how creative and hardworking everyone involved in SJSU Football has to be to make it work, and that's without any guarantee of success.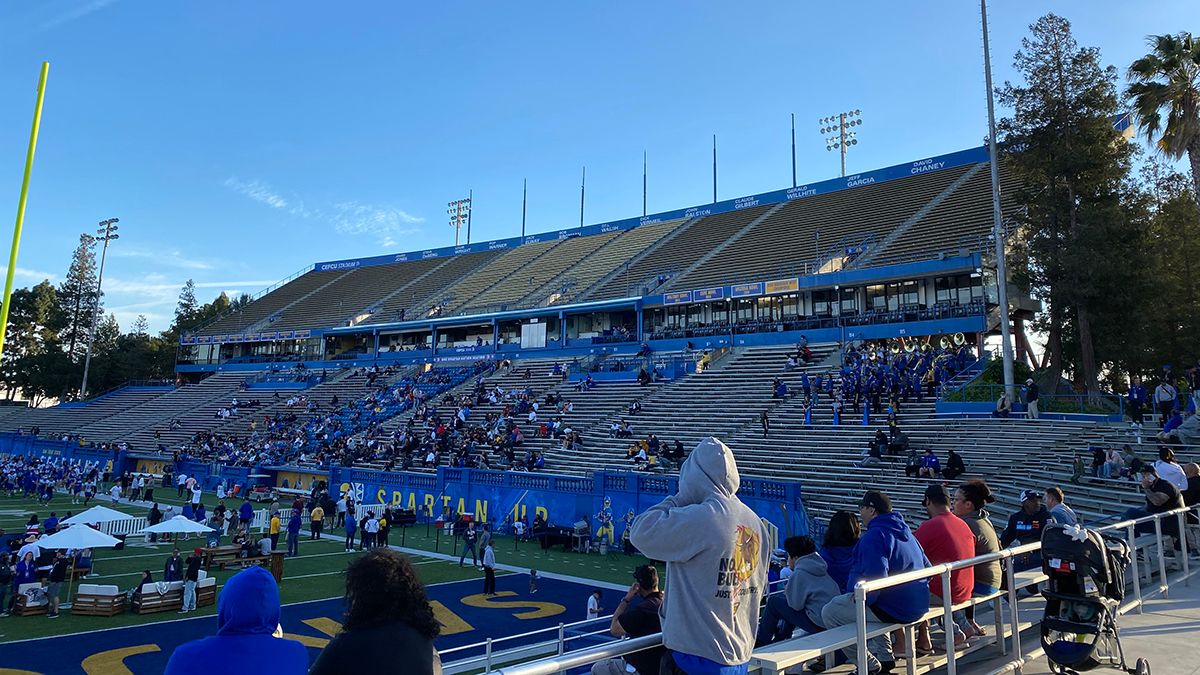 As we walked to where we wanted to sit and the game started, here are some of the other things I noticed:
(Top right) They were playing on a seventy yard field, because the people at the brewfest were set up in their own area with couches and cabanas to watch the game. I'm pretty sure it had food service, or at the very least a bar? Either way, pretty cool. That's something that would be useful/a money-maker for every other program –regardless of size– because you don't really need a 100-yard field for a Spring game.
(Top left) It was a small, but passionate crowd. Plus we got an appearance from the band and cheerleaders for some nice CFB atmosphere.
(Bottom left) SJSU is in the midst of building a $57M athletic center on the east side of the stadium, which is why nothing's over there. It's supposed to be completed by 2023.
(Bottom right) Krazy George is the guy who invented The Wave. I've always been a wave hater, but he's much cooler than these guys, and I love that he's a Bay Area legend who always seems to be at every sporting event here.
Bonus: Lots of recruits in the stands, leading to my realization that 100% of these 15-year olds would kick my 31-year old ass into next year.
We also walked around the stadium a bit more than we did for the home opener last year, and I want to know what we have to do to bring back the Raisin Bowl: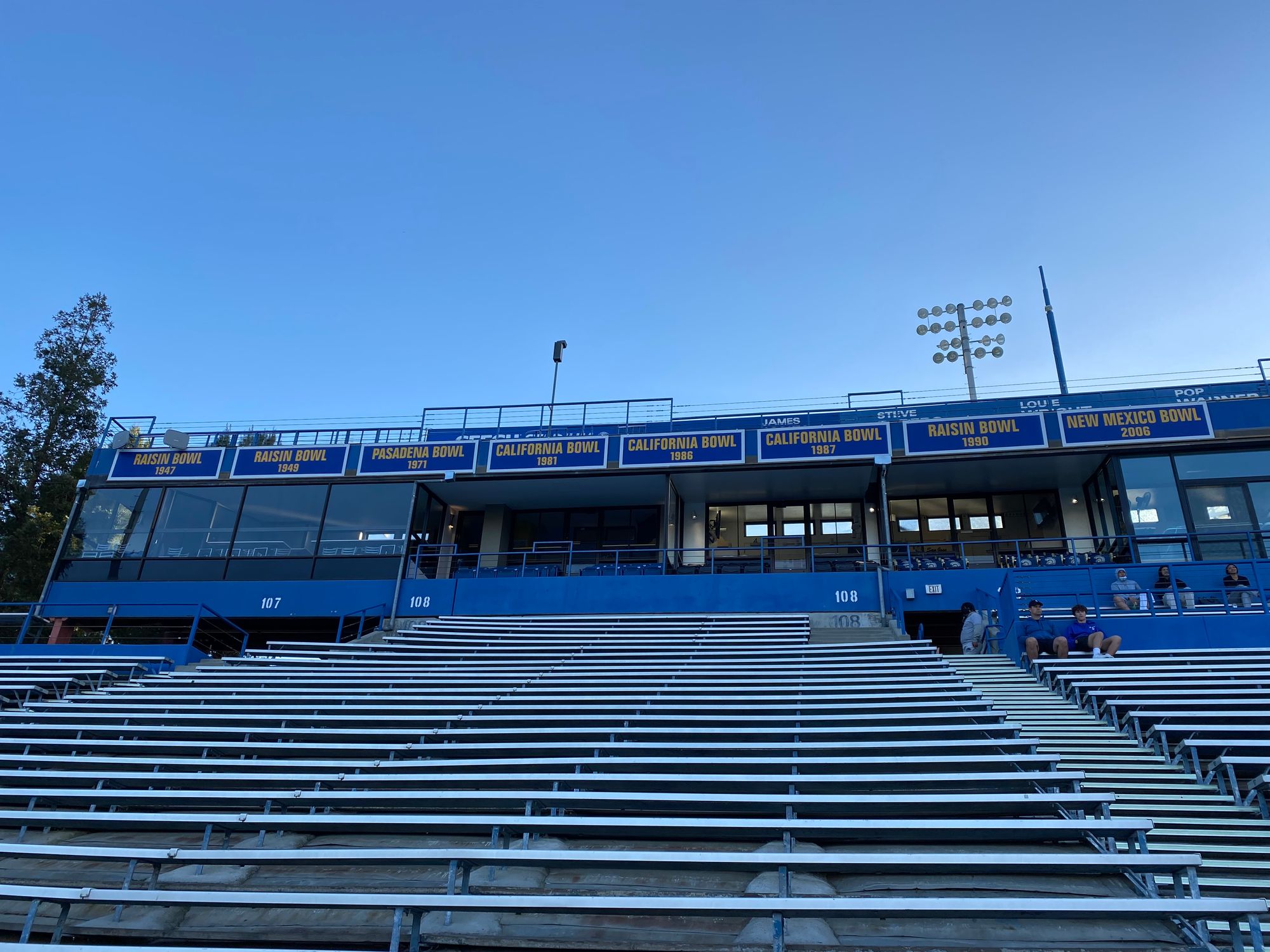 The football itself was mostly your typical Spring game stuff. We saw a nice deep ball touchdown, young players trying to find their way in expanded roles, and I audibly said "OH SHIT, nevermind!" when an early play ended in a big hit seconds after I said, "Guessing they're just gonna wrap up today and not tackle." In all, it was a good time, and that's all you can really ask for right now, right?
---
If you're within driving distance of a Spring game, you should go. It doesn't matter if it's your favorite team or not, and it doesn't matter if it's Alabama or UTEP. Hell, it doesn't even matter what you see on the field. We all love this sport for how weird it is, and when you really think about it, is anything weirder than getting hyped up for a practice 8 months before the season? It makes no sense, but it just feels right, which to me explains college football perfectly.