2023 Season
Previewing the 2023 CFB season with Haikus for every team
Welcome to my official 2023 Season Preview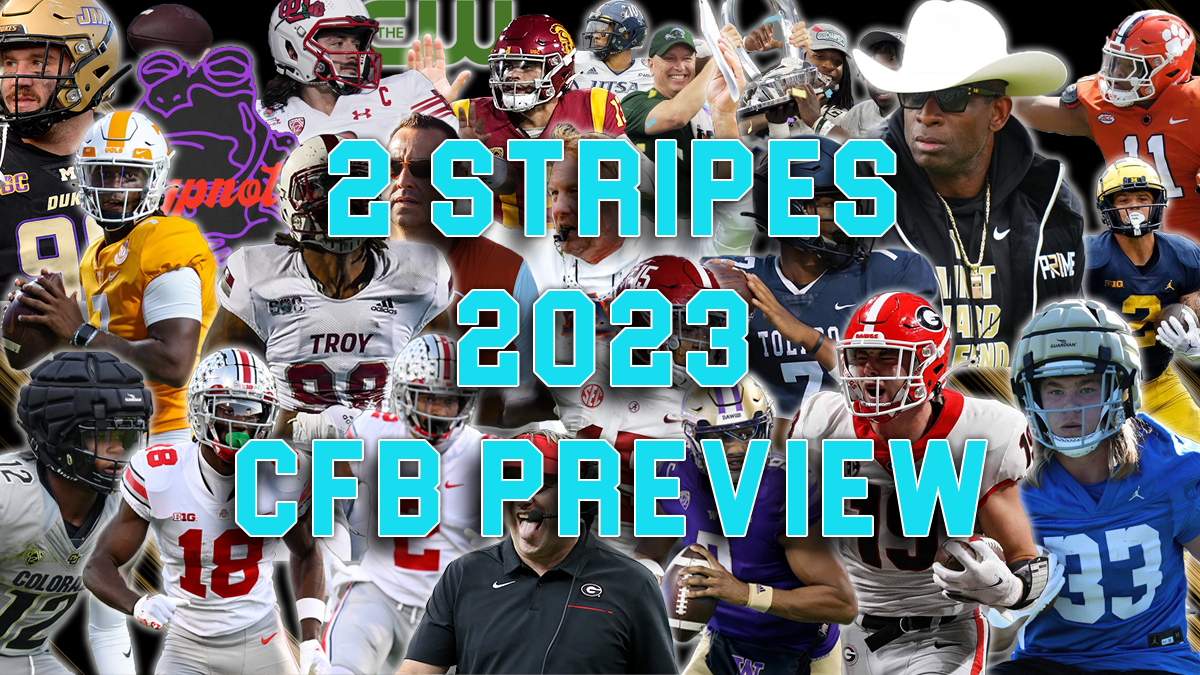 For those reading on e-mail: click 'view in browser' for the best reading experience
---
Welcome to the official 2023 Two Stripes College Football Season Preview! Just like last year, this preview is simple: One haiku for every FBS team, which now includes our friends at Jacksonville State and Sam Houston State. If you enjoy the post, please consider subscribing to the site and sharing it with other CFB fans online. If you don't enjoy it, please consider sharing with other CFB fans online and letting them know how much you hate it. Let's get to it!
Air Force
Three straight ten-win years?
Want a conference title
Not sure they do it
Akron
Hit the portal hard
Got better late in season
Have long way to go
Alabama
Run the rock mode: ON
Not sure they have a QB
But will that matter?
Appalachian State
Last year was crazy
Schedule sets up for nine wins
Buying strong bounceback
Arizona
Was wrong about Jedd
One more season of Cowing
First bowl in six years?
Arizona State
These guys are down bad
Brought in a ton of transfers
Better than last year
Arkansas
Would pay to see this
Their schedule always brutal
Eight wins? A success!
Arkansas State
Butch doesn't have long
Positive: Rucker is back
Negative: They suck
Army
What will offense be?
The cut block ban is stupid
Crystal ball murky
Auburn
Potato Man gone
Tyler Cetrulo smiling
Hate the new guy, though
Ball State
First two games bloodbath
Superb portal addition
Fuck it, bowl game bound
Baylor
On the bandwagon
Would love them to win this game
Depth a large question
Boise State
Don't believe in them
Harsin back by December
This take could age poor
Boston College
Hafley got a gift
A feathery soft schedule
He will mess it up
Bowling Green
Here's a guy to watch
Stupid contract extension
Will bite them in ass
Buffalo
Head coach is real deal
Another bowl on table
MAC is up for grabs
BYU
Not ready this year
Defensive upgrade a must
Plainly: No bowl game
Cal
Same shit as always
Can the offense score at all?
Schedule is painful
Central Michigan
Need more of this, please
The offense has to improve
Be on upset watch
Charlotte
Head Coach loves the smoke
Also maybe too online
Just guy being dude
Cincinnati
Oh no, Satterfield
Travel agent Emory
Glory days over
Clemson
Offense much better
Top three defense in nation
Predicting playoff
Coastal Carolina
From Chadwell to Beck
So many quarterback sweeps
Best of luck with that
Colorado
It's Prime Time, baby
Haters and losers angry
Kiss my ass, Go Buffs
Colorado State
Year one wasn't good
I believe in Jay Norvell
Need big improvement
Duke
Got this wrong last year
Riley Leonard will ball out
I smell an upset
East Carolina
Goodbye to Holton
Forecasting a big step back
This year a reset
Eastern Michigan
Yes, bowling again!
How is this guy not P5?
Want them to win MAC
Florida International
A wholesome moment
Mike Mac doing best he can
Long-term project here
Florida
Have lots to replace
Hazardous quarterback room
Schedule is hefty
Florida Atlantic
Texas Tom goes east
Evolves to Florida Man
Have to sort this out
Florida State
Hype train getting loud
Not a title contender
I think ten win year
Fresno State
Roster turnover
I don't have a good feeling
Guessing four and eight
Georgia
Back to back Bulldogs
New video game franchise
Need for Speed: Athens
Georgia Southern
They will put up points
Was I wrong about Helton?
We shall see this year
Georgia State
Toss-up for bowl game
But they are on the right track
A fun quarterback
Georgia Tech
Not sure about hire
Late-season results tricky
The ceiling: Five wins
Hawai'i
They might beat Stanford
Still reconstructing program
Just need small progress
Houston
In new conference
Dana is a cooked product
Sick of watching them
Illinois
Won't repeat success
But I love what Bret's doing
Can count on defense
Indiana
Ugly new unis
Allen era is finished
It was a good run
Iowa
Have this one bookmarked
The same story every year
Will watch without shame
Iowa State
Campbell turnaround?
Beating Iowa would help
If not, no bowl game
Jacksonville State
Return of the King
Run game is what you expect
This dude cuts the checks
James Madison
Hard-hitting defense
I love watching them play ball
Get ready for war
Kansas
Jalon Daniels Show
He leads explosive offense
But this has to change
Kansas State
Lost some good talent
When will people stop doubting?
Contender again
Kent State
Talent exodus
Desolate situation
See two wins at most
Kentucky
Could start five and oh
But gets nasty after that
Leary is the key
Liberty
Chadwell was great hire
Top twenty offense next year
Going to take time
Louisiana
Nose-dived big last year
Was it just a close-game thing?
Schedule is cakewalk
Louisiana-Monroe
Defense is a sieve
This man is stealing money
One win, at the most
Louisiana Tech
Points in abundance
HUGH DAVIS: All-Conference
Look at that good dog
Louisville
Satterfield is out
The prodigal son returns
Nine wins possible!
LSU
Overrated team
This is where the wheels fall off
Not buying the hype
Marshall
Head coach has the juice
Offense needs to pull their weight
Defense is locked in
Maryland
Calling for nine wins
Five and oh start is likely
Don't fail me, Locksley
Memphis
Keep losing close games
Make or break year for Ryan
I think they improve
Miami (FL)
Broke boys can't recruit
Gonna miss a bowl again?
Six and six, maybe!
Miami (OH)
Snoozefest on offense
Lots of production returns
Battle for the name
Michigan
Have to give them props
Done it back to back seasons
But he still can't throw
Michigan State
Mel has a Brinks truck
Hot take: They are losing this
Three and nine lifestyle
Middle Tennessee
Kicked Miami's butt
Have to survive first two games
Conference hopefuls
Minnesota
They fumbled the bag
Have one more chance to win West
Don't mess it up, Fleck
Mississippi State
Rest in peace, Pirate
Offense will look different
And so will helmets
Missouri
The Thicker Kicker
Now or never for Eli
Prediction: Never
Navy
We will miss you, Ken
Brian has a strong defense
Get used to more throws
NC State
Armstrong renaissance
Doeren breaking the record
Eight wins? Possible!
Nebraska
Rhule is a builder
But the talent isn't there
At least not right now
Nevada
Bad situation
No idea how they move ball
Defense is fine, though
New Mexico
Worst team in country
Don't see them getting better
Thirteen points per game!
New Mexico State
I'm flabbergasted
No clue how they won seven
Kudos to Jerry
North Carolina
Dropped bag to keep Drake
This man is committing fraud
Can't wait for rematch
North Texas
Of course, Air Raid guy
Shouldn't have trouble scoring
Same for opponents
Northern Illinois
Don't see improvement
How is he still in college?
Hard team to predict
Northwestern
Boy, this is awkward
Can't win in America
Gonna pass on this
Notre Dame
QB is legit
Best o-line in the country?
Chance to make statement
Ohio
Kurtis Rourke returns
Surprised Saban didn't poach
Favorite in East
Ohio State
Schrödinger's program
Ten and two? Undefeated?
Have to open box
Oklahoma
Coach won't shut his mouth
Loud talk for six and seven
Schedule: Freshman Mode
Oklahoma State
Never know with them
Ten wins is on the table
Could also win six
Old Dominion
Might beat Tech again
But this division is tough
Building for next year
Ole Miss
Many quarterbacks
A bold strategy for sure
But are any good?
Oregon
Bo Nix for Heisman?
I see three losses on here
So probably not
Oregon State
I ride with the Beavs
They can win the conference
I say they win ten
Penn State
Depends on Allar
Singleton is a monster
No excuses left
Pitt
Pat cried about Prime
Should cry about his QBs
Smelling six and six
Purdue
A new direction
Walters will play aggressive
Might take a few years
Rice
Time to get a job
Living up to his last name
Won't stop anyone
Rutgers
I believed last year
Not making the same mistake
Ex-Schiano man
San Diego State
Talent is on hand
Can they throw the ball at all?
They are a wild card
San Jose State
I'll be in the stands
Another lockdown defense
Eight wins for my boys
Sam Houston State
New kids on the block
Two-dollar-steak tough defense
Offense might be foul
SMU
Transfers everywhere
Scoring won't be an issue
Stopping teams will be
South Alabama
You need to watch them
Tough-ass, playmaking defense
Upset potential
South Carolina
Manic football team
One week you get something bad
The next? Majestic!
South Florida
It's about damn time
Not expecting very much
Todd Orlando? Yuck
Southern Miss
Can't find a QB
Just give the ball to Frank Gore
The one-man offense
Stanford
Worst power five team?
Four wins would be miracle
Nothing else to say
Syracuse
Shoutout to Dino
Somehow he keeps surviving
Love the Rocky hire
TCU
Tough act to follow
Hypnotoad needs more acid
How far do they fall?
Temple
Bleak situation
Stan going for a slow build
Still believe in him
Tennessee
I was right last year
Doubling down again now
They will beat Georgia
Texas
Never won ten games
People keep gassing them up
Crash and burn, baby
Texas A&M
Motorcycle man
Plus guy who should be in jail
This staff is lawless
Texas State
They made a good hire
Whole team is Incarnate Word
Will not be quick fix
Texas Tech
Trap game in week one
A year ahead of schedule?
Think eight wins again
Toledo
Badass quarterback
Should be easy favorite
Will Candle fumble?
Troy
New Year's Six Bowl game?
They have the team to do it
Defense is brick wall
Tulane
All Fritz does is win
They can New Year's Six again
Lane will be in hell
Tulsa
Thanks for taking him
Send prayers to Tulsa fans
You don't deserve this
UAB
Worst hire since Dorrell
Will age hilariously
BEST case: two and ten
UCF
I'm torn on this one
Underachieved last season
Potential is there
UCLA
Heisman front-runner
They are a real question mark
Nothing would shock me
UConn
Better than I thought
Still praying for his downfall
That is going to hurt
UMass
Makes me want to puke
Haven't won two since 'eighteen
Bright side: Stout defense!
UNLV
Do not like the hire
Offense can be explosive
Will probably bowl
USC
I am a hater
They will get bullied again
Stay off the grill, coach
UTEP
Sisyphus program
Twenty-five JUCO transfers!
Would be funny win
UTSA
A must-see offense
One more year of Frank Harris
Game you have to watch
Utah
Somehow, no respect
Atmosphere will be off charts
I want the three-peat
Utah State
Too much noise last year
Punter spun the ball on them
Need boring season
Vanderbilt
Are trying their best
Probably won't be enough
Look at last six games
Virginia
Bigger than football
A very special moment
Hope they have good year
Virginia Tech
Program breaks my heart
Hate how far they have fallen
Can they score thirty?
Wake Forest
I won't doubt Clawson
They still have some playmakers
Seven or eight wins
Washington
Penix can sling it
New uniforms bother me
But I love the team
Washington State
Ward is chaotic
Are going to air it out
A lot on his plate
West Virginia
This is it, Neal Brown
Ugly way to begin year
Start the head coach search
Western Kentucky
Sick new uniforms
Even sicker passing game
Ten win potential
Western Michigan
It's a rebuild year
Nasty losses incoming
Upset? Don't be shocked
Wisconsin
Fickell's audition
Whole new offensive mindset
Can win the Big Ten
Wyoming
Defense? Great again!
Begging for some offense, please
Just saying, watch out