Hot Seat Rankings
Head Coach Hot Seat Rankings: Post-Week Four
Welcoming Don Brown to the rankings, giving Neal Brown some credit, and finding the official 'Hot Seat Game of the Week'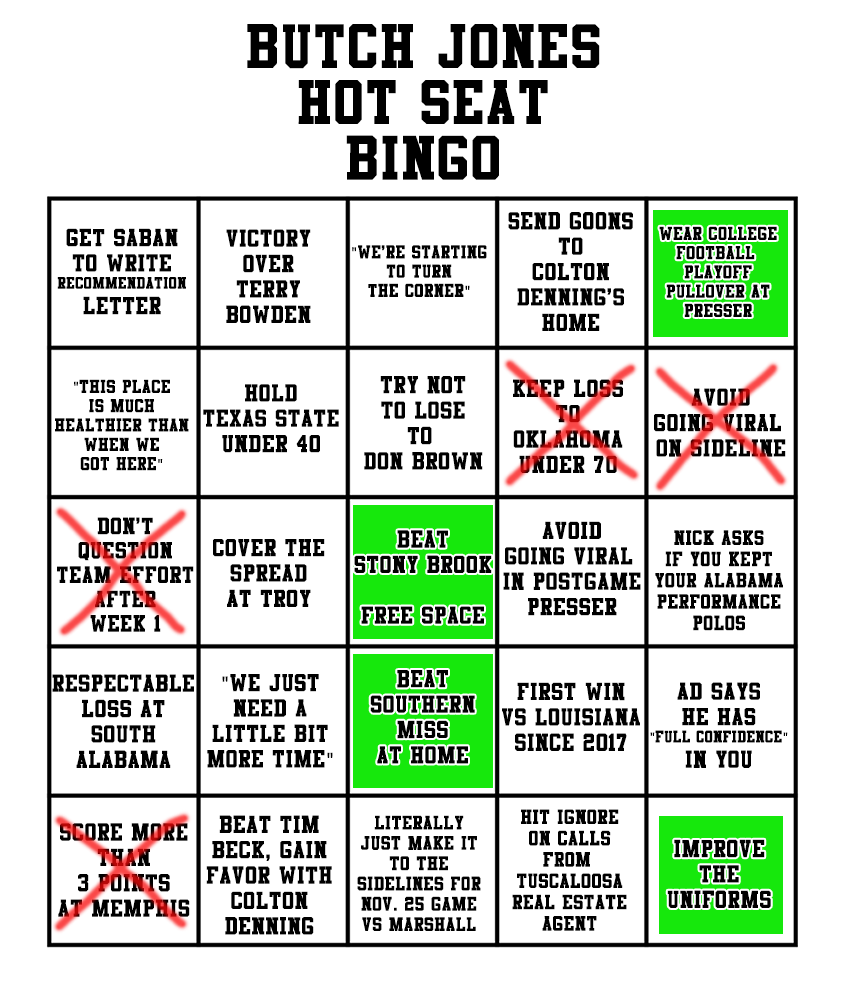 For those reading on e-mail: click 'view in browser' to see the full contents of today's post
---
Head Coach Hot Seat Rankings
WEEK FOUR
Welcome to the week four head coach hot seat rankings! We've got some new additions to this week's rankings, the return of Butch Jones Hot Seat Bingo, Neal Brown telling me and most of the West Virginia fanbase to fuck off, and the debut of the HOT SEAT GAME OF THE WEEK! Enjoy!
1. Jeff Hafley - Boston College (Last week: 1)
I said last week that I felt like Hafley could "maybe" survive losses to Louisville and Virginia heading into the Army game on October 7. I'm not so sure about that after BC's 56-28 loss at Louisville. It wasn't surprising at all that they lost, but the game was never even competitive. BC trailed 42-14 at half, closing it out in the saddest way possible:
Louisville threw a 42-yard bomb on the very next play:
The Eagles get winless Virginia at home this week, and it's as much a toss-up game as the three-point spread says it is. The Hoos have shown some decent fight in games against NC State, Maryland, and James Madison. They're plucky enough that it wouldn't shock me if they walked out with their first win of the season. I can see a scenario where BC loses and Hafley makes it to next week, but any loss greater than seven points might be it for his tenure in Chestnut Hill.
2. Tom Allen - Indiana (Last week: 4)
On paper, there's nothing wrong with Indiana's 2-2 record. Their losses to Ohio State and Louisville were as expected as their wins over Indiana State and Akron. In fact, there's been plenty of positives! They held the Buckeyes to just 23 points, almost came back to tie the Louisville game despite trailing 21-0, have a strong defense, plus an exciting –but green– core of young talent offensively. The issue is what that 2-2 record looks like when you dig a little deeper.
IU Offensive Coordinator Walt Bell basically punted away the Ohio State game, then was publicly questioned by Allen after his fourth down call at the end of the Louisville game. They handled Indiana State 41-7, but needed four overtimes (!) to beat Akron at home on Saturday. It shouldn't have even gotten that far, given the Zips missed a 32-yard field goal on the last play of regulation:
Based off all that information, how many wins do you think are left on this schedule?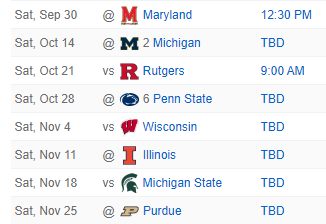 I still think that Bell is going to take the fall before Allen does –so maybe he doesn't deserve to be this high on the list– but this is quietly an ugly situation that I think is only going to get worse as IU steps into the heart of Big Ten play.
3. Don Brown - UMass (Last week: Unranked)
UMass has lost four straight after their season-opening win over New Mexico State, and Saturday's L to New Mexico was the biggest gut punch of them all. The Minutemen trailed 28-20 with under a minute left, before a spectacular touchdown/two-point conversion combo sent it to overtime. Unfortunately, they settled for a field goal in OT, and the Lobos responded with a touchdown for a 34-31 win.
The loss itself isn't terrible. Both teams are similarly down bad, the game came down to the wire, and New Mexico won in OT. Brown doesn't deserve to be canned for that. The issue is that New Mexico hadn't won a road game since October 23, 2021, or beaten an FBS opponent since September 17 of last year. It's a bad look, and pairs even worse with Brown's now 2-15 record.