Hot Seat Rankings
Hot Seat Rankings: Southern Miss and App State are destroying my legacy
It's possible that no one in history has played more NCAA 2007 than me.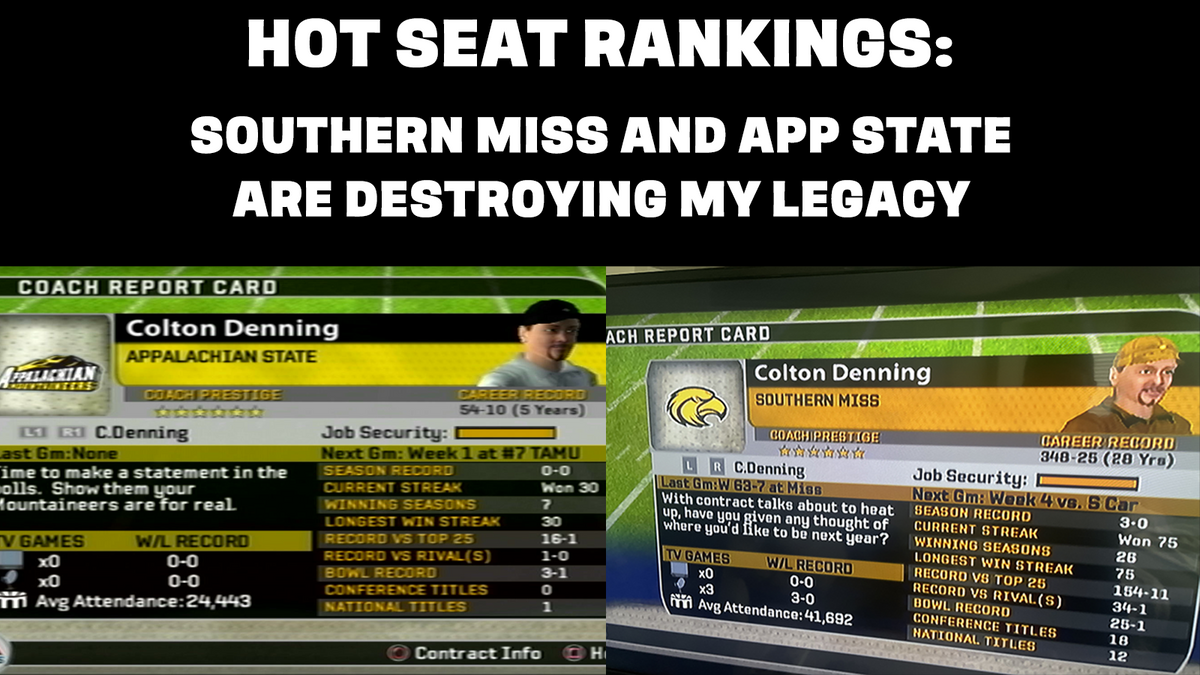 For those reading on e-mail: click 'view in browser' to see the full contents of today's post
---
Hot Seat Rankings: Southern Miss and App State are destroying my legacy
Before we get to this week's rankings, I want to show some love to Jeff Hafley and Danny Gonzales for both being out of the top-ten for the first time this season. Boston College beat Georgia Tech on the road for their third-straight win, while New Mexico stomped Hawai'i by 21 for their first Mountain West Conference win since October 2021! I'm so proud of my boys that I've been driving around with this bumper sticker on my car all week to commemorate their special achievement: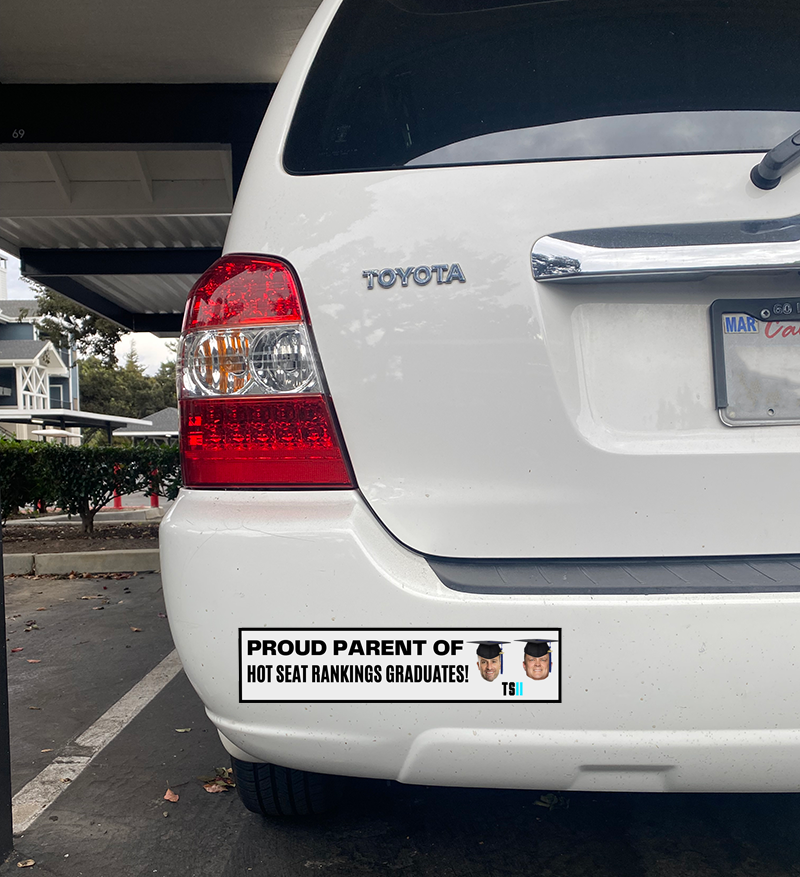 ON TO THE RANKINGS!
---
Hot Seat Game of the Week + the two coaches tied for the number one spot: Will Hall - Southern Miss (1-6) (Last week: 1) and Shawn Clark - Appalachian State (3-4) (Last week: Unranked)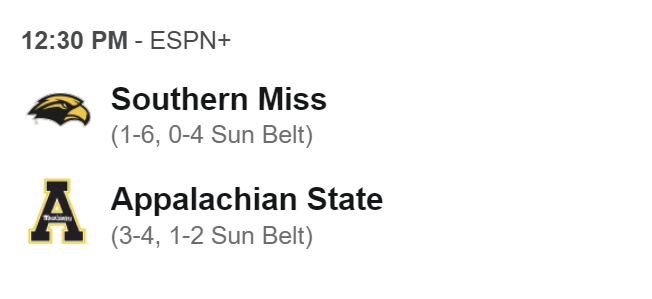 I've never been more ashamed than I am about the products Southern Miss and App State are putting on the field right now. The Golden Eagles lost their sixth-straight game –a 55-3 stomping at the hands of South Alabama– and are on track for their worst season since going 1-11 in 2013. Meanwhile, App State just lost to Old Dominion, needed a last-second miracle kick to beat UL-Monroe, and might finish under .500 for the first time since joining FBS in 2014. Will Hall and Shawn Clark are at the top of my shitlist for what they're doing to the programs I built for them in NCAA 2007: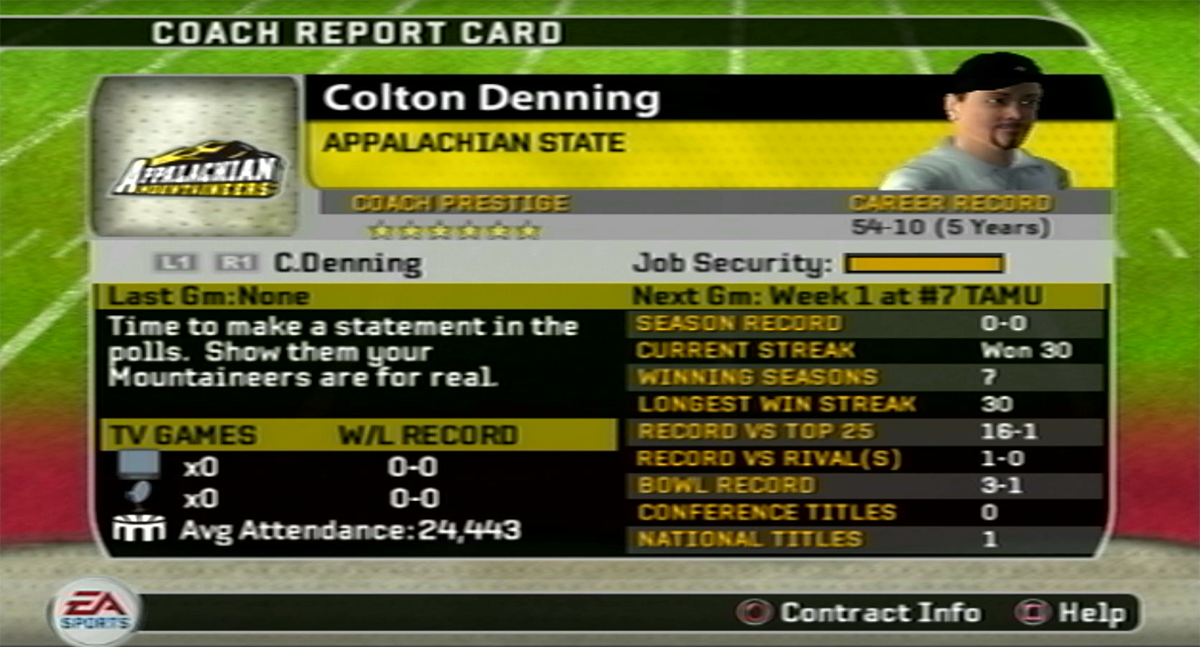 For those of you wondering, the dynasty on the right is from the OG Xbox. (Shoutout to my brother for coming through in the clutch with the picture.) That dynasty is the main reason I nearly didn't graduate high school, and why it took me six-and-a-half years to finish college. The screenshot on the left is from the Playstation 2 I currently have, and a dynasty I'll continue once the season ends. It seems more tame than the Xbox one at first, until I show you that I still have two other NCAA 07 dynasties happening right now on PS2, and out of all of them I've only simulated maybe 10 games combined: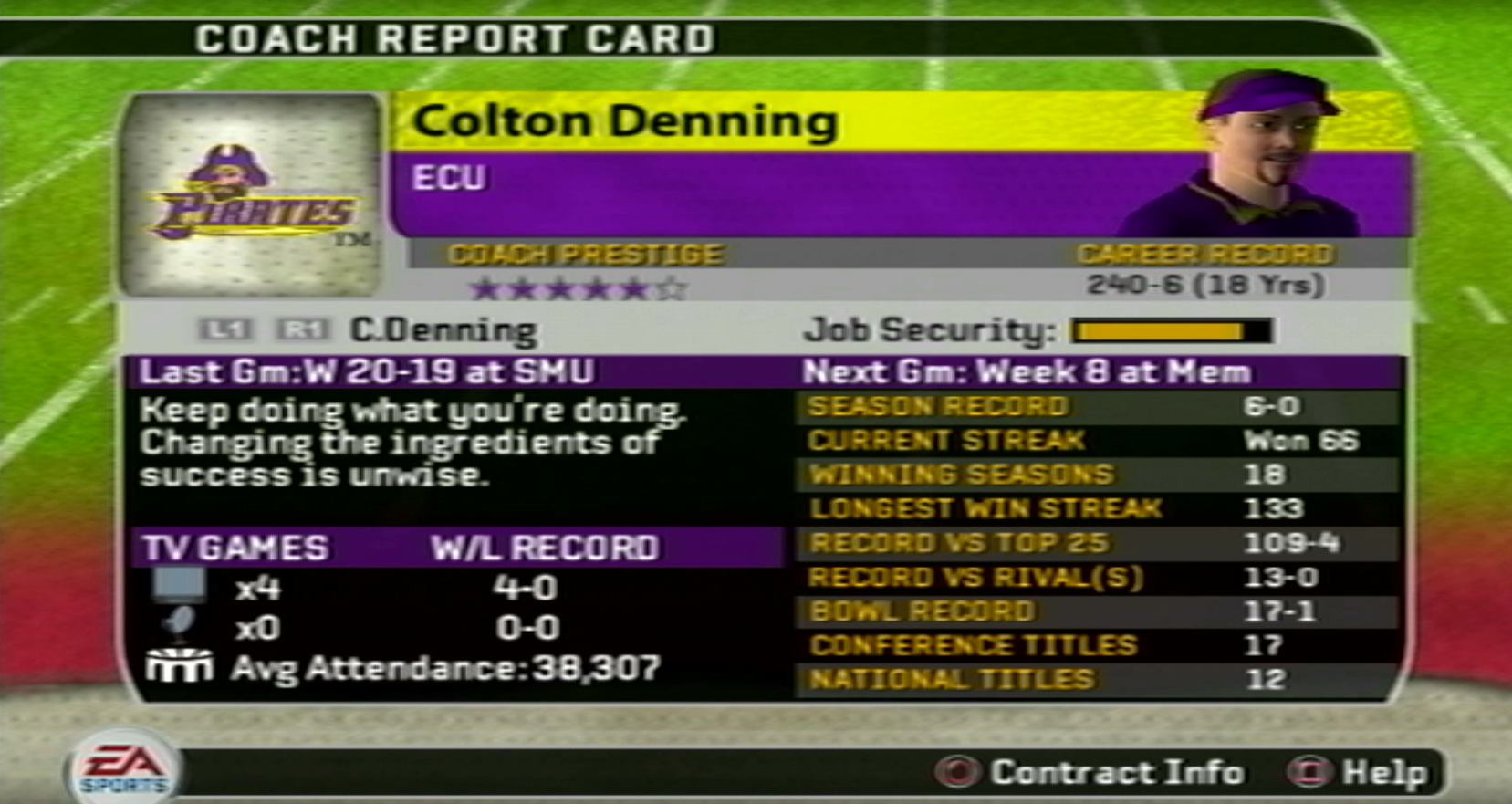 Anyway, I'm demanding that the losing coach of Southern Miss and App State gets fired, because I'm sick of how they're tarnishing my programs.
Bonus: Remember last week when I said that I got so dominant at Southern Miss that they kicked Vanderbilt out and invited us?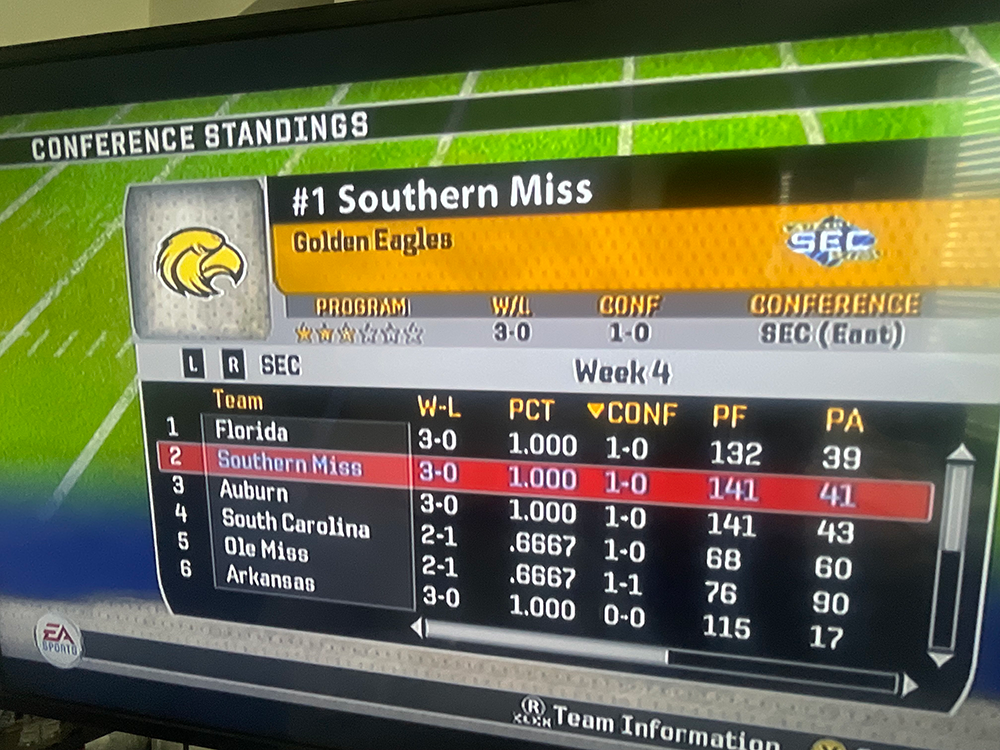 3. Tom Allen - Indiana (2-5) (Last week: 2)
I gave Allen a pass last week, because Indiana's first game with new Offensive Coordinator Rod Carey was 1) Against Michigan's defense on the road, and 2) Michigan probably knew every single play they were running before it happened, anyway. Allen catches no such breaks after the Hoosiers' 31-14 loss at home to Rutgers.
IU's offense averaged just 4.6 yards per play, got shut out in the second half, and still hasn't scored more than 17 points in regulation against anyone not named Indiana State. Allen's specialty (the defense) got torched for 276 rushing yards –the most Rutgers has gained against any Big Ten opponent since joining the conference in 2014– capped by Scarlet Knights QB Gavin Wimsatt housing this 80-yarder to seal it:
The only thing that could potentially save Allen until 2024 is his $20 million buyout. I can't find more than one win left on their schedule, either: