Hot Seat Rankings
Head Coach Hot Seat Rankings: Would you tank your job for a $76 million payout?
It might be time for Jimbo Fisher to cash out (again)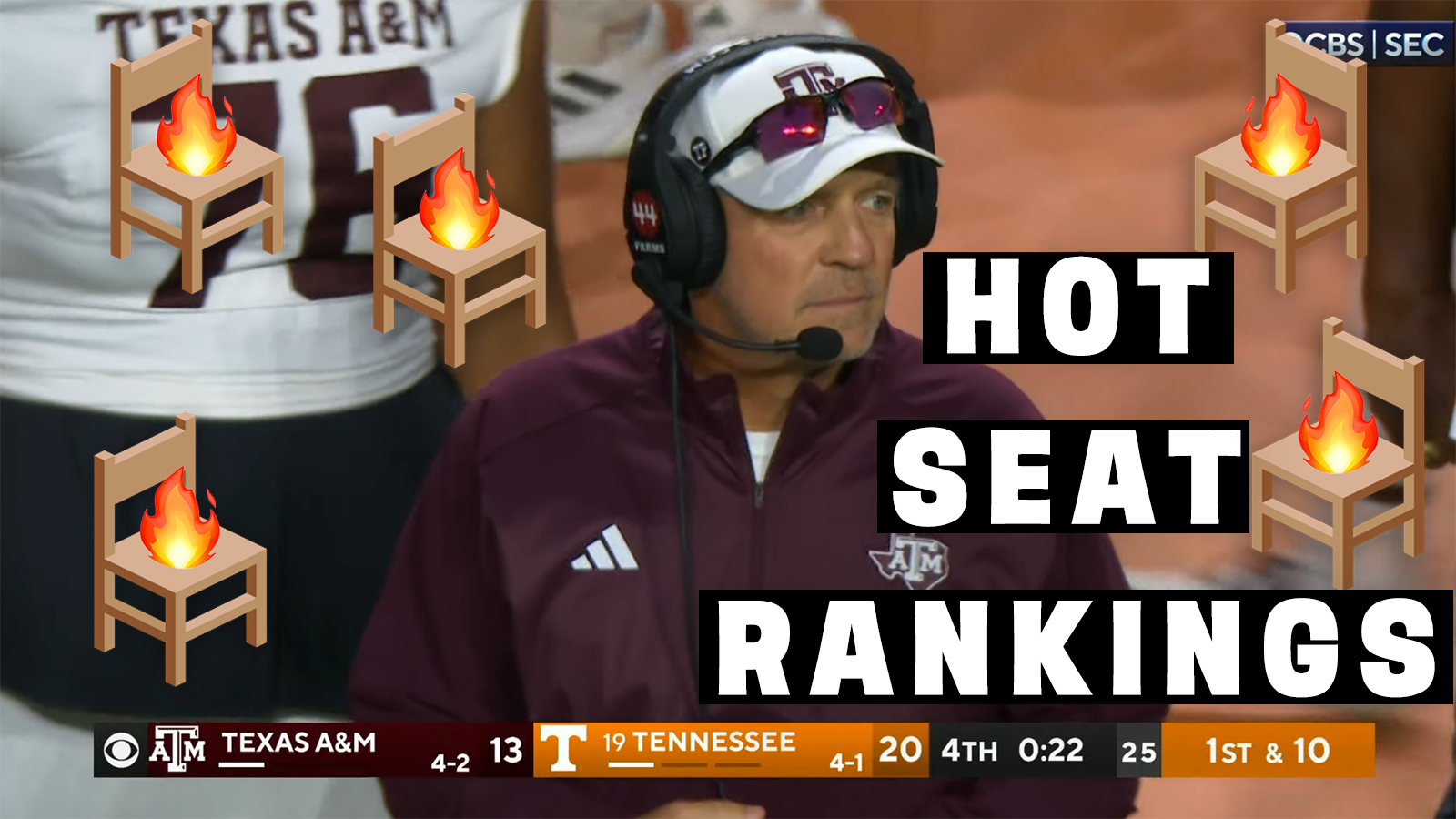 For those reading on e-mail: click 'view in browser' to see the full contents of today's post
---
Head Coach Hot Seat Rankings
Welcome to the post-week seven 2StripesCPD Hot Seat Rankings! We've made it to the thick of conference play, and the looming axe of Halloween/November football means it's officially spooky season for coaches around the country. We'll discuss who should be the most scared heading into week eight, but first.....
Hot Seat Game of the Week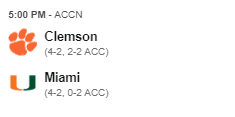 I'm not saying Mario Cristobal needs a win to save his job, but beating an obviously not-what-they-used-to-be Clemson for the first time since 2010 seems like a good way to shut everyone up about your employment status.
ON TO THE RANKINGS!
---
1. Will Hall - Southern Miss (1-6) (Last week: Unranked)
You may be wondering how Hall shot all the way up to the top of the rankings, despite only making his first appearance last week in the 'Situations to monitor' section. Well....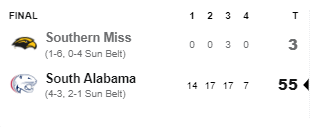 As someone who led the Golden Eagles to six national championships in NCAA 2007 on the OG Xbox –we were so dominant that the SEC invited us into the conference and kicked Vanderbilt out– I can't stand seeing what Hall is doing to my beautiful football program. Get his ass out of my office.
2. Tom Allen - Indiana (2-4) (Last week: 2)
Is it fair to judge Allen's decision to fire Walt Bell and turn to Rod Carey as IU's Offensive Coordinator off one game, let alone against Michigan on the road? No, but it's hilarious that these were the only points Indiana scored in Carey's first game on the sticks:
The good news for Allen, Carey, and IU's offense is that they take a clear step down in competition this week when they play Rutgers at home. The bad news is that the Scarlet Knights have a legitimate top-30 defense, and are probably gonna grind them into a fine paste.
3. Don Brown - UMass (1-7) (Last week: 3)
I sympathize with Don Brown. UMass is a near-impossible job, with minimal resources. Because of that, sometimes it's necessary to bite the bullet, schedule a team like Penn State, and trade an ass-whupping for a $1.6 million payout. That's exactly what happened last Saturday, as a 63-0 loss ensured the Minutemen would remain bowl-less since joining FBS football in 2012.
Getting blown out by Penn State obviously doesn't matter in the grand scheme of things for UMass. But the scope of the beatdown is indicative of where the program's at in Brown's second year. They only gained 109 total yards, allowed two punt return touchdowns, and gave up 246 yards rushing at over six-and-a-half yards per carry to a Penn State ground game whose previous high was 5.25 against Delaware. The defense (Brown's specialty) is last nationally in points per game (42.4), and second-to-last in yards per play (7.38). The thing is, I'm not sure who could do any better in his shoes.
Ultimately, UMass doesn't have a Don Brown problem they need to fix. They have a "We shouldn't be at the FBS level of football," problem that'll probably get sorted out for them in the near future. Until then, having a 2-18 overall record qualifies Brown for top-three hot seat status.
4. Jimbo Fisher - Texas A&M (4-3)
Ardent readers of the site will remember that I posted this image in my '50 Predictions for 2023' article: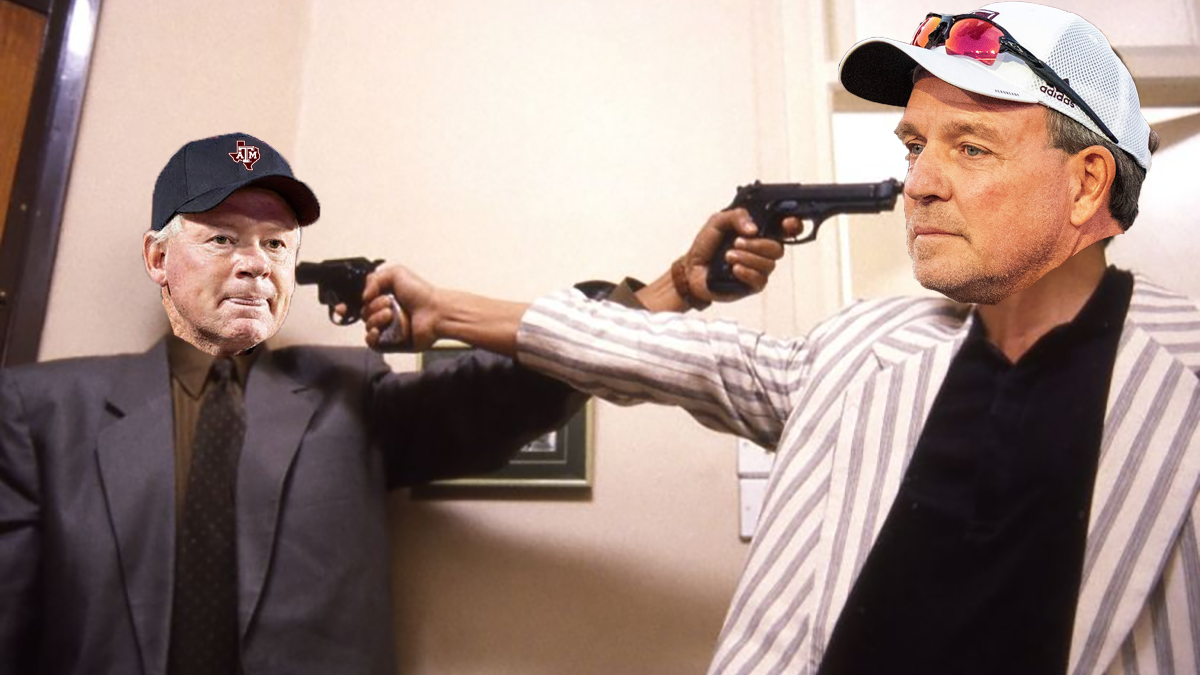 While I can't confirm any 2009 Washington Wizards-esque activity in the Texas A&M facility, I can definitively say that the Jimbo Fisher-Bobby Petrino partnership has been a dud. The Aggies rank 43rd nationally in points per game, and scored three total touchdowns against Tennessee and Alabama the last two weeks.
More importantly, losing to Tennessee marked their eighth-straight road loss, and it's not like their wins at home are inspiring enough to counteract that. (Two of the four are New Mexico and UL-Monroe.) $76 million is a lot of money, but it sounds like a price the Aggies are willing to pay if things continue on their current course.