2023 Season
10 Takeaways: Week 12
Hugh Freeze should probably avoid playing Jerry Kill for a while.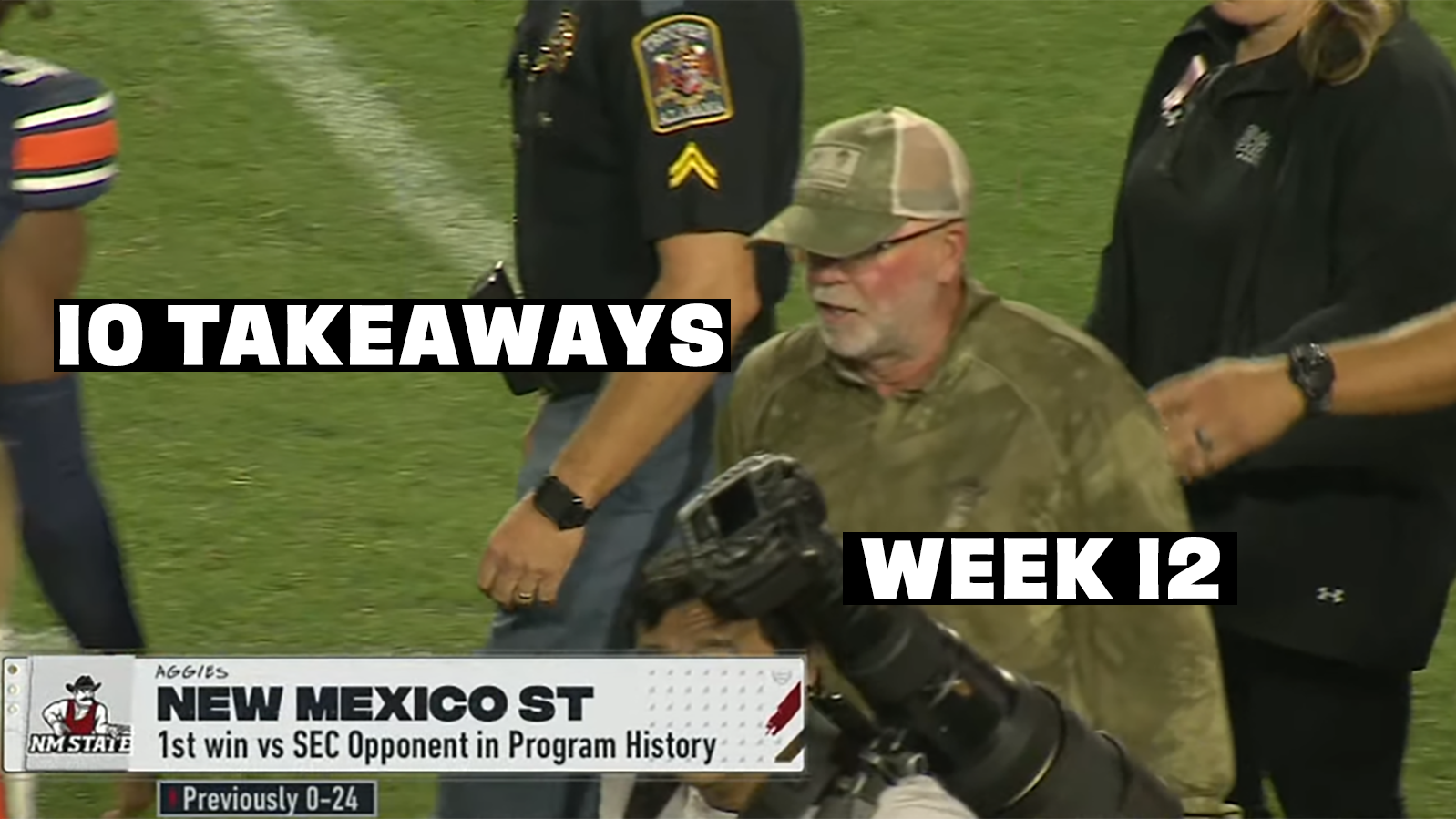 For those reading on e-mail: click 'view in browser' to see the full contents of today's post
---
1. The most entertaining game of the day
Please forgive me for starting this article by talking about Arkansas State, but I've been laughing at the box score of their 77-31 win over Texas State for the last two hours: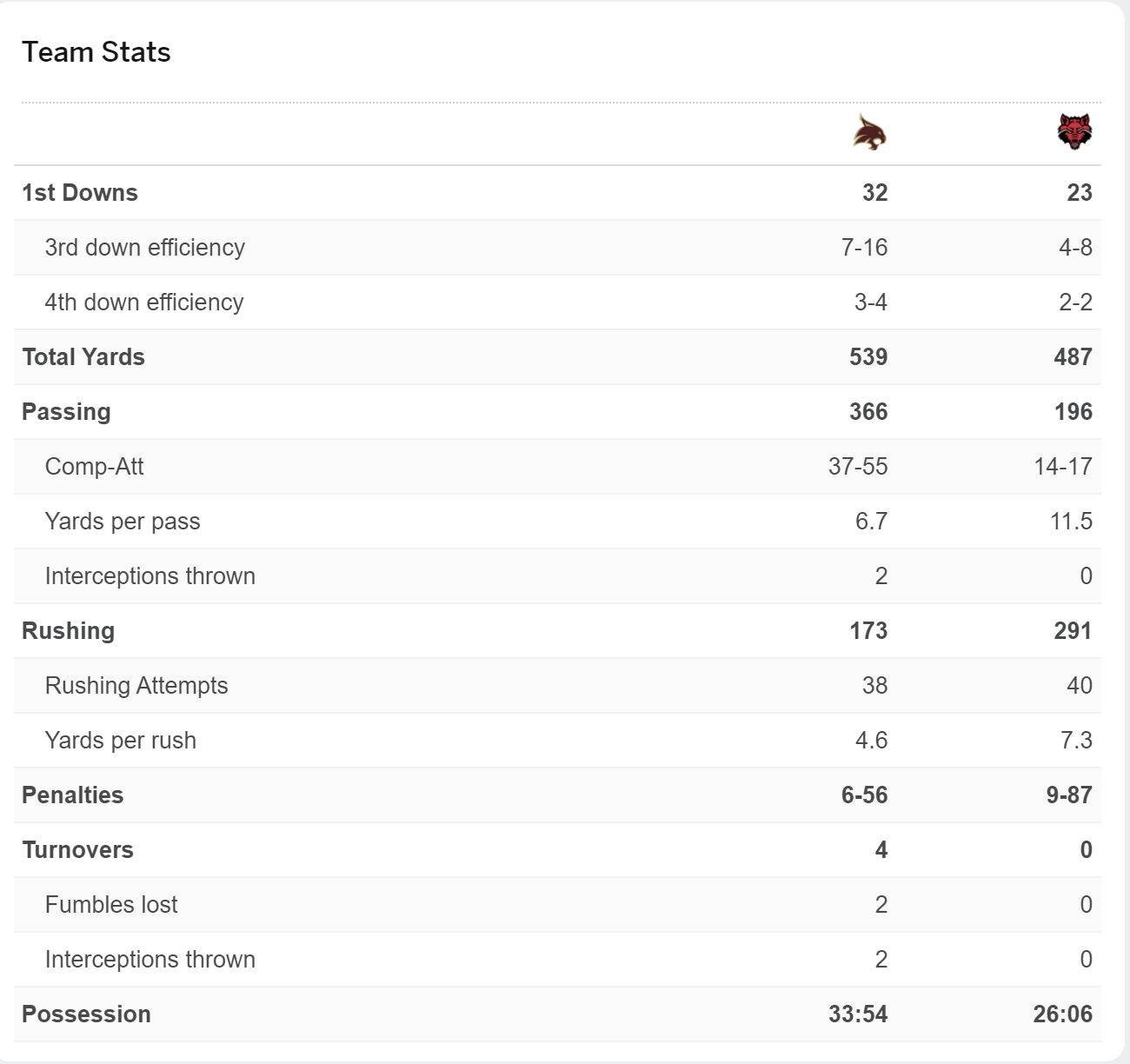 This game had 108 combined points, 1,026 total yards, 55 first downs, and Arkansas State won by 46 because they scored four defensive/special teams touchdowns:
These are the type of games I'm going to miss when it's mid-March and all anyone on Twitter wants to talk about is re-alignment, the 12-team playoff, and who was better between Cam Newton and Joe Burrow in college. Congratulations to the Redwolves on becoming bowl eligible and Butch Jones for permanently getting off the hot seat rankings for the rest of the year.
2. I'm ready for Colorado to hit the offseason
It's been a rough finish to the season for Deion Sanders and Colorado. The Buffs got stomped 56-14 by Washington State on Friday night for their fifth-straight loss. It officially squashed Colorado's bowl hopes, and showcased the vast improvements Coach Prime needs to make heading into 2024.
The Buffs' issues against the Cougars were a microcosm of the everything that's gone downhill since they blew a 29-0 halftime lead against Stanford last month to start this losing streak. Shedeur Sanders left the game early after another night of the offensive line playing like they have a bounty on his head. They couldn't run (41 carries for 91 yards), and needed Travis Hunter to bail them out if they had any hope of making a play. They also allowed Washington State's defense to score as many points (14) as their offense, and turned the ball over in two of the most embarrassing ways I've seen all season:
The defense gave up 447 yards (6.8 per play), and probably would've allowed 70+ if Washington State had wanted to keep their foot on the gas. To top it all off, they also gave up a 98-yard kick return touchdown. Everything about it was awful, and has me eager and ready to not watch this team again for another eight months.
But here's the thing (and don't laugh).....Colorado is still miles ahead of where they were last year, and I'm excited for the future. Just for comparison's sake: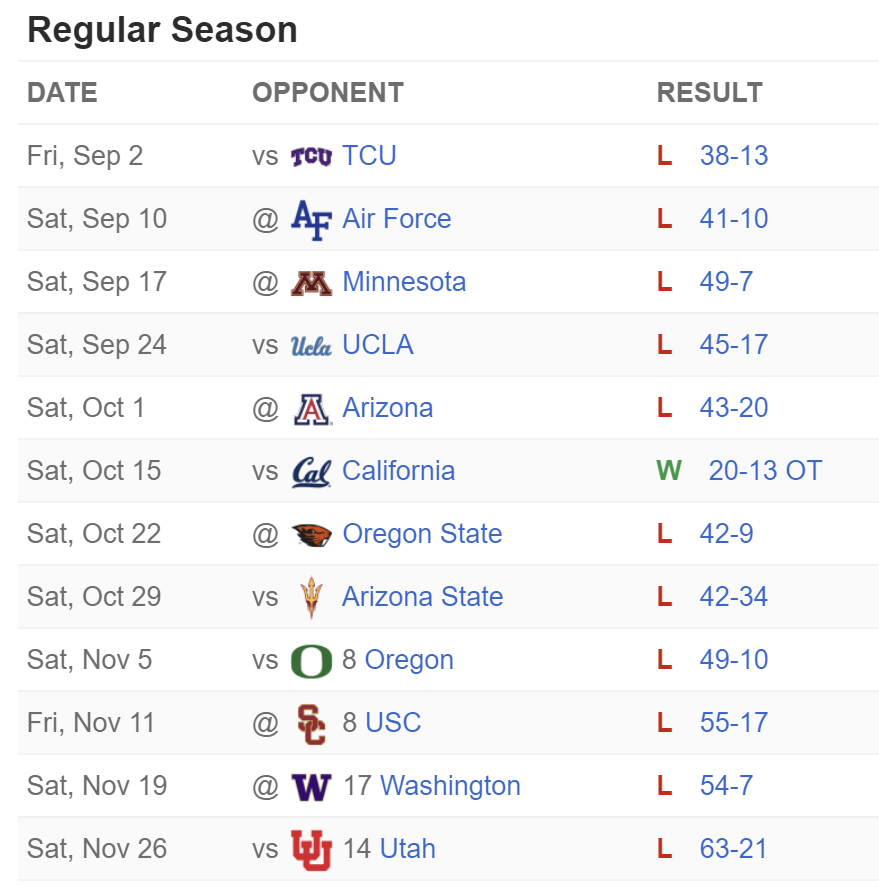 They've not only won three more games than last year, but they've been in every game outside of Friday night's and the slaughter at Oregon. That may not count for much to someone who just wants to watch them lose because they can't stand Deion, but legitimate progress has been made after being the worst Power Five team in the country in 2022.
That said, this is still a program that's far from fixed, and some of the issues aren't ones that Coach Prime inherited. Most notably - he fumbled the whole Sean Lewis situation, and will need to find a new offensive coordinator who 1) he trusts to let run his shit, 2) trusts him after what happened to Lewis, and 3) isn't named 'Pat Shurmur.' He and his whole staff also need to iron out the procedural and communication issues that've cost them all season, leading them to be the second-most penalized team in the country.
It's been exhausting being a Colorado fan this season, in the best possible way. They went from a team no one outside Boulder thought twice about, to the most polarizing team in the country overnight. The energy Deion's brought back to the program is one of the most unique things I've ever seen in college football, and it's exciting knowing that this was just year one. I'm ready to recharge my batteries on the Buffs, but I'm stoked to see what year two brings.
3. Score one for me
Here's what I said about Louisville in my preseason predictions article (Don't look at all the dumb stuff I said):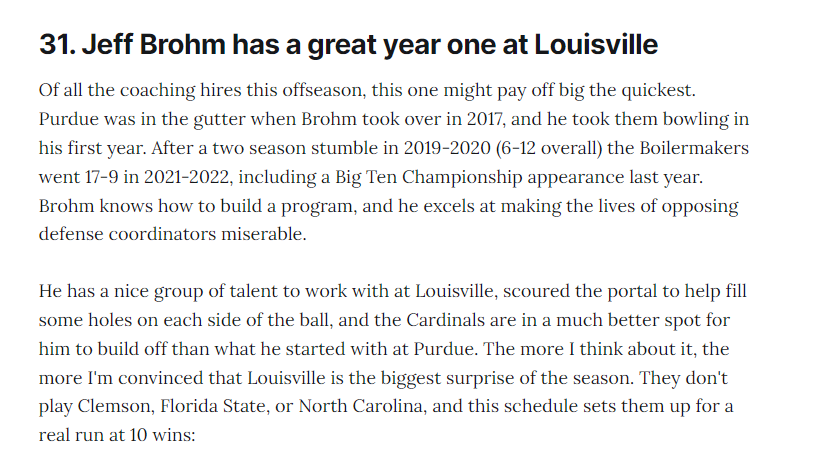 And wouldn't you know it? The Cardinals are 10-1 after their win at Miami, securing their first ever ACC Title appearance in Jeff Brohm's first season. I'm just a random idiot with a college football blog, but sometimes I know what I'm talking about.
4. New Mexico State gets paid for doing what they love
The thing about living in a capitalist society is that all of us –or at least most of us– are constantly battling between doing what we love vs. doing what gets us paid. The same can be said for Group of Five programs playing in payday games. Do you think schools like UMass love playing schools like Penn State? No, but they love the $1.6 million check that comes with it.
New Mexico State reached a perfect balance between the two yesterday by going into Jordan-Hare Stadium as 26-point underdogs, kicking Auburn's ass, and getting a fat payout for it:
It wasn't some fluke, either. The Aggies nearly doubled up Auburn in yards (414-213), first downs (23-12), and never let the Tigers take a single lead throughout the game. Most impressively, Jerry Kill's squad had an answer every time it looked like Auburn was ready to take control:
Hugh Freeze should probably stay away from Jerry Kill going forward: