(I always have to put this at the top: For the best viewing experience, you should click "view online" if you're reading this on email.)
Welcome to "Throwback Player of the Week," where I drop a retrospective and highlights on some of my favorite players in CFB history. This week: Former Miami RB Frank Gore.
Last TPOTW: Former Tennessee Safety Eric Berry.
---
Frank Gore is officially retired from the game of football.
It became a running joke over the years whether this day would ever happen, and that's an ode to Gore's durability and consistency. In an era where even elite running backs got chewed up and spit out of the league at an obscene rate, Frank Gore just kept getting NFL jobs. This dude averaged over 4.5 yards per carry when he was 35! That kind of longevity is unheard of, and is what led to his 16,000 yards rushing over 16 years, and hopefully a spot in Canton in the future.
What's crazy about Gore's durability is that it doesn't even make sense in the first place. Putting aside all the punishment he took in 16 NFL seasons, Gore had a major injury history before he even got to the league. He tore both his ACL's while he was at Miami –the main reason he fell to the third round in the 2005 draft– and those injuries are why his numbers at The U weren't off the charts:

I feel like most fans have it stuck in their heads that Gore was just a solid back who had good vision, power, and was durable enough to make the most out of consistent carries. That's true to a certain extent. Even in his NFL prime, he was never the fastest, shiftiest, or most exciting runner, but there were always flashes of just how explosive he was before the knee injuries. It's a shame that we were robbed of seeing him run like that consistently in the NFL. It's also a testament to him for shifting his game from being a home run-hitter to being the efficient runner who ended up with the third most rushing yards in NFL history.
---
(Here's the link to his highlights for those viewing on email)
I'm not sure the league would've been able to handle Frank Gore with healthy knees, anyway:
There's a reason he came to Miami with the reputation of a speed back: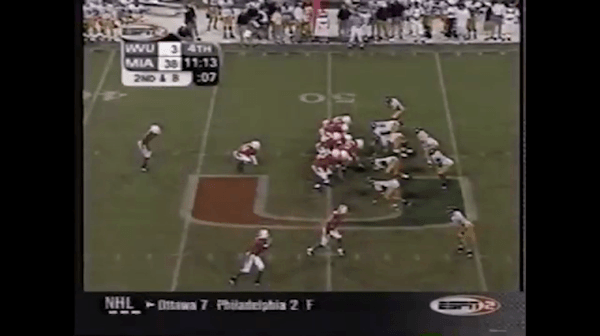 He ran for over nine (!) yards per carry as a freshman, and the only reason he didn't see the field even more was because this was his running back room: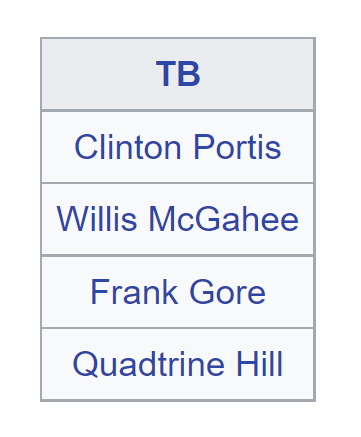 By the time he returned from the second knee injury for the start of the 2004 season, Portis and McGahee were gone, and Gore was more or less the same back we'd see with the 49ers: Patient, with excellent vision, and tough as hell to bring down: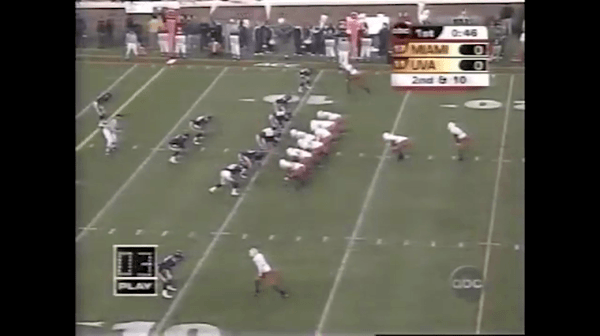 Every once in a while he'd show that the jets were still there: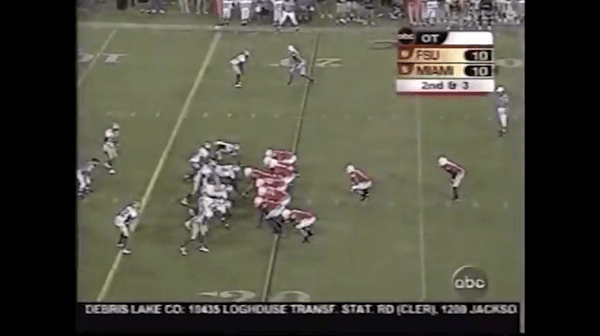 A lot of great players get called "one of a kind" because they do things athletically that no one else can. Frank Gore is in that category, just not in the conventional way. Who else could come back from two ACL injuries, run a 4.66 40 at their pro day, get drafted in the third round, then rip off 16 seasons and 16,000 yards in the NFL? Who else could play for so long that by the time they retired, their son was playing college football, and a year away from NFL eligibility himself? Who else could retire from the game, then start knocking dudes out in a boxing ring?
Today was a great day!!!
Want to thank my team for all the hard work‼️🙏🏿 pic.twitter.com/k5Y2n5Nhh7

— Frank Gore (@frankgore) May 15, 2022
Cheers to Frank Gore. Thank you for a wonderful, one-of-a-kind career.